Quick Big Brother Spoilers
Head of Household: Turner
Nominees: Brittany and Michael
POV Players:
POV Winner:
Veto Ceremony:
Havenots: Alyssa & Indy
Lock your ranks in before midnight
Festie Besties:
Turner & Jasmine (She's also safe)
Joe & Monte
Daniel & Kyle
Brittany & Michael
Alyssa & Indy
Ameerah & Terrance
Nicole & Taylor
How Nominations will work: One pair will be nominated
How the Veto Player Pick will work: Turner/Jasmine, nominated pair, and drawn pair
– If one of the pair wins the veto, the other is also safe.
– If the nominated pair comes off the block, Turner would nominate another pair.
– Eviction: One of the pair on the block will be evicted
– Last pair standing gets a power.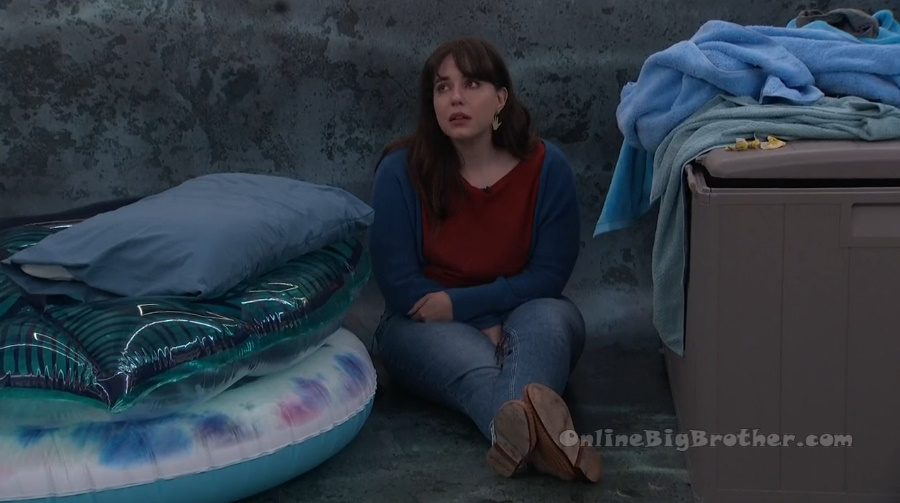 8:20pm – 8:50pm Havenot room – Brittany crying alone talking to the cameras.
Brittany – its so hard! Its just a really awful feeling to feel like you don't fit in and to not know what to do about it. To feel like you need alone time and not get it. I am not even sad about being nominated I am just sad I won't be able to make it. Today is only like day 17. Is it day 17? I miss feeling understood. I miss my husband. I miss my family. I feel like I am letting them down. I feel like I am letting my clients down. I feel like I am weak. I feel like I am boring. I know I am spiralling, that is the worst part that I'm spiralling and I don't know what I need to do to get back on track but its really hard because everything that would normally make me feel better is taken away. I just miss my life because it is a good life. Man! I am an introvert! I don't know how I passed the test to be here. And I don't want to give up because I worked so hard to be here. I want to be here .. this is my dream. And I don't want to give up! Man, it hurts! Oh man!
Brittany – Its like I want to be alone but I don't want to be the kind of person that wants to be alone .. I want to be fun, like why can't I be like Alyssa! She is cute. She is pretty. She laughs all the time. Everyone loves her. She doesn't offend anybody. I feel like every time I try to say a joke someone will hear and they won't laugh. And then they will repeat it and then everyone will laugh at the person that repeated it. Its like I'm not even there and I don't know why! Because I have friends and family that love me… and my clients really love me. And I feel like I am letting all of them down because I look like a reject! I feel like a reject and it feels awful. I just wish I would have been better prepared for this. oh man! Its just tough when the people that understand you aren't here to remind you of who you actually are. I know if Steven was here he would give me a hug and say that what I am thinking isn't true. And he would remind me how much this has been my dream for the last decade. Isn't it funny that you can have dreams and want it so bad that you would do anything.. you would give up your perfectly happy perfect life to go do this thing because its your dream.. and then you can get here and it brings up any insecurity you've ever had. I think my problem is that I am problem solver. And so the problem is not feeling like I fit in or that I can make really deep friendships other than with Michael and maybe Kyle. And I know what the problem is .. that's the problem. I am finding it difficult to make friends but the thing is I don't know how to fix it. How do you make friends when everybody else already has friends. I feel like I should have figured this out in elementary school. I should have figured it out in middle school. I should have figured it out in high school. I should have figured it out in college. I have friends at home.. I've just never had a group of friends. I have never been apart of a big group. And that is fine in the real world. It doesn't bother me that much. I like reading. I miss making people feel good. And I only really get to do that 20 minutes a week now.. and that sucks. And I am doing it and it isn't even really helping my game, its helping them! No wonder I am on the block! I hypnotized everybody to have an amazing week! ohh.. I just have to laugh. I hope I haven't embarrassed my husband enough. His family is probably watching and thinking he married some psycho. Paloma was not even a week in the house and everyone was smitten with her.. Big Brother switches the feeds.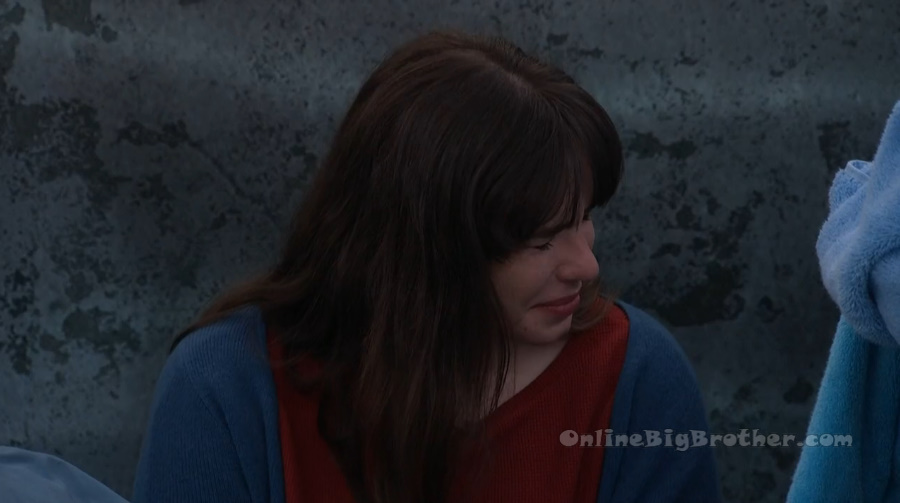 Brittany – No wonder I can't make friends.. I am not even being honest. I am not even able to share who I am and what I do. Its hard to connect with people if you can't share your true self. Especially as a woman. But if I told them now, they would just think I am a liar which they would be right because I haven't been truthful with them. I am sure they would understand why.. I hope my clients don't think I cry all the time. This is a very particular situation. I do think being empathetic helps. I know what people need. I think that's my super power. I love helping people because I know how they're feeling. It sucks when you know how everyone is feeling but no one knows how you're feeling. She then does a "little self hypnosis".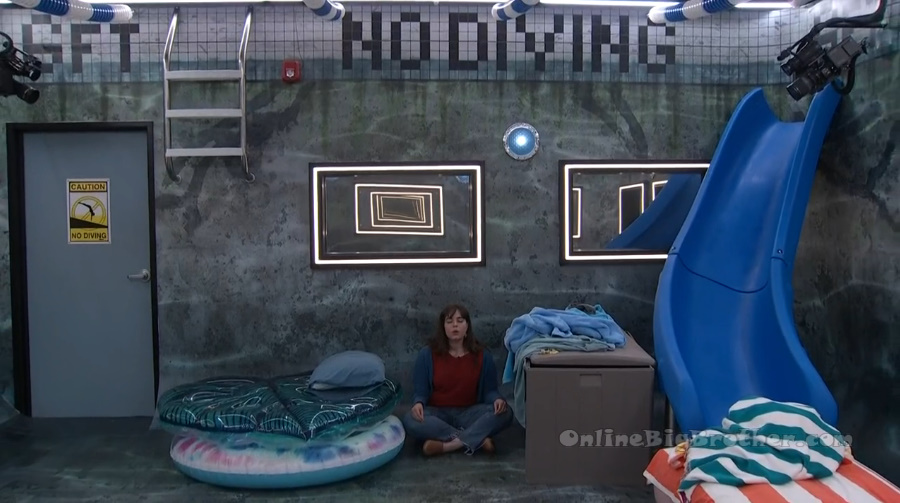 8:57pm Storage room – Daniel, Nicole and Ameerah.
They're getting Joseph's cake ready for his birthday celebration. They think about putting a condom on the side of the cake and then decide not to because he might be embarrassed / because of his dad (watching?).
9:20pm Bedroom. Taylor talking to the camera.
Taylor – Somehow I become the villain and everyone else in the house goes harder on everybody else… but I am still the villain. But I take it because its not worth having the house against you.
And if I am actually hurting people, obviously I would rather learn and grow from that but some of the stuff is like.. Even Brittany and Pooch .. the smallest thing like rolling their eyes and saying that you rub the house the wrong way .. I am just frustrated! But the key is getting back out there and put on a good face no matter how frustrated you are. Anyways, I am just frustrated because these are really nice people. Brittany is a little awkward but she doesn't say anything that hurts people or upsets people ..but the whole house is going to vote her out this week and for what?! Pooch was annoying but entertaining.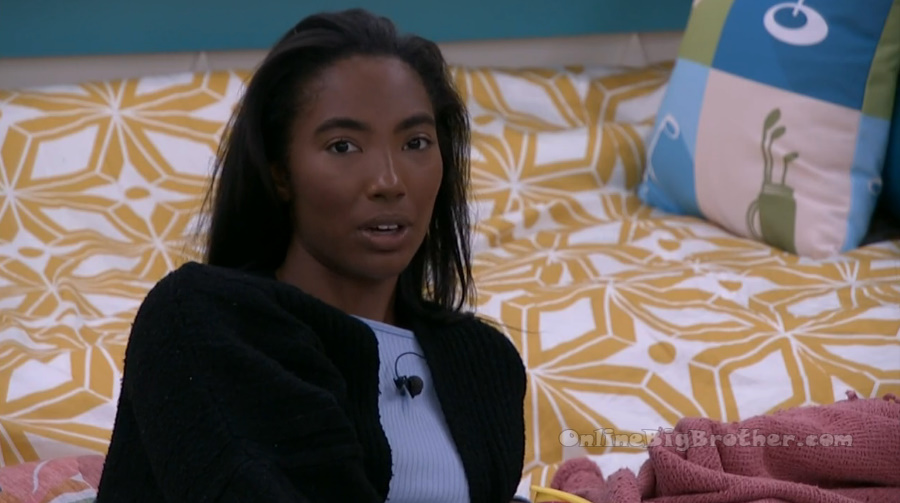 10:08pm Outside the HOH room – Michael, Nicole and Brittany.
Brittany – how do you feel about this week? Nicole – I am okay but I am also scared. Brittany – its risky but I feel like it could be high reward. Nicole – yes but my thing is I just don't want it to be a Pooch 2.0! And I know it won't be but I'm still scared. Brittany – I get it. Nicole – but I feel like doing this will be better for a lot of people going forward just because I know that I can help control her (Taylor), we also don't know what she would do and I don't know who her ultimate target is but I know that I am safe.. does that make sense. Brittany – you wouldn't be able to have control if she was HOH.. and that would be a helpless feeling for sure. Nicole – most of the people in the house can move forward if she is gone. Nicole heads downstairs.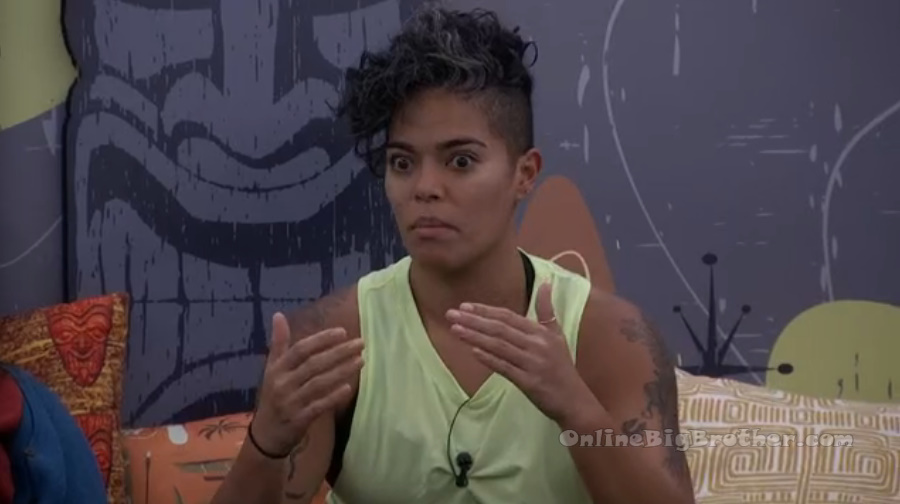 10:23pm HOH room. Brittany and Turner.
Turner – have you talked to anyone today.. how are being? Brittany – People are being good. Gosh, Everyone would have to be bamboozling me and if that's the case then kudos. I feel good. Turner – I feel fine.
10:35pm HOH room. Turner talks to the camera
Turner – Brittany freaks me out. Why is she standing outside that door of my HOH room for five minutes. And I am just thinking are you going to come in and simultaneously dude driving me crazy. There are just some people that .. dude its like I don't want to socialize with anyone unless its Kyle, Monte, Daniel, Alyssa, Joseph… thats all the people I would want to talk to.. Brittany doesn't fall into that criteria, she actually falls in the entire bottom of the barrel especially when I wake up. When is Brittany in my a$$ every time I was up.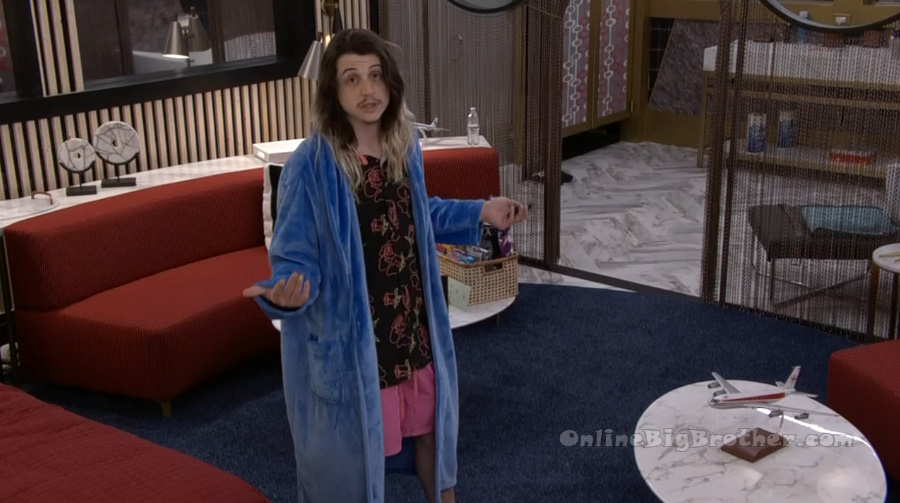 11:30pm HOH room – Joe and Turner
Joe – What up Turn-daddy!? Question .. if I am not selected for veto do you think I could host the vote? Turner – yeah do you want to? Joe – my boy! I forgot I had to pick. Joe – but obviously if I am going to war..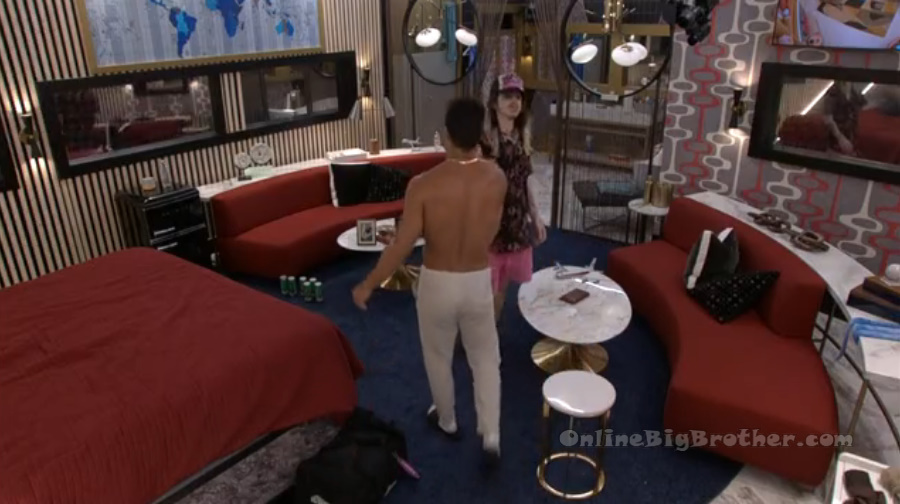 11:40pm – 11:45pm Bedroom. Alyssa, Kyle, Turner, Indy, Nicole, Daniel and Monte are hanging out chatting about random things. Kyle to Alyssa – what are your red flags. Alyssa – that I am super jealous / super possessive person… but those kind of go hand in hand. I think that's about it but that's a big one though. Kyle – so when you were talking about Joseph having girl friends? Alyssa – no way! Absolutely not, unless they're ugly. What if I had .. like what if the roles were reversed? Kyle – yeah, I'm the same. Do you think guys and girls can be friends just in general? Alyssa – no. Kyle – you really don't? Alyssa – like friends but not best friends.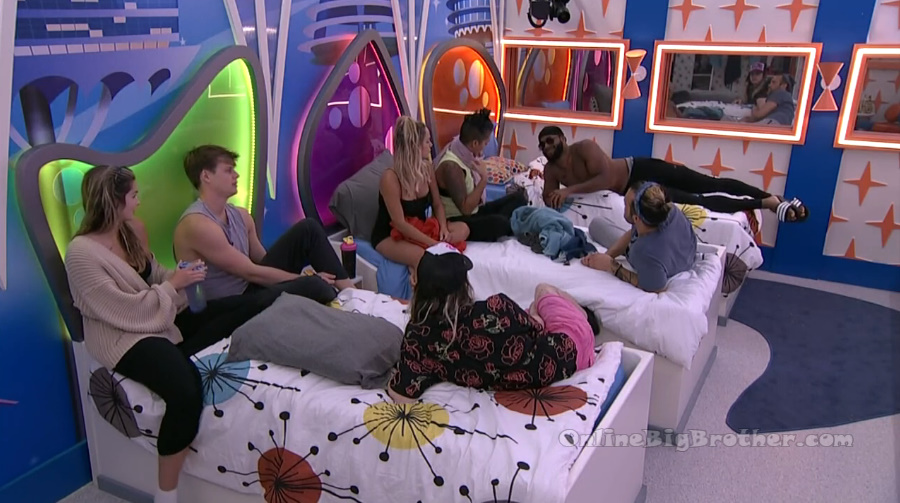 Indy "Look what he can do! AMERICA! GO AMERICA!" #BB24 @bigbspoilers pic.twitter.com/FnoqC8zXHJ

— Dawg (@DawgsBigBrother) July 23, 2022
11:59pm The house guests get ready to celebrate Josephs birthday.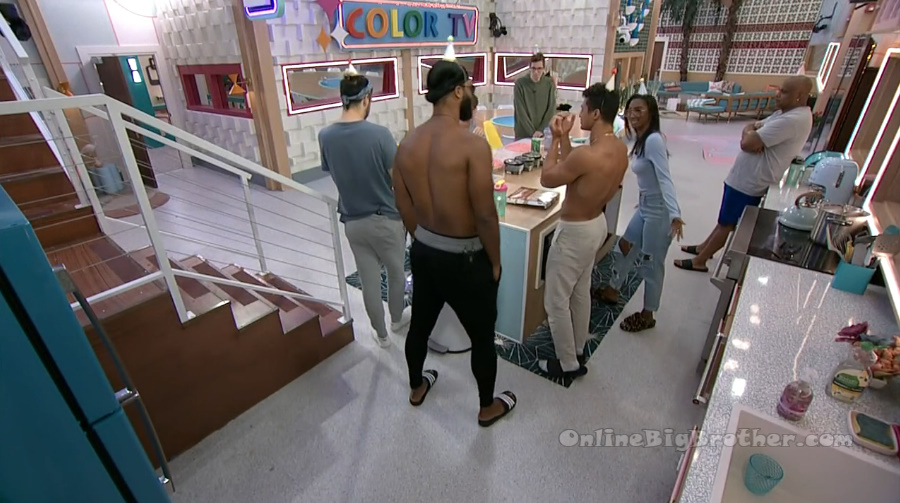 12:04am The house guests all sing happy birthday to Joseph.
Celebrating Joseph's Birthday – Indy cracks an egg on his head #BB24 @bigbspoilers pic.twitter.com/hv40Hql3J4

— Dawg (@DawgsBigBrother) July 23, 2022