Quick Big Brother Spoilers
Head of Household: Monte
Nominees: Indy and Alyssa Taylor and Nicole
POV Players: Alyssa, Indy, Monte, Terrance, Joe, Kyle and Daniel (Michael is the host)
POV Winner: Daniel & Kyle
Veto Ceremony: Daniel used the power of veto. Taylor and Nicole are nominated.
Havenots: Turner & Jasmine
Lock your ranks in before midnight
Festie Besties:
Turner & Jasmine
Joe & Monte & Terrance
Daniel & Kyle
Brittany & Michael
Alyssa & Indy
Nicole & Taylor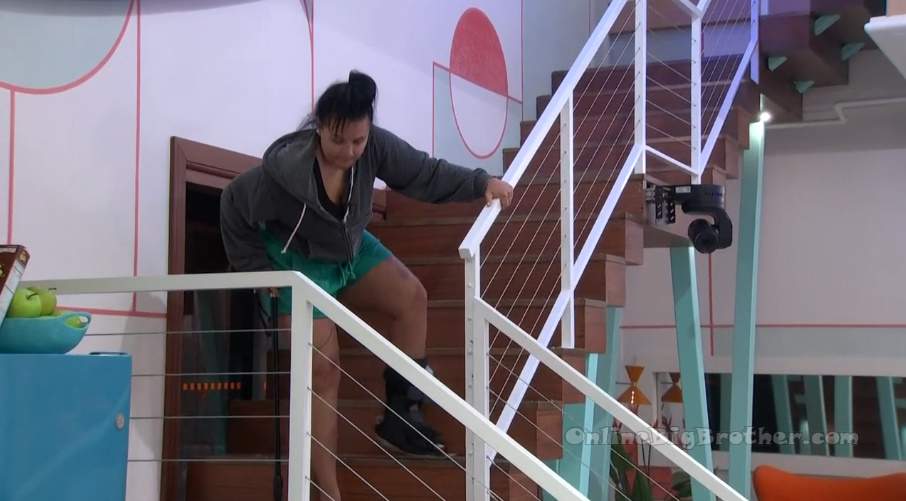 7:38pm Kitchen – Jasmine hobbles down stairs the to kitchen. Jasmine – I can't believe tomorrow is my last day. (Till she is off being a havenot) Joe – that's it Jassy! You've got one more day .. then never again. Jasmine – never say never .. hopefully never again.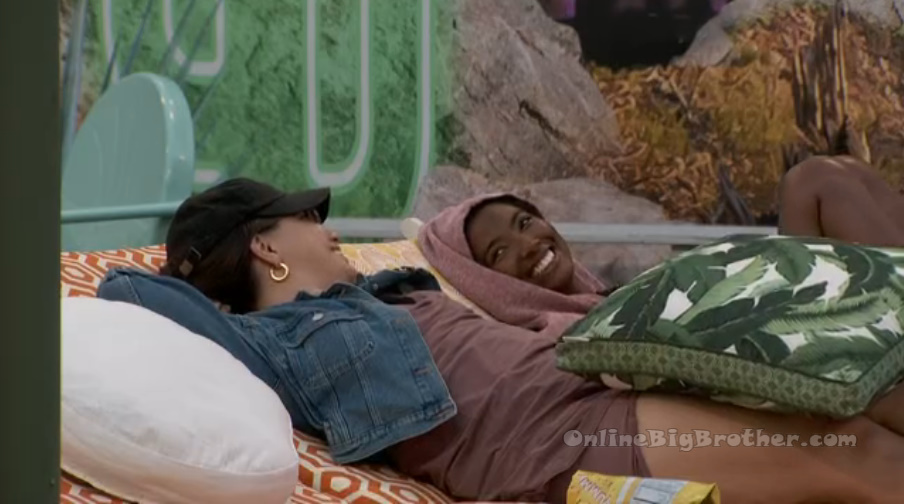 7:43pm Backyard – Taylor and Brittany.
Taylor – he puts a lot of trust in me and you and Michael. Brittany – yup, I was really honest with him last week. He was like you are good. Don't you dare listen to anyone else that tells you otherwise. I would be so devastated.. and like I better be right by the door and I would be out behind with you. I swear on my life I haven't heard anything. You should be good. I talked with Jasmine a little bit today.. Taylor – how was it? Brittany – good. You should talk to her after. Taylor – I want to. Brittany – I feel like she is open to it. She could be BS'ing me. She is good. Taylor – I want to. I never want to walk away and be like I should have talked to so and so. Brittany – She seemed conflicted because she really close with Nicole. She takes care of me. But she said at the end of the day "I want to be with the majority of the house". Brittany – I think those girls need to find out sometime late tomorrow. Taylor – They will, that's the plan. Brittany – I can tell that Alyssa is spending more time with her. Kind of like too late. I think this is a good week to get closer to the girls in case they win HOH. He has to know that me and Michael are close. Taylor – yeah. You know there is no way I continue to stay here without help. And so if we're here next week, which we would be he is not going to go for me he is going to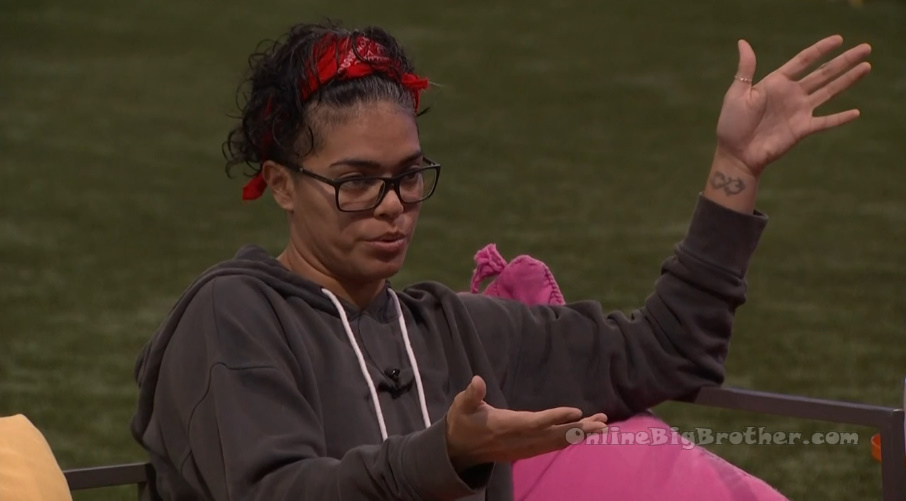 9:08pm Nicole, Brittany and Michael.
Nicole – obviously I am on the block now and the conversations we had were pre-touching the block. And so I just wanted to touch base with you and see where your head is at. If I am beathing a dead horse then I totally understand. I know you and Taylor are friends. And I would definitely never expect you to vote against her. Brittany – well I want to make sure she doesn't feel ostracized. Nicole – oh definitely. Brittany – I am definitely trying to make more of an effort here recently. I do consider her a friend but I will set that aside for game. For me game and personal are two very distinct things. They can overlap but I am approaching this very objectively. I just don't want anyone to go home feeling any type of way. Nicole – and it all goes back to me choosing her as my Festie Bestie was a strategic move for me because of what the majority of the house had been telling me so I wouldn't have made the decision if that wasn't the case. I personally prior to our thing that happened between us I never had an issue with her. Brittany – no you didn't. Nicole – that is the truth. I never had an issue with her. I was still fighting for her to be here. I was like she is good for our game. Lets keep her here. I picked her as my partner as a strategic move and after everything happened I made it clear that this is a business relationship. I said I am not going to talk behind your back or bash you in anyway. Going forward I know that if I were to stay and I don't know if I were to stay who I would choose to be on a team with. But I will say this, moving forward if I am still here Thursday night and I don't go home .. I would love to know if the option to join the both of you would be okay with you. Would you be comfortable with me joining you.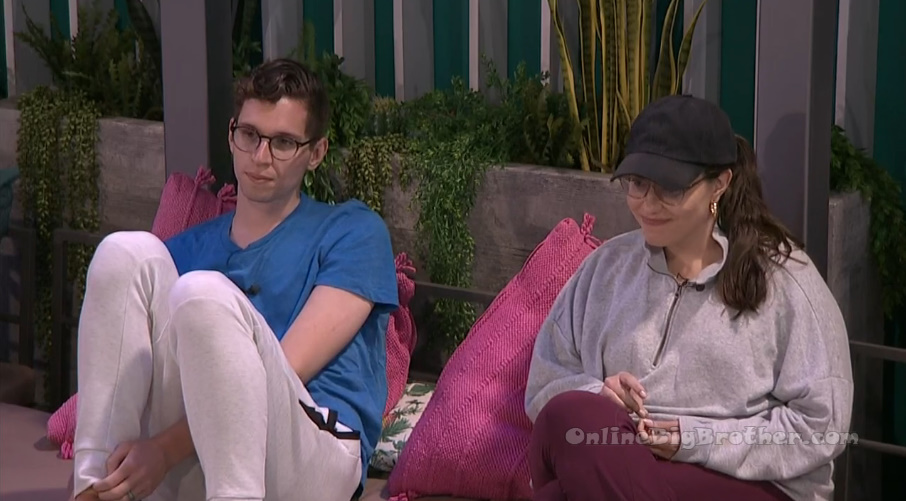 Brittany – yeah. Nicole – I think we could be a force to be reckoned with. For me I want to be with people that I get along with and that we all want to play this game. I would love to have your vote to stay. I think in totality of this, I feel like I have proven to be someone who doesn't have drama in their game, who doesn't talk sh*t, who doesn't spread rumors. I play a very honest, straight forward game, a very transparent game. I don't think anyone would say that they can't trust me. I can keep a secret. I can keep a strategy. I got second place in the HOH comp. Brittany – so what would happen in that situation, if you were to get HOH who would be your target? Nicole – well that's the thing as of right now I can't even answer that because we're in a position where I don't know who is against me in this house because of the whole Ameerah situation. I really feel like she shot me in the foot. I put my trust in somebody that I couldn't trust. With what you told me she said about me. If I were to get HOH, I honestly don't know what I would do. We have not connected, this is only the second conversation we've had but I feel very close to Michael. Brittany – no, that makes a lot of sense. Nicole – I am not here to make promises. I am not here to make alliances. I am not going to POOCH myself. So if I get POOCHED 2.0'd its going to be because I played a fair game with myself and with everybody else in this house. Brittany – here is what is tricky to me. I found out she was throwing around my name and a lot of other things that she is not here to defender herself about. There is a lot of stuff that she said about you, how do I fact check those things. Nicole – I say you ask me is the only thing I can say. You can ask me questions and I can clarify as best I can.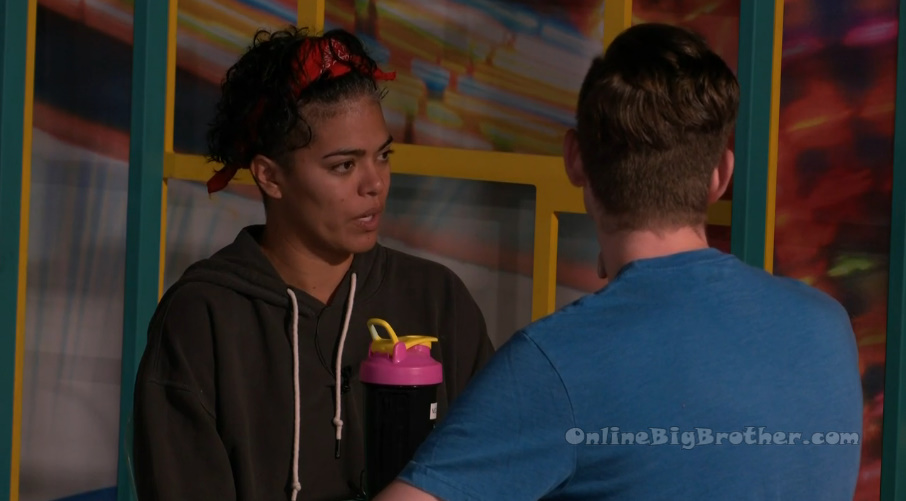 9:20pm Backyard Upper Level – Brittany, Nicole and Michael.
Brittany – I think my thing with Ameerah was that she was throwing around my name. Nicole – and she was throwing around your name… she was. She said that you were inserting yourself in conversations around this house and that you were taking words and twisting them. When she was giving the why's and the how's she wasn't giving true detail. Its like when you're friends with somebody, you're kind of taking their word for it. She was basically saying that you couldn't be trusted. Brittany – meanwhile the whole time I was in an alliance with her. Nicole – okay so there you go. So for me that is hilarious because she never said that to me. Brittany – and all she would tell our alliance is do not trust Nicole. Nicole – and you know what is so messed up about that. The day before she got evicted she looked at me and said you're my number one. I want to go to the end with you. And I was like girl you just told me a week ago that Jasmine was your number one and that going forward you wanted to keep her safe. Brittany – she is no longer here and those things were not true. I am willing to put those things under the bridge. I am more concerned with moving forward. Nicole – I am 9 million percent for moving forward from that stuff. I have nothing but myself to put on the table. I can do nothing but be as honest as I can and hope that people trust in me. Michael, I already feel like you should 100% win this game. But I feel like you are playing one of the best games in this house because you know how to separate yourself but you also know how to include yourself. But I know you feel left out and isolated at times. Michael – you asked us about wanting to joining a team. I only see having 3 people benefit, because that is 3 people. Nicole – I see power in numbers. Michael – I am okay with it. Brittany – I was just thinking about it more. It just caught me by surprise. Nicole – I can honestly say that I trust Michael 110%. Brittany – so what can I do to get to that point with you? Nicole – having these conversations. Take it or leave it.. and obviously I would rather you take it than leave it.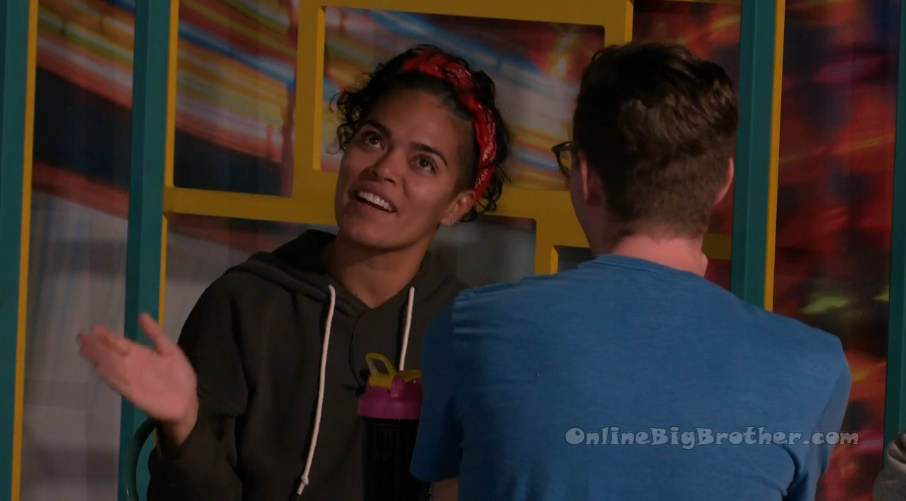 9:45pm Showmancing ..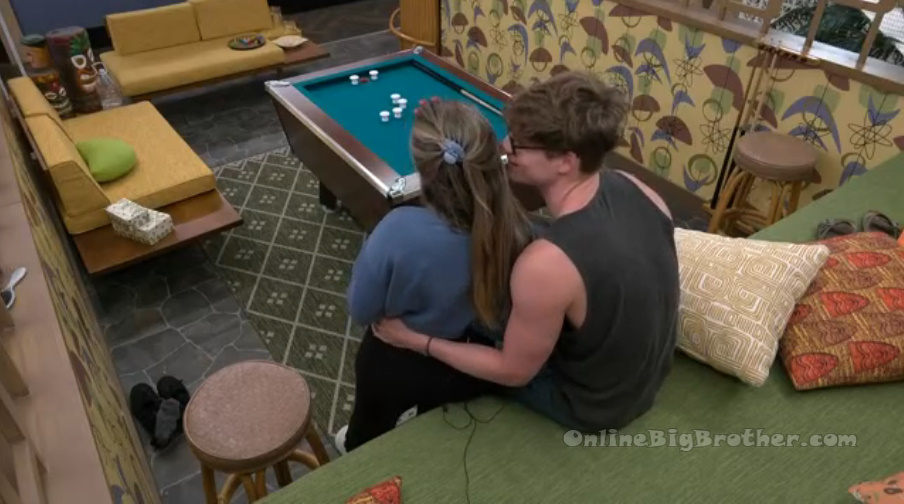 10:25pm – 10:35pm Bathroom – Joe and Daniel.
Daniel – I will tell anyone 100%, I am voting for Nicole to stay. I am not hiding it. I am not playing this POOCH game like oh I don't know… we'll see. I get it, we had to… you know. Joe – no yeah for this one I am trying to be on the same page. Daniel – I just respect anyone even if they are like I am voting her out.. like dope! Thanks for just telling me. Joe – yeah honestly I know.. and if anything changes .. and I'm not saying it plans to.. I will talk to you. I trust you enough to be like Bro like I heard! Daniel – it would mean a lot to me because I am staying. Joe – and you're someone that I want to keep an open dialog with since we have since day one. Our gameplay has been very similar since day one and I saw it from your HOH. If anything does change I will come to you. If I had more time in terms of the Ameerah vote I would have come to you. Daniel – yeah and I heard from other people that it happened right before.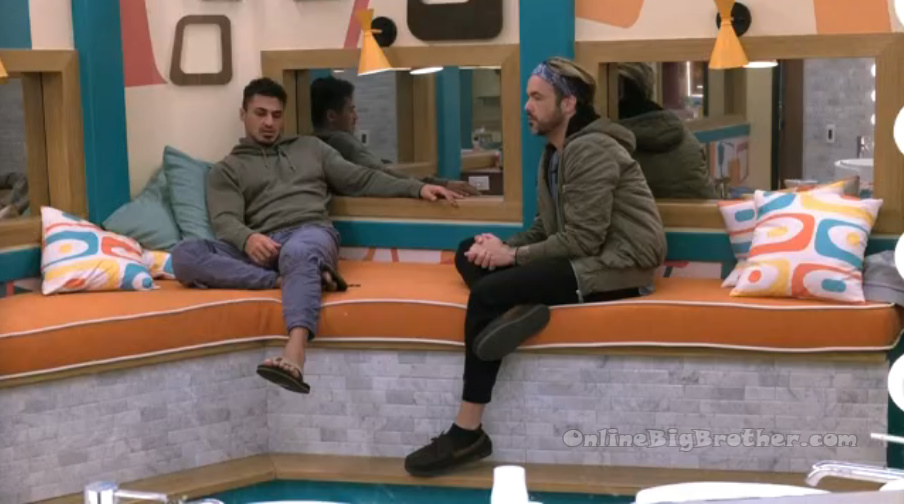 10:41pm Backyard Hammock – Daniel.
Daniel – people think I am so stupid. I respect them for trying but there is no doubt there is a huge alliance .. not even huge.. a six person alliance. There is no doubt its going to be a 5-5 split and Monte is going to have to show his cards. And all of a sudden he is going to keep Nicole.. I mean he is going to keep Taylor.. and all of a sudden there is going to be a stupid rumor about Nicole was backstabbing and talking sh*t on me.. which I am not going to believe. I will probably stand in their face and be like I don't f**king believe you! I am done dude! If I lose Nicole this week I am going to have to start calling people out in front of everyone. House meeting sh*t! Call a f**king house meeting! Our key to this vote is Kyle. My bestie. Alyssa's showmance. I need it to happen. Nicole needs it to happen. Who am I going to put up for HOH?! BRO let me win it! Yeah, let me tell you that I am going to put up you and Monte!? Let me tell you to your face. Get the f**k out of here dude! You have zero power and you haven't won a single competition. Don't ask me like you own some sh*t. Win an HOH and then start asking me questions. And Michael, don't get me started on Michael. I say 100% I'm keeping Nicole how do you feel. Oh you know, I'm close with Taylor. Since when!? Oh so you're not close with Nicole!? Get the f**K out of here dude! Say you're in an alliance, admit it and we move forward. These people think we're stupid. We may not win this game but we are not f**king stupid dude. We see every f**king move, every detail. We just might not have the numbers but we will f**king try. I need to talk to Nicole and Terrance because I am going to lose my sh*t. And before any stupid other cast member comes out here I am going to leave because I cannot listen to Brittany's sh*t… EVER! Stop! Chill! Chill!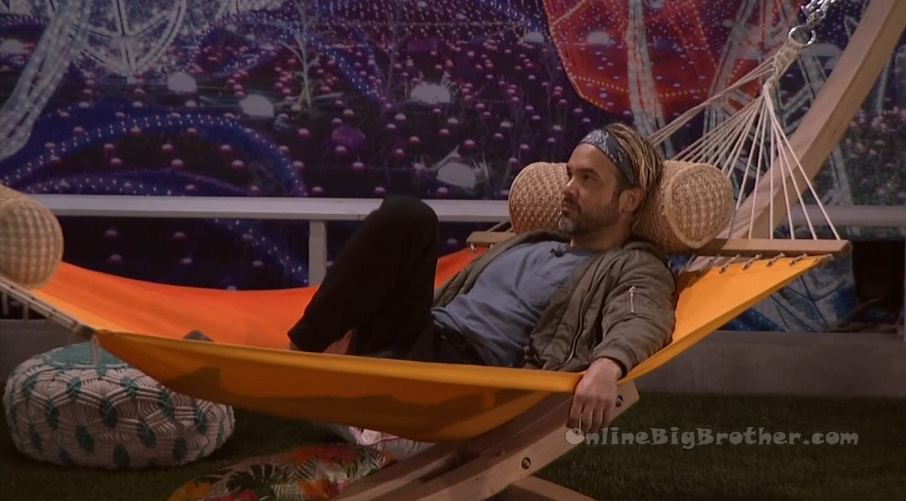 11:04pm Bedroom – Alyssa, Nicole and Daniel.
Daniel – I think Brittany and Michael heard me say I've heard comedy and that is top tier.. I've seen bad acting and that is top tier. I don't think they knew who I was talking about. But also I don't give a f**k about them! She isn't winning any competitions. Nicole – Whatever its fine. I don't need their vote! Daniel – It comes down to Kyle. I am not even kidding! It comes down to Kyle. Nicole – I need everyone's vote. I just told Alyssa that I guarantee on the day of voting if it all ends up being majority its because they don't want to be .. they don't want to look like… Alyssa – and they'll say it was the plan all along. Daniel – even if we don't have Kyle which we need for you to stay… Big Brother switches the feeds. Daniel – if she goes at it with Brittany. Brittany might want to keep you. If you want to do that. Nicole – no I'm not worried. Like I am not going to do that. Daniel – you're not worried about what? Staying? You better be worried! Nicole – no that's not what I am worried about… Can you like let me.. Daniel – why can't you throw Brittany under the bus? What is wrong with that? Nicole – why am I going to cause friction in the house right now? Daniel – to get her vote! Through Taylor calling her sh*t out! Nicole – but that just causes drama. Daniel – and you staying.. Nicole – I don't think that lets me stay. That's just whatever Brittany is telling me I am blabbing it off. Daniel – okay?! That's your version of playing. That's fine. Nicole – I just can't do it and if I go home for that .. that's fine. Daniel – all right that makes me feel better .. I will do anything to stay in this house. Nicole – if I go home for that, that's fine. Daniel – You've got to want it bad if you want to stay. Nicole – I do want it bad but I am not going to sit there and start sh*t. Daniel – that's not starting sh*t, Brittany started sh*t because they're in an alliance together and she is talking sh*t on her own alliance member. Nicole – I think that would hurt me more than it would help me. Daniel -Right now it looks like a 5-5 vote, until Kyle commits to one side. Nicole – right and Brittany and I just had a conversation about trust and whatever.. and if I create that to be an issue.. I don't want that to be why she doesn't vote for me. Daniel – Joseph said that Brittany said she was 100% voting to keep Taylor.. but that's coming from Joseph. Nicole – so Indy, Alyssa, you, Terrance, Jasmine… Kyle. Just remember if I go home and the vote is 5-5. Daniel – yeah I know exactly who it is… means I can't trust Kyle. Nicole – or its somebody else. Daniel – or Terrance flipped last minute. Nicole – No Terrance isn't flipping last minute. Daniel – those girls aren't either.
11:55pm Backyard – Taylor & Brittany.
Brittany talks about the conversation she had with Nicole. Brittany – She can say anything to her and I will agree .. good point .. this that and the other just to make it easy. But you know.. there is nothing in the world that she could say. If you hear this just know ..people that I have been talking to have been saying I just want to make sure Taylor is included until this week and I don't want anyone to feel excluded. Like that is why I am hanging with her. Just know that's bullsh*t. Its just personal, its not game. Its personal AND game! Okay, just so you know. I know she is not counting me as a vote.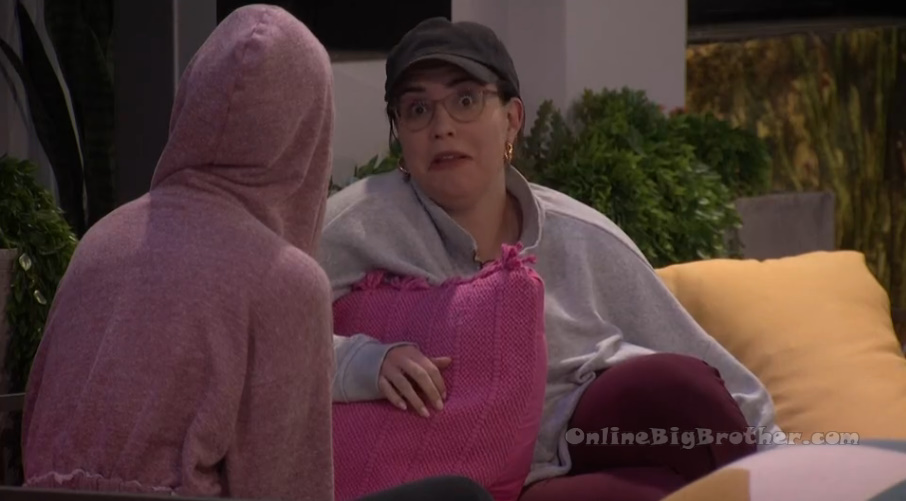 1:30am -1:47am Bedroom. Nicole & Terrance.
Nicole – I have two jobs, to make sure that the people that I trust, know that they trust me. And for the people that are in the sorry six alliance ..because that's what they are by the way. I've named them. Terrance – oh you named them? Nicole – yeah the sorry six. Terrance laughs. Nicole – because they're going to be super sorry when I am left in the house. Terrance – so you're going to be here so figure it out. Nicole – I am creating as much BS as they can Handle. I have never been to acting school but I am a way better actor than they are. Terrance – I agree. Nicole – I literally caught Britany trying to bate me into talking sh*t about Taylor. Terrance – the piece they don't have is Kyle… and me.