Quick Big Brother Spoilers
Head of Household: Monte
Nominees: Indy and Alyssa Taylor and Nicole
POV Players: Alyssa, Indy, Monte, Terrance, Joe, Kyle and Daniel (Michael is the host)
POV Winner: Daniel & Kyle
Veto Ceremony: Daniel used the power of veto. Taylor and Nicole are nominated.
Havenots: Turner & Jasmine
Lock your ranks in before midnight
Festie Besties:
Turner & Jasmine
Joe & Monte & Terrance
Daniel & Kyle
Brittany & Michael
Alyssa & Indy
Nicole & Taylor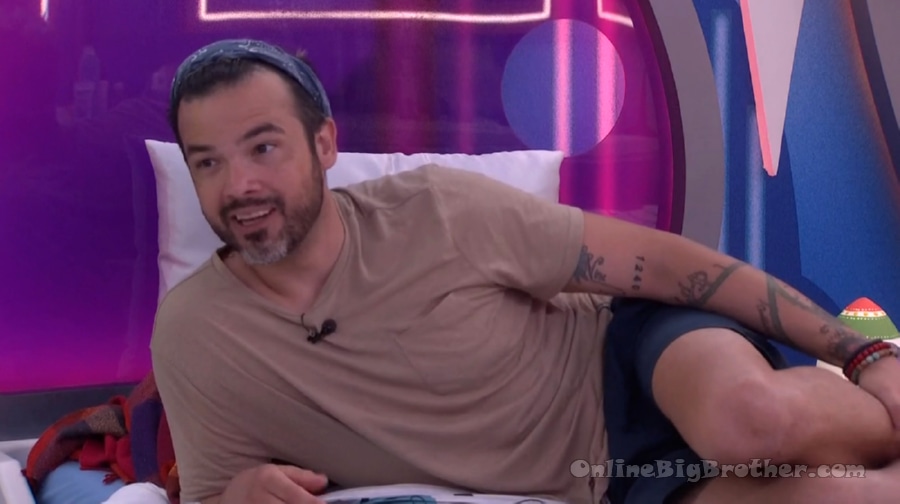 1:55 pm Daniel and Michael
Daniel says he feels that they are in the middle "we will need each other"
Michael – that's how I feel too
Daniel – we have both won the most competitions. Moving forward it would be helpful to hear each other out and have an open conversation about what is best for this week. The minimum would be Jury.
Daniel goes on about respecting Michael. "moving forward dude I'm being honest help each other out I'm always down with I've never had anything against you if there's anything you have toward me I would love to talk about it"
Daniel – I have so much love for you guys
Daniel – I'll always be as clear as I can like I was this week and keeping Nicole. If Big Brother said here's 10K I'll say NAH.. I'm giving my love to my Friend. Strategically it makes more sense in the game (Keep Nicole).
Daniel – I'm doing what I can do because it was me using the veto someone I'm close with goes up. I'm hoping people can see it benefits their game.
Michael – People have to realize if she keeps sliding by and sliding by.
Daniel – as far as jury goes I think she will vote emotionally and vindictively.
Daniel – If Nicole is in the jury it'll be what did they do game-wise.. That's the way I'm going to vote
Michael – same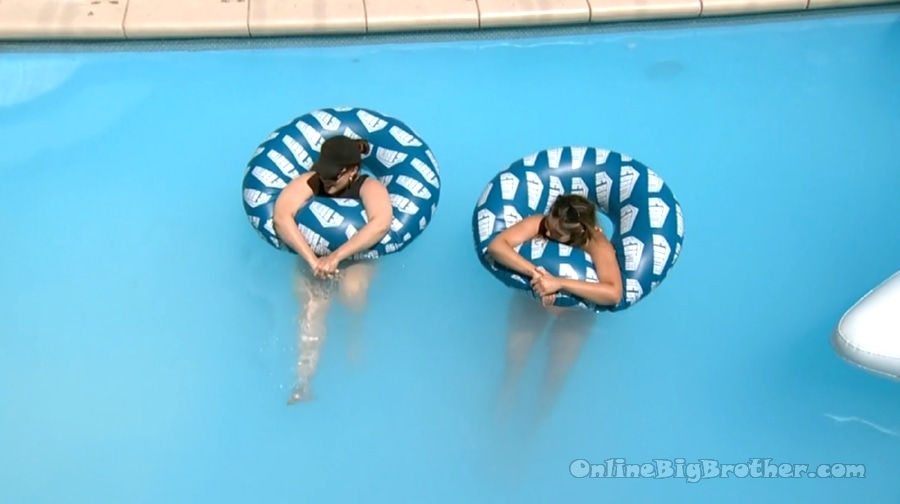 2:04 pm Back to the pool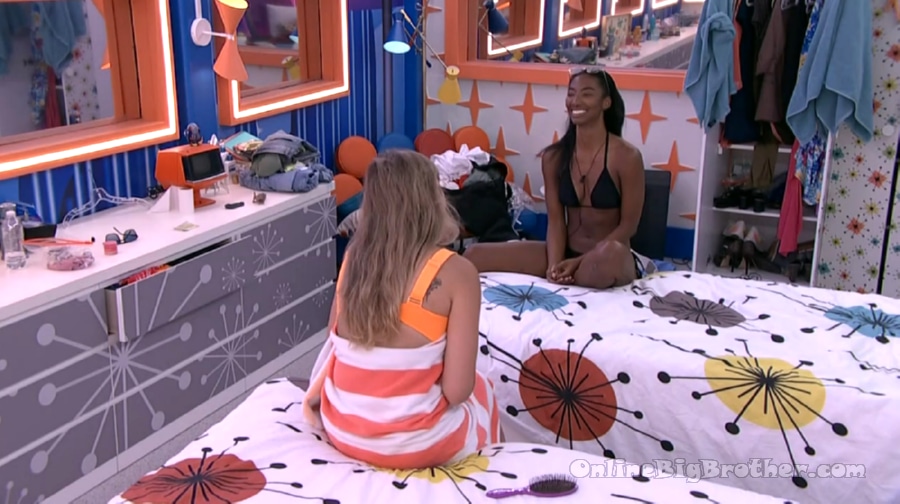 2:15 pm Taylor and Alyssa
Taylor says if she wins HOH she'll put up Monte, Terrance, and Joe with the plan being a backdoor to get out Daniel
If Taylor remains in the game she will join Indy and Alyssa's Festie bestie pair.
Taylor – even if you have an inkling I will come after you I literally cannot come after you. From there we put some guys on the block. My target hasn't change since 2 weeks ago (Daniel)
Alyssa – have you talked to Indy very much?
Taylor – I don't think she likes me
Alyssa – I don't think she doesn't like you she hasn't said anything about you.. she's just going around making food.
2:22 pm Out in the sun
2:30 pm Baby birds are doing alright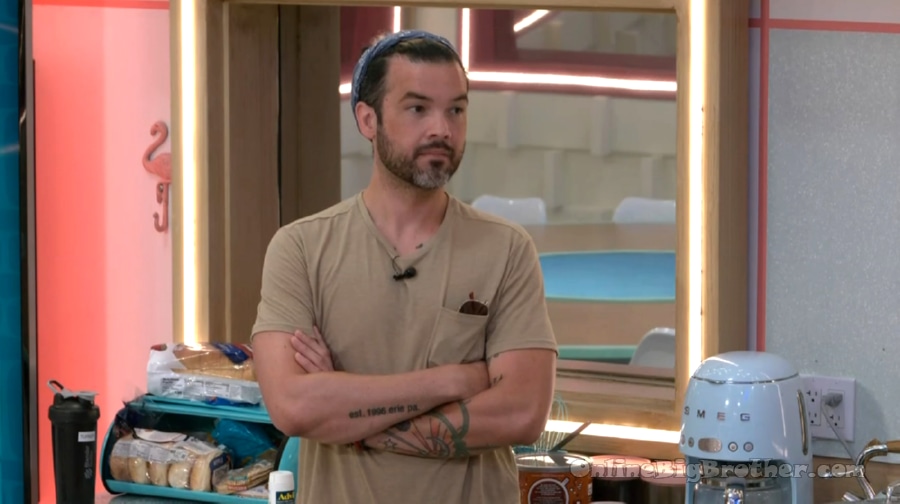 2:44 pm Daniel and Nicole
Daniel – Michael did not give me a straight answer.
Nicole – WHAT
Daniel – I was waiting the whole time for him to say 'i'm keeping Nicole' and he didn't say it once
Nicole – you know what he said at the washing machine? he said he spoke to INdy and Alyssa and pretty much Indy said that she's planning on going with the majority of the house.
Nicole – he said he has my back and he's planning on keeping me so is Turner.
Daniel goes over the points he made to Michael like how Nicole will be a straight shooter in Jury and Taylor will vote on Emotion.
Nicole – let's say they are all working together the ones that say they are on our side are doing a really good job acting being truthful. If that's the case congratulations
Daniel – that means the minute you go home I'm by myself
Daniel – there's a cookout 2.0
Nicole – the only reason why I don't believe that is they wouldn't have sent Ameerah home if there was a cookout 2.0 and they would be including Terrance.
Daniel – it's happening now with Terrance.
Daniel – have you talked to Kyle at all? that's HUGE he is the vote to stay.
Daniel is going to work on Kyle tomorrow use the angle that the house see him and Nicole as a pair and they see Alyssa/Kyle as a pair. The pairs should look out for each other.
Daniel and Nicole agree Alyssa was the target if the veto wasn't used.
Daniel – Turner hasn't spoken one word of game to me neither have I But I don't trust him one f***ing bit
Nicole says "They" want to create drama "They want me to flip out. It's comical because that is not who I am"
Nicole starts talking about the group she saw up in the HOH for two hours Sunday night which is the Leftovers minus Kyle.
Nicole – I call them the sorry six because they will be really sorry that they crossed me.. First to do Monte, Second to go Brittany,
Nicole – let Joe sit here and crumble then he can go.. I will put him on the block.
Daniel – Brittany has to go because of Information and Lies.
Nicole – she is such a liar. she is the worst liar.
Daniel – Acting is lying. I'm a professional actor.. not that I'm good. I'm good at acting as Elvis.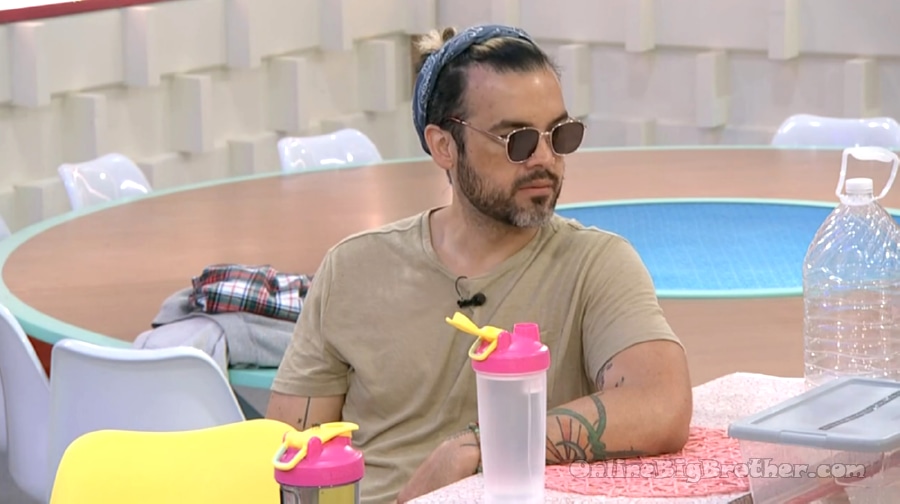 3:22 pm Daniel and Nicole
Daniel – Brittany pretty much told Jasmine she's keeping Taylor
Daniel – I said of course. she's not good at this game. I guess we can't have everyone know how to make moves.

3:56 pm Taylor and Michael
Taylor – even when he apologized he was a bit condescending. I had to prompt him to apologize for the blow-up
Kyle joins them "Is he still confident" (Daniel)
Michael – yeah
They figure tomorrow the word will get out that the vote is flipping.
Kyle is hoping to say "Voting with the house" up until the last minute.
They work on some reasons for Kyle to give Daniel. Like he heard she's putting up Monte and Joe or if he and Daniel would ever get nominated she's a vote for Daniel every time.
Taylor – you got options.. who she said she's going after but using Monte and Joe? you two.. you two are her targets next week right? (Mike/Britt)
Michael – who knows..
Taylor – it's the season of backdoors.
Kyle – there hasn't been one nomination that stayed
Taylor – yes there has, Me and POOCH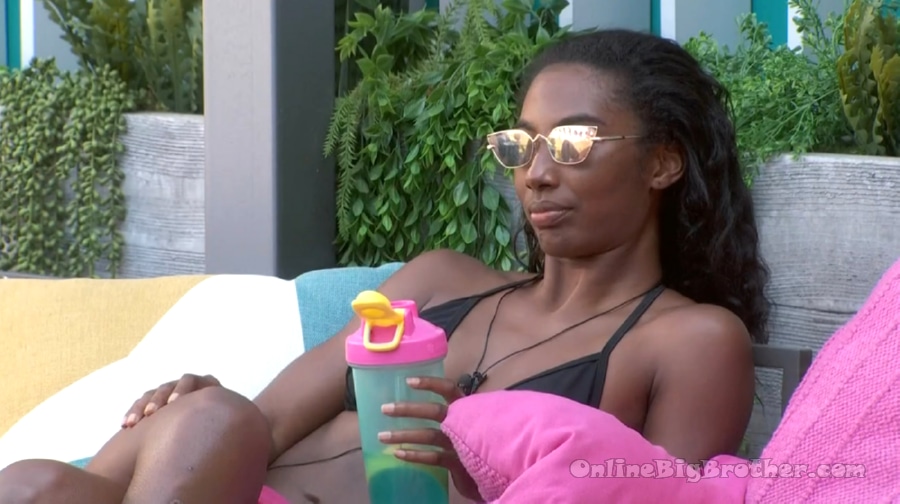 Taylor – Homies gotta go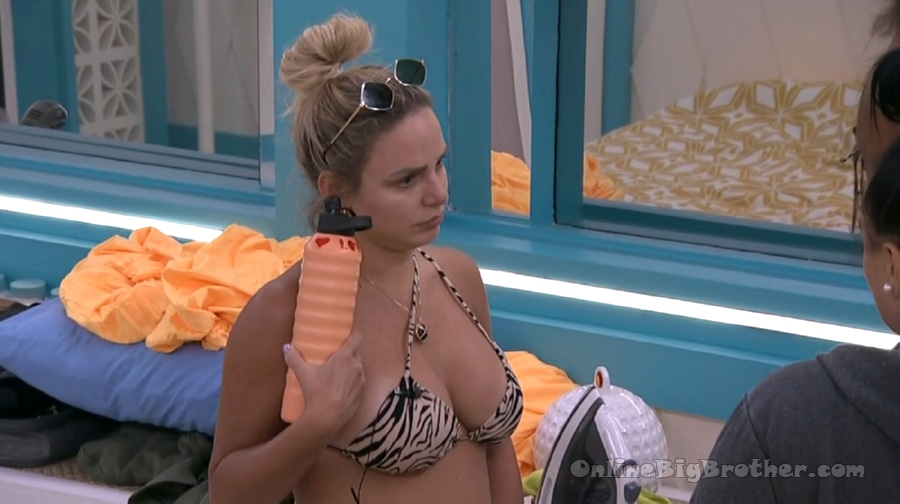 4:16 pm Jasmine and Indy
Jasmine says Brittany is voting out Nicole.
Jasmine – we still have the numbers but if we don't we have to go with the house so we don't look bad.
Jasmine – we need to feel it out and see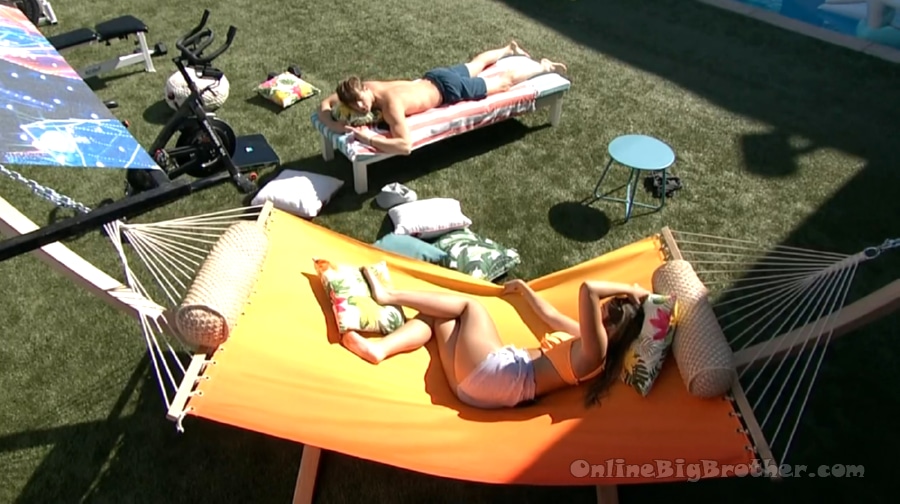 4:30 pm Kyle and Alyssa
Alyssa hasn't been called into the Diary room about their late-night kiss. Kyle asks her if she's told, anyone. She hasn't he jokes and says he's only told Indy. Kyle asks her if she tells anyone to let him know who it is.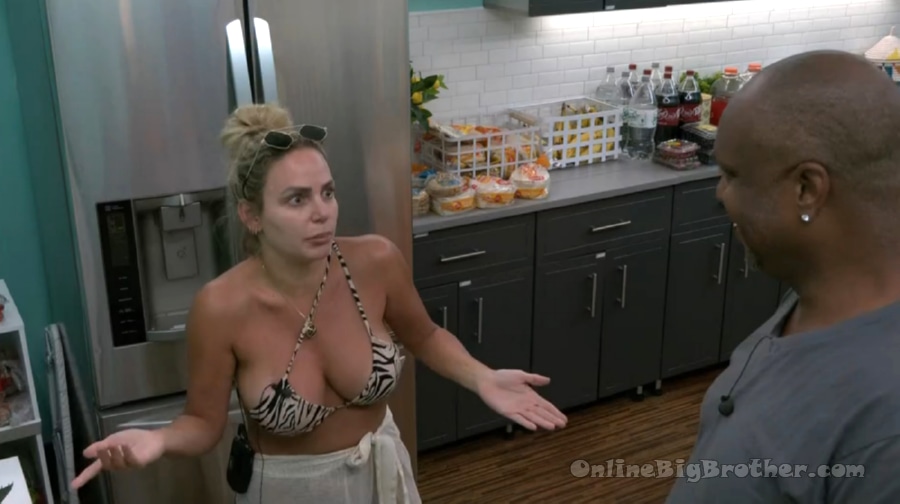 4:34 pm Indy and Terrance
No idea what they are talking about.. Might be about the vote.
I think indy found out that Taylor wants to be festie bestie's with Indy and Alyssa. She's not happy.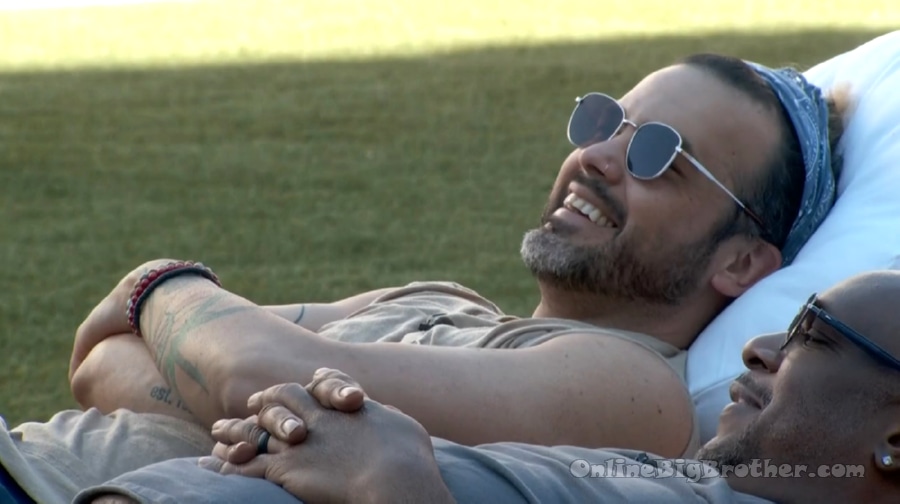 5:17 pm Terrance and Daniel
Daniel – There's another one (Taylor)
Terrance – I don't want her to see jury
Daniel – you don't know where her vote will lay. it would be all over the place, Emotional, Lies
Terrance – Weirdo
Daniel – you're killing me
Daniel – I'm done putting on a face.
Daniel – I'll be out here in the hammock and be like if anyone come out here I hope it's not Brittany and then she opens the I'm like F****
Terrance – It might be me but I have never met nobody this politically correct
Feeds flip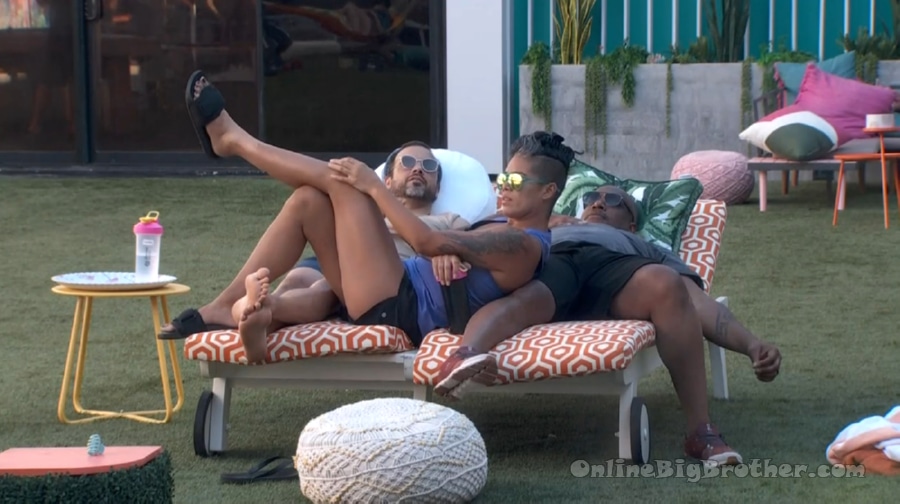 5:34 pm Daniel, Nicole and Daniel
They're talking about Power. Terrance brings up one season of Big Brother Canada where the HOH was secret.
Danie wonders if maybe there is a secret power in the game.
Nicole – if you don't think there's a big alliance then you're not in one
Daniel – if you're not in it you're against it
Nicole – Guess what we got one of our own and we're bigger and better
Daniel – let's see them prove it on Thursday
Terrance- let's go crazy I mean it. absolutely crazy
Nicole – "They" are playing the same game against all these idiots that think we are stupid (LOL)
Nicole – NOPE not today .. it's going to be a good day.
6:00 pm Alyssa and Kyle
Alyssa goes over her conversation with Taylor.
Alyssa – Micahel is tweaking .. do you think they are going to change it and vote Nicole out
Kyle – I don't know.
Alyssa – do you really not know?
Kyle – It's been Taylor the whole time
Kyle – do you think it's going to be Nicole? She's rubbing people the wrong way
Alyssa – Brittany told Jasmien she's keeping Taylor..
Kyle – I'll let you know if I hear anything. I wouldn't be opposed to it, to be honest. the one person in the house I get along with the least is Nicole
Alyssa – she will never put you up..
Kyle – I think she would because Daniel has the votes.
Michael joins them and Alyssa called to the Diary room.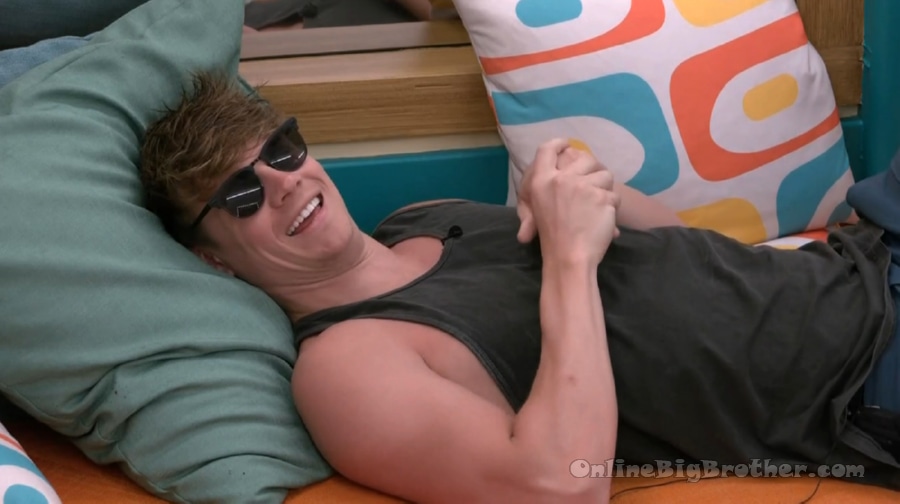 6:10 pm Kyle and Michael
Kyle brings up Indy.
Kyle – It's amazing how she's made it this far. For a player like that to get to this point she's probably in a real good spot. A player with Zero threat, socially, in competitions or games. Everyone will want to sit next to her in the end.
Michael – which makes her dangerous that's like BIGD last year
Kyle – how do you feel within the 7
Michael – I don't know.. When it gets to 7 what's the plan? I have had any of those conversations
Kyle says he hasn't either "I feel like you and I since day one have been very open about everything"
Michael agrees "I feel the same nothing I have told you I haven't heard from anyone else"
Kyle says the same with Brittany "I trust her 100%"
Kyle – Monte, and joe are great I'm excited they are in the pair and everything.
Kyle says he feels really comfortable with Michael and Brittany.
Kyle – I'm always very cautious of the people that say let's just get to 7 you know.
Michael – usually in their mind they already have a plan.
Kyle – it's still early in that Alliance but I haven't had any of those conversations.
6:24pm
Michael – You and Daniel have some sort of working relationship right?
Kyle – for now, but when we backdoor Nicole
Michael – where he's going to go? what options does he have?
Kyle – none
Kyle – what they are doing with the three weakest players on that side is very smart. How can we go and say Indy you should be next over Daniel, Or Terrance should be next. There's not argument up in that room of 7
Kyle – this might be premature when I hear that Let's get to 7 conversations I'm like
Michael – like you want to keep us in line
Kyle – a little bit.
Michael – at times a big alliance pitch is they have insulation within or a plan B
Kyle – An alliance of 7 is BIG that's a lot of people. The cookout was an anomaly
Michael – they had something bigger uniting them.
Kyle – I've said that we don't have that unifying factor. that cause on why we need to make it to the end.
Michael – you winning HOH will probably be best case cause you can't go after Daniel.
Kyle – they will want me to go after Alyssa. 100%.
Michael – Taylor is going to join them. Are we really going to put Taylor up for the fourth time?
Kyle – that's true.. I'm going to go all out. I hope I win HOH honestly just so I can have the room.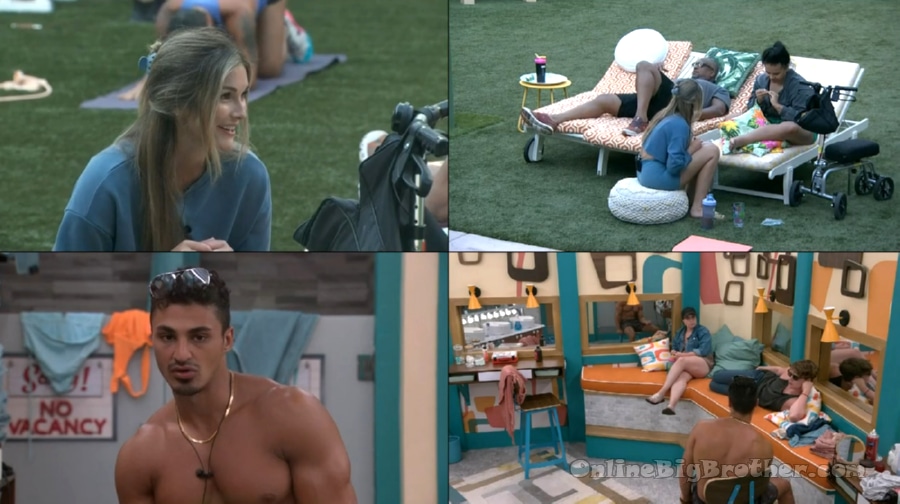 6:55 pm Joe's talking about religion