| | | | |
| --- | --- | --- | --- |
| HOH Part 1 | Paul | HOH Part 2 | Nicole |
| HOH Part 3 | ? | Final HOH Winner: | ? |
Watch the last week of the feeds for FREE! 1 Week Free Trial!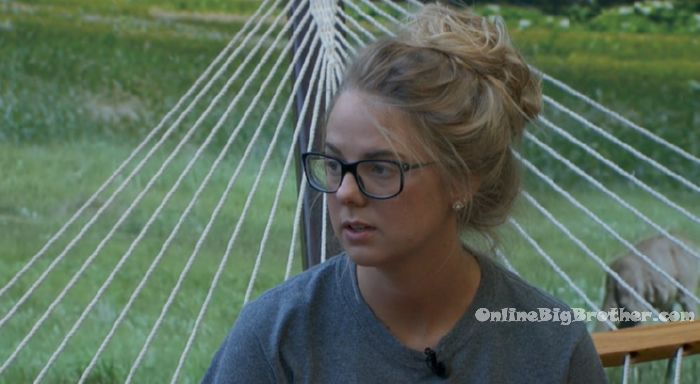 4:55pm Nicole – I can't believe I am still here. Playing in the final HOH of the whole summer. I feel like I did play like a vet. Nicole – there were only 4 vets and 2 of them are still here. That's pretty impressive. Nicole is using the cards to determine her jury votes. Nicole – I need to think very carefully about this stuff. Natalie will not vote for my no matter what .. so she's a lost cause. Bridgette might vote for me because she told Paul she is rooting for him … if .. I think Bridgette will vote for me if I'm against.. James. I think I'll have that vote. Paul joins her. She comments on how she only has half the deck. Paul – he (James) is sh*tting his pants. He told me I think we should just leave her (Nicole) alone. I think she is just trying to get into the zone. When he said I think we should just leave her alone.. I was thinking you motherf**ker. He is f**king nervous. Paul goes to get the other half of the deck.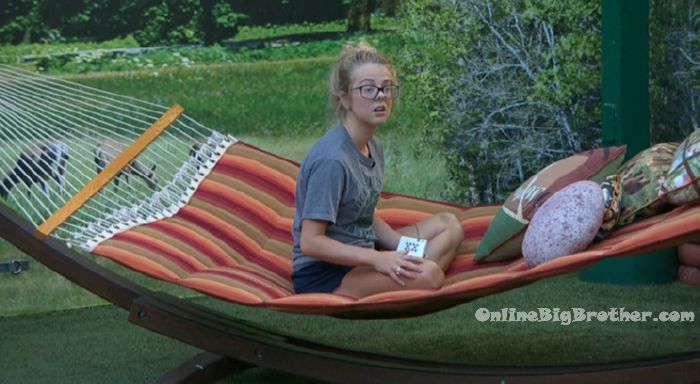 5:05pm Nicole goes back to talking to herself about jury votes. I do not want to take James to final 2 because he does not even deserve 50K. And if he beats me I am going to be livid! I don't know what his edit is …if he is a mastermind .. because he is the furthest thing from a mastermind. He literally slept all summer, chased Natalie around, did moves for Natalie, didn't do anything strategically to help his game. Just perceived as a weak player. Its not a Dan, Derrick game. I cannot give him that credit because I figured it out! No one figured out Dan or Derricks game. He back stabbed everybody. AND he begged everyone to vote him out. You cannot give someone 50K who begged for it. Paul would have to not vote bitter. He would have to vote for me and Vic would have to vote for me. I do deserve it more. That doesn't mean they won't vote bitter .. there are bitter juries all the time. Vic is closer to me. Paul comes back out and says he can't find the cards. James said he is concerned for your mental health. Paul – I'm going to be concerned for his mental health in a few days. Nicole – this guy is not 32 years old! Nicole goes to get the other half of the card from James.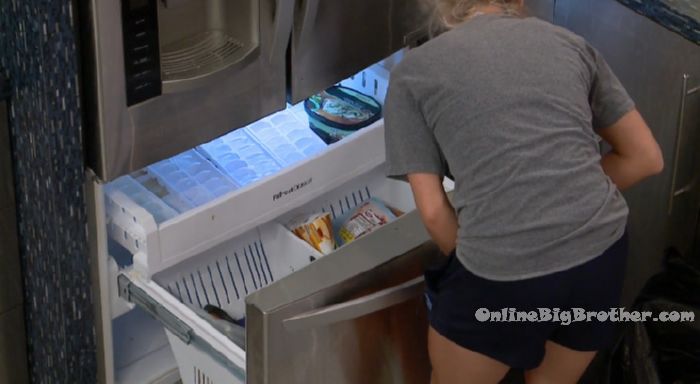 5:10pm – 6:30pm James is cleaning the counter by brushing everything off on to the floor. Nicole joins him and say you don't have to clean. We'll help in a bit. But I would appreciate the other half of the deck. (James hide half of the deck of cards.) James says I'll give you a hint .. BRRRRR! Nicole looks in the freezer. James – I'll give you another hint .. small and BRRRR! Nicole looks in the fridge. Nicole looks in the fridge. James – Outside and BRRR! Nicole goes to look in the fridge outside.
Paul joins her and they play a card game. James joins them and they all play cards. After cards – Paul and James play a game of pool. James – I had a lot of heart ache in this house. A lot of L's. Paul – L's? James – a lot of losses. Paul – I thought Zakiyah was fine but not my type of girl. I thought Bronte was too but also not my type of girl. No one was my type in here.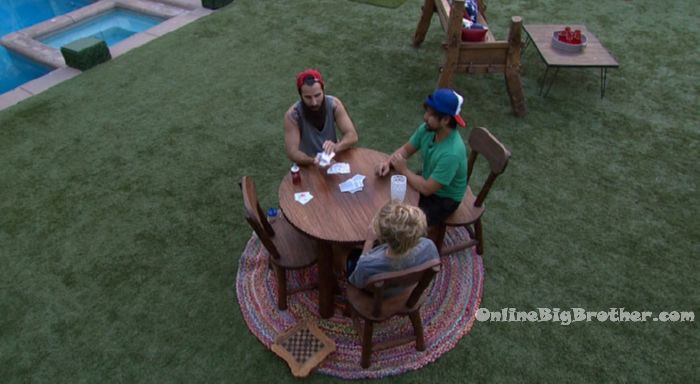 6:30pm – 7pm In the kitchen – Nicole is cleaning and doing the dishes. James and Paul join her and start helping. James says I did this part. Nicole – yeah you just took everything off and put it some where else. They all clean together.
7pm – 8:20pm They finish cleaning and then cook dinner. Big Brother gave them Jenga so they play it out in the backyard. Nicole goes to get the rules and comes back out. She tells them they were forgetting to put them back on top.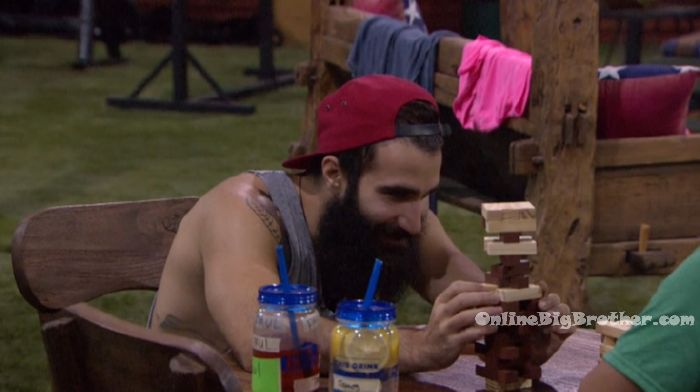 8:30pm Nicole heads to bed. Paul and James play pool.
8:40pm James and Paul get into the hot tub. James tells Paul – do your best and knock this sh*t out. Paul – yeah.
9:30pm James is packing his bag and ironing his dress shirt. He then heads to bed. Paul has a shower and then heads out into the backyard to lay in the hammock.
10pm Nicole gets back up to shower. Paul goes to the diary room and finds a card. He heads back to the bathroom to tell Nicole. Nicole says she had wished it was a bottle of wine. Nicole asks if its cool? Paul says its just as cool as the last one. Paul goes to wake up James to read them the card.
10:05pm – 10:10pm Paul reads the card. "Hey house guests smile! You're on big brother after dark. POP fans wanted you to have a little treat tonight! Enjoy decorating orwell night owl cookies. From Orwell's Night Owl's!"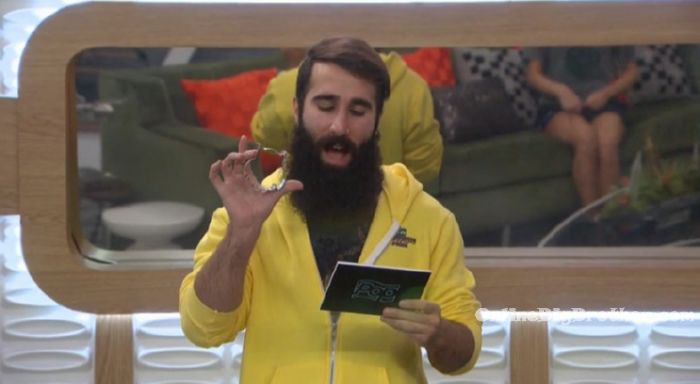 10:10pm – 10:35pm They head to the kitchen to make cookies. They make the cookies but had to add flour to them because big brother gave them the wrong cookie dough. They check on them in the oven and they've blown up so big they take up the whole pan.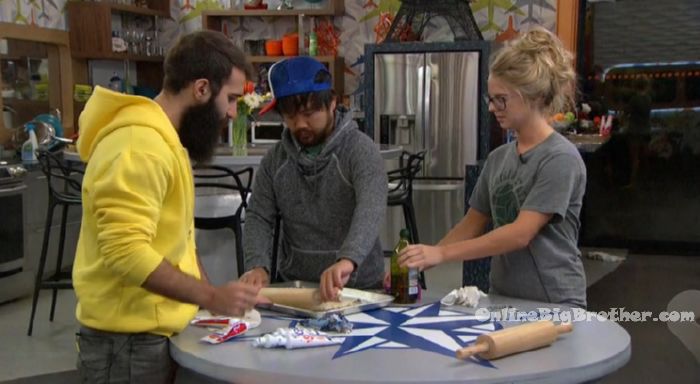 They decorate the cookies. Nicole goes to bed.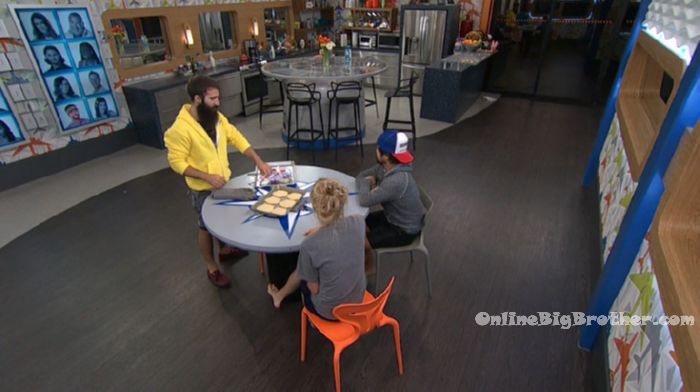 11pm – 11:35pm James and Paul head out into the backyard to play pool. Nicole gets up again because she can't sleep. She heads outside to get in the hot tub. She sits in the hot tub for a five minutes and then heads back inside to go back to bed.