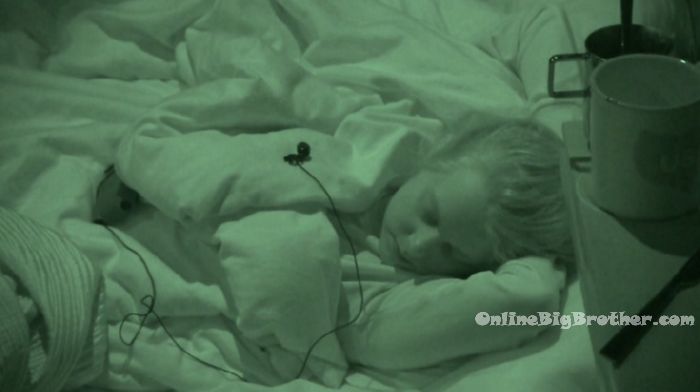 11:40pm – 12am Paul talks to Nicole in the bedroom. She says she wants to break down walls and get out. She says she is trying to avoid James. Paul says he was playing pool and made a weird shot and James commented that's what happens when you do all the work. Paul – it took everything in me not to go off on him. If he asks me again I will probably just say no. Nicole – He will not flat out ask either one of us. He doesn't want it to get back to the other one. Paul – I am ready to just be finished with this game. Nicole agrees. I am drained. Paul – mentally exhausted. He doesn't f**king leave my side. Nicole – he's nervous. Paul – he is literally up my a$$ and I'm like f**K off! Paul – do you have your speech ready? Nicole – no. Paul – really!? Get your sh*t ready! Nicole – I'm stressed. I'm stressed about my ex-boyfriend. Paul – who Hayden!? Nicole – yeah. Paul – why are you stressed? Nicole – because I told him I wouldn't get into another showmance. Paul – did he ask you not to? Nicole – yeah. I just feel bad. Paul – you can't help it. I don't event think about him.. and that's why I feel bad. I hope he finds someone that makes him happy. Paul – I think you have a really good shot at winning. Nicole – no. Paul – I'm not just saying that I really do think you do. Paul has he told you that you would win next to him? Nicole – no. The jury doesn't like him do they? Paul – I don't know. Natalie likes him and she is close to Bridgette and Michelle. Nicole – if its a bitter jury .. I don't have a chance against either of you. I just don't have any of the girls votes. Paul – I sh*t on them. I have a few people that are bitter.. but I chose to be myself. I'm trying not to think about jury because I don't know. The only person I do know is Victor.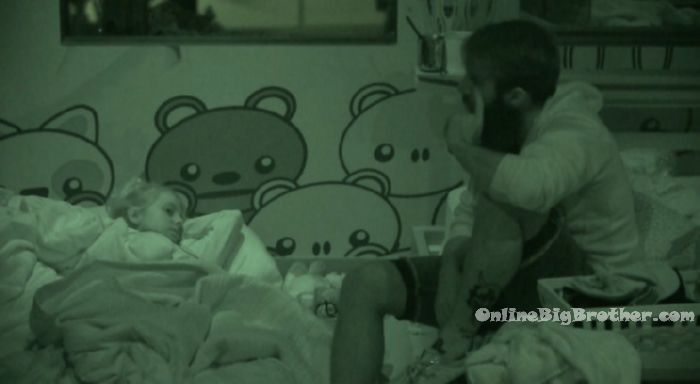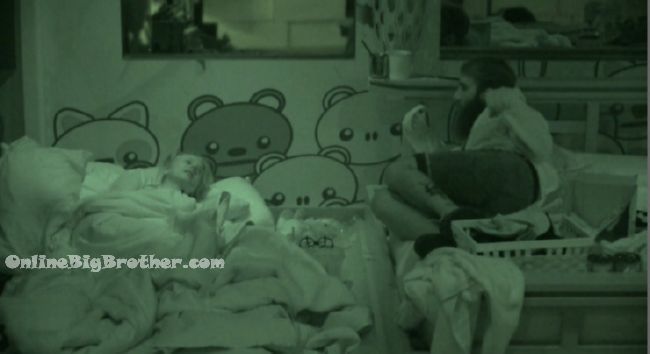 12:44am Paul and Nicole have been talking about Jury votes trying to play their numbers down to each other. Paul says Mihcelle hates them both so there's no geussing where her vote will be. Nicole says Natalie will vote for Paul. Paul thinks she'll vote for Nicole.
Paul convinces Nicole to sleep in the London room. At first she didn't want to because "it's haunted"
12:48am all feeds show sleeping houseguests.

7:43am still sleeping
10:07am still sleeping
Show your appreciation by making a donation.
Without your support this site wouldn't be possible. Donations support this site more than anything. If you dig our spoilers please find a way to support us. ANY Amount is greatly appreciated :)
[polldaddy poll=9517035]