| | | | |
| --- | --- | --- | --- |
| HOH Part 1 | Paul | HOH Part 2 | Nicole |
| HOH Part 3 | ? | Final HOH Winner: | ? |
Watch the last week of the feeds for FREE! 1 Week Free Trial!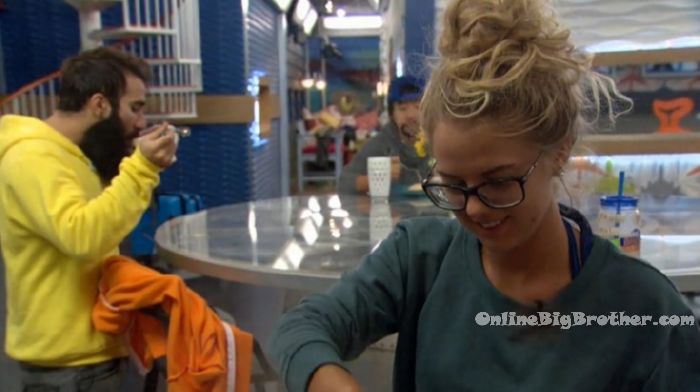 11am Big Brother wakes up the final 3 house guests. They wake up and head to the kitchen.
12:10pm Nicole heads into the safari room. Nicole talks to herself – It is day 96 and Wednesday is finale day. AND there is just so much to think about! Literally! Look at these battle wounds. I've fraught so hard to be here. I need to finish thing .. like just finish it! Its a HUGE difference between 50K and 500K. I want $500,000! I want first place. Okay … so to get first place I have to be able to talk well and tell people why I deserve to win this game. The questions I have to have completely figured out is: Why do you deserve to win 500K? What was your biggest game move? I don't even know. Why do you deserve to win over Paul and James. I need to have my bases covered for floating and social game.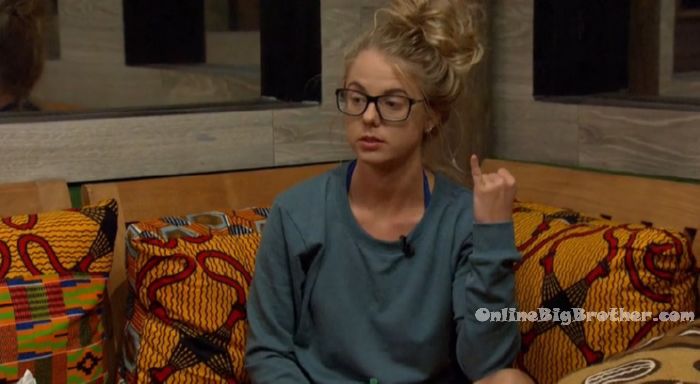 So the gist of the material I can use is .. Day 1 I came in here and got called a snake. I lost 3 competitions the next day and I had to fight for my life in this game. Stranded on an island with 3 other people and one of us were going home. After I won that I had to convince 2 strangers that I did not know at all to let me have the first HOH. I had to put it into their heads that they had to give it to me. I made a ride or die alliance with Corey and we worked together every single week. He was working with the boys to ensure that we were safe. I maneuvered the block several times and even volunteered to go up on the block several times. They quickly regretted it and had to figure out how to get out of that scenario. I definitely feel like I aligned myself with the right people at the right times. And my social game I tried to stay on good terms with everyone and if I felt people started to pull away was because I felt I couldn't stay loyal to you so I didn't want to make any promises. I wasn't easy. I didn't want to lie. It just became really easy and safe to hang out with Corey because I knew I would never back stab him and I trusted him 100% in this game. I am an emotional person and I knew if I got too close to anyone else it would pull on my emotional heart strings. Never once did I make an emotional move. Simply strategic the whole entire game. Trust me there were times when I wanted to change my mind. When Michelle called me a snake on national television .. do you know how bad I wanted to vote her out? I bit my tongue because I new it was better to have her in this house. I've gotten called out more than anyone else this entire season.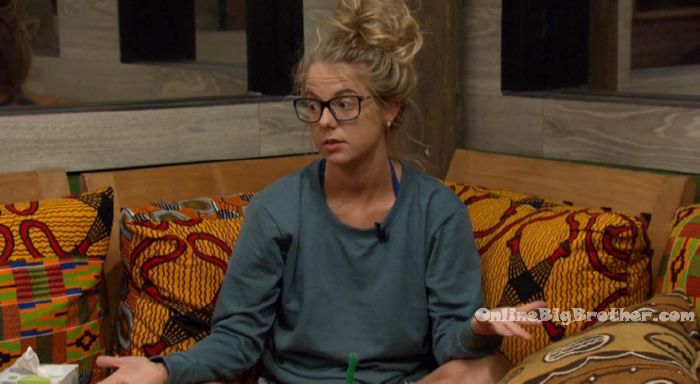 I would say my biggest move in this game would have to be .. Paulie had just gone home and Corey and I were completely alone 5 on 2. I needed to strategically convince Natalie who was HOH and Michelle was Co-HOH with her…. strategically convince them to put up two of their own alliance members. And it worked! They immediately regretted it and then I got attacked my Paul. I had to deflect that AGAIN! And rebuild all of the relationships in the house. And I still survived that week and so did Corey. After that I pulled out an HOH endurance comp and aligned with Paul and Victor the two biggest competitors in the game.
Do you think that Corey helped… Corey absolutely helped me in this game but I helped him too! He was very likable and personable.. everyone liked him. He was a smooth talker. I couldn't say enough good things about him. But when it comes to strategy I would say that I was the brains. Planting seeds! I definitely planted seeds a lot. I 1000% know Corey helped me in this game and I helped him also. Someone else played emotionally and that's why I'm here. James, that was not strategically not a good move for him to keep me in this house. He promised Natalie he would get out Corey. He played emotionally. Corey would have taken him to the final 2. I honestly didn't want to take him to the final 2.

As far as my speech goes – HEY GUYSSSSSS… I can't believe you let me ssssslither my way up to one of thessssssse ssssseats! But in all seriousness… Coming into this house I came into more than a difficult situation. I didn't know if I was ready to come back. I came back and got called out day 1. I was the biggest target at that point for a couple weeks. Thank you to Jozea because that kicked me into game mode. I'm here to fight to be here. I picked a ride or die. I was very strategic with my moves. Convincing 2 people to put up 2 of their own alliance members was a pretty big move with Corey and I were the other option. James joins Nicole. She tells him she's getting her speech ready for Thursday. James says he's thinking about what to say to Julie. Nicole tells him she will probably ask you something about Natalie. James and Nicole talk about past events of the season. Paul joins them and they talk about past comps.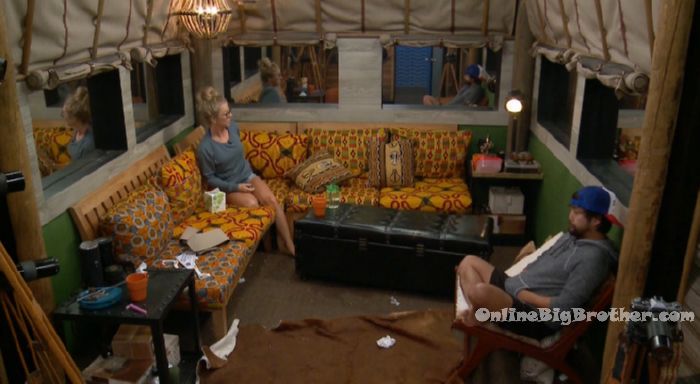 12:50pm Safari room – Paul and Nicole talk alone. . Paul – just know strategically, mentally, emotionally you have my word that you're my final 2. Nicole – you're my final two too so it doesn't matter. They hug. Paul – you know the anxiousness and paranoia .. I just had to get that out of my head. Nicole – James was saying he was trying to think of what to say to Julie if he goes out. He should know better than anyone when you go out you don't talk to Julie … you just take a seat with the rest of the jury. He was trying to get me to say don't worry we're both taking you. But I didn't. I told him she would just ask him something about Natalie. He is sh*tting himself.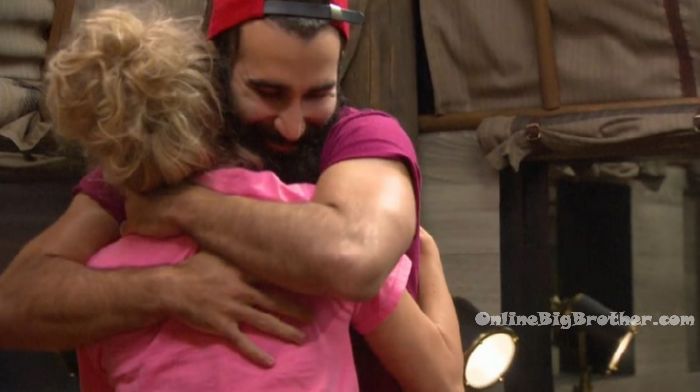 1pm – 2:45pm Safari room –
James, Nicole and Paul are talking. They talk about America's Favourite Player and other past events of the season. Nicole and Paul talk about nursing and doctors. Nicole heads to the kitchen to make lunch. They head out into the backyard. Nicole lays out to suntan. James is laying in the shade.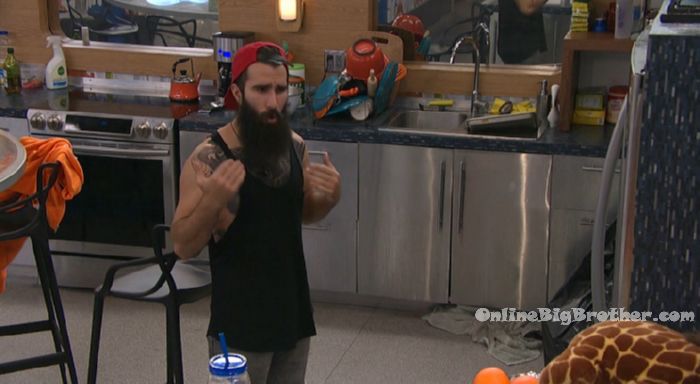 3:05pm Paul is alone in the kitchen – He practices his final 2 speech. He sets the microwave for 2 minutes and starts.. "Okay so this one time in Berlin… just kidding. Guys, as a first time player of this game… no offense Nicole. I can honestly say that I worked my a$$ off to get to where I am. I know for a fact that when I walked through those doors and you saw me and I opened my mouth for the first time, you thought to yourself well there's a wild and crazy one. Who's probably going to get evicted first. That probably explains why I was put on the block 6 times but the reason why I escaped the block 6 times was because of my strategic maneuvers throughout the house. The two times that I seriously needed to save my a$$, I won the vetos and pulled myself off. The other times I used my social game and paired up with the right people at the right time to always make sure there was a bigger target in the house. Then we had a secret riddle and of course I was the last person notified about it but coincidentally the first person in the room. I had nothing to worry about because I was the one that picked the round trip ticket and at the time secured the eviction of one of the strongest players Frank the Tank and prevented 4 other people from returning back into this game." (Paul still has a minute 10 left)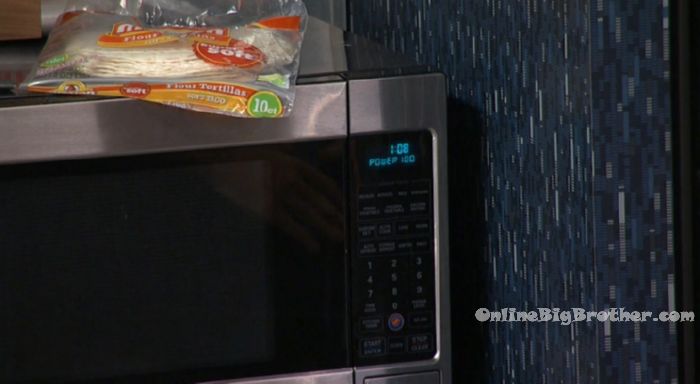 "Other than the loyalty of my partner Victor and my social skills, I had zero help in this game. Not even a single care package from America. No offense America. After Victor was clipped I literally had to win my way to where I am right now. First I had to win the HOH to secure myself in the final 3, then I put up the strongest couple on the block and won the veto that split them apart and sent my biggest opponent Corey home. Then I won the fist part of the final HOH that secured me in the final part. Then I won the final part with got me sitting right here. Giving my 7 competition wins which is the most in house competition wins this season. And what I am proud of the most is that I stayed true to myself and not changing a single thing about myself. My cards were shown the whole time and I had nothing to hide. This girl to my left has been nothing but sweet to me the entire game because she was the only one that cried for my week one when I was put on the block. I told you guys I would break some rules but there was one rule I would never break and that's rule number 1 … FRIENDSHIP!"
"BOOM 10 seconds left … that's the winning speech! You like that! Your boy is taking the cake!"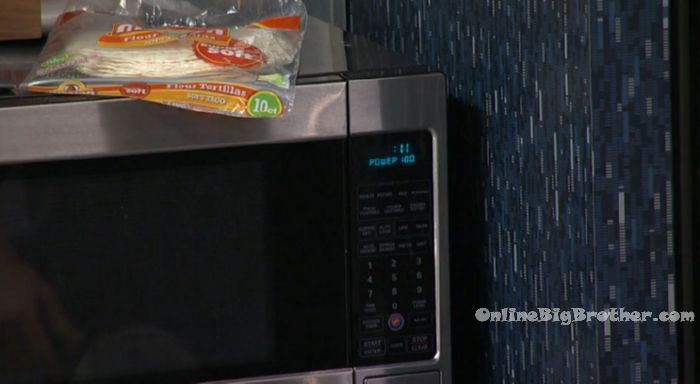 3:30pm – 3:50pm Nicole, Paul and James are talking in the backyard. James – Natalie was the closest to winning a veto. Nicole – MacGyver? James – yeah. Nicole – if you had won that would you have used it on her? James – it crossed my mind. Paul – Damn. She probably would have convinced you. James – probably. I'm a morals and ethics guy. Nicole – what does that have to do with morals and ethics? James – because I felt like I was the one that got her up on the block. Nicole – you felt that way but it wasn't necessarily the truth. She made you feel that way. James – well yeah. Nicole – had you voted out Victor I would have won that HOH and I would have put Natalie up and she would have gone home. James – yeah. Nicole – Michelle would have stayed over her. Natalie was in a bad position because she didn't throw the black box comp. She should have thrown that, she was in a good spot. But if you're going to tell me morals and ethics is going to tell you use the veto on someone else …that's more of like. Paul – yeah I would never have used the veto on Vic. Nicole – I think I have great morals and ethics and I loved Corey to death but.. James – but if you felt like he was going home because of you… Nicole – he did go home because of me. He absolutely went home because of me. James – just like last season with Meg.. I won the veto but didn't use it on her but at the time I knew I needed to advance my game by going up and hanging out with Vanessa and then but I didn't.. that's what cost me the game. I stuck it out with her .. the same thing with Natalie. Nicole – none of us threw our ride or die under the bus .. that wasn't my question. It was just if you would have used the veto on her. James – maybe. Paul – I wouldn't change anything.. because it all worked out perfectly. One little change could change everyone's destiny. Natalie's biggest downfall was her showing her cards. After she said she was just acting dumb she went back to acting dumb.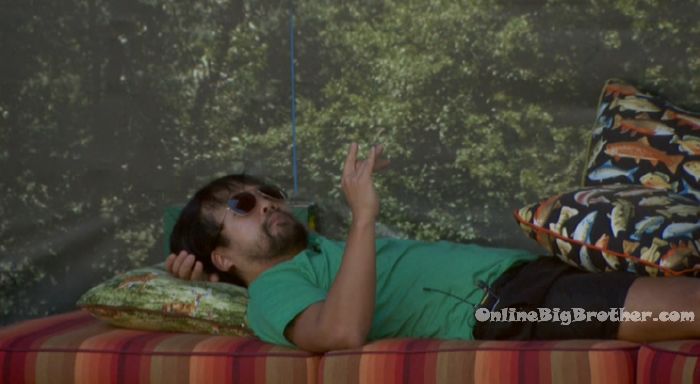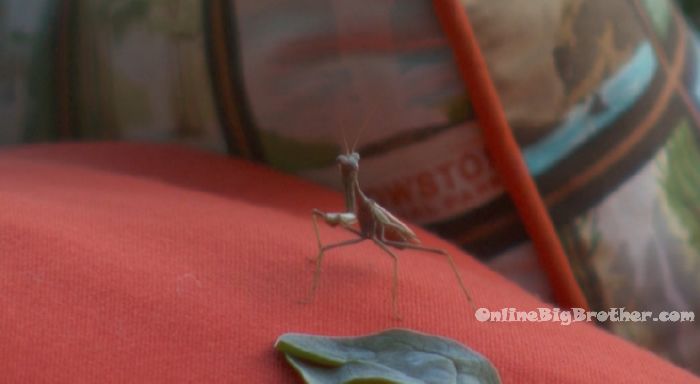 4:30pm – 6:15pm They all head inside and chat in the kitchen. Paul – I wonder who will be the most bitter? Jozea? Nicole – no I don't think so. Michelle is going to write mean blogs about all of us. Paul – oh yeah on readit and twitter. Nicole – AHHH.. I'm done talking about her. They all reminisce about past events of the season. Paul says he was oblivious to half the things Nicole was saying. The conversation turns to talking about cologne and how girls are attracted to a guys "natural musk".
6:15pm – 6:35pm James is laying in the hammock thinking..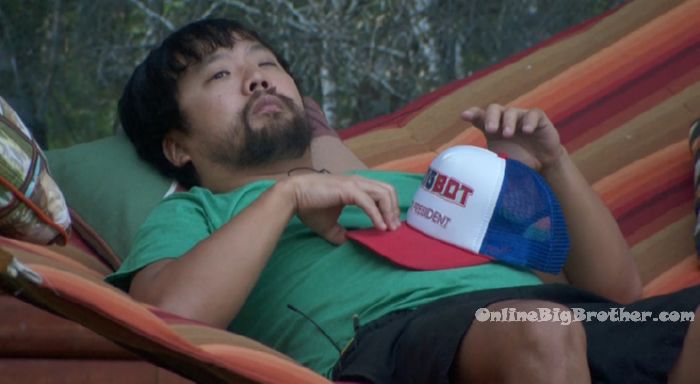 6:55pm James joins Nicole and Paul in the kitchen. They continue to talk about past house guests and events of the season. Paul – big sister was the worst team ever. Nicole – Tiffany was a mess. Paul – Not more than Jozea!
7:20pm – 8pmThey head out into the backyard. Nicole starts running laps around the backyard while James and Paul play a game of pool.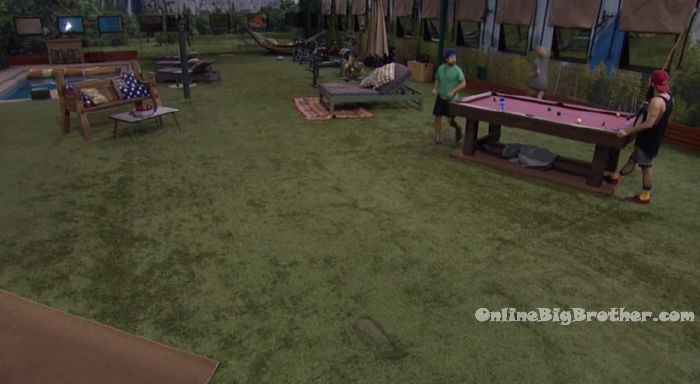 In the bathroom – Paul – dude I can tell he wants to ask me so bad. Nicole – me too. Paul – I will probably tell him at some point. I don't want you to think I'm doing anything. I want him to vote however he wants to vote. Nicole – me too. Paul – I trust you fully.
8pm Out in the backyard – James – one day and a wake up. Hurry up Wednesday! If I go out 3rd place I will know America what Vanessa felt like. It's going to suck balls! Third place.. that's a tear jerker for you. Paul could take Nicole and Nicole could take Paul.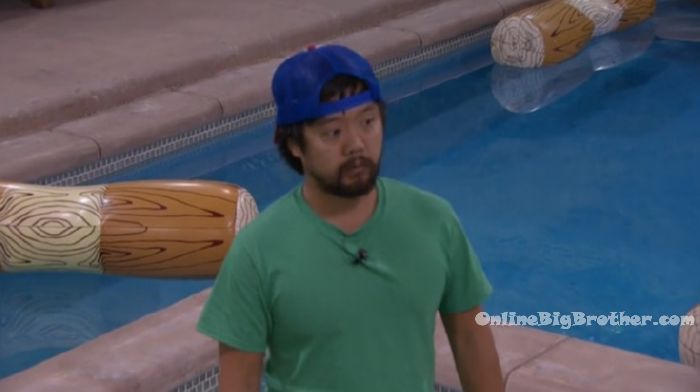 Show your appreciation by making a donation.
Without your support this site wouldn't be possible. Donations support this site more than anything. If you dig our spoilers please find a way to support us. ANY Amount is greatly appreciated :)
[polldaddy poll=9517035]