| | | | |
| --- | --- | --- | --- |
| HOH Part 1 | Paul | HOH Part 2 | Nicole |
| HOH Part 3 | ? | Final HOH Winner: | ? |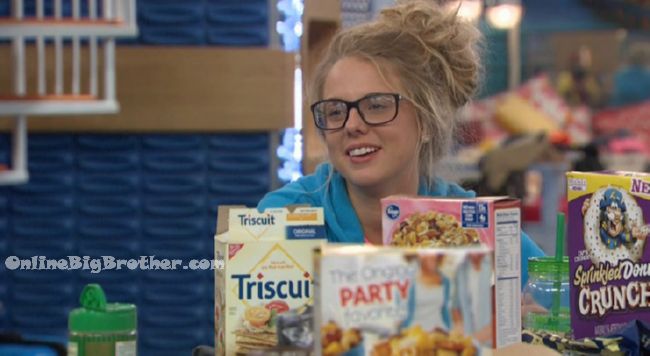 Part 2 was in the middle of the night and Nicole won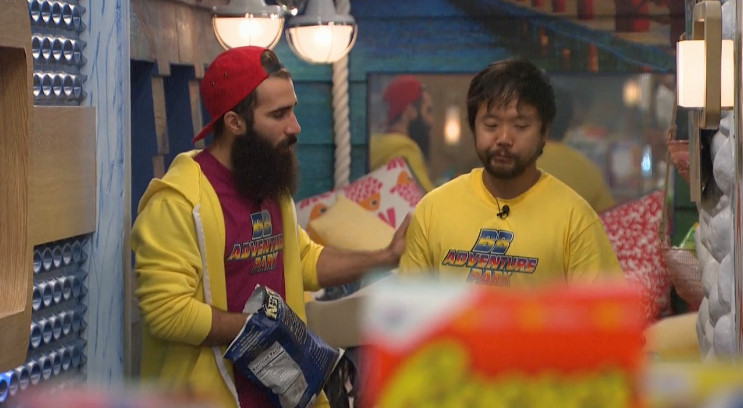 1:50am The feeds return from being blocked for the HOH part 2 comp – James tells Paul – I'm sorry dude! Paul – its okay. I would have walked out side and thrown up. James – all that salt water… I was just peeing out of my a$$. Nicole leaves the room says to herself .. that was the easiest comp I've ever played to be honest with you. James says to Paul – I got smoked like a cigarette! They head back to the kitchen. Nicole says she knew the answers like that. James says he knew the house guests but couldn't get the pictures. Nicole – Vic would have been good at that too. Paul – He's not that good under pressure. Nicole – yeah he did horrible at BB comics. Paul – you gave it your all and you secured your spot. James – I'm not going to lie that Nicole waxed my a$$. I'm a little butt hurt that Nicole waxed my a$$ is 19 – 18 minutes and smoked me like a cigarette. Paul – you lost to one of the best mental players in the game. It's not like you lost to Jozea. You lost to mental beast. Nicole – thank you for the compliment Paul.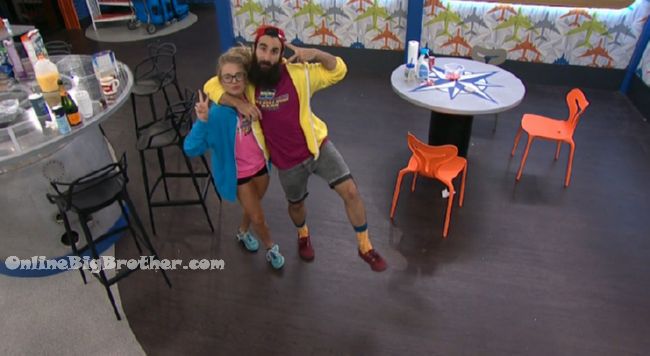 2am – James gets called to the diary room. When he leaves – Nicole and Paul celebrate. Paul picks Nicole up and hugs her. Nicole – you're going to hurt my ribs. I think he legitimately tried on that one. I wanted to legitimately beat him. He tried on that one. That was harder than the BB comics and he got 35 minutes on the BB comics. Paul – he tried. Nicole – he has to be real nice now. He can't be cocky. Paul – I kept saying to myself up there "Nicole win this comp, Nicole win this comp!" I am so proud of you. I knew you were going to win this comp. Paul – oh my god Nicole we won! And we both won tit for tat. I am so happy you won. I am going to vomit. Nicole and Paul look at the camera and say "Final 2 baby!" Paul – he's never going to let us be alone. I am tell you right now … there is nothing he can say to me to convince me. I am taking you to final 2 if I win. Nicole – if he asks me, I am literally telling him I'm not taking him.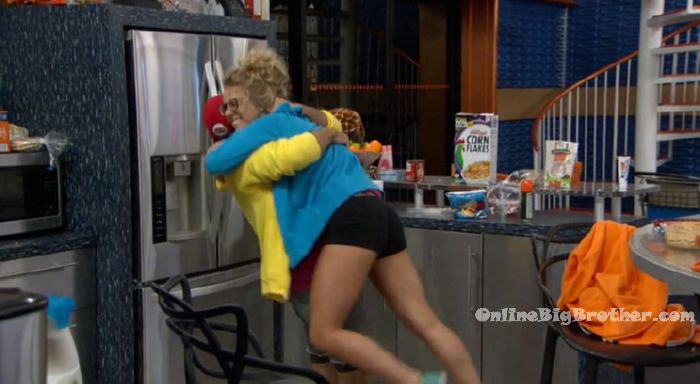 2:04am Nicole and Paul
Paul it was in his best interest to at least win one comp. Nicole – he's done nothing. Nicole says James did not throw that competition, "He thinks he's the best playa"
Paul – dude I got in his head so much this week.. I convinced him Tiffany has 1 F in his name and Da'Vonne has 2 V's.. what world does someone have 2 V's in their name. Nicole – Final 2 baby!
Paul – final 2 baby!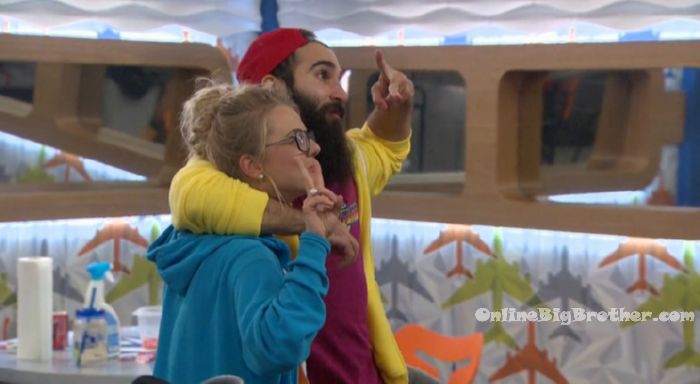 2:05am – 2:45am Paul – he was pissed when you won. Nicole – he was so nervous. Paul – I didn't want any risk of him winning. Now you and I have won. One of us has won 500k and the other has won 50K. Paul – in my speech to him going to be a straight… In this show I was on the block 6 times and of all those 6 times I only had 2 votes evict. And out of those two votes you were one. In that same week saved me and broke the tie breaker. Guess what you wouldn't be in the final 3 if it wasn't for me. But if it had been up to you I would have been voted out three weeks ago and you wouldn't have been here. So Nicole thanks for saving my life! BOOOOOOMMMM B***H GET THE F**K OUT OF HERE!!!!!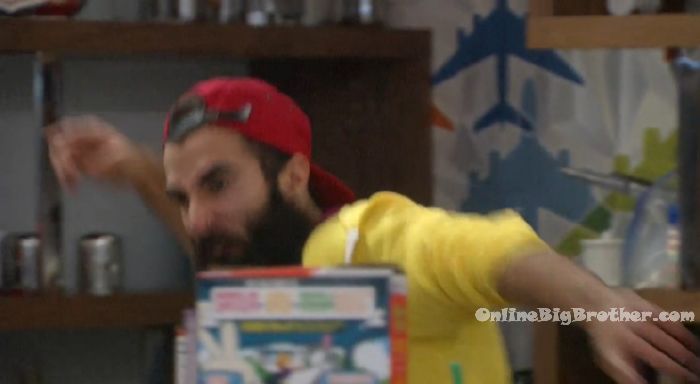 Paul – I might vomit, I'm so happy. Nicole – thank you big brother that was the most refreshing comp and I nailed it. Paul – the only votes we can count on are Corey and Victor. All other votes, I have no idea. Nicole – Paulie and Z, I have no idea. Paul – my speech to you will be very nice! I'm hooking you up with a compliment .. like you might cry. Nicole – thank you. Paul – how do we act with homie now? Nicole – just act normal. I'm not talking any game with him. I'm not even going to worry about his vote. Paul – he can do whatever he wants .. I am not doing it. Who will he vote for? Nicole – probably the one that doesn't vote for him. Paul – I don't even care .. he can be a baby. Paul – I'm taking you. Why else would I coach you. To be the best you have to beat the best. Did you hear him .. he said now you two can battle it out. That's right you can just sit back because you're not making it to the final 2. Paul – no one knows we were working together. Nicole – no one. Paul – you and I both had a huge target on our backs the whole season.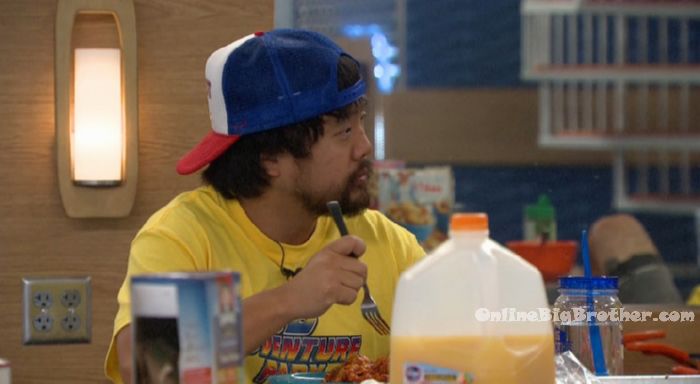 3am James comes back from the diary room. Nicole heads to the bathroom and then goes to the diary room. Paul and James talk. James – how do you think you would have done in that comp. Paul – I don't know. That was a huge f**king set up. James – man dude! I'm sorry. I really did try. Paul – Its okay. James – dude! Paul – that looked like a very hard comp. 7 minutes… that's insane! James – that's what I'm saying ..She's a… James explains the comp to Paul. I got all my answers right .. its just the pictures f**ked me up. I couldn't get them in frame. The fourth time through the maze, I got it correct. Paul – damn! That looked like a f**king hard comp. Paul – just a few days and a wake up.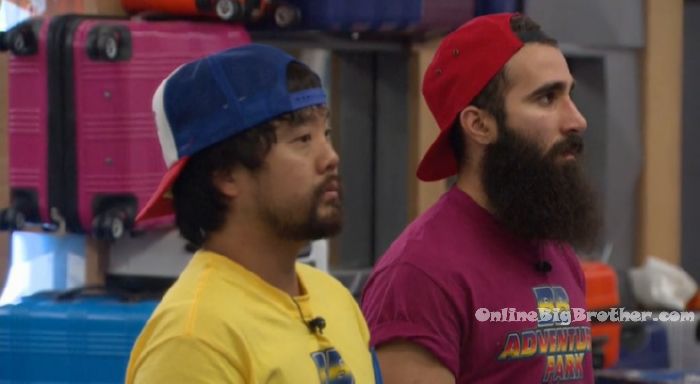 3:30am – 3:50am James – damn she smoked that comp! 7 f**King minutes! She literally .. damn! Paul – how the f**k. basically an average of 2 minutes on each comp. James – she literally didn't f**k up once. She beasted it! At least you won one of them too. Paul – yeah. Got to start studying for Wednesday. I don't know if you can even study for it .. can you. James – just think about what the house guest would say. Like their personalities and what they would say. Nicole comes back from the diary room.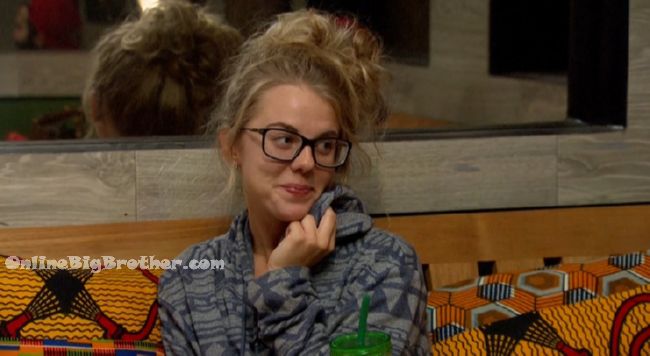 4:14am – 5am Nicole and Paul Safari Room
Paul – what up America! Nicole – who do you think will win?! He's like Einstein over here. I get lucky once in a while. Paul – he was asking if we made the right move keeping you. I was like oh now its a "we". Nicole – he (James) is crapping himself.
Nicole wants James to stress "he did try."
Paul – I'm so happy, I'm so happy you won. You deserved it.
Nic – that was a great comp to end my season on I KILLED IT!
Paul and my win I redeemed myself. Feels like 20lbs of pressure move off me.
Paul says unfortunately they lost their BFF but they made tit this far.
Nicole – we were the brains of the operation and they were the brawn..
Paul says James calls himself the mastermind.. he was the weasel..
Paul about James – "the way he talks about himself.. irks me"
Nic – I know
Nicole says James told her he's happy with 4th because he'll get Amercia's Favorite player
Nic – somebody gets it that doesn't expect it..
Nicole hopes it's Corey or Victor
Nicole – I am definitely proud of you. I wonder what his (James) sessions (Diary room sessions) are like? Like if he is innocent. Paul – no cocky! cocky! Nicole – he is just sneaky. Why does he think it was going to be spelling house guests names!?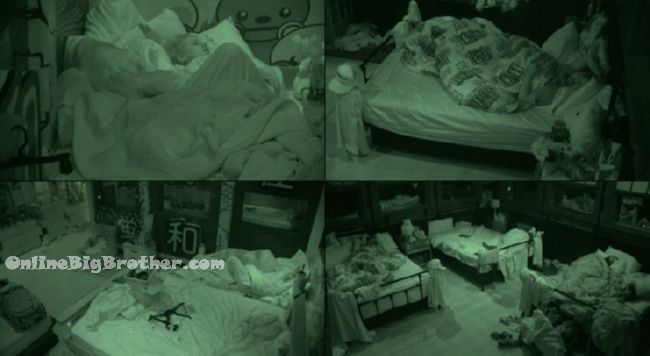 5am The final 3 house guests are now in bed trying to sleep. Nicole is still wide awake eating in bed.
7:34am Zzzzzzzzz
9:15am They're all still sleeping.

11:07pm everyone in bed Paul and James are asking each other random questions…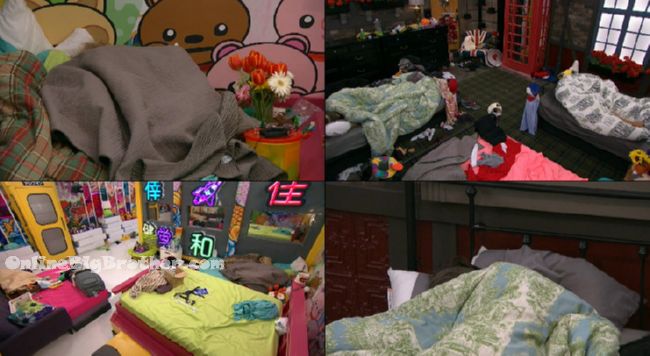 11:18am lights on everyone sleeping
11:37am Paul rolls to his side..
1:37pm James and Nicole up. James showering.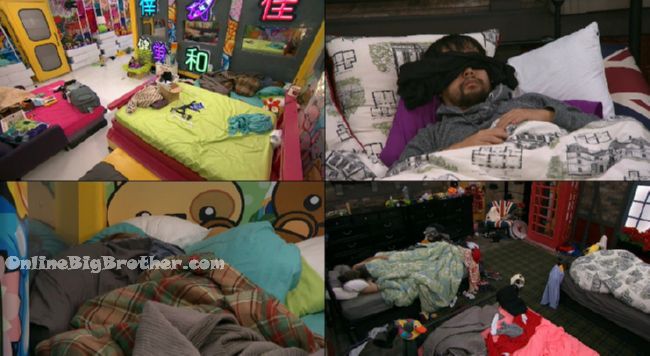 2:36pm ZZZZZZZZZZZZZZZZZZZZZZZZZZZZZZZZZZZZZZZZZZZZZZZZZZZZZZZZZZZZZZZZZZZZ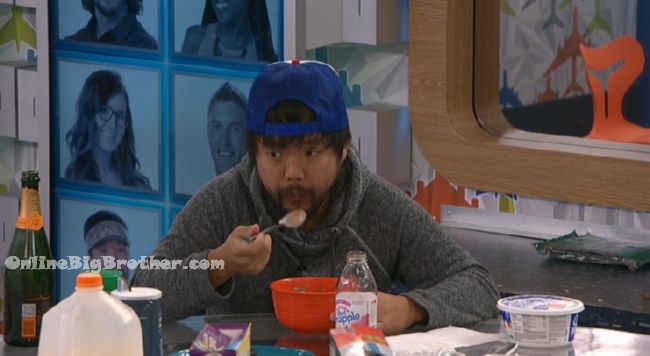 3:26pm James and Paul
Talking about Meet and greets.
Going in depth about what towns they want to do it.
James talking about going to witchika where 17 year sold would go with their parents.
James says he got a call from the bar about Parents…
Feeds cut…
When we're back James is telling about Parents "rushing" then Beofre they even hit the bar says there was about 100 of them…
Feed cut again.
When we're back James is still talking about the fans … Says he was at an event where Meg, Jeff, Jackie, clay and Cowboy were at it. James has trouble remember the season Cowboy was from.
James – the bar made so much money from us that night..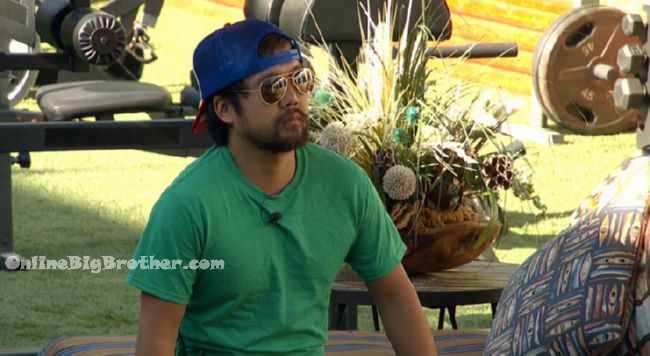 4:16pm Backyard Nicole, James and Paul
Paul is talking about a real human skeleton he bought at a estate sale. paul says it freaks him out it's a skeleton from a male 20 to 25 year olds.
James asks whats the difference between a male and female skeleton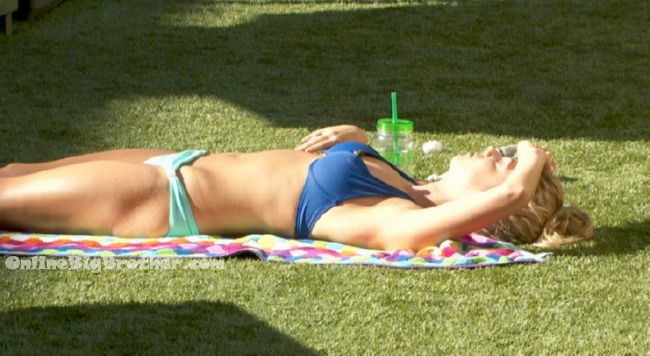 4:34pm James and Paul backyard
James is talking about all the "Friends" that come out of the "woodwork" after Big Brother.
Paul says the same thing happened to him after his clothing company launched he had some friends come to him for "free shit"
Paul – 2 days and a wake up tomorrow my friend
James – i'm excited i'm ready to get back to life.
Show your appreciation by making a donation.
Without your support this site wouldn't be possible. Donations support this site more than anything. If you dig our spoilers please find a way to support us. ANY Amount is greatly appreciated 🙂
[polldaddy poll=9517035]