POV Holder:
?
Next POV
Aug 9th
POV Used
?
POV Ceremony
Aug 11th
HOH Winner 1:
?
HOH Winner 2:
?
Battle of the Block Winner
 ?
Next HOH
?
Original Nominations:
?
Final Nominations:
?
Have Nots
?
POV Players
?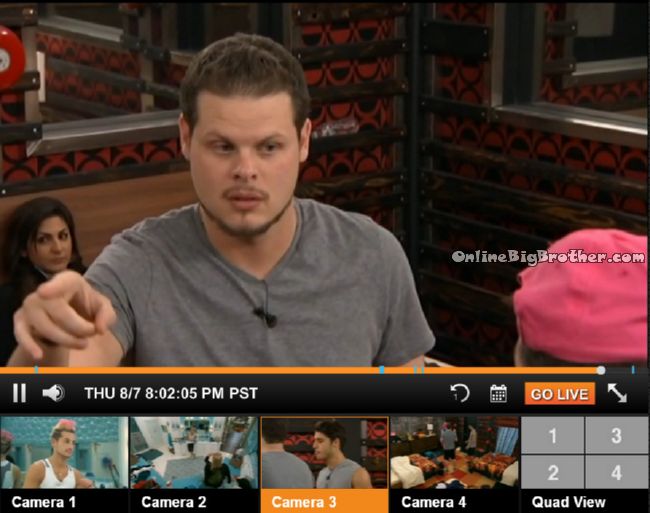 8:01pm FIRE ROOM Zach, Derrick and Cody
Derrick and Cody blaming everything on Frankie. Derrick says Frankie just came up to him and Said Nicole and HAyden were trying to work with Cody and Derrick . Cody says Frankie was coming to him every day saying that Zach was saying LTA wasn't his alliance.
Derrick – they (NIC/HAy) weren't trying to work with us
Derrick – DOn't f** repeat that we just showed our loyalty.. we trust you
Derrick – they told us straight up Christine and Hayden Frankie and Christine wanted you out
Derrick says Nicole and Hayden came to Frankie and Christine for an alliance they didn't come to Derrick and Cody. .
Cody – you know who was never going to put you out o f the house.. us
Zach – Frankie and Christine are playing both sides of the house.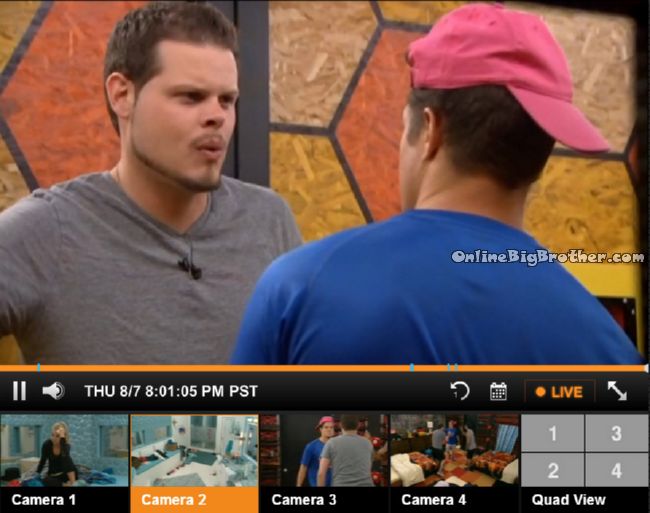 8:08pm BEEHIVE Zach and Derrick
Derrick says he's got Zach till the end.. "I'm here for my family i won't burn you .. i'm playing a honest game.. "
Zach – ok
Derrick – I love you
Zach – Love you
Derrick – I'm not going to give shout outs to your family and stab you in the back.
Derrick says nobody talks to him because they thinks he's a pretty straight up guy
Zach says Frankie and Christine came to him and said final 3 we got to get Cody out first.
Cody comes in says he's done with Christine and frankie .. "Christine dragged NIcole in here and blamed it all on me"
Cody says he's going to tell him everything that went down this week..
Nicole and HAyden came to him and Derrick and ..
Zach – Frankie is covering his a$$ right now
Frankie comes in..
Cody says Christine is telling NIcole I'm responsible;e for everything.. she just told everything to Nicole
Frankie – How am I getting involved in this
Cody leaves
Frankie – are you mad at me
Cody – no
Zach I have no idea what is going on.. beast mode is saying stuff..
Zach says his game is f***d, " I don't want Caleb mad at me he said he's mad at me"
Frankie says Caleb was the one 100% down for getting Zach out.
Christine come in says she feel like she's being avoided like the plague out there
Frenaki says Cody told him some sh1t and its not true..
Zach – I don't even know we are on the same page.. .. Sh1t is going down..
Zach says there's going to be 2 HOH and 4 people on the block sh1tz got real
Zach – If things are said and If i'm sleeping you wake me the f** up "
Zach – My game is going to change you will see a new Zach the people I thought had my back don't anymore.. you know I had you back and you blew me up.
Frankie leaves to make food. Christine and Zach in the Beehive
Zach – People are pissed at you.. you went to Nicole.. Hyden and Nicole called you guys out on national television.. I have your back "
Christine – thank you for telling me
Zach – Sh1t's gettign crazy right now.
Christine says she got played this week..
Zach – by who
Christine doesn't want to say.
Zach tells her if they are going to survive this week they cannot be associated with each other he'll get close to COdy, Caleb, Derrick she stays with Frankie and Nicole.
With a live feed subscription you can go back and watch any event that has been shown. Use our site as an index and watch only the parts worth watching.
Try It Free! Subscribe now to the official BB16 Live Feeds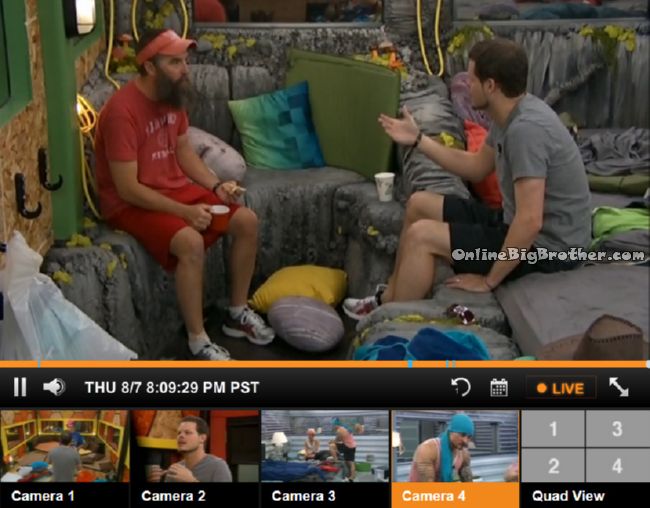 8:17pm Rock room Derrick and Donny
Derrick is playing up Donny saying he's a beast one of the strongest competition players of the season.
Derrick says Caleb wants strong players in the game yet he put Donny up it doesn't make sense to DOnny.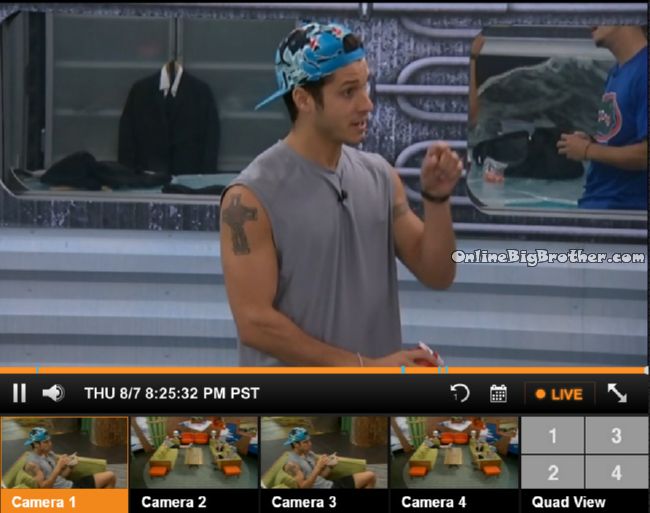 8:32pm Have nots Zach and Cody
Cody says Frankie and Christine were trying to get him on the block from the beginning of the week. Cody beings to Blame everything on Christine and Frankie .
Cody says he doesn't have to cover his a$$ that is why he's not up with Nicole.. warns Zach that Freak Is going to be up his a$$ all week. Zach – He already is"
Cody – THey all have stories to cover I have no story to cover.
Cody says that Frankie and Christine said they wanted to get COdy up with Zach because it was the only way to guaranteed Zach goes home.
Zach thinks the reason Frankie wants Cody out is he knows he's closer to Zach than Frankie. Zach knows Frankie is a liar they are threw in this game.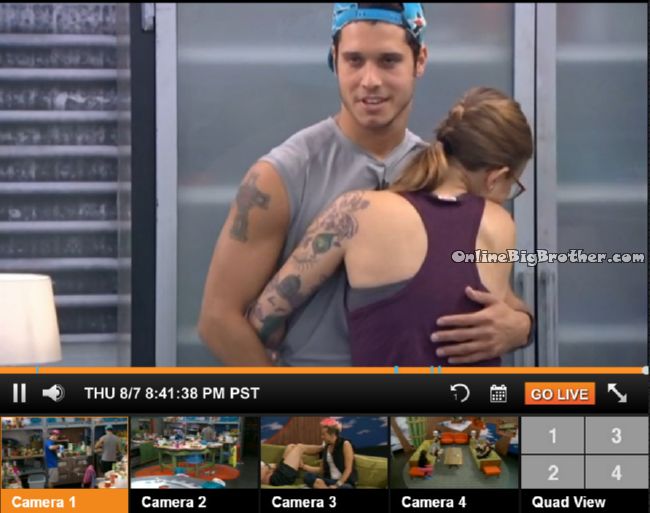 8:40pm Have nots Derrick and Cody
Talking about how Christine and Frankie have HUGE targets on them now. COdy adds that Christine already ran to Nicole and told her everything throwing Cody under the bus
Derrick – we have to win the HOH
Christine comes in says as a human she felt bad for NIcole that is why she went to her in the BEEHIVE Nicole was crying.
Derrick tells her to relax
Cody – don't worry we got your back
Derrick – we locked it down.. they tried to make a Big Brother Move but we snuffed it out and rolled it
COdy – we made a huge big brother move
Christine says Nicole doesn't trust Cody but she's more pissed at Frankie.. she feels alone.. and she's going to hide for the rest of the week .
Christine doesn't understand why Nicole isn't mad at Derrick
Derrick -I'm better looking than him (Cody) .
they laugh, but because he's married he's sending them all to cody .
Cody and Christine hug.
Derrick tells her they don't want anyone to see them as a group because if DOnny wins HOH he's putting two of them up.
Christine leaves
Victoria comes in
Derick says the targets are Donny and Nicole, "we're golden. "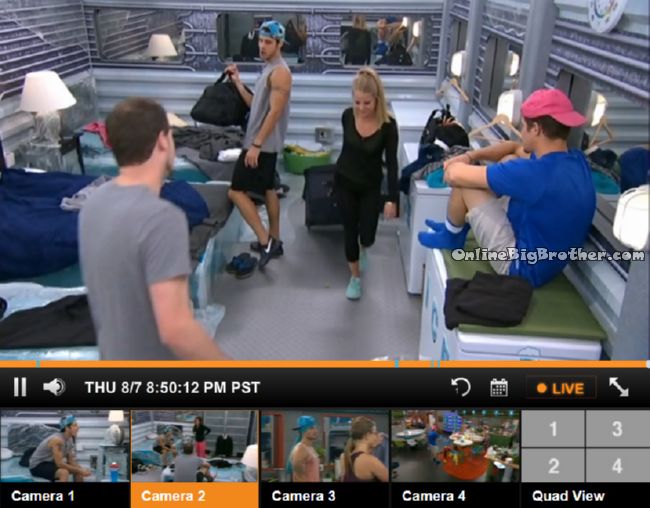 8:58pm Packing up HAyden's sh!t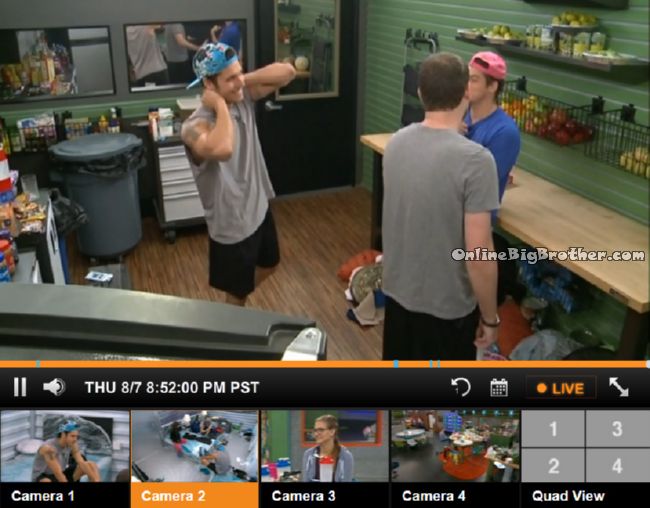 8:51pm Storage room Zach, Derrick and Cody
Zach tells them Christine and Frankie came to him said Final three. Derick they said you came to them.. "If we didn't trust you we wouldn't have kept you"
NIcole comes in
Zach – you and me what about that showmance
Nicole -you are so mean..
Zach -think about it sleep on it girl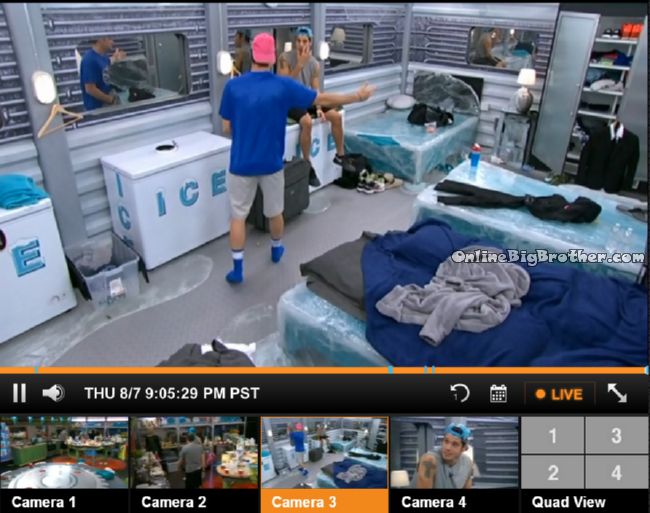 9:03pm HAve nots Zach and COdy
Zach says Frankie has MAD money he doesn't need to win this.. Zach – I don't lie I just say sh1t but I don't lie.. "
Zach says he's never lied to Cody this entire season.
Zach says he's been conflicted up until now "Frankie and Cody Frankie and Cody" but now he's picking Cody.
Cody wants to send Christine home
Zach – Frankie is sh1ting his pants,
Cody – I'm putting money on it if Frankie wins HOH i'm one of the two.
Zach – Donny is dead to me F*** Donny "
they agree they trust Nicole more than Christine and Frankie.


9:02pm Rock Room Derrick and Victoria
Derrick coaches Victoria in how to talk to Nicole, "Just be calm and relax… we'll deal with it week to week"
Victoria – they are dangerous (Zach and Frankie)
Derrick – We need Nicole and DOnny out next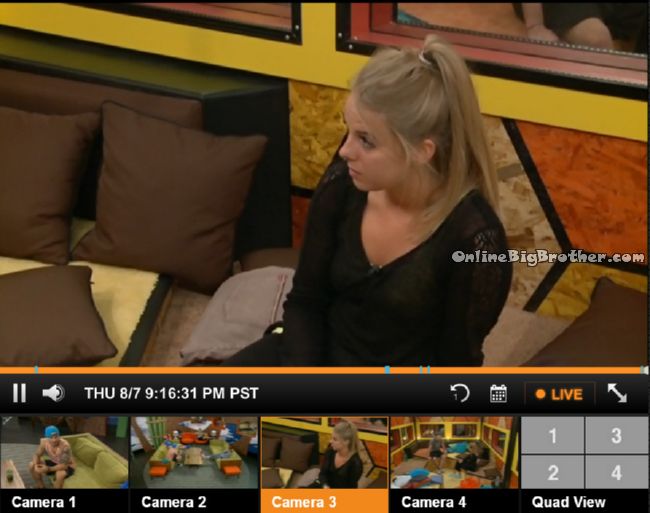 9:15pm Derrick and NIcole BEEHIVE
Derrick says he didn't have the numbers that is why he didn't vote out Zach.
Nicole – That's OK I don't blame you"
Nicole says Frankie stayed up all night and told Christine she was making fun of her.
Derrick – don't act defeated win the HOH
Nicole – I can't trust Frankie
Derrick tells her hayden called out Christine and Frankie because he knew in his heart those were the two that f**d them.
Derrick – I've been honest to you the whole time.. you just got to win.. you think you are down right now not everyone can win the money.. if you win HOH you can make deals
Nicole says Deals aren't worth anything
Nicole – it's over honestly.. us four could have gone so far.
Derrick – They would have gone after us .. we didn't have enough numbers
Derrick says Donny trust hers it's not over for NIcole she just needs to win.
Nicole – He (Donny) voted me out.
Derrick say he voted hayden out from a game perspective..
Derrick – Nicole i'm here for my daughter I'm not putting my game in jeopardy
(Derrick is tossing the daughter thing around a lot now)
Derrick reminds her that Julie did say someone could come back and Hayden is a beast in competitions.
9:45pm FEEDS ON JEFF HOH is being played
Alliances 
?Zankie = Frankie/Zach
The Detonators = Derrick, Frankie, Zach, Christine, Cody
"The HITMEN" – Cody & Derrick
Team America = Donny, Derrick, Frankie
Nicotine = Christine/Nicole
More polls here https://www.onlinebigbrother.com/big-brother-compendium/big-brother-16-polls/
[polldaddy poll=8233586]