Big Brother Spoilers Jack wins the Head of Household. A new twist called CAMP COMEBACK allows the first four evicted houseguests to stay in the house. They do not play in competitions or take part in ceremonies but one of them will be given the chance to come back in the house.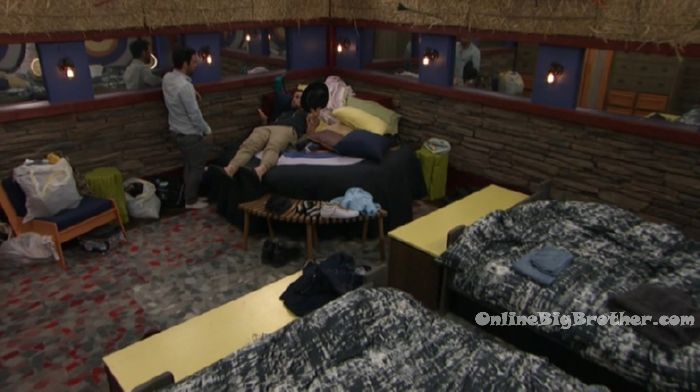 10:40pm Bedroom. Tommy and Nick. Nick – I'm having a f**king discussion with her about if I like her or not. Will you f**king relax?! And then oh we shouldn't sleep with each other tonight. She literally just said that. So I was like alright, I'm not f**king sleeping with you no more then! I am f**king done with it Bro! I don't have time for this, I am 27 years old. If I f**king tell you something, I mean it. I get it, its a f**king game. I come back to you every f**king night. I already f**king told you that I am not going to go out there and be PDA with you. Its not going to happen. I'm around you enough when I am in here. I lay on you out there. And if I'm talking to someone else, its not because I am trying to hookup with them. Its a f**king game. I'm allowed to do that. I am not going to have someone continually badger me and get upset and f**king annoyed when I have a conversation with someone. I am sorry that the girls in here are good looking, that's not my f**king fault What?! I'm not allowed to have a conversation. F**k that, that's petty insecure bullsh*t. I'm not doing it. Tommy – You're right, you're absolutely right. But you can't act out like that, you can't. Its just going to hurt you. I'm being straight with you because I love you and I want you to go far. I don't think a showmance is a big deal but you just have to be smart with that. When you guys start to have tension ..that's when it becomes a thing. Nick – you're f**king right. I know you are. I was already having a bad day and then she had to go and make it about her. To have her break my balls after that is just annoying. I just don't like that sh*t. I can't handle it. Tommy – but you have to handle it. You have to suck it up for 2 more months. Nick – this is just hard, that's four days in a row that she's been breaking my balls. First of all we're not even together, I just sleep with her. I literally care about the girl more than anything .. this kind of stuff just needs to stop!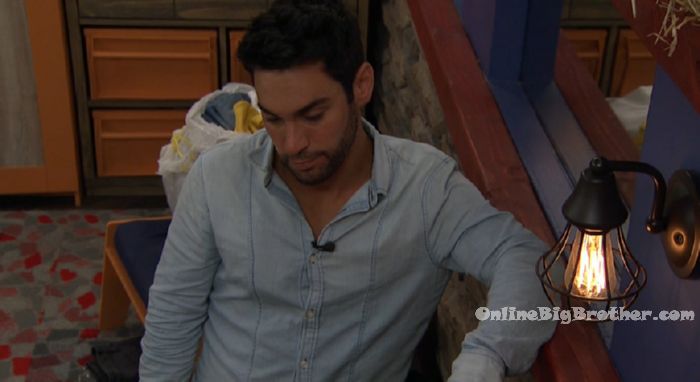 10:48pm Jack comes out of the diary room yelling "Who wants to see my HOH room!!!! All the house guests head up to the HOH room door to see his room. Jack reads his HOH letter and looks through his HOH basket.
11:05pm David heads to his room to get somethings..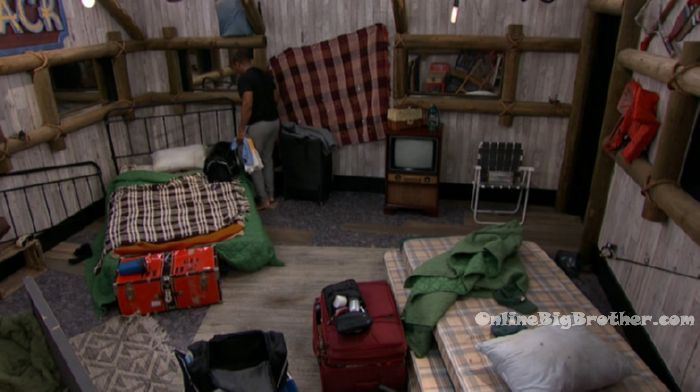 11:20pm – 11:35pm All the house guests are in the HOH room except for Ovi and David. Jackson – our natural instinct is to welcome him (David) in and nurture him. And I'm not saying that he shouldn't but don't forget that this isn't real life. This is a game. Emotions have got to star at the door.

12:35am Backyard. Nick and Bella. Nick – She came up to me. What am I supposed to tell her I can't talk to you. I like you. I don't know how many times I have to tell you. I am not going to hurt you I promise. Bella – I will try. Nick – And if something is going on I will tell you.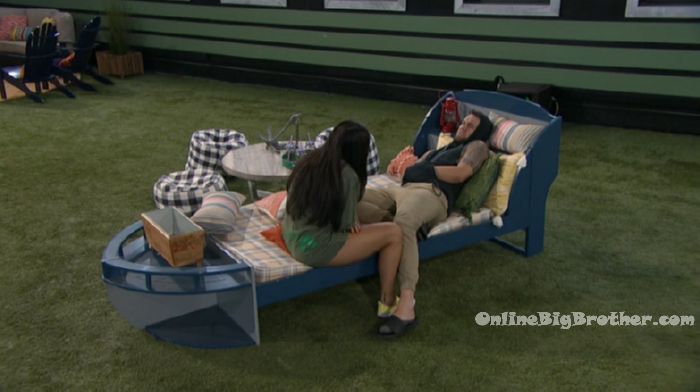 2am Bedroom. Holly, Jack and Jackson. Jack – you've been busy chit chatting private stuff.. what's up? Jackson – Sis? You've been very secluded. We're both just checking in on you. Holly – I'm just frustrated today. Jackson – honestly, we're just checking in on you. I don't want to hound your a$$ like Kat does. Holly – she is literally making me close in like a hermit crab because she is exhausting and depleting me energy. Jack – I am sorry that Kat is making life a living hell for you right now. Holly – its just that there is no space. She never leaves me alone. Jack – this is the game though. You're good and I don't blame you for a second. Jackson – dammit Julie why didn't you just put them in a sequester house. Holly – I could have also chosen better people to befriend.
3:45am – 4am HOH room. Jackson, Jack, Christie, and Holly. Jackson – I was trying to say that I can't continue this at this rate. And she goes well you know you already have a target on your back, you spend a lot of time with Holly. What do you mean she has a target on her back?! Christie – really, I don't think she has a target on her back at all actually. Jackson – anyways I'm like I am just over it. Christie – the craziest thing would be if she goes home and doesn't really go home. Jackson – she goes in there. She's shacking up in there with David. Jackson – can you imagine the first showmance of the season is them in that nasty a$$ room. Jackson – why do I have the worst luck? Christie – its not luck, its judgment.