Head of Household Winner – Jackson
Have note are:
Nominations are: Christie & Sis
Power of Veto Players are – Christie, Sis, Jackson, Nick (Christie pulled ), Holly (Sis pulled), Cliff
Power of Veto holder – Jackson
Power of Veto Ceremony – Jackson did not use the power of veto
Grab your live feeds —-> BB21 Live Feeds Subscription Link
Rank your houseguests —-> Big Brother 21 Ranking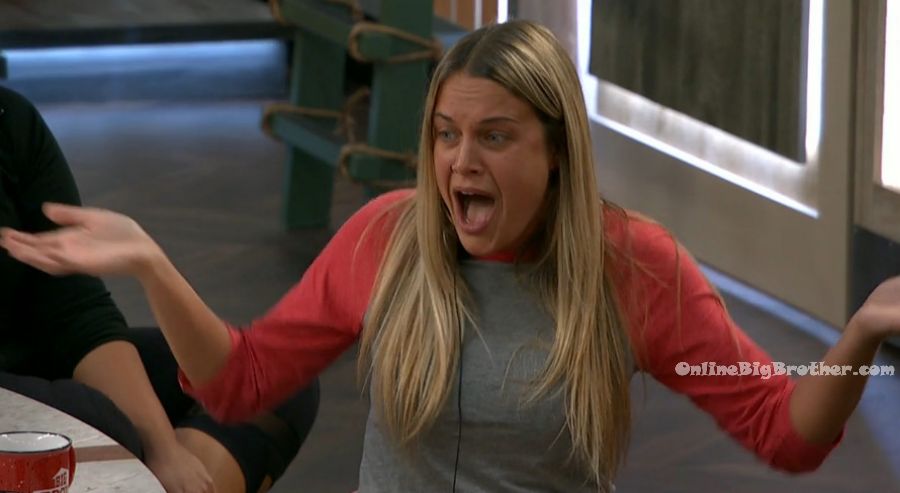 8:10pm Kitchen. Christie and Nick fight continued..
Christie – You're playing a sick game and …and my only way to potentially stay here is to say that YOU are my target because you're no one else's and I am still the biggest target and that's why I am valuable. You aren't protecting anyone person you're protecting a cluster or so they all think .. so you don't need to win ANYTHING because you have a cushion around you. Nick – I never told Jackson or Holly that I was protecting them. Christie – okay! Nick – they know that I was more protective .. I was honest about it. Christie – I know its not your fault that everyone just likes you so much. Nick – I didn't say that everyone likes me so much.. I said that.. Christie – NO, NO, NO .. ON MY SISTERS LIFE! Its not my fault that everyone likes me! You actually said it like three times! Its not my fault everyone trusts me! I feel bad for Cliff! Nick – I did feel bad for Cliff. Christie – Yeah okay! Nick – I never said I didn't feel bad for Cliff. Christie – you can't! I'm saying it NOW! You can't say.. you can't say it!?!! DUH!!! Nick – DUH! Christie – congratulations! Happy Taco Tuesday! Nick – thanks! Christie – Now my campaign is spoiled for tomorrow .. I was actually going to do it with integrity ..and talk to everyone one on one because my emotional side wanted to blow it up but then I was like this is so stupid .. I have three days left in this house I'm not going to be the center of another blow up. I am going to do this with respect and stay true to myself and if I go out, I go out.. but that was a BUST! Nick – yeah, its fine! I don't really care! I've been honest about every bad thing I've done and every good thing I've done. Christie – yeah that's like your quote! "I don't lie". Nick – because its true. Christie – I haven't lied… yeah you've never lied Nick!? Nick – I've been honest with every person. Christie – you've never given me the chance to lie because you come up with plans that other people execute for you.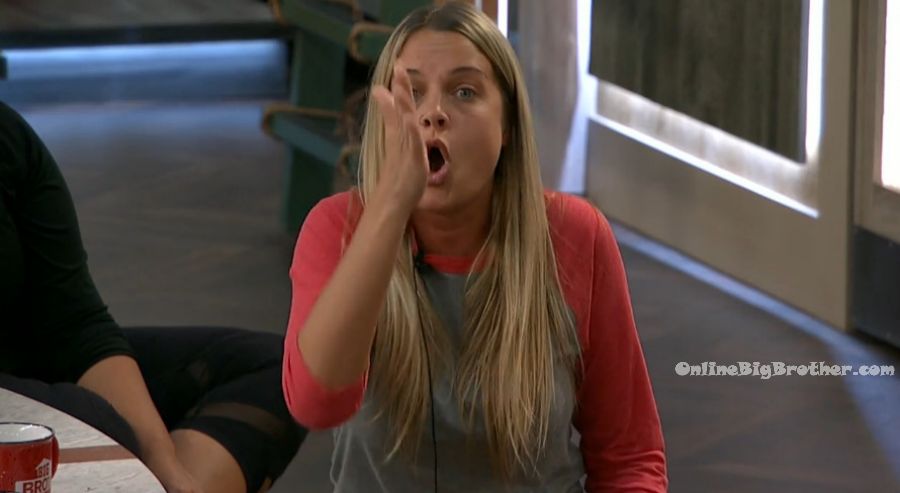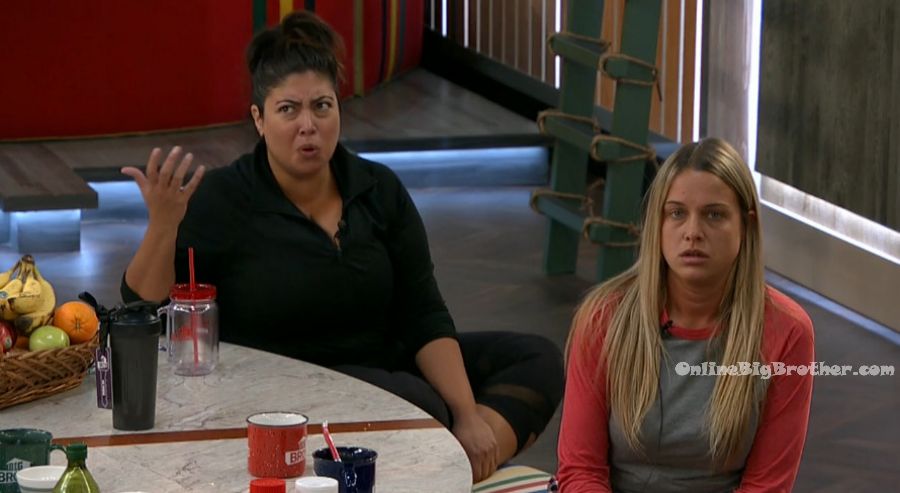 Jess pipes in – I didn't know I was your target… you didn't let me know that. Nick – you tried to put me up as your replacement nom during your HOH. Jess – who said that?!!! Nick – you tried to get me out last week. Christie tells Jess – its not even worth it! Nick – you were trying to get both of them to stay and trying to get me as the replacement nominee again. Jess – what are you talking about!? Christie – he's not winning HOH! And you know what Nick .. I have to say something .. you don't like because you concoct plans for other people to execute. Just like on the hammock when Cliff was HOH and I was going to get your girlfriend out with hopefully not using a power .. you didn't have to lie because you were going to use Sis to come to me and then you were going to use Cliff to give his word that he would then have to break! You would have made Cliff lie.. so you wouldn't have to.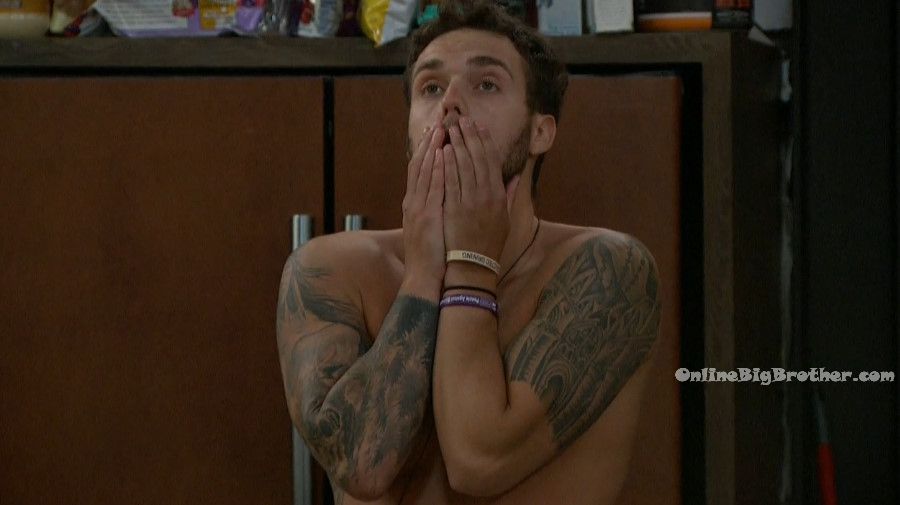 Nick – the plan was never even in effect. Christie – no it wasn't because I saw through your bullsh*t Nick! Nick – I would have still had to have talked to him about it!! Christie – you didn't have to talk to him about it because I was already in communication about it and I was already in communication with Sis and I called your bullsh*t! Nick – okay! Christie – no you weren't able to lie because your plan was f**ked before it started because you would have required Cliff to lie. Nick – and if I had talked to Cliff he wouldn't have done it and the plan would have fallen through. Christie – but you tried to make someone lie for you! Did you or did you not!?!?! Nick – if Cliff wouldn't have wanted to do it it wouldn't have gone through. Christie – but your attempt was that!! Nick – I was going to see where his head was at .. yes! Christie – your attempt was to make Cliff lie! Nick – I was going to see where his head was at .. yes! Christie – okay if you want to word it that way .. its good .. whatever! And you don't have to worry because he is probably not winning HOH .. he doesn't have to. Its a joke .. this is just a joke! Nick I honestly respect your game so much and this wasn't going to happen but this is a bad look. I am sorry. Whatever it doesn't matter. I'm a target! Hello! Holly I am sorry I really wasn't going to do this. Holly – its okay .. we got dinner and a show! I'm not complaining. Christie – this is your game and I tip my hat to it. Loyal to everyone!
Nick heads to the bedroom. Nick to himself – throwing comps!? I haven't thrown one competition. I am so f**king sick of people f**king dragging me bro! If you want to f**king go ..lets go! Pettiest cast! Sis joins him and ask if he is okay. Nick – I am f**king annoyed! It's f**king bullsh*t. Its the pettiest f**king cast and no one ever sticks up for me! 🙁 Sis – I didn't stick up for anyone. Nick – I know you didn't. Sis – because I love both of you and I didn't .. Nick – but its bullsh*t.. I've been honest about everything I've ever done! When have I lied?! I threw one f**king comp .. I didn't need it. Sis – she could be staying now this week.. I think she might .. people might want to keep her so that she will take you out. Nick – stop, you're not going home. You're not. Sis – and now I don't have a campaign. Nick – you're not going home. Tommy joins them. Sis – I love you. Sis – leaves. Nick – we have the pettiest cast dude.. what because you're going out ..you're going to bury me!? Tommy – I know. Nick – but then you guys are still f**king friends with her.. That's the type of person you want to be f**king friends with?! She just f**king lied through her teeth. And what am I supposed to say out there .. I'm loyal to Tommy, Nicole and Sis.. like I am supposed to blow up all your games trying to defend myself. So I just have to take the .. f**king bite the bullet!? It really isn't my fault that I have good relationships with people. I didn't tell f**king people to like me! Tommy – no I know. I'm just a good person. I preach to my kids …don't f**king blow… Big Brother blocks the feeds. Tommy – I am sorry I didn't get involved. Cliff joins them. Cliff tells Nick – We're always good man. There's nothing I heard.. Nick – Cliff could put me up and I wouldn't care .. if its good for his game. Cliff – you and I have played a similar game .. we try to land on the side that we land on. Nick starts crying. Nick – just let me play my game! I'm sick of it! Nicole joins them. Nick – she lies about everything. AND then she is going to try and bury my game!? I only threw one comp! People throw comps all the time. Its bullsh*t that I have to explain myself!?! Tommy – you good. Nicole – you don't have to explain yourself. Cliff – I have no problem with your game. Nick crying. Nick – What am I supposed to say to defend myself? I'm close with Nicole, Cliff and Tommy?!! Tommy – what just happened changed nothing! Nick – I am not giving up .. this just motives me more to win!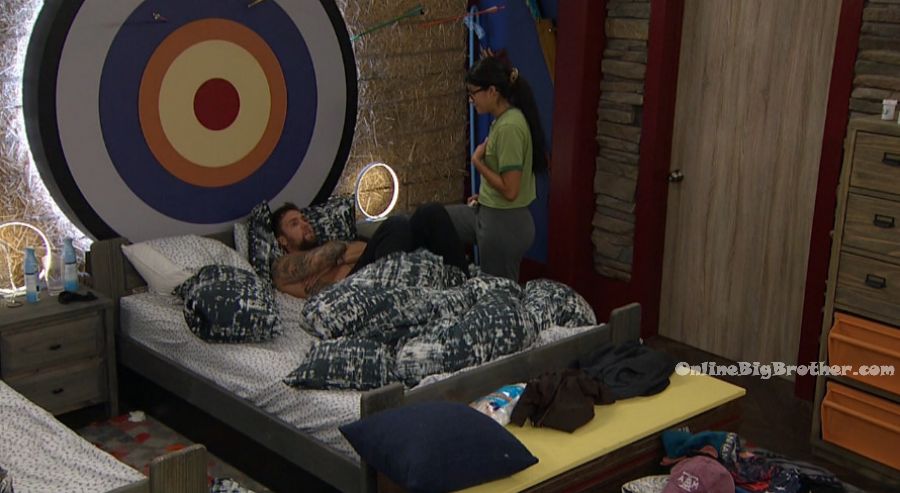 Christie alone in the boat room. Christie gets called to the diary room. Christie – of course!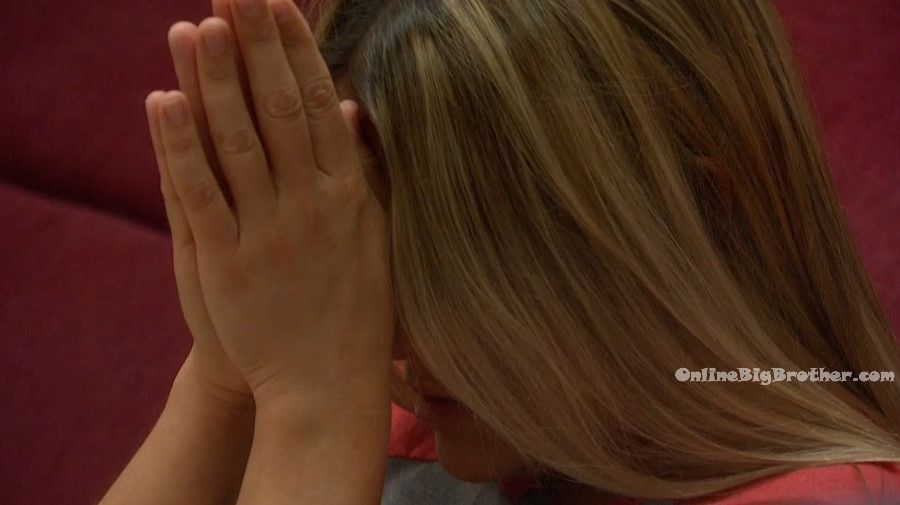 8:33pm – 9:30pm Kitchen.. TACO TUESDAY!! POW POW!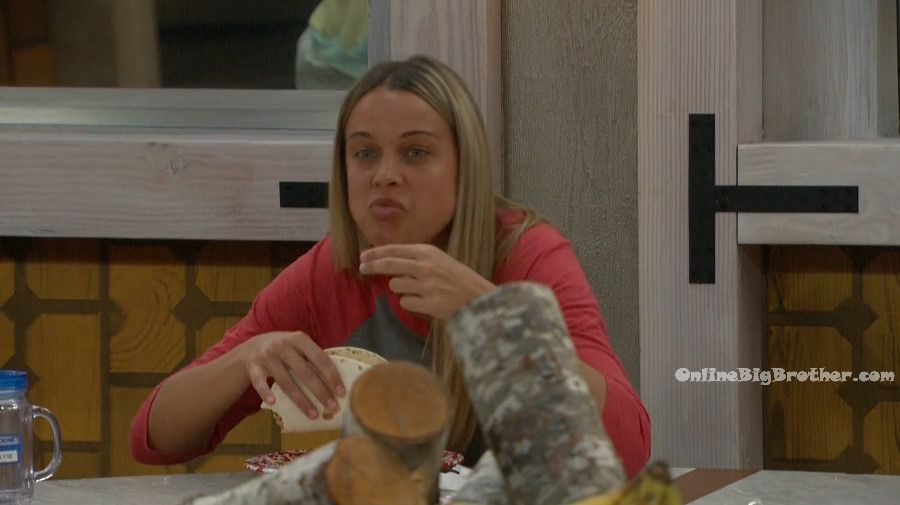 10:15pm Nick reading the bible…
10:16pm HOH room. Jackson and Cliff.
Jackson – everything she said is valid. Cliff – I get both sides. Stuff that happened a long tome ago ..whatever! Jackson – do y'all have a final 5? Cliff – no! No! There is zero agreement what so ever. Nothing! Jackson – I was going to say if thats the case thats fine but I know that Holly and I are wanting to work with y'all. Cliff – yeah, no .. heres the deal that happened. He kind of touched on it or she did .. or they both did. When they approached us they said we will keep you safe as long as you basically flip and all that. And TOmmy did not want to have any discussion about alliances or anything else. And so we said if its a double .. after the double lets sit down and talk to see if something comes together.. and nothing ever came of it. It was one of those dance with the devil type deal. I went into that agreement that it was only for that one week.

10:20pm – 11pm Boat room. Christie and Jess.
Christie – did I sound stupid!? Be honest with me! Jess – no, no.. I don't care for him anyways. Its going to be a bias. Christie – Like I tried to just stay as calm as possible. Jess – you did.. I think you did a great job. You know what I think .. about him being a therapist and blowing up the way he does .. not just in this situation but in multiple situations .. like that is his game play. Christie – he just claps and sounds loud to sound like he is right. Jess – and doesn't say anything. Christie – I don't lie. To my lying .. Manipulating other people to come up with plans.. is the same thing as lying.. I am sorry. Jess – yeah, I agree with that. Christie – I feel bad because Nicole is probably so pissed at me.. Jess – why would Nicole be pissed at you? Christie – because that is her closest ally and she is very attached to him. Sis doesn't seem pissed at me. And Nick is close to her too. I hope people will give more thought to how they vote. I am sure now .. I hope people will give more thought to the way they vote. I am going to campaign tomorrow. I really think that I could have a shot. Only for the fact that I am a target. I am a huge target to keep in this house. Sis is NOT! No one is coming after her? Who's coming after her? Jess – Nicole? Maybe not after this. Christie – if I go ..Tommy is now a big threat. Why wouldn't he want to send Sis home.. He is going to be a threat before her. Keep me here! I am the shield now. Let me be the bigger threat. I am not f**king scared. I have nothing to lose. Jess – Nick called Nicole a piece of sh*t. Christie – EWWW.. when?! EWWW!!! Jess – when she was on the block. Christie – what a douche! Jess – Let me take that back .. it was either her or Kemi.
Christie – I will talk to everyone tomorrow. I wonder what Michie will say to you. I feel like he is good with you and that he trusts you. Jess – he will tell me which way I should probably vote. Christie – I said to him (Michie).. I know you're scared of me and my "mental ability" but I said take that threat and make it your asset. Like I will use it and keep you safe. If you can talk to him and know your input .. can you let him know I am not coming for him. I want Nick out. Nick is going to win this game. And he has an army around him.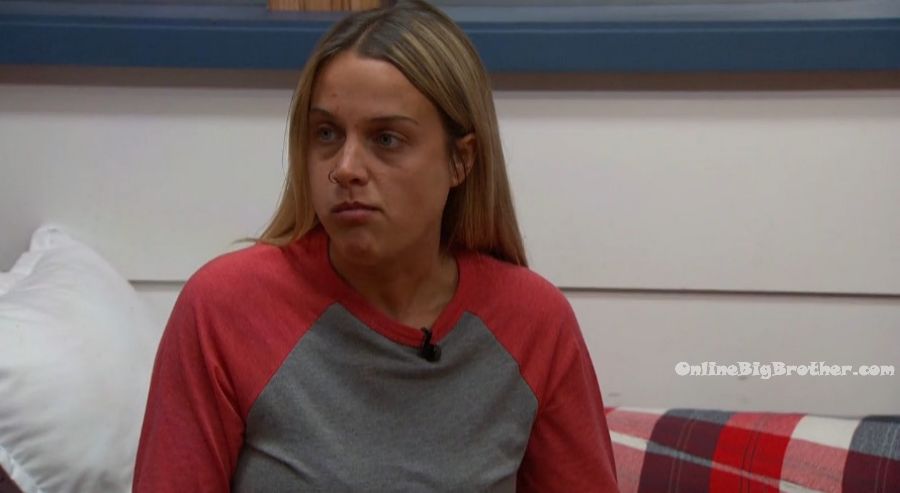 11:20pm – 12:10am HOH room. Christie, Jackson and Holly.
Christie – he (Nick) is protected by everyone. And I don't care about being the target. If I means I can stay another week.. I would gladly be a shield for whoever keeps me. Let Nick come after me. Let him take all the shots at me he wants. But at least keeping me will .. is another person after him that is not conned by his bullsh*t. Whether I stay or go at lease people are aware of his game. If I go hopefully someone takes him out.. maybe Jess. Jackson – at some point or another .. we have to all turn on each other. Christie – I want him out. He is my target but if he makes it to the final 2 .. he has my vote because he played the f**k out of this dame. Jackson – I said it from the beginning .. do what is best for you.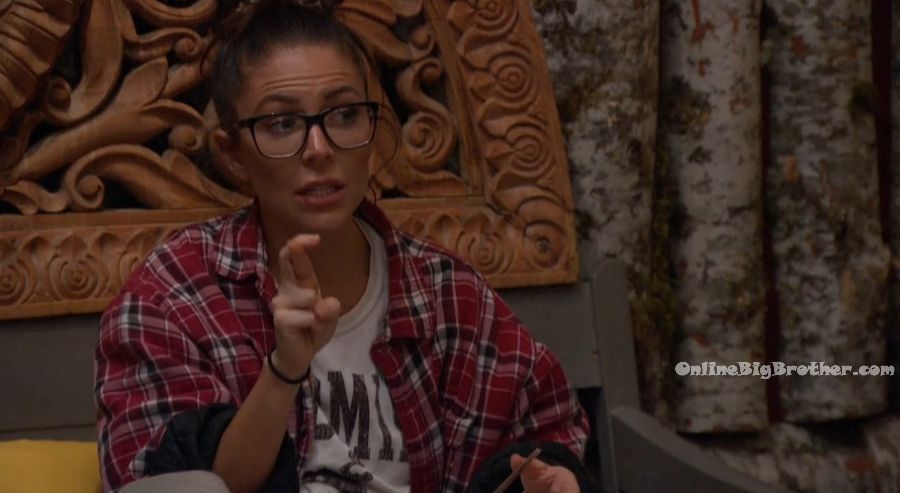 1am All the house guests are in bed except for Cliff who is reading the bible in the living room.