Head of Household Winner – Jackson
Have note are:
Nominations are: Christie & Sis
Power of Veto Players are – Christie, Sis, Jackson, Nick (Christie pulled ), Holly (Sis pulled), Cliff
Power of Veto holder – Jackson
Power of Veto Ceremony – Jackson did not use the power of veto
Grab your live feeds —-> BB21 Live Feeds Subscription Link
Rank your houseguests —-> Big Brother 21 Ranking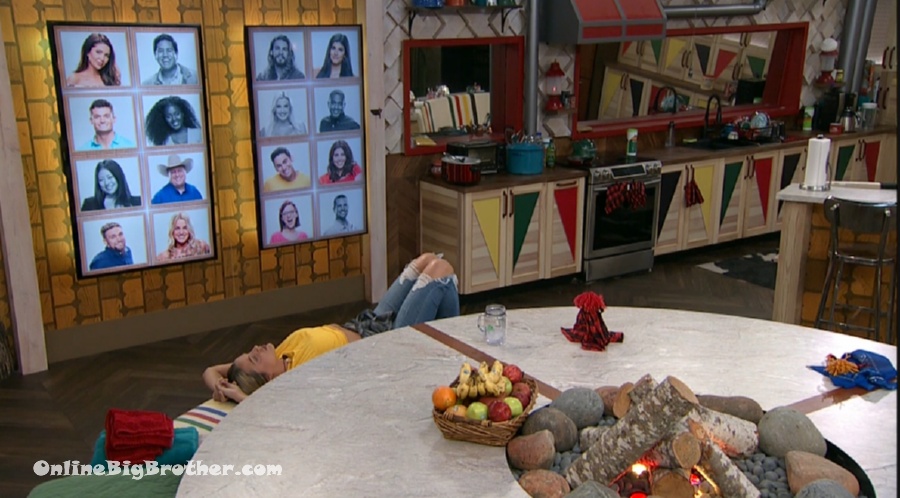 12:39 pm alone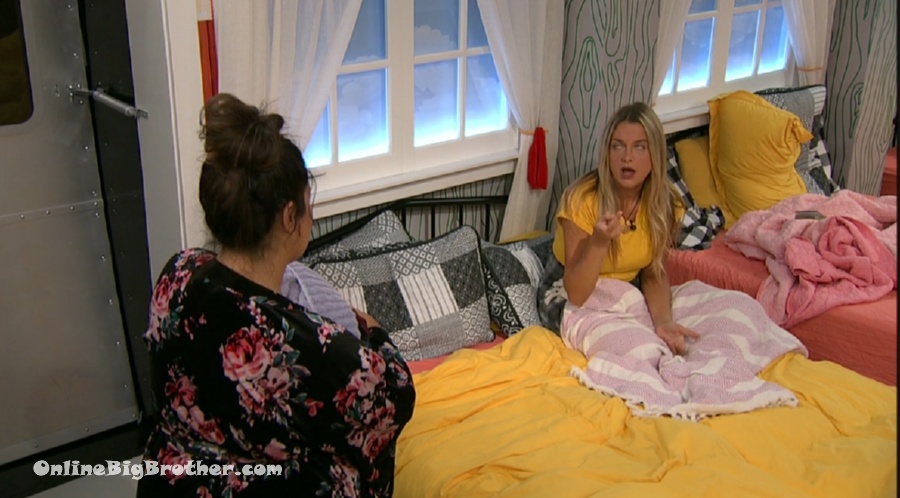 12:41 pm Christie and Jess
Christie – know I don't have Nick's vote (you think)
Christie says Nicole, Nick, and Cliff are tight "I'm assuming"
Christie – if it's a tie I think I have Michie (LOL)
Christie – Holly, and Michie are going to vote the same way
Christie – If I can get Tommy I can stay
Christie – I had a really good talk with them last night. Really good (Holly/Michie)
Christie – they see right through Nick especially after yesterday
Christie says Michie and Holly have no one "they've been working on Cliff for days"
Christie – I don't even know I get him.. he probably thins his odds are better with Nick and Nicole. If Sis goes Tommy is kinda in the middle that's why I need to convince him to come with us if not Him and Nick are next weeks' target. It's obvious.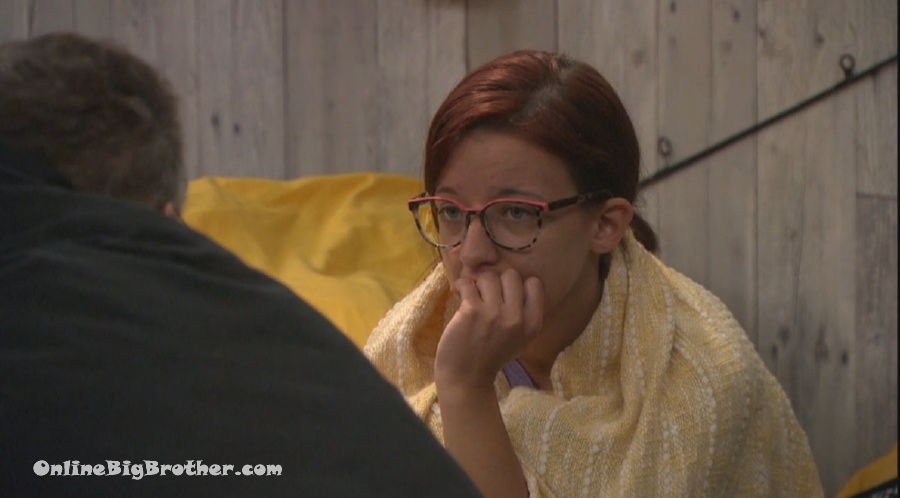 1:33 pm Cliff and Nicole
Nicole – there's nine of us. If Christie goes we have me, you, Holly, Michie, Jess I'm not sure where she would fall and then Nick, Tommy, Sis.
Nicole – If Sis goes, it's me and you, Jess/Christie, Michie/Holly, Tommy/Nick .. you have Christie/Jess going after Nick. Michie going after Christie, Nick going after Christie and it kinda clears the airways of that trio Nick, Sis, Tommy and allows more…
Cliff – it seems that it's more fluid and up in the air if it goes that way (Christie stays)
Nicole – Sis told me last night if I win HOH I'm putting up Michie and holly. If she wins and puts up Michie/Holly, if Holly would to win I imagine she would put up Nick, Tommy, Sis or even Jess.
Cliff – I can see good and bad both ways
Cliff says when they talk to Miochie and Holly later today and they are told the plan is Christie than the plan is Christie "we don't cause any waves"
Cliff mentions he talked to Tommy and he's saying that Christie heard from Michie/holly that they are leaning towards keeping her.
Cliff – I can kinda see that if Michie/Holly see her prime target (Nick)
Cliff – if they (M/H) think there's this group of 5 coming after them they may think Christie is a bigger ally than sis. Who knows what promises Christie has made to them.
Cliff says he's not telling anyone his vote until the last minute.
Nicole – the passion and the drive to be here.. it kills me to send Christie home (Good christ people If you vote to keep her I hope she wins y'all deserve it)
Cliff – I know
Nicole – I know how much more she wants it than .. you know .. am I shooting myself in the foot 2 weeks from now she's sending me home. Then again Sis could easily send me home.
Cliff says if Michie/Holly say they are keeping Christie he's going to say "y'all killing me guys"
Nicole says they may be just blowing smoke, "It's not like sending her out is a bad idea she's a HUGE competitor"
Nicole – if she stays people have blatant targets.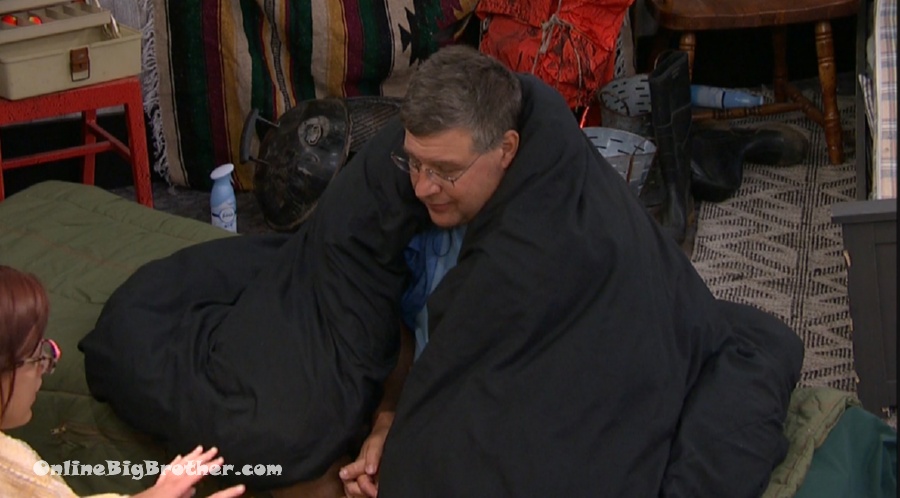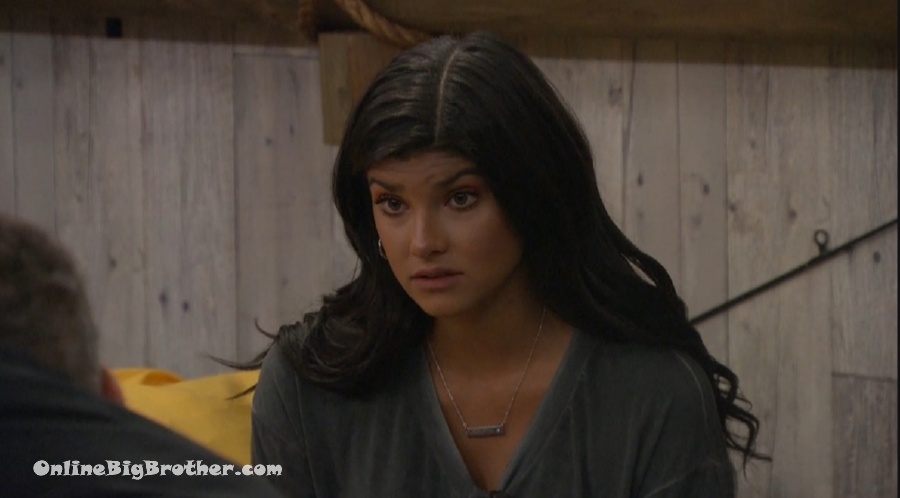 1:55 pm Sis and Cliff
Sis – I'm officially starting.. you're the first one
Sis – wheres your head at right now
Cliff – I'm avoiding talking right now.. I think we're still good I haven't heard anything to make me think otherwise. I hate to say anything bad about Christie I know y'all are such good friends
Cliff – she's a strong player
Sis – I love CHristie
Cliff says he has no problem with Nick's game "he's always played I know he's tight with you that's no big surprise"
Sis says she has no deals with anyone "literally zero final deals"
Cliff – I don't know what is happening with Michie and Holly.
Cliff assumes the plan is what it's always been and they are good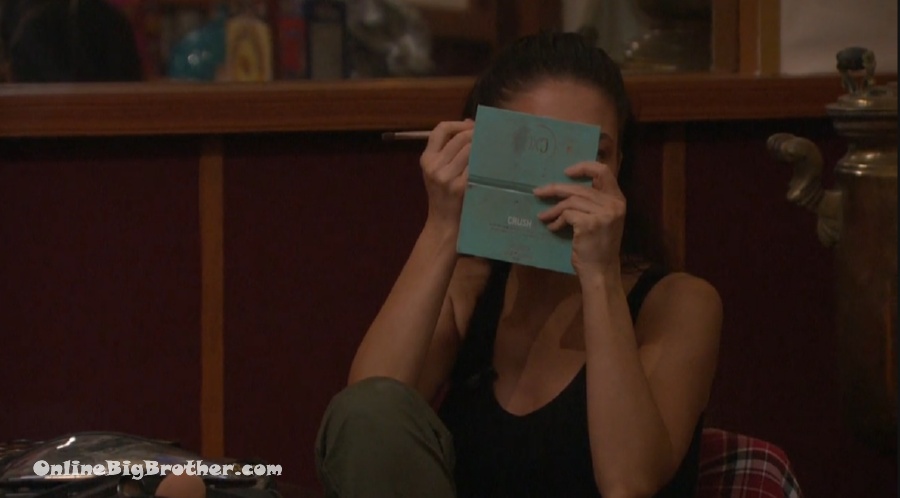 2:02 pm Feeds flip to the HOH where Holly and Jackson are talking
Holly – Sis says she still wants to work together.. I told her what people would want to hear because she seems a little lost.
Holly – She said she would put Nick up but I don't believe it
Jackson – I don't believe it for a second that's like kat saying she was going to put me up
Holly – to me Nick is the biggest threat to my game but Christie is also a HUGE threat and Chrisite could win this game.
Holly – the more I think about it for myself. If Christie is here BOOM Nick has two targets, Christie and Jess. If Christie is here she has a target Nick. That's two people in this house I know won't put me on the block
Holly – If Sis is here Nick will put me up and Sis might be persuaded to put me up as well
Holly – Tommy is under Nick's spell
Holly – Christie staying could benefit both of our games because Sis this morning mentioned wanting to work with me and Tommy but she never mentions working with you. She said the three of us to still work together
Holly – She still Has loyalty to Nick. Where does that leave you?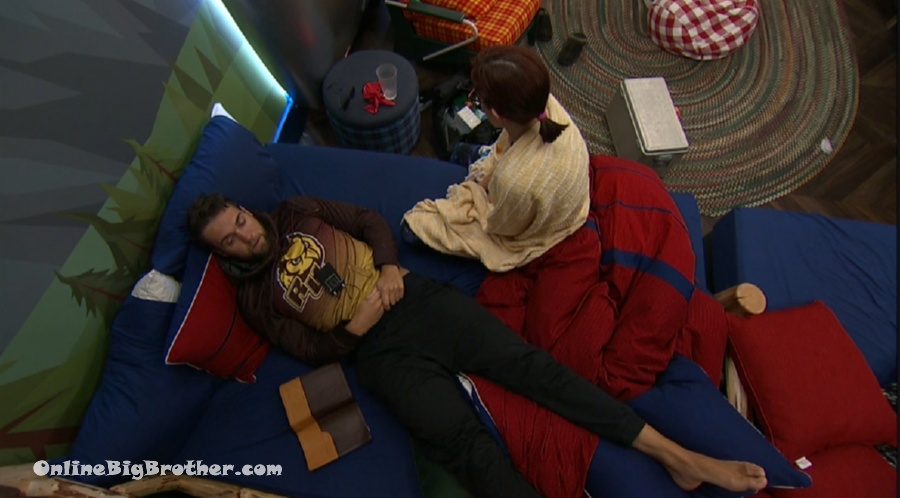 2:08 pm Nick and Nicole
Nick – I'm not voting Sis out I don't care if I'm the only one. if everyone wants to f*ing target me go ahead.
Nick says unless Cliff is targeting him it would be dumb to keep Christie this week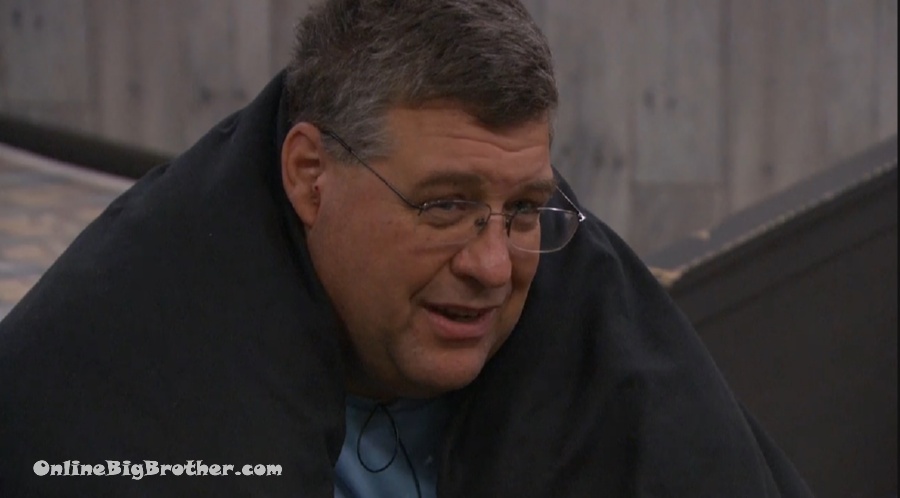 2:15 pm Sis and Cliff again (FYI for an hour here the feeds were only showing 1 camera angle so they were jumping back and forth)
Cliff says if Michie changes his mond right now he doesn't know why.
Cliff says his targets don't involve Sis or Tommy. Sis says her targets don't involve Cliff or Nicole
They hug.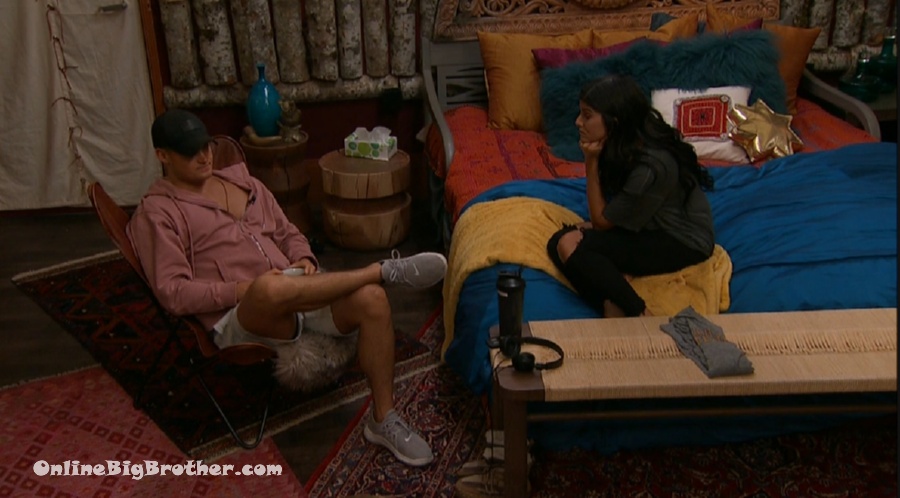 2:21 pm Jackson and Sis
Jackson – I'm sitting here doing the math. Cliff is going to be 5th
Sis – before you get into that I have no final 5 deal with anyone
Jackson – I'm saying in Nick's head not you ..
Jackson – Nick is saying Cliff is 5th, obviously, Nick wants to win he's first. we're on week 9. Christie is his target too so she's 9th. Jess is 8th gotta fill in 7 and 6, Michie/Holly.
Jackson – 4th and 3rd, Tommy is 4th Sis and Nicole 2nd and 3rd
Jackson – so, you know hearing that I am 7th and Holly and 6th or that Holly is the pawn he's saying things that are raising red flags to a lot of people.
Sis – has your target changed
Jackson – nope, I've given the house 2 people to pick from
Jackson – my individual game is to have Christie as a target.
Jackson – if I was voting it would be concerning that Christie is good with her words. That is why I had you up against her because literally anyone in this house she could spin to get evicted she can flip a vote except for you
Sis says she has "no final anythings" She claims she will take a shot at Nick.
Jackson says the explosion last night exposes a lot of things "takes what potentially was a unanimous vote and taking it to a split"
Jackson – Christie is f*ing smart she's good at this game. If I were you that is something I would pry on. Also, Nick is good at this game.
Jackson says his biggest concern is how close she is to Nick, "and how far Christie is from Nick"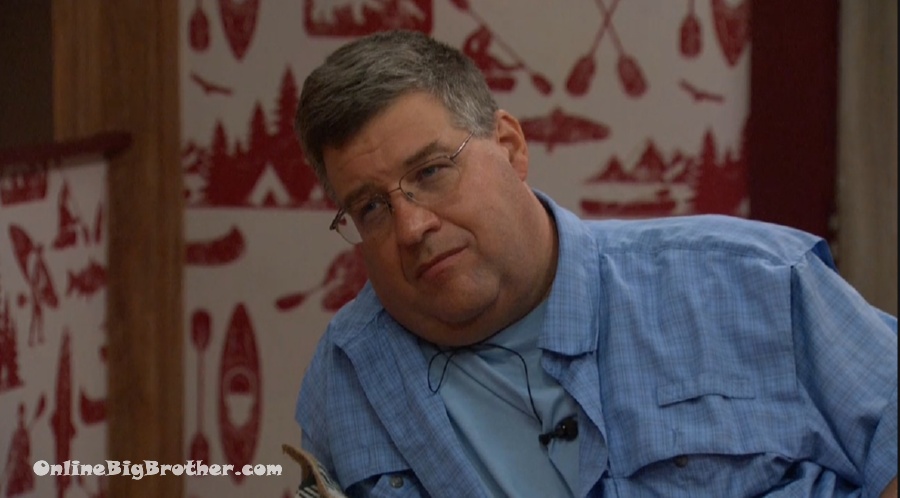 2:30 pm Cliff and Christie
(this is a long conversation I skipped a huge section)
Cliff – I feel for you
Christie – I have no one in this game. Jack was my person he was someone that scooped me up. he then scooped up Tommy.
Christie – Once I lost jack I also lost Tommy
Cliff says if he had to pick a winner between the 2 nominees it would be Christie, not Sis.
Christie – If I talk to them (Michie/Holly) and they see from a game point that it's valuable to keep me and I get Holly's vote and I get jess' vote, and Michie would break a tie to keep me. would you vote for me
Cliff – probably. I won't promise now because I will have to think about it.
Cliff says he would piss Sis and Tommy off.
Christie thinks Tommy would flip too
Christie – you are not my target, I regret not being more game associated with you earlier
Christie – I am a little bit emotionally unstable and I am bold
Christie – if I make it through this week I don't care if I'm 5th
Christie says Cliff has a better shot with Michie and Holly than with Nick
Cliff – I think so
Christie starts to cry. "If it was me, you, Michie, Holly in a four I would be honoured.. Honoured, to have gotten there and to be standing next to you"
Christie – I know my family would be proud. I would be proud, you're family would be proud .. and you would probably win and I would be fine with that
Cliff tells her not to assume he has anything with Michie and Holly if they made it to final 4 with them.
Cliff – there's a part fo me that would love to see you stay over SIS you are a bigger competitor than she is a bigger threat than she is.. the respect I have for you. I love SIs in her own way but from a gameplay standpoint. You're the one.
Christie – I want to fight I want to win comps not to take a shot at you I want to take a shot at people running this game.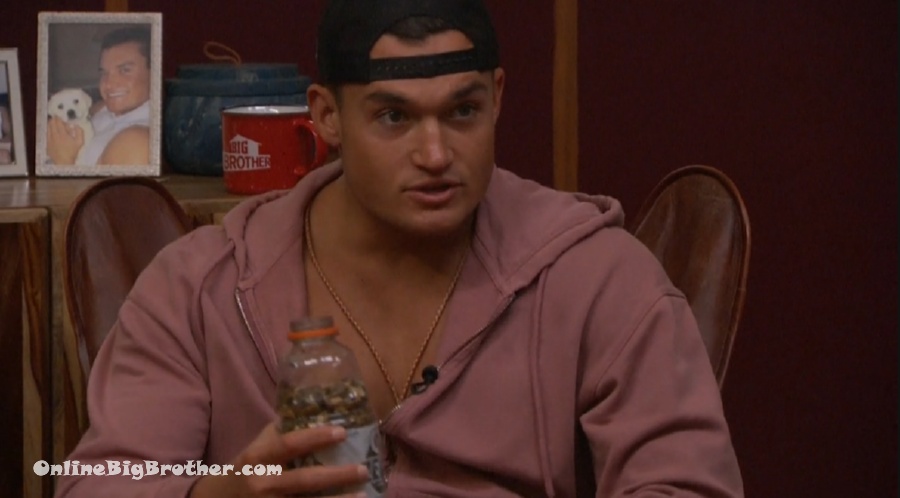 3:48 pm Christie campaigning to Jackson
Christie says she has no one. Tells him that his HOH he made the "Sickest move"
Jackson – I'll be honest with you if I'm getting guarantees you're working with me and not against me
Christie – I'm telling you I'm willing to take 5th and deal with it
Jackson – I'm telling you now that changes everything with me
Jackson – I've been waiting for this christie for 8 f*ing weeks
Christie – I want to make a deal
Jackson – well you're barking up the right tree
Holly comes in
Christie – I know I don't have Nicole's vote. Sis is Nick's number one you vote her out and she moves up 1 (Nicole)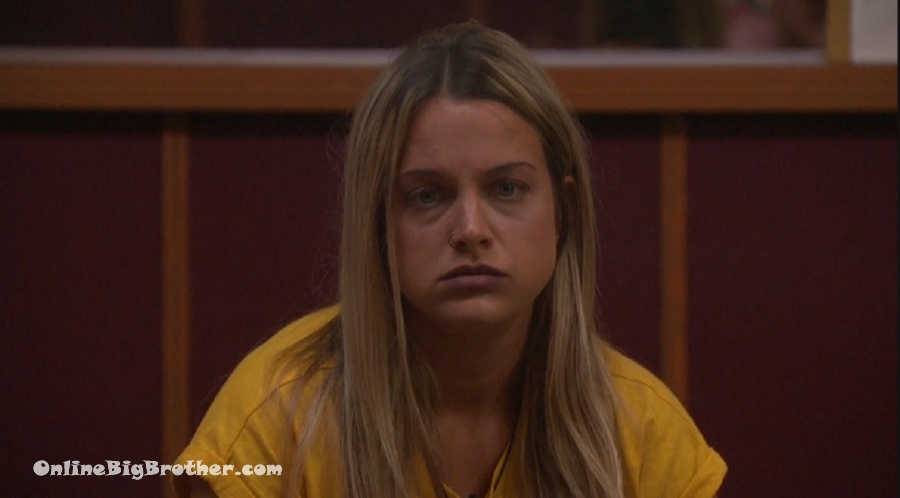 Christie – if the numbers were in my favour I would have Tommy.
Christie says everything they've talked about right now is "BIBLE" meaning she's given them her word she won't say anything outside.
Christie says she "BIBLE" Swore with Cliff they weren't targeting each other.
Christie – I told Michie if I stayed I want to be his ally and I want to be yours.
Christie – I want to keep the both of you safe I will take 5th because at this point I am going home.. I am good for my word I am a competitor. I will win mental comps someone has to combat Nick it won't be Sis, it won't be Nicole. I think Tommy will come with us he's just scared of taking Tommy out.
Jackson – you are significantly stronger at competitions than sis. You aren't attached to Nick, you will keep me safe. You do have Jess on your side. you do potentially have Cliff on your side what does SIS have?
Christie – Sis has Nick and apparently Nicole
Jackson – She doesn't have skills in competitions and if she does win she's telling me I could be going on the block
Jackson – the reason why you are on the block is not because of your mental skills, your social skills, or physical skills whatever it might be. Its because all of those Skills have been aimed against me. The reason why you are on the block is because of the respect I have for your game and because it was a threat to me.
Jackson – if those are guaranteed to not be against me than why the hell..
Christie – here I am use me
Jackson leaves for a coffee. when he comes back Christie is telling them that her targets will be Nick and Nicole. She will 100% go after Cliff and Jess after that as long as she has Michie and Holly's vote this week.
4:32 pm
Christie is curious how America preceives Nick.
Holly – I can't imagine people on the feeds like watching him hump Tommy
Christie – it's so inauthentic too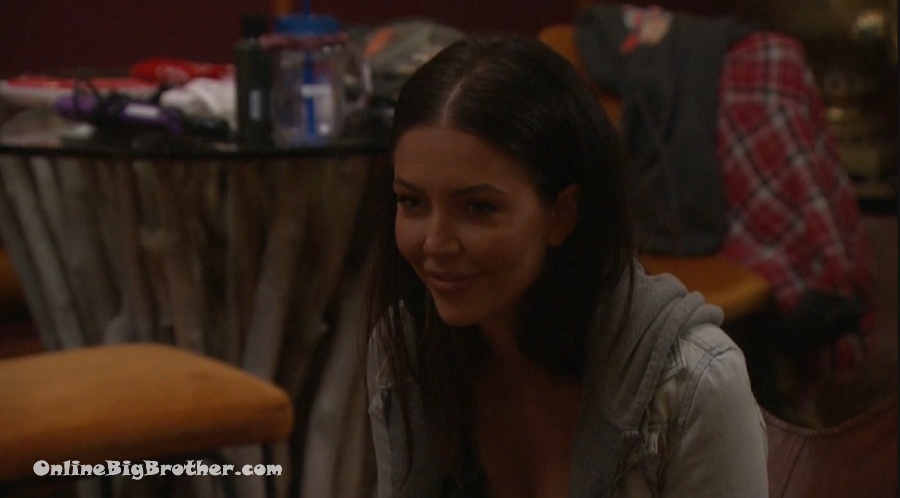 4:38 pm Holly and Jackson
Jackson – this is f*ing beautiful
Holly goes over Sis' campaign "she does want to be loyal to me and Tommy"
Holly says Sis' campaigning lacks authenticity she offered final 3 with Holly but then referred to Tommy as her "Person". Holly doesn't want to be 3rd in their group.
Holly – I've lost sleep over this. Keeping Christie makes more and more sense to me the more I've thought about it. Tommy is not convinced though. He just told me he went off on Christie for how things were handled yesterday. Nick was the one that started it so why Is Tommy not mad at Nick. Tommy is mad and Christie.
Holly – if she gets Cliff and Jess as of right now I would keep here. Christie has burned us so many times she would look like an a$$hoel if she burnt us again.
Jackson – I don't trust SIS
Holly – I don't either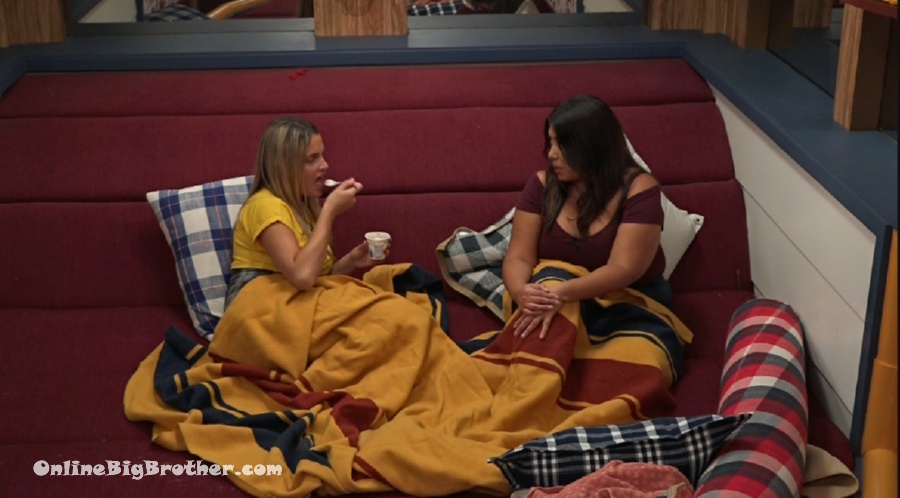 4:53 pm Christie CHOMPING while filling JESS in.
(I took out some of the campaigns as they're not critical it's more or less the same thing. There's a flip in the air. I don't think it will happen)