Head of Household Winner – Cliff
Have note are: Tommy, Christie, Jackson, Kat
Nominations are: Jack and Jackson Bella
Power of Veto Players are – Cliff, Jack, Jackson, Sis, Sam, Kat
Power of Veto holder – Jackson
Power of Veto Ceremony – Jackson used the Veto on himself Cliff nominated Bella
Powers in the game
Christie – Panic
At any of the next four Power of Veto Ceremonies, Christie can turn the Golden Power of Veto into the Diamond Power of Veto and allow the current veto holder pull someone off the nomination block, but instead of the Head of Household naming the replacement nominee, the veto holder names the replacement.
Grab your live feeds —-> BB21 Live Feeds Subscription Link
Rank your houseguests —-> Big Brother 21 Ranking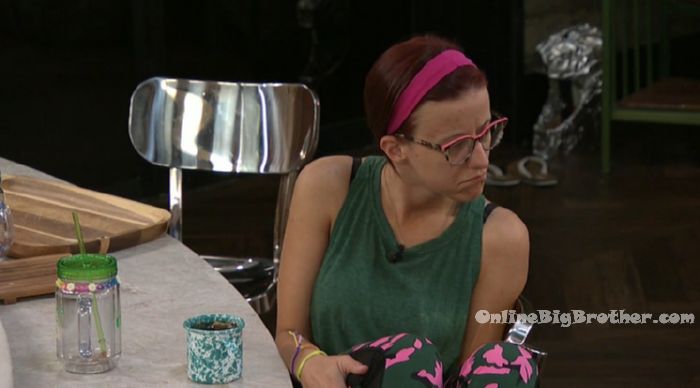 8pm Kitchen – Nick and Nicole. Nicole – I am going to konk out at 10 today. Nick – do you think I was bad for Bella's game too? Nicole shakes her head no. I don't think so. Nick – really? I feel guilty for everything that she does. I feel like she took a lot of the blame for what I did. Nicole – maybe but. Nick – to be honest I feel guilty. Nicole – you can't feel guilty. You can't have any regrets. Nick – Like I don't buy that Christie was going to use it. I don't regret doing that. Like the whole Kemi thing .. I was given information and I pursed it and she was brought into it. I think it was the way she handled it. I feel bad. It just sucks, I feel bad that it was her game. Nicole – I am sorry. Nick – this week could have been so easy. I was good. My game was good. Nicole – I wouldn't feel guilty about affecting each others games because its just the nature of the beast. If you went back in time it would have happened the same way. Nick – Yeah, I wouldn't have done anything differently. (Really?!) I feel like that power was held over our head .. like we were both laying low this week. We were chilling. Now its do or die. I've got to win. One of us has to.. well you're good next week. Probably me and Sam next week? Nicole – that's what I hear yeah. Not saying I'm a fan. I would rather go out swinging than going out cowering. I wouldn't b***H away with my noms. If its a wall comp you're going to have the best chance at it. Nicole – it would be terrifying. I don't know who I would put up. Nick – do what's best for your game. I won't be mad at you if.. if it gets you an extra couple weeks. I got you. Nicole – that's not best for my game. I don't want to put you guys up. Nick – yeah we need each other right now. Jess – would probably put me and Sam up too. Nicole – I don't know.





8:50pm Boat room.
Jackson, Christie, Holly, Jess, Kat and Cliff. The house guest are sitting around chatting about random things. Christie – I am going to update my HOH basket because I have a feeling I might win and I would really like to not get wine this time because it was DOG SH*T! I would rather get Bud Light Platinum's because they have a higher percentage of alcohol. Jackson – that is a power move! Big d!ck energy! Christie – and they're also my favorite. They're very good.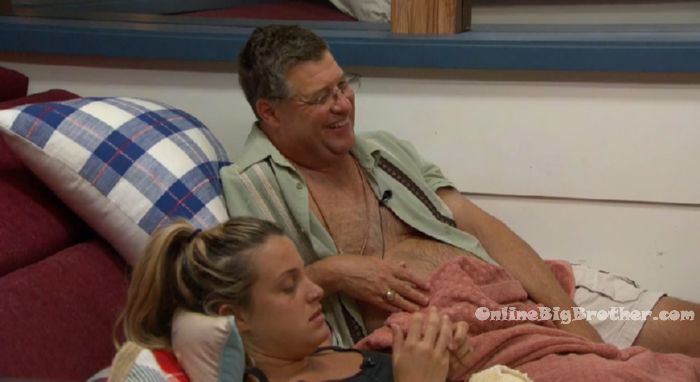 9:18pm Bathroom. Nick and Sam. Nick – I talked to Kat and I said sorry about yesterday… she was like it makes sense. I was the only one you told so I understand. I was like I've got to win this next HOH. And she was like so do I. She said if she wins she wouldn't put me up but she is probably just saying that. I am blowing up her (Kat) game to Michie when I leave. I am going to tell him everything that she said about him. Like how he is mean to women, and like how she doesn't like the way he talk to her and how she wants him out. And that she doesn't want to go to the end with showmances. I am not going to let her win. Sam – she was hardcore loyal to Jack this whole time and we're just idiots. Nick – we need to win this next HOH. I am putting up Christie and Jack if I win. Sam – but if you do that the power will be use and I will go up. Nick – well who do you want me to put up? I would expect you to do the same thing. Sam – I would say if you were to win HOH you just put up Jess and one of them. And then that way I don't have to go to jury with Jess. Nick – okay. Sam – you could put up Jess and Christie. And everyone is going to vote out Jess, it would be automatic. If I win the veto, I wouldn't touch anything. Nick – no you would. You would take Jess off and put up Jack and then one of them would go. Sam – but she could use her power. Nick – if you won veto you would get to pick the replacement. Sam – oh. Nick – I am done dude. I am actually angry. I only made that alliance because she came to me and said that she wanted Jack out. Sam – when you're campaigning blow it up. Nick – I will. If its the wall comp. I know my chances aren't great but I am holding on until my body collapses. My body is going to shut down before I drop. If I die, I die.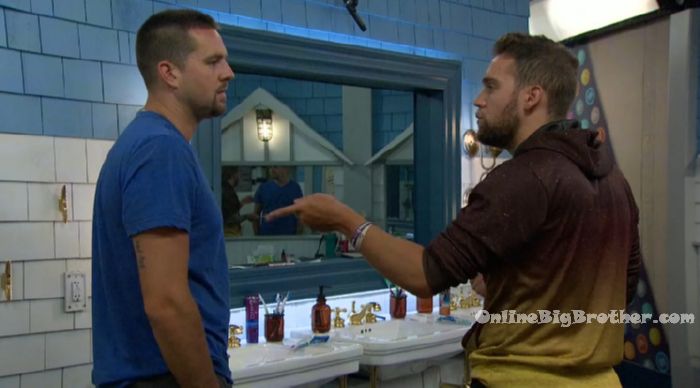 9:18pm Boat room. Holly, Jackson and Bella.
Bella – I can't go out without a fight. Jackson – I wouldn't respect you if you didn't. Bella – I know and I am going to campaign hard. I am not going to sit down and die. I recognize that I f**ked up because I said a lot of things in the beginning and I acted more on emotion and re-actively. Like trying to trust in people and like I didn't like really learn. I threw that away and now I want a chance to learn that. My problem coming into this game is that I didn't trust anyone. I was gaming so hard and I didn't watch the show before. I really do love you two. I like and respect Jack. Whatever you decide I will respect. I gamed too hard because I didn't trust anyone. I am owning everything that I did. I would love to be given the opportunity to stay and move forward. Jack is a much bigger target than me. I haven't won any competitions. He is a comp beast not only physically but mentally. AND he has a great social game. He is a bigger threat, I am a bigger target. If you win HOH I will volunteer to go up as a pawn. One you get me out, you get Jack out I don't really care. I just want Nick and Sam to have a chance at this game. If I was granted another weeks safety. If I could get your votes .. I would have five. Jackson and Holly tell Bella if they decide to vote to keep her they will tell Jess "Blueberry pancakes" in a sentence. If Jack stays in this game… he will win. Bella leaves.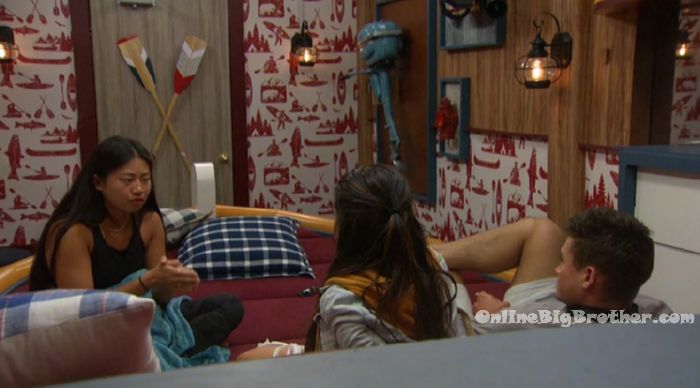 9:50pm – 10pm Bedroom. Bella and Nick. Nick – ..well you really don't need to .. and then she goes what is your campaign going to be? And Christie said oh and I never told you a lie. Such a f**king cun.. aagghhhh.. I'm not going to say it. She is a f**king b***h bro! Shut the f**k up! I am not even going to waste my breath! There is a point in the game when it gets personal and now I am angry. Bella tells him about the "Blueberry pancakes" line. It sounds good to me.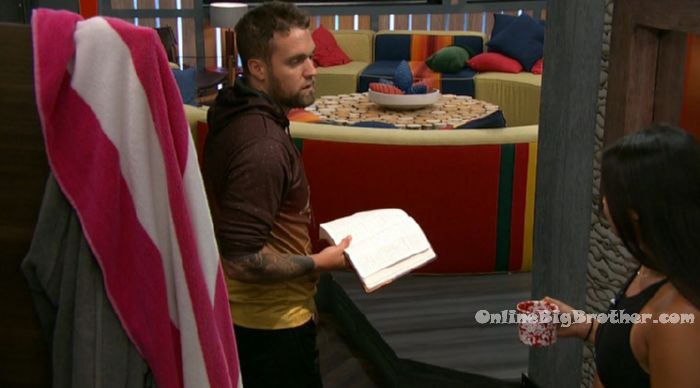 Jack – this is my campaign speech. Okay .. so I never lied to you. Okay! Jackson – she is swinging for the fences. You know where I stand. Jack – do you think she will get Nicole. Holly – I don't know. Nicole's been sketching me out. Jack – but we have Kat. Kat hates Bells. Jack leaves. Jackson and Holly talk about Bella's campaign. They both agree Bella made some good points. Jackson – Bella made some valid points. Holly – everything that she said are things that I've already thought about. I know that we're both at the bottom of the pecking order.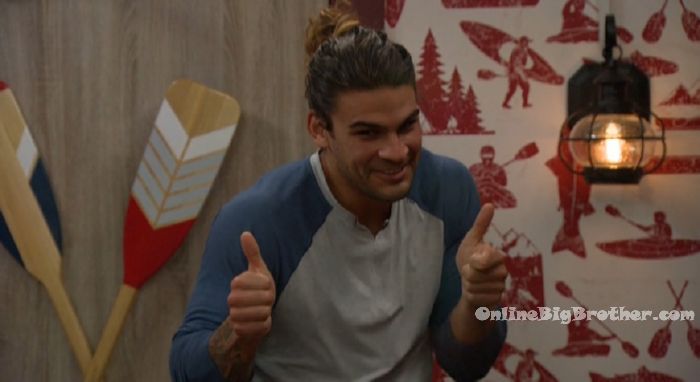 11pm HOH room. Cliff and Jack.
Jack – for me I am not trying to pressure or crazy campaign or convince anybody. The deal was I've never taken pride or lied to anybody and I want to play an honest game and continue to do well in POV's when anybody needs me, I show up and that's the game I play. Cliff – yup. And here is the latest just between you and I but I've now been told that Nick is going to stay nice and cool as long as .. because he didn't want to screw up any chance that Bella has but if she goes out he is just going to blow everything up. So just be ready for it. It works to my advantage if he wants to blow up his game afterwards and make himself that much more of an enemy then whatever but just be ready for it because he is going to try and throw sh*t out there I am sure. Jack – I appreciate that. Cliff – I've made my decision and I've decided to jump on board with y'all. I am not going back and forth on this. I don't know what wacky plans they have but I don't see it happening. Jack – yeah, and I think moving forward its me building trust back up with you. Cliff agrees. And I don't think we had distrust. Y'all were playing your side and y'all know why I did what I did. Jack – yeah absolutely. I trust your word.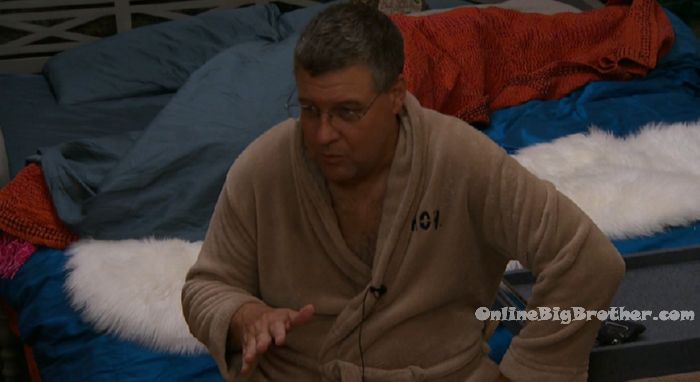 11:10pm Kitchen. Bella campaigns to Tommy. Bella – I understand that I am not trustworthy. Jack is a bigger threat than me. I haven't won anything. Jack won the second HOH and he almost won the last one. And he won a power. I haven't won jacksh*t. There are a lot of competitions left and he seems like he might win. You need to think about what's best for your game. If it came down to you and Jack in a competition versus me and you like your chances would probably be higher if you went against me. And two because I have to build a lot of trust back, I would probably be back on the block next week. As long as I'm in this house I am a bigger target. And if I am a bigger target that means that you're not on the block. And if he went out this week and I went out next week.. that would just guarantee a lot of other people going to jury. I owe it to Nick and Sam to give them a chance to play. Not saying that no one can beat Jack but he does have a really good social game. And from this point on I am done dropping names. It is a numbers game and you have to think about what's best for your game and who's going to have your back. And you can't have 10 peoples backs. It is hard you can take a leap of faith now or later. I respect your decision and I love you. Tommy – good points for sure. If I have to vote to evict you .. you and me are close. I am obsessed with you. You are my friend for life. Bella – I am happy and I have Nick.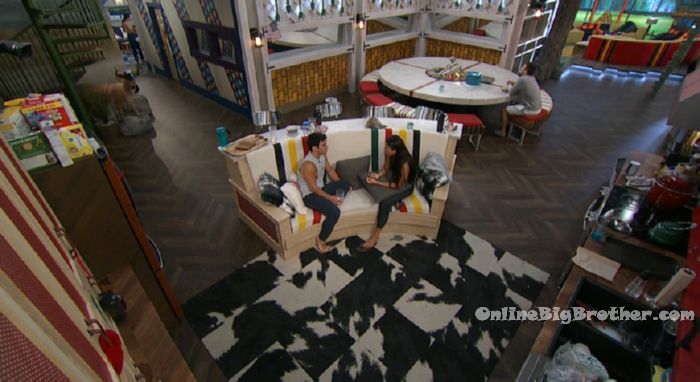 11:22pm Camp Comeback room. Kat, Bella and Christie. Bella gives them the same campaign speech. Bella – there is no reason to trust me. I have no proven track record but regardless of that if I was to not go home this week, I would still be a target for next week. Next week is the final week before jury. Not that I would volunteer to go on the block next week but I would be a bigger target than both of you next week. I respect the game. I am blessed to make it to week 4.
Christie – the reasons you're giving are the reasons ..using versus not using the power. Like I know that Jack is a huge threat. He is f**king amazing at this game. He is a mental, physical and social threat and he is a smooth talking. Bella – and I respect Jack and I'm not trying to say bad words about him. I want to express that I really, really want to be here. Christie – it wasn't a matter of gunning for you. I was just scared of you once I heard my name. I love you Bella. I just feel like you would want me out even more now. Bella – I am so blessed to be here and you have to do what's best for your game. I would give anything to spend the next week with you. Bella leaves.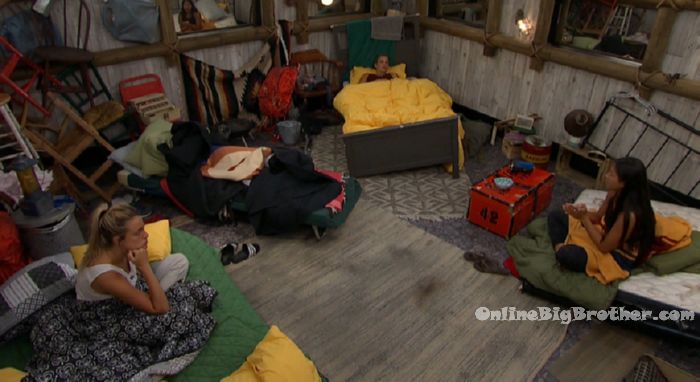 Christie and Kat. Christie – I don't benefit at all from having a dishonest person here and now her, Nick and Sam are going to go like this (come closer together). It comes down to who is putting us up. Jack is not putting any of us up. Kat – I know. Nick is going after them. Kat – I only feel scared of Jack because he can win comps. Christie – but someone else will take a shot. And the moment Jackson goes he loses a number. Sis said to me today that she does not want to go to final 3 with him. She would much rather go with girls. Someone is bound to keep putting him up. Cliff wants him out too. Like I am not obviously going to be putting him up next week or the week after. Jackson is going to go first. Kat – if Jackson were to win do you think he would put me up? Christie – never! Not even 1%! Kat – who would he put up? Nick and Sam. And then after that he would put up whoever was left and Jess because he can't stand Jess.
12am Camp Comeback room. Tommy, Kat, Jess and Christie. Kat – the only reason she says she has my back now is because she has no one else. Christie – I think her family has old Chinese money. She was like yeah I probably don't have a car when I get back but I'll just get another one. And how she gives away all her lulu lemon stuff. Her grandparents in China were apparently the biggest plastic surgeon. You ever see that movie Crazy Rich Asians.. she is probably loaded. Tommy – Nick and Bella in this game are toxic. They bring out an energy in this game that is toxic for everyone. They just egg each other on and bring out the worst game player in each other. Christie – Jack and Sis don't even talk game to each other. Bella and Nick are toxic with each other.


12:10am HOH room. Bella and Cliff. Bella – thirty minutes ago prior to my talks I was accepting that I was going to go home and I felt blessed. I was resigned. And right now I feel good. My best chance is .. the minimum I need a tie. I hope you can talk to Nicole and tell her that I really feel guilty for everything that has happened. I did vote her out but she needs us just as much as we need her. I know she doesn't trust me. I know doesn't want to vote them out and then have me put her right back up. Cliff – I would hope that she gets that .. the desperation that we have. Bella tells Cliff the campaign speech that she's given to the others.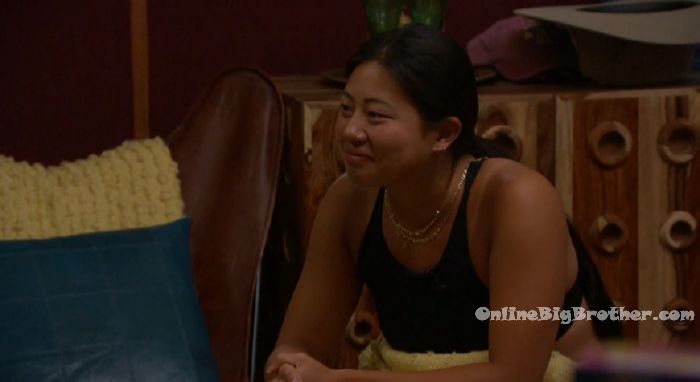 1am Cliff and Jess. Cliff – just let her (Bella) do her thing. We have got to make sure that no one votes the wrong way to make us stand out in this thing. Jess – yeah. Cliff – and you let me know if there is a different option. I am not calling the shots here. Jess – it seems like its Michie, Jack, Holly and Sis. And then its Sam, Nick and Bella here. And then here in the middle is You, myself, Nicole and Kat. And then Tommy and Christie are right here so if we can get them we would have the majority. Cliff – and I trust Christie more than Mickie and more than Bella. Jess – I personally don't care much about Nick. He put me up. Cliff – me too. Jess – and he was heartless and didn't care which one of us were going.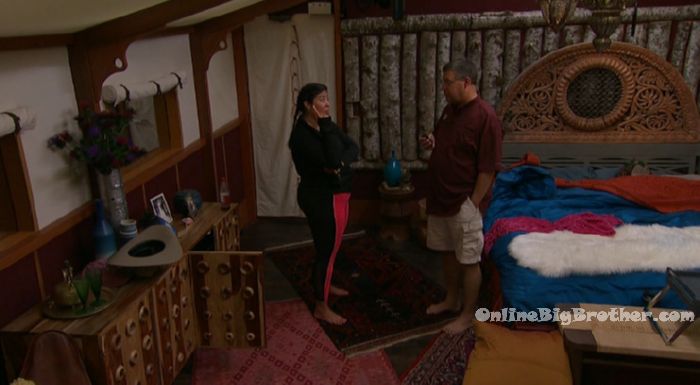 2:07pm Jess and Bella hug. Jess – I see a different Bella. Bella – I hope so. Bella hugs Jess and starts crying. Jess – this is the Bella I wanted to see. Bella – I am just really hard on myself. And a lot of people have been hard on me. For you to say that you see a change makes me really proud of myself. I really want to be the best version of myself. I just want to be a better person. Thank you. I really really need that.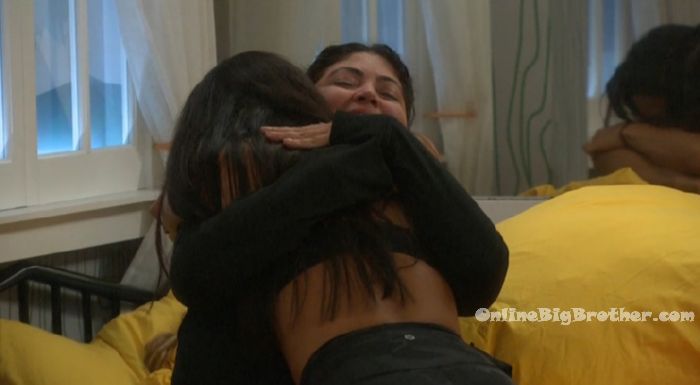 3am All the house guests are sleeping.