POV Holder:
Next POV
Aug 17th
POV Used
POV Ceremony
Aug 19th
HOH Winner:
Aaryn
Next HOH:
Aug 22nd
Original Nominations:
Elissa and Helen
Current Nominations:
Last Evicted Houseguest
David, Nick, Jeremy, Kaitlin, Howard, Candice, JUDD, Jessie
Have Nots (head cheese and habaneros)
GM, Amanda, Helen and Elissa
2:55pm Everyone sleeping except for Elissa who is reading the bible
3:06pm Cockpit Helen and Elissa
Elissa asks if she talked to Aaryn today.
Helen: "no.. i've been sleeping"
Elissa: "ohh I thought you've been talking to her"
Helen: "I talked to her yesterday for a little while.. have you talked to her"
ELissa: "no Hmm umm"
Helen says Aaryn told her if she wins the veto she will not use it.
Helen: "I'll need to convince her otherwise.. we might have to make a deal to keep her safe again"
Elissa: "she's not going to be able to play next week.. so she needs deal. "
Helen says if Spencer wins the veto they can offer him a deal to keep him safe next week if he uses it the veto to backdoor someone.
Helen: "Spencer is alone.."
Helen tells Elissa no matter what there is always a way but they shouldn't worry about it too much until they know who wins the POV competition.
Helen: "Did Aaryn tell you you were a pawn or a target.
Elissa: "Target"
Helen: "Thats what she told me to.. if Spencer gets on the block Aaryn says she doesn't care who the house votes out"
Helen says if Elissa and Spencer are nominated she would have McCrae, Andy and herself to keep Elissa safe.
Helen adds that she would hope if it's her and Spencer nominated than they would have McCrae, Andy, and Elissa.
Elissa: "Of course hmm umm "
Helen is certain she will have GM's vote over Spencer.
Helen: "what type of comp do you think it will be "
Elissa: "athletic"
Helen: "could be"
Elissa goes back to bed Helen messes around with the frog
3:37pm Cockpit McCrae and Helen
they are going through the alphabet and matching each letter with a big brother word. This is in prep for a possible POV contest.
"A is for alliances"
"F is FLoaters"
"S is Showmance"
"H is Head of Household"
"S is scrambling"
"P is power of veto"
"C is chopping block"
"N is nominations"
"B is Backdoor"
Helen: "They always like to use the phrase chopping block.. I don't use that phrase in normal vocabulary"
McCrae says they may use new words that they've been noted saying a lot like HOHitus..
McCrea thought it was going to be what would you do for veto but it's taking so long for them to build the set so he's really not sure.
Helen says Elissa told her she's going for all the punishments to get the veto.
McCrae: "baloney I don't believe that for a second.." McCrae points out once they get to cutting up your clothes and cutting your hair she will hesitate.
Helen talked to GM and Gm told her she would use the Veto but she would need to talk to Aaryn first so Aaryn doesn't get pissed off.
Helen says Spencer, Aaryn and GM are trying to take down the pairs so they control the house .
McCrae: 'Just make sure Ginamarie doesn't win the HOH next week"
Helen: "Ya because if GM wins she'll put you and Amanda up"
MC: Yup"
Helen: "If Aaryn left then Ginamarie and Spencer will scramble.. Aaryn thinks she can work with me after ELissa leaves"
Helen: 'Gianmarie trusts me a little bit and Ginamarie is getting annoyed with Amanda a little bit"
Helen: 'If Amanda won HOH what would she do McCrae"
MCrae: I dunno… maybe she would put up Aaryn and Ginamarie just to break those two up.. I dunno we really haven't talked about it"
Helen says she can control Elissa 100% if McCrae and Amanda are nominated next week he has Andy, Elissa and Helen's vote.
McCrae: "I dunno I feel that Elissa is more loyal to Amanda"
Helen: "NO she is loyal to me"
Cut to fish
Helen: "I can't lose Elissa this week I can lose her next week but not this week"
McCrae hopes Elissa kicks it up a notch.
Helen: "I think she will after our conversation"
They start talking about how upset they are at Elissa saying she wants to quit if she goes to jury.
MC: "I dunno.. I don't think she cares.. "
Helen brings up how nervous Elissa gets before the competitions and how she trying to live up to Rachel
MC: "If she was a good game player she would realize she doesn't need to win competitions"
MC thinks she should take the exact opposite route than rachel, she should lay low and build relationships.
Helen says what kills her is she helped Elissa their entire season and now she might go home because of Elissa. Helen: "If she survives YEs she's a extra vote to me but that's all she is at this point.. I need to start playing for myself"
McCrae: "Dead weight"
Helen says there is things she cannot do in this house because Elissa is around. " I need to manipulate and do what I need to do to get things done"
Helen about ELissa: 'She really wanted to keep Jessie and Canice.. that is not good game play.. keeping them was not good game play"
MC: 'She fell ass backwards into the best position but she keeps self sacrificing herself"
Helen says she carried Elissa their entire time and now Elissa is detrimental to her game.
Helen says all her life she did what other people told her to do, especially her father. She adds that growing up was very traditional and strict. She went to school got a job and worked hard but she never did what she really wanted to do. Going on Big Brother was something she really wanted to do.
You can re-watch ever second on the feeds using the flashback feature.. It's just like a DVR and is super easy to use. click this link for a Free Trial —> Subscribe to the Big Brother Live Feeds
4:24pm McCrea tells her that Amanda and him had a symbiotic relationship they both played different games.
Helen says she loves him to death but if he goes to final 2 with Amanda he will not win.
McCrae agrees it's a worry for him.
Helen points out if Amanda makes it to the end never wins a HOH and ran this entire house she will win the game.
McCrae: "It's that weird Dr Will 2.0 thing she's got going"
Helen says if McCrae blindsides Amanda that will win the game for him, "you won't' have to do anything else in the game.. you would go down in history.. "
Helen: "So Andy and I can let you do that" She laughs then gets serious tells McCrae she will support any move that get their 3 person alliance further in the game.
Helen: "I don't want Ginamarie, Spencer or Elissa winning this game" Helen says Spencer is a fan of this game but he lied to her so much. Her reasons for Elissa and GM is they never were fans.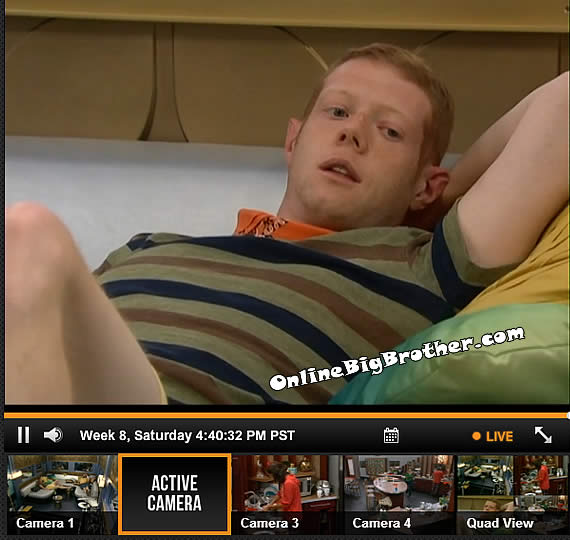 Spencer/Andy roll in.
Spencer: "Elissa is the new Candice in terms of door slamming"
He explains that Candice was worse.
Helen leaves.
Spencer says last week they didn't start the POV until 6pm.
Andy doesn't understand why production wait so long to do the Power of Veto contests. They talk about how last week there was problems with the Veto production told them they were losing lighting and had to hurry parts up.
5:25pm Cockpit Chit chat Helen's zit seems to be growing pretty damn fast. A bit ago Helen said the Zit has a life of it's own she can feel it's heartbeat.
Andy says he loves Britney but didn't feel like she was an amazing game player. Someone mentions that Britney wasn't the first choice someone else was selected but did go through.
Elissa says that Dr Will was going to be on last season but he asked for too much.