POV Holder:
?
Next POV
April 26th
POV Used
?
POV Ceremony
April 28th
HOH Winner:
Jon
Next HOH:
May 1st
Original Nominations:
?
Current Nominations:
?
Have Nots
?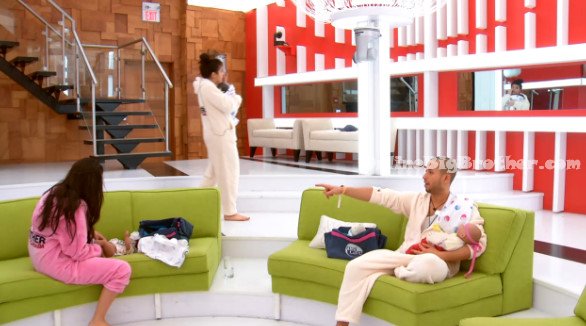 11:15am – 11:55am Adel, Heather and Sabrina are all on the living room couches with their babies. All of the babies start crying. Neda gets up and comes over to the couch. Neda starts changing her baby. Adel calls Neda a bad mother for re-using a dirty diaper. Neda says I probably will be a bad mother. Adel asks if they want to have a dance party with their babies? Neda says maybe later. Adel asks are we allowed to give our babies a bath? Neda says no. Neda's baby keeps crying and she says I don't know what to do different, I'm doing the best I can with the limited knowledge I have! Jon asks is this really what happens? Neda asks Jon can you just take my baby I don't want it any more! Neda asks where does the noise come from?! Jon says the chest. Neda says if this was a cat I would take so much better care of it!! Cats are cuter! Jon comments on how he and Adel have already won this challenge. Neda says I worked at two daycares when I was in high school and I fell asleep at both of them! Jon says there might be lawsuits at those daycares right now. Neda says whoops .. I just spat on my baby. Jon says mine has little balls. Adel says no way?! I want to see! Neda leaves her baby on the couch. Jon laughs. Neda says you're the god father go help it! Neda says when you guys were all napping I cried like 5 times. Neda asks will take my baby? I will accept anything, I will accept diamonds. Jon says we need child care services in here. Neda says if I lose this challenge that is bullsh*t! Jon says oh yeah if you lose it's rigged!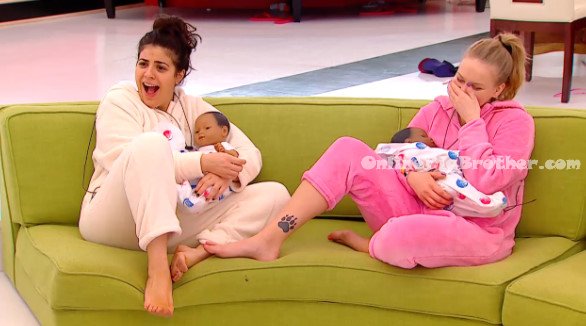 11:55am – 12pm Big Brother blocks the live feeds – when the live feeds return all the babies are in a basket in the storage room. Jon comes out and jokes that the worst mom award goes to Neda!! In the main bedroom – Heather says at least we know we didn't lose the challenge. Sabrina says that she didn't want to give up the baby.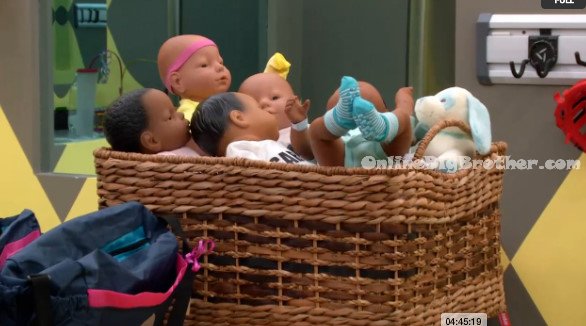 12:15am – 12:30pm In the bathroom – Neda talks to Sabrina and tells her that it will be Sabrina & her going on the block with Heather going home. Sabrina asks does Heather know she's going up? Neda says no. Neda tells Sabrina that she needs to pretend she doesn't know anything. Neda tells Sabrina right now at this point I would want him (Adel) to leave before you did. Worst case if Heather wins the veto, Adel goes home. Neda says I already know what's happening I just don't know if he (Jon) wants to tell you first. Sabrina asks I wonder what our reward will be? Neda says oh my god I hope I don't lose again. Some people just don't have maternal instincts. Sabrina laughs. Neda asks what I didn't drop it! Sabrina says you called your baby ciggy! Neda says what I think that's a sick name. If my parents called me that I would love it. Big Brother calls Neda to the diary room. Sabrina says uh oh you're getting punished. Neda says no I think if I was it would be in front of everyone.
12:40pm – 1pm In the HOH room – Jon talks to Adel about how Heather is going up on the block. Jon tells Adel that Heather was saying to put up Adel. Adel says f**k that, I already went up as a pawn for the sloppy seconds. Just tell her that I freaked out and how there is no trust left between you and I. Adel and Jon talk about how the backyard is already locked down for their reward. Adel says I don't think it would be smart to punish one of us at this point. Jon agrees and says nope, they said we all passed our challenge. Adel leaves the HOH room. Jon listens to his music and then goes to take a shower. Sabrina asks Jon what his plan is. Jon says you are going up and whoever goes up against you is the target. Sabrina asks is it Adel, oh my god if it is I would love you! Jon says he isn't going to say whot but I am going to lie to the other person that you are the target and they're the pawn. Jon tells her to pretend like she doesn't know anything. Sabrina tells Jon don't tell anyone but when I go, you 100% have my vote. Don't tell anyone but you have my vote, I love you.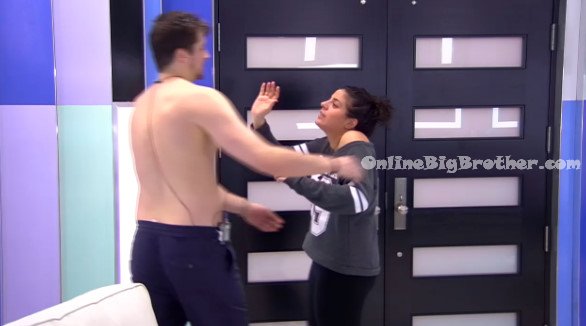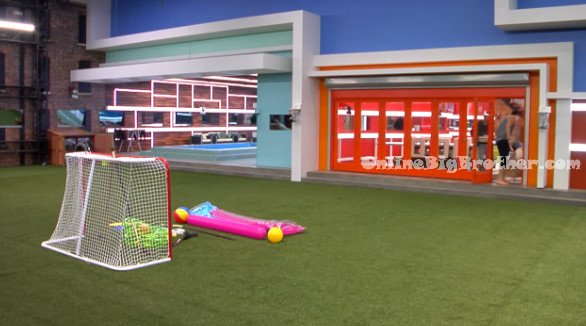 1:05pm – 1:35pm Big Brother opens up the backyard and Adel and Jon find a hockey net, balls and hockey sticks, lacrosse and pool toys to play with. Big Brother tells them the house is now off limits. All the house guests head out into the backyard. Surprisingly Adel and Sabrina play game of badminton together. They end their game and Sabrina says she loves badminton because I'm good at it. Adel asks where he should kick the ball. Neda says Jon's face. Adel then kicks the ball right at Jon and he catches it. Jon says its so funny that you actually called your baby Ciggy on national television. Neda commented on how he accidently hit her baby's head .. how the hell else is it going to learn it did something bad. She compares it to hitting a dog to teach it not to do bad things.
1:40pm – 2:25pm All the house guests are sitting around talking about past events of the season. Jon says Paul was the least threatening person ever, I never understood getting him out. I would love to be in the final two with him. Neda questions how Sabrina gave Adel her baby. Adel says imagine if I had put it in the deep freeze. Adel asks Neda are you going to sh*t your pants if we get a good reward and you're put on slop for the rest of the week? Neda says yes. Jon says I honestly think we could have come out into the backyard and tossed our babies around and you still would have lost that challenge. Neda tells Big Brother that they need to come up with more creative punishments than putting her on slop.
2:45pm – 2:55pmBig Brother isn't letting them lay on the hammock. Jon lays in it and they turn on the alarm. Sabrina then tries and Big Brother turns on the alarm for her too. Jon says well you might as well take it away then. Neda defends herself as a good mother by saying that she didn't kill it. It was still alive! Jon says you carried it to the diary room by the leg. Neda says I was still drunk, I was trying to figure it out. They start talking about the Big Brother house and Jon asks if they're going to build a whole new house for the next season. Neda and Sabrina say no they'll just design the inside but the layout will stay the same. Jon asks why did they build a new one this year? Sabrina says because the first one had a flood. Big Brother tells them to stop talking about production.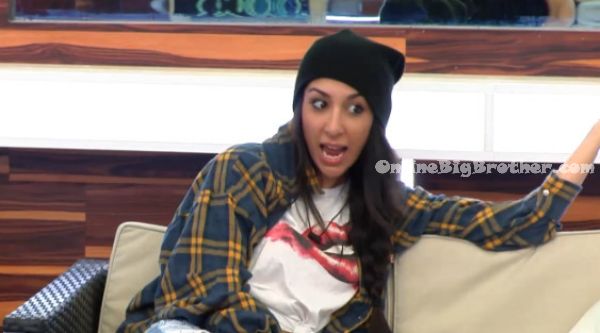 HELP keep the spoilers coming by showing your support by donating. ANY amount is greatly appreciated! Simon and I work 24/7 all season long to keep you updated on everything that happens inside the Big Brother Canada house. Your donations go directly to paying the fees required to run this site.
Stay connected and interact with other Big Brother Fans on our Facebook page.
And Follow: @BigBspoilers and @Dawgsbigbrother on Twitter for the most up to date spoilers.
Share it YO!!
Tweet