POV Holder:
?
Next POV
April 26th
POV Used
?
POV Ceremony
April 28th
HOH Winner:
Jon
Next HOH:
May 1st
Original Nominations:
?
Current Nominations:
?
Have Nots
?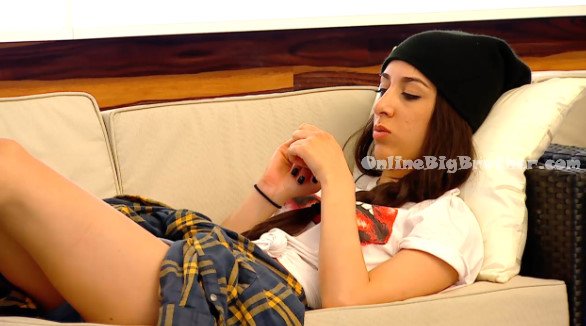 3pm
The house guests are still on a backyard lock down. The conversation turns to talking about how next weeks power of veto competition is the most important one of the season because you're safe, you decide who goes home and you effectively decide who you want to go to the final 3 with. Jon says that the person that wins HOH next week is also automatically in the final 3 too. Heather is confused and wonder if the person that isn't on the block wins the veto can they use it on one of the nominees. The others tell her no because you can't go on the block if you have the veto. Adel argues that you can if you want. Jon says that would be the stupidest move ever. Jon talks about how bad Neda was as a mother again. Jon says you were really bad as a mom.. you exceeded every expectation I had about you being a mother. Neda says I wasn't that bad.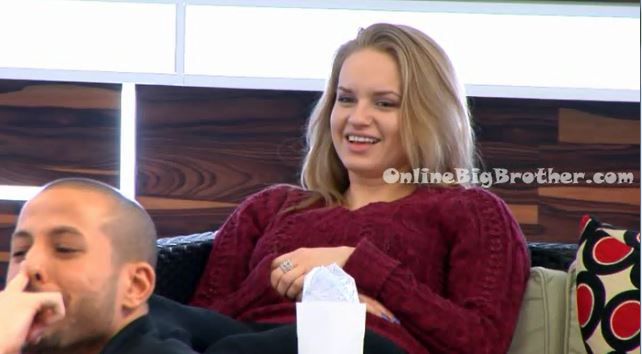 3:30pm – 3:55pm Big Brother lets the house guests back inside for a bathroom / food break and then puts them back on a backyard lock down. In the kitchen Adel asks Neda if she feels okay with everything? Neda says yeah. Adel says I didn't think she (Heather) was that physical but she's smart as f**k. Neda says she did so well! Adel says I think she might be smarter than Jon too. Neda says she thinks so too. They all grab food and head back outside. The conversation turns to talking about Harry Potter. They start talking about food. Heather asks them if they would eat her cookies if she sent it to them?! Jon says no. Neda says yes! Jon whispers to Adel. Then Adel throws his pelvic up in the air and grabs his junk and says "Eat this HEATHER!" Heather says oh my god!


4:20pm – 4:30pm Big Brother gets the house guests to sing oh Canada. After the house guests lay back down and Jon starts to fall asleep. Big Brother tells them to wake up or face the consequences. They get up and start playing with the sports equipment.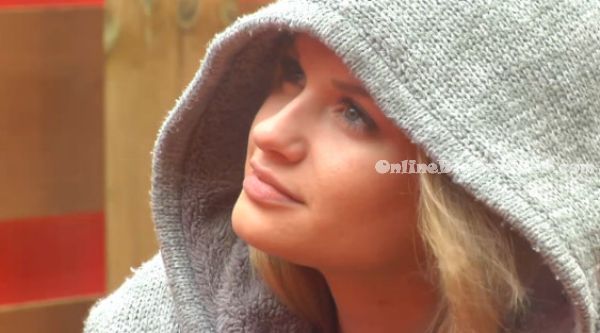 5pm – 5:40pm Jon Adel and Heather head out to the hot tub room. Heather tells Jon that she always used to think that everything magical happens when it rains. Meanwhile inside Sabrina asks Neda if they're going to blindside everyone? Neda says no he's going to tell Heather. Sabrina asks so he's going to blindside Adel and not tell him? Neda says I think Jon is telling him too, I don't know what this blind side is that he's talking about. Neda says I would prefer Adel to go this week. Sabrina says because it's better for you? Neda says yeah. Sabrina asks if Jon is thinking because he can't play next week. Neda says after seeing how well Heather did in the competition last night makes her think its better for her to go. Neda talks about how her feet are so stinky right now. She then picks up her boot and smells it.

Jon asks do you think they will buzz me if I try and get in the hammock? Adel says try it no ones even watching us right now. Jon gets up to run and Big Brother immediately turns the alarm on. They all laugh. Jon says touché!

5:45pm – 6:10pm Big Brother blocks the live feeds.. Neda tells Sabrina if there were some house guest to come back I feel that they would be like able to watch us on tvs and stuff. Big Brother had told them they would be let inside in 14 minutes. After 30 minutes Big Brother still hasn't opened the door. Jon comments on how he can't believe Arlie told Big Brother to "S his D!" Neda says that was the real Arlie coming out. Sabrina says he didn't tell them he screamed it.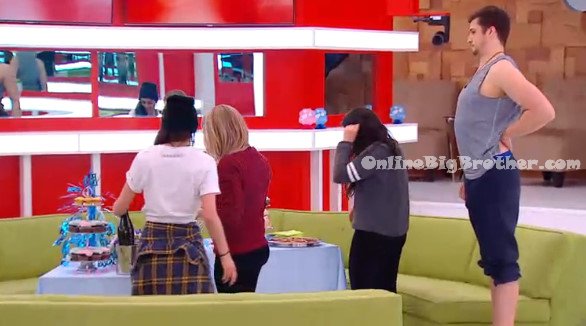 6:15pm – 6:30pm Big Brother opens the back door to let the house guests back into the house. All the house guests rush inside.. The house guest see that in the living room is a baby shower for the house guests. Jon says uh oh Janelle is pregnant! Neda reads the card. The person with the least amount of infractions is Adel who gets to enjoy the reward with everyone else. The person with person with the most infractions is Jon who will receive a punishment by big brother. Big Brother has an extra special something planned for the loser Jon. Neda reads off all of Jon's infractions = missed a feeding, missed a feeding, missed a burp, missed a changing.. etc. Neda says I was the person with the second least amount of infractions. Jon says worst dad award goes to me! Neda says I'm not that bad of a mom! Jon says no, that's not real results! Neda says awww. this is adorable .. still never having a kid. Heather says I still don't understand the whole point in all of this. Neda says I don't think this was the whole reason why the house was locked. I still like it though. Neda says everyone just wants to see Jon in a diaper. Sabrina says I am a very nurturing mother what that hell!! We stayed outside for 25 hours for this?!?!! This took 3 minutes!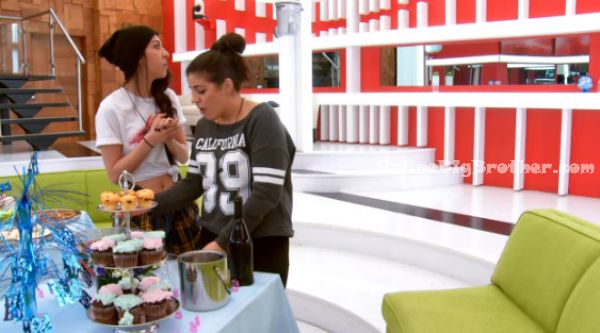 Jon comes out of the diary room in his punishment…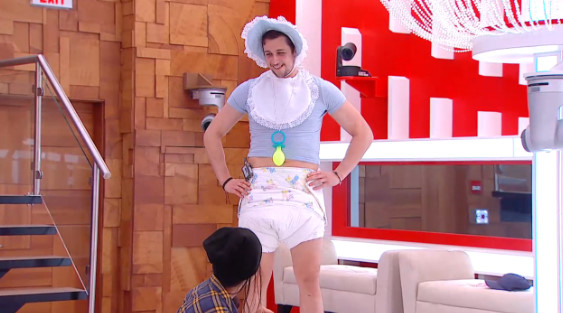 HELP keep the spoilers coming by showing your support by donating. ANY amount is greatly appreciated! Simon and I work 24/7 all season long to keep you updated on everything that happens inside the Big Brother Canada house. Your donations go directly to paying the fees required to run this site.
Stay connected and interact with other Big Brother Fans on our Facebook page.
And Follow: @BigBspoilers and @Dawgsbigbrother on Twitter for the most up to date spoilers.
Share it YO!!
Tweet