POV Holder:
?
Next POV
April 26th
POV Used
?
POV Ceremony
April 28th
HOH Winner:
Jon
Next HOH:
May 1st
Original Nominations:
?
Current Nominations:
?
Have Nots
?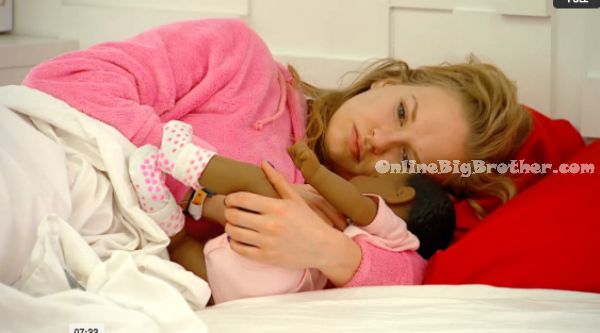 7am
Big Brother wakes up the house guests with their babies. Heather asks what do I do with my baby when I have to pee? In the kitchen Jon says to Adel that if Janelle is pregnant when I go home I am going to be pissed! Adel heads to the bedroom. He lays his baby down and says hello booboo it's me Dad! Adel goes to Sabrina's bed and says let me meet your baby! Wake him up! Wake him up I want to meet your dad. Adel says lets convince Neda to put make-up on her baby so that she's a bad mom. Neda joins them and Adel tells her to put make-up on her baby. Neda says that she's name will either be patch or … Adel says call it cigarette. Adel sees Heather waking up with her baby and asks if she's breast feeding.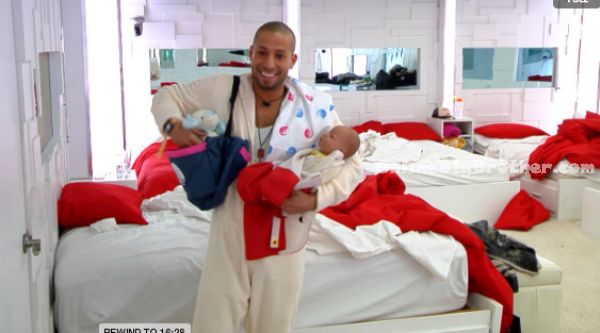 Heather heads down stairs and her baby starts crying she asks how do I stop her from crying? Her baby won't stop crying and Heather looks mad. Neda says I'll call mine cigarette butt because that's what got us into this situation. Neda says that cigarette butts and alcohol are what got me into this situation. The house guests get a reward if they properly take care of their babies. Heather looks at Adel and tells him that he is really surprising her right now. Do you really want kids? Adel says yes, I want a whole soccer team and subs too. Jon says that if anyone does something to get us punished I am going to be pissed. Jon says this while leaving his baby on the couch while he gets a drink. (The reward will likely be something to do with their families)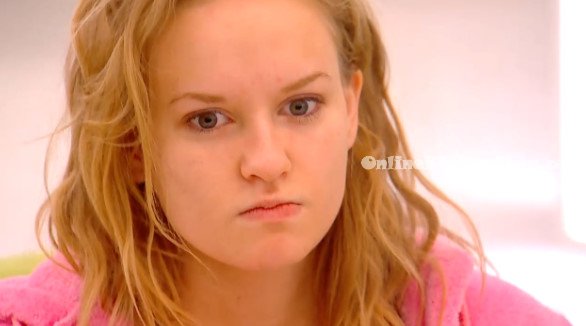 9pm The house guests comment on how they're only allowed to sleep if their baby is sleeping. Neda heads out to the backyard with her baby and lays on the ground and then lays in the hammock. Her baby starts crying and it looks like she's going to lose it.
Neda named her baby: Cigarette Butt
Adel named his baby: Yaffa
Jon named his baby: Little Jon
Heather named her baby: Sebastian
Sabrina named her baby: Arisa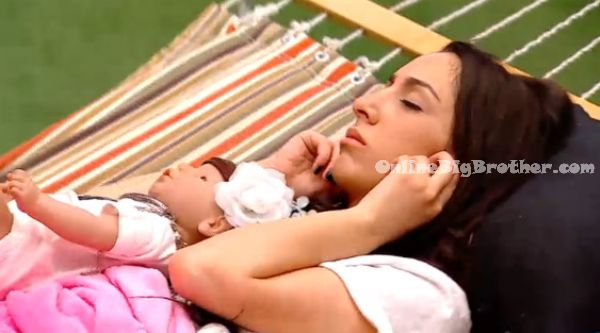 9:30am Jon tries to go to the bathroom in the main bathroom but says f**k when he puts his baby down because he doesn't know what to do with the baby. He heads over to the HOH room. Jon hears Neda's baby cry and he says that makes me so happy. He then puts little Jon down and makes a barrier for him so that he can go to the bathroom. Jon heads out to the backyard and asks Neda if parenthood is giving her a hard time. Neda says that she had to plug her ears it was crying so much. Neda complains that her baby wouldn't stop crying and they all got to nap. Jon says you want big Jon to take care of your baby so you can nap.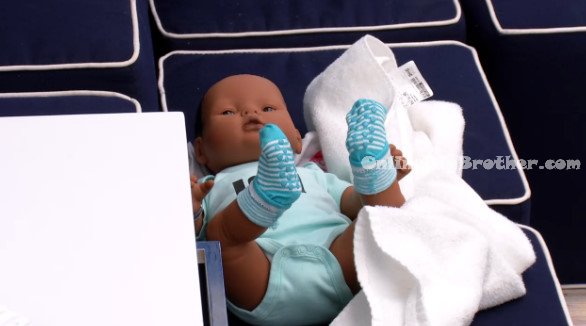 10:10am – 10:55am In the HOH room Jon asks Heather how long do you think we will have to do this for? I want to take a shower. Heather says she isn't sure but says that the thing didn't say 24 hours so I don't know. Jon says I think the reward is going to be cool. Heather agrees. Jon says the worst parent would be rewarded. They wonder if everyone will get rewarded or just one person. Jon says I am pretty sure Neda will be back on slop again. Jon and Heather head to the living room and sit on the couches. Jon comments on how Adel's baby never cries. Jon and Sabrina's babies are timed to cry together. Jon asks how are you doing auntie Neda?! She's dead, her baby's probably dead too.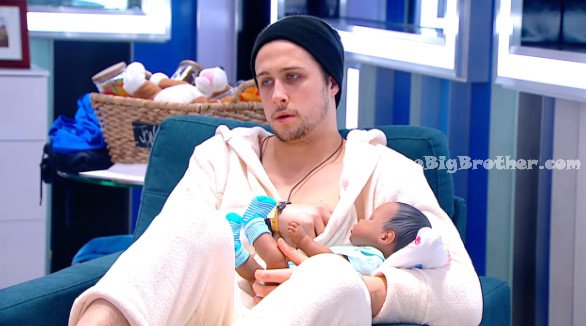 11:10am Adel asks Heather if she will take care of his baby while he prays. Heather says sure. Sabrina comes by and ask Heather once she's done taking care of Adel's baby can she take care of hers while she goes to the bathroom? Heather says sure. Both Heather & Adel's babies are crying. Heather says this baby stuff is hard?!
Stay connected and interact with other Big Brother Fans on our Facebook page.
And Follow: @BigBspoilers and @Dawgsbigbrother on Twitter for the most up to date spoilers.
If you're enjoying the live feed updates this season, please consider donating. Simon and I work 24/7 all season long to keep you updated on everything that happens inside the BBCAN house. Any amount is greatly appreciated! Your donations go directly to paying the server and bandwidth fees required to run this site.
Share it YO!!
Tweet