POV Holder:
Corey
POV Competition
July 16th
POV Used
YES
POV Ceremony
July 18th
HOH
Paulie
Next HOH
July 21st
Roadkill Competition Winner:
Tiffany
Original Nominations:
Tiffany, Natalie, Corey
After POV Nominations:
Tiffany, Natalie, Da'Vonne
Have Nots
James and Natalie
CBS All Access: Live feeds are only $5.99 per month – Try it FREE for 1 WEEK!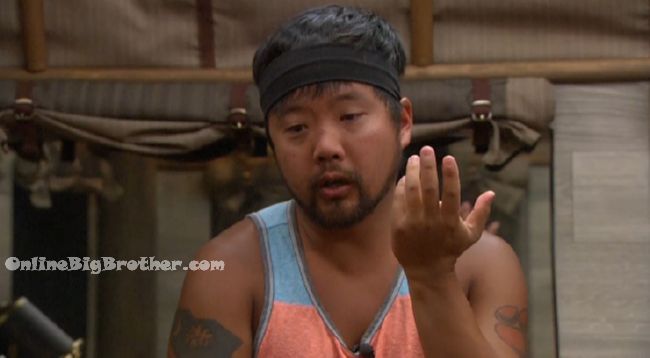 3:09pm Michelle and James
Michelle is blowing up because she doesn't want to be around Tiffany and everyone is calling her mean due to her being rude to Tiffany (People says she's mean to Bridgette also but it's not mentioned in this conv)
Michelle – she betrayed us.. After what she did I don't see how you guys can be OHH TIFFANY OHH TIFFANY I don't want to be around her..
James – if you don't want to talk to Tiffany thats likes what you do.. I'm not going to do it
Michelle – I don't get why.. She betrayed all of us
James – I'm a nice person
Mich – Ok I'm a mean person
Michelle – you are judging me.. Calling me mean and that is hurting my feelings that's not the first time you've said that to me
Mich – you pick on me say i'm mean and a bad person …
James – C'mon Michelle it's not that serious
James says when she goes on the block and no one talks to you is not a good feeling, "I would never do that to you or anyone in the house"
James hopes that Michelle is never in that position where she gets shunned.
Mich claims that she was buddy buddy with Victor because he never betrayed them. She now accusing Tiffany of the ultimate betrayal to them all.
Michelle – I cried over her.. Literally me and Da cried and this is what we get.. Sending one of my good friends … it hurts I don't want anything to do with her.. I'm never seen anyone betray..
Michelle asks him if it's ever been seen where someone was saved one week and the next week they flip to the other side.
James- Judas did that with Jesus.. But Jesus forgave..
Michelle – she's trying to get Da out..
James – we're sending her home what more do you want… Street justice.. A lynching nail her to the cross
Michelle – don't give her the time of day to save herself.. She's a knock off of her sister that can't play Big Brother..
James – no one is going to save her this time..
Michelle starts yelling at him for talking to Tiffany.
Michelle saying that Tiffany was telling her all these lies, saying that Corey, Nicole, Zakiyah,. Paulie alliance
James- she's gone..
They hug it out after some apologies..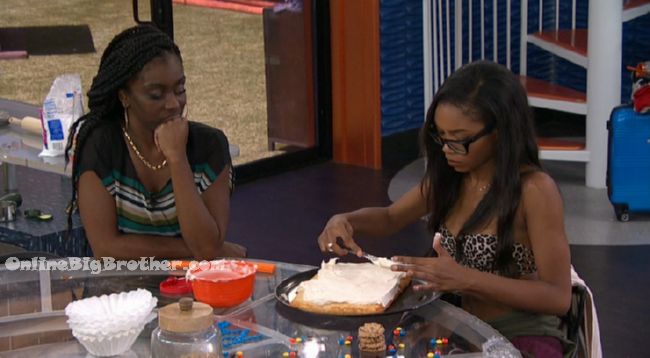 3:22pm Making the cake for the Giraffes Birthday party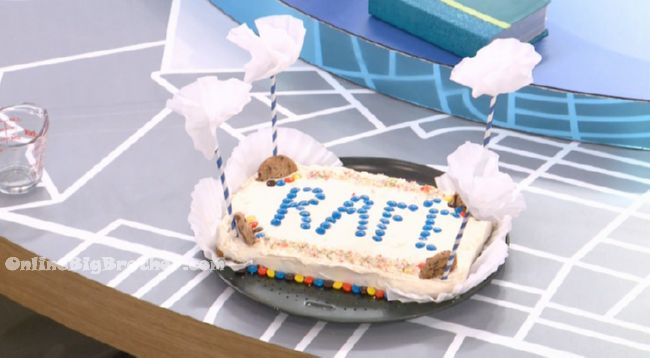 Finished cake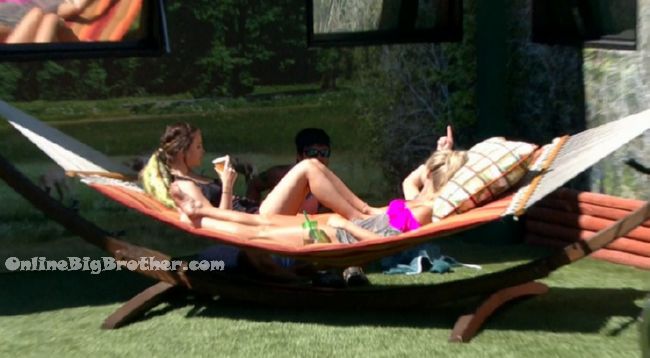 3:37pm Hammock James, Michelle and Nicole
Michelle – why is Da pissed..
The other haven't noticed..
James asks if Natalie is being weird.
James says last night they stopped sleeping in the same bed
Nicole – I've never seen her talk to PAulie a lot now..
James- she was rubbing Paulie's leg
Michelle – She needs attention constantly
Nicole – she still calls Corey gorgeous.. I don't want you hurt.. I want you to be OK I don't want you hurt she's not allowed.
James- I'm just adjusting..
Nicole – you going to be ok
James – i'll be fine.. It's starting to stuing a bit in the upper chest..
Michelle says Paulie didn't like Natalie
James says Natalie thinks if she's close to him she'll be safe.. HE's decided to back off Natalie a bit.
Jame s- if she asks me if anything is wrong I should talk to her right
Michelle – no
Nicole – no
James – it's been going on for a day and a half (Being distant)
Michelle – I see this perfect girl for you she likes fishing and hunting
Nicole says she has a big crush on Corey.. Michelle and Nicole list off all the wonderful attributes Corey posses..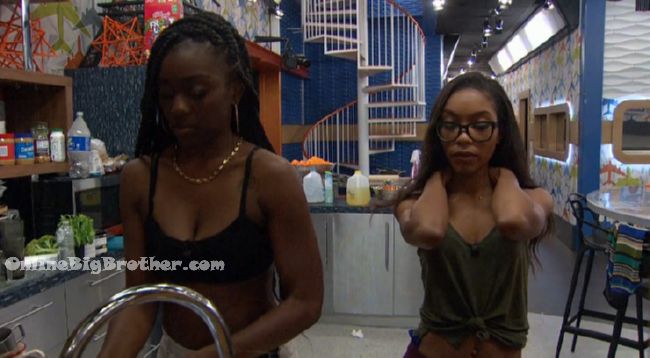 3:48pm Zakiyah and Da'Vonne
Zakiyah tells her when she went into the Have nots Tiffany was sitting in a bumper car and said that the 5th wheel in their showmance alliance told her everyone knows about the showmances Zakiyah says this was 5 minutes after the Roadkill competition . . .
Zakiyah – she said I'm, not putting up any of you girls..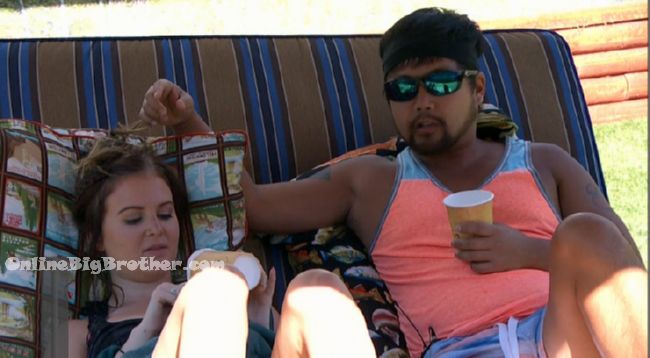 4:07pm Michelle and James..
Chit chat.. Michelle saying her dad is a engineer makes tanks for the US government. Her mom makes 16 dollars a hour.. etc etc …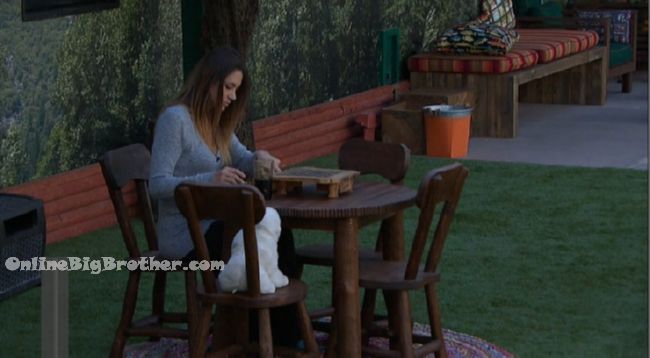 Nobody to play chess with…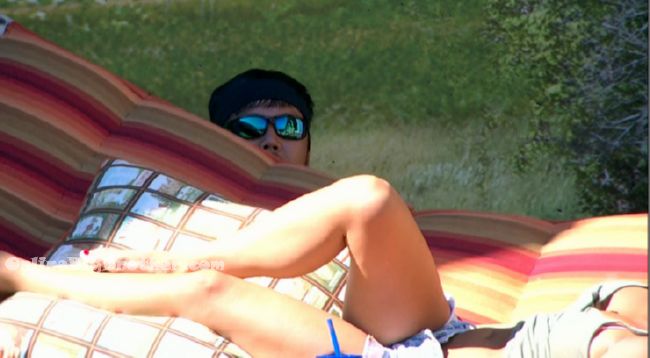 4:11pm Natalie and James
James- what's up Nat.. you doing OK
Natalie – I'm having a good day, how about you..
James – not that bad
Nat – as long as you're having a good day that's all that matters
James- same to you to.
James – I haven't seen you all day
Natalie – I'm just trying to chill..
James- trying to chill..
James says he feels weird tension between them, "I don't know if you feel it too"
Natalie – what do you mean weird tension
Natalie says she doesn't feel any weird tension.. "I offered to make you breakfast this morning and you rejected.. you said you were a grown man .. So I just let you be I was just trying to be nice"
James – Are you upset about that
Natalie – YOu could have said no thank you.. I'm a Grown man I can cook for myself.. thats not nice..
Natalie says Michelle told him that James while wearing just underwear was asking Nicole to sleep in the bumper car with him
Natalie – So i'm like OK i'm not talking to him today"
Natalie – so ya thats weird tension
James – I apologize if I hurt your feelings
Natalie – you didn't there's no weird tension between us it's fine
James – there's a lot of tension people whisper things about stuff..
James – we're just friends or whatever which is cool.. maybe I was getting mixed signals..
Natalie – what do yo mean
James- everyone is telling me I was in a flirtmance then they're saying you are rubbing Paulie's legs..
Natalie – that was right in from of you.. I am not flirting with Paulie at all.. those are (Some Spanish term)
Natalie – i'm not here to hurt you.. I told you that..
Natalie – every single person has rubbed each others back
Natalie – you wanting to take a nap with Michelle and Nicole in the bumper cars that's nice..
Natalie says its obvious she's going to be super nice.. She's not flirting with anybody. Paulie put her on the block she obviously going to be nice.
Natalie – I know Paulie's Ex.. I have ZERO interest in him.. he knows that. I'm not flirting for strategy it's to be super nice. so people that are putting me on the block aren't mean to me.
Natalie is upset say the entire house is talking behind her back telling James shit. Calls it a double standard guys rub girls backs with lotion and she's not allowed to talk to people.
Nateali tells him she wants to be left alone.
James – fair enough.. Just know I had your back..
Natalie – with what
James – the game and everything
Natalie – you hurt my feeling today
James – I apologized.. I'm sorry people boosted up my head..
Paulie joins them..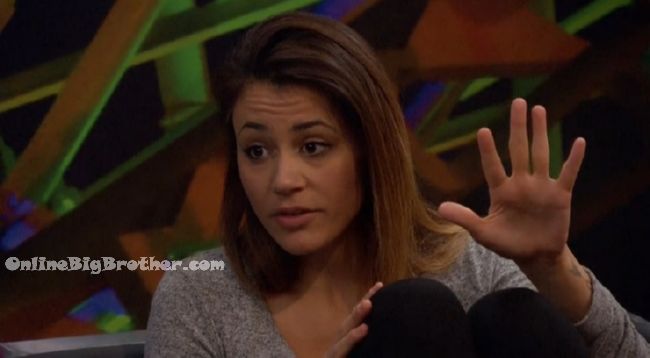 4:34pm Tiffany and Bridgette Have nots
Tiffany says in her heart Michelle was her number two from early in the game.
Tiffany tells her about the Fatal five but the showmance alliance she doesn't have a name for.
Tiffany points out that Da'Vonne told her all this.
Bridgette says her and Frank never campaigned against Tiffany…
Bridgette says the house talked a lot of shit about her about Tiffany always wearing sunglasses and you are paranoid
Tiff asks who was laughing at her sunglasses
Bridgette – I'm sorry everyone… except for Nat and Bronte.. I kid you not
Tiff – Michelle too
Bridgette – ya I'm sorry.. everyone but me Nat, Bronte and James
Tiff – Michele would say things
Bridgette nodes.. people would say Tiff goes into her room and nobody wants to be around her..
Bridgette – people are f***G fake in this house.. I'm sorry if I hurt your feels..
Tiffany is upset about this.
Bridgette says Da'vonne flaunts around the Bible, "That really kills me when people do that, I'm not religious myself but I was raised Christian and hold the values highly"
Bridgette – "It's truly disgraceful.. the fact that she's going around saying all this bullshit.. she throws so much shade she treats us like sh1t and she goes around carrying her bible.. that makes me said f****g said it's disgraceful"
Tiffany – she lies so much
Tiffany – they've all gone in a room and talked so much sh1t about Frank..
Tiffany – Zakiyah goes uncle peanut… uck.. call him old man this old man that
Bridgette – who is in the room when they do this..
Tiffany – Paulie, Corey, Paul .. oh Paul's playing both sides now it's obvious.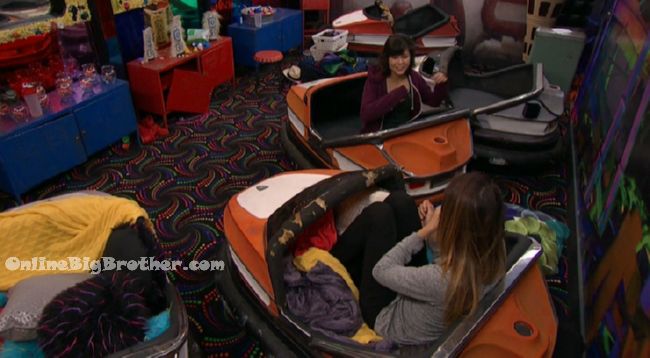 4:50pm Bridgette and Tiffany
Tiffany wants to know more about what people are saying.
bridgete – people say sh1t i'm sorry
Tiffany – they say awful things about you to
Bridgette wants to know, "It fuels my fire"
Tiffany – Michelle can't stand having conversation with you because it's so lame.. they say you are a act.. fake youway to the top
Tiffany – they made so much fun about your speech
Bridgette – the one about peanut butter cookies
Tiffany – I don't want to be friends with any of them… they are a$$holes f***g a$$holes..
Tiffany – was Paulie mean
Bridgette – I don't talk to him.. Corey and Nicole those two..
Bridgette – I don't know why people hate us why they make fun of us.. America I'm cool as F***
Tiffany says most of teh shit is coming from Michelle and Da'Vonne
4:58pm James comes in says Natalie is mad at him.
Bridgette and Tiffany saying they've heard all the personal shit that has been said about them.
Bridgette – it sucks..
Tiffany – makes them look like evil people.. america does not like people like that
James- I know that
Natalie comes in to nap, Bridgette and Tiffany leave. James stays.

[polldaddy poll=9471428]