POV Holder:
?
POV Competition
July 30th
POV Used
?
POV Ceremony
Aug 1st
HOH
Paul
Next HOH
Aug 4th
Original Nominations:
? AND ?
After POV Nominations:
? AND ?
Have Nots
Natalie, Paulie, Corey, Zakiyah
CBS All Access: Live feeds are only $5.99 per month – Try it FREE for 1 WEEK!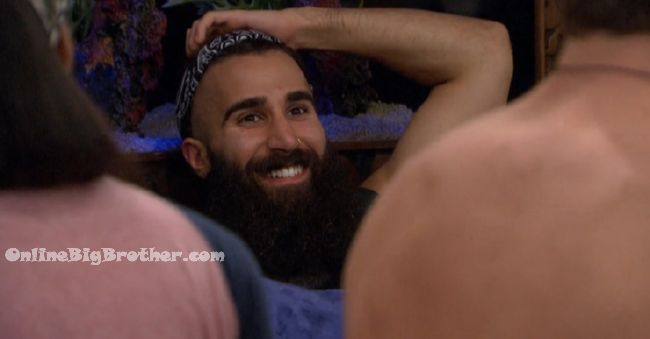 2:12am Nicole in the HOH with Paulie, Paul, Zakiyah and Corey
Paul keeps reiterating his target is Bridgette but they can't decide who the pawn it. Everyone is volunteering. Paulie makes sure he brings up the dangers of Da'Vonne. Paulie says if they can get Da out this week he'll put Bridgette and and Victor up next week.
Paulie – Bridgette may only be able to win comps.. Maybe … last comps she won were 2 weeks ago..
Paulie – if she doesn't go this week she goes next week..
Paulie – Da stays and will spin stuff.. You know. DA will sit here and say Ride or die but what comes outta her mouth when she's right in your face isn't ride or die.. She's looking out for her she has no team she'll spew what needs to be spewed.
Paulie says Da'Vonne is doing the same thing as Frank and she's still able to manipulate and do whatever.. Or at least try to .. if you feel safer with Bridgette gone..
Nicole – Ya Bridgette is gone
Paul – In no world does Bridgette does not go home
Paulie – I'm so annoyed with Natalie
Paulie – me too
They talk about Natalie during a meeting in the HOH room and how upset they are in the way she acted.
Paulie – James get your little puppy dog here..
Nicole impersonates Natalie but it's just Nicole and her whiny voice.
Paul – I want someone I can trust and is good to make sure the POV lands and everything this week goes smoothly .. It's not just a seat filler… it's a trust thing .. F***G trust me .. I blew sh1t up last week Frank's gone this week i'll do what I need to do
Nicole – I trust you
Paul – I know you do
Paul looks at PAulie.., "If you're ready to PP this sh1t out.. We've done it before you've put me on the block.. Never cared"
Paulie – Friendship
Paul – done
Paulie – f**** it I'm going up.. I don't f***ng panic it's the f****G block .. I know Da is going to start campaigning against me
Paulie says Da is going to go to Vic and throw him under the bus. He's not worried about Meech, Natalie and everyone in the room.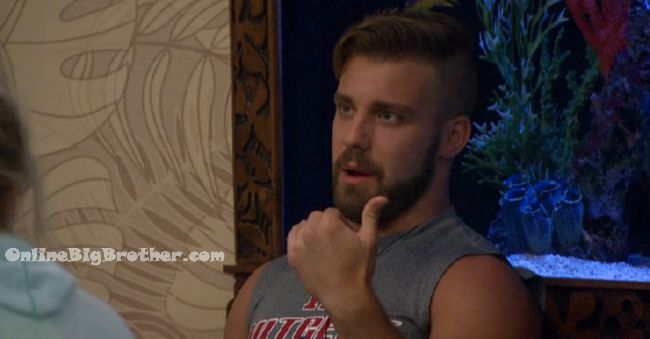 Paul- PP is doing it I like it
Paulie – f**k it I like Veto competitions..
They jokes about putting Corey and Paulie up because they both are so willing to volunteer to be a pawn. Paulie says that will be DaVonne's dream Corey and Paulie up.
Paul says his goal is to get Bridgette out, from the beginning his plan was to get her out and he doesn't want to deviate.
Corey – If you want me up i'm down 1000% friendship.. Never cared
Paul – I just don't want you to freak out
Corey – I'm not freaking out.. Homeboy's getting the job done
Paul – friendship
They go back and forth on the pawns it's the most annoying conversation.. Nicole leaves Victor and Da'Vonne comes up..
Paul nomination speech.. "You're my boy Friendship Never Cared.. Homegirl going home"
Paul saying he's got 3 options for people to put up and they all said they won't be mad if the go up.
Back and forth joking about how everyone is volunteering. Paul says he's flipping a coin.
Paul- who gets a easy HOH never cared.. I have options
Pau l- at the end of the day homegirl is going home never cared
Victor – I feel like I can chill in HOH room comfortably
Everyone leaves..
Victor looks at the camera.. "Looks like i'm safe i'm happy about that.. Thought it was a possibility I was going up on the block doesn't like they're is.. My boy Paul pulled through.. "
Feeds flip
2:30am Living room Corey, Nicole, James and Natalie
Corey – people are fighting to go up on the block who cares..
Corey now saying he was in the HOH volunteering.
Nicole – it should be exec (Vic)
James says the only way you can go home this week is if you really go out of your way to piss people off.
Corey – it doesn't matter whoever goes up on the block isn't going home..
James- ya it's true.. The only way you are going home is really piss everyone off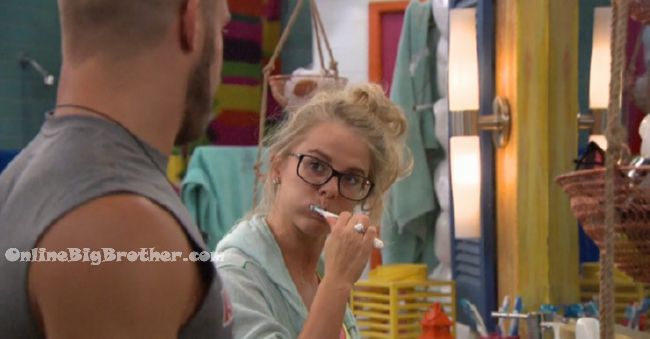 2:33am Nicole and Paulie
Nicole – I trust you and Paul so much I'll do it for you guys
Nicole is certain it'll be her and bridgette nominated, "I'm fine with it"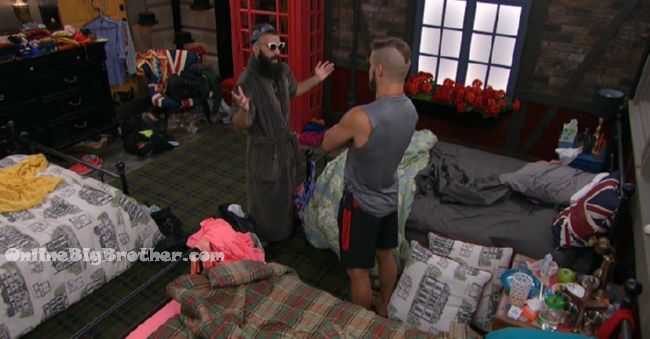 2:36am Paul and Paulie
Paulie – dude you put me up never cared.. Never cared.. Sorry.. PP.. d1ck jokes in the corner.. Never cared.. Pissed..
Paul – PP is literally cruising..
Paulie – or we're just f****g stupid
Paulie – who do you honestly want.. Either one
Paul – either one.. It has to be backdoor.. Personally I think it's smart to get Bridgette out because Bridgette wins comps, Da never wins anything her entire life..
Paulie – we keep Bridgette guess who she goes after.. Nicole. Boom .. we get rid of Da she can't harm us at all.
Paul says Victor will go after Nicole.
Paulie – Guess who goes after Bridgette.. VIC.. hahaha cruising.. Don't give a sh1t..
Paul – ahahhaha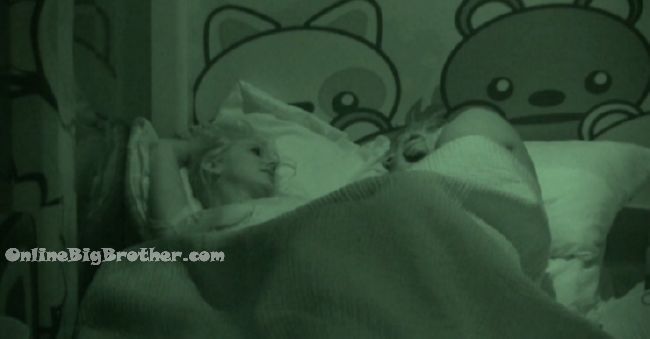 2:47am Nicole tells Corey that Natalie is going to cuddle with him this week .
Nicole – why do you look happy about it
Corey – are you kidding me
Nicole – I think she would
Nicole – she's made several; moves on you she rubbed her legs..
Corey points out it was 3 weeks ago.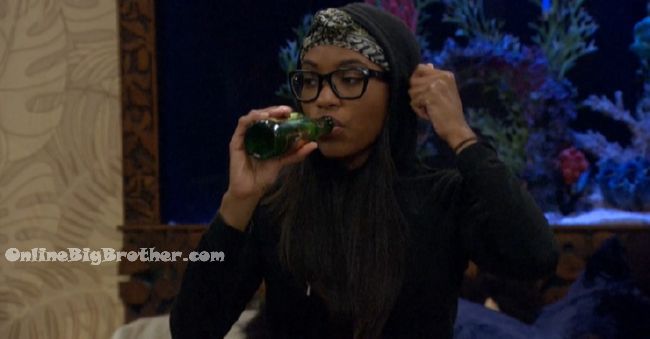 3:31am HOh Paul, Paulie and Zakiyah (Chief Exec = Victor, in case you were wondering)
Paul tells us his assistant is a hot Russian with double D's, full sleeves.. She gave him a b**w J** once it was a "force Blowj" (She forced it on him) Paul adds she's super good at her job but is a b1tch
Paulie – I wonder when Natalie is going to stop using the excuse to stay off the block..
Paul doesn't want Natalie on the block because she doesn't win sh1t.
Paul – she's made it very far doing absolutely nothing..
Paulie is saying he'll clip her next week
Paul – I saw the scar where her fake t1ts were put in ..
Zakiyah – I worked at hooters I know the difference… I felt it..
Paul says he's putting Paulie up
Paul – If I put PAulie up if anything she's feeling comfortable.
They talk about winning the HOH. Paul wasn't expecting to win it. Mentions how if it wasn't him Nicole would have won.
Paulie says Nicole would have been the wisest move
Paul agrees but is worried about the amount of paranoia that would create.
Da'Vonne joins them.
They joke about Victor losing his mind because of how strange he's been acting.
Paul brings up Frank and Bridgette cuddling in the HOH during the HOH lockdown. They talk about Frank's girlfriend seeing that.
Paul- his applause wasn't that loud was it?
Da says it was loud.
Paul – that guy could have gone far as f*** if he didn't try being someone he's not.
Zakiyah – Natalie legit cried.. I'm like b1tch why you crying
Paul – this is a game bro
Zakliyah – would you rather be doing this or working.. b1tch embrace this
They mention it's Paulis first week being have nots
Da'Vonne wants "Chief Exec" to be a have nots
Paul – "Chief Exec" is a different breed..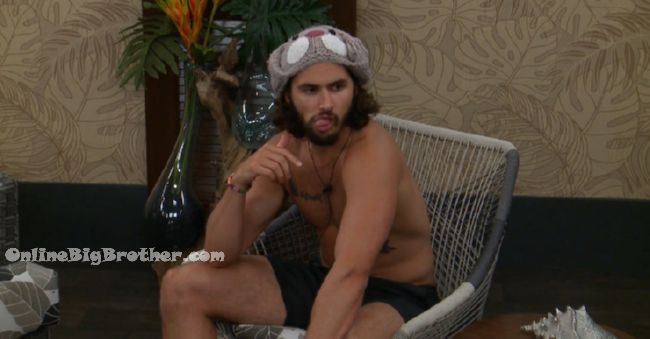 Vic joins them.. tells them what he was doing in the safari room "Talking to live feeders eating a sandwich"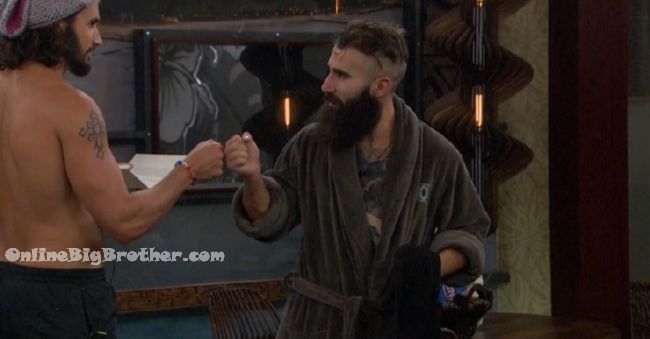 4:20am HOH Paul, Victor, Zakiyah and Paulie sleeping
Victor says he was talking about Paul's HOH letter in the Diary room.. Says he teared up seeing it. Victor reads through the HOH letter
Vic – You're my closest friend in the house..
Paul – That's friendship
Victor wishes he had won that last competition.
Paul – one of us won it.. it's like the friendship… never cared…
Victor says the 2 weeks he spent in sequester was groundhog day.
Paul – hopefully we get some liquid friendship
Victor leaves.. Pauli and Zakiyah wake up.
they giggle
Paul – Hommie can't take a hint
(looks like they were fake sleeping so Victor would leave)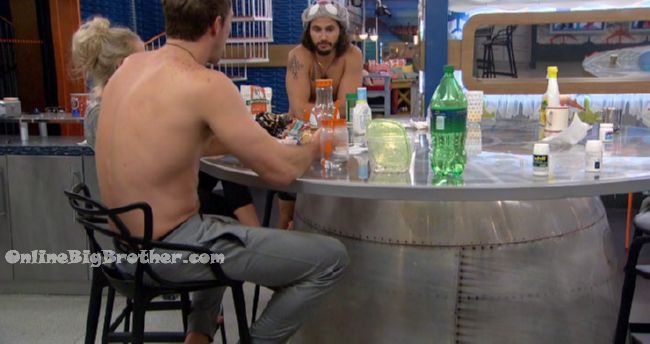 4:32am Victor, Nicole and Corey
Victor complains hat Paulie and Zakiyah are sleeping in the HOH bed. Victor adds that Paul wanted to sleep alone.
Corey and Nicole are having trouble sleeping, too many people going in and out of the Diary room.
Victor – how do you feel about tomorrow
Nicole – fine
Corey – no one cares..
Victor says he would have volunteered to go up if he hadn't already been evicted and come back.
Corey – I volunteered because I knew nothing was going to happen.
(They are being called in the Diary room.. at 4:30am ! )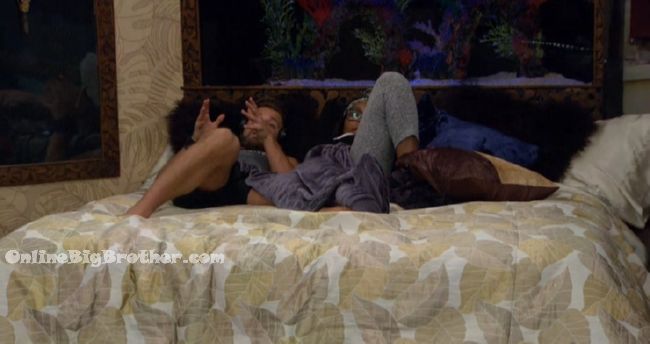 4:43am Zakiyah and Paulie
Paulie about Frank's game "He blew up his spot 2 weeks in.."
Paulie – dude the whole plan was to get out that side of the house than our 5 wold take care of the rest.. "
PAulie – people f*** up
Paulie says he trusts Corey and Corey trusts Nicole, He trusts Zakiyah and she's got MEech.
Paulie – All I need is 4 votes..
Paulie is confident he'll be fine in the event of a tie, "I f***g like PAul"
Zakiyah – do you think he'll do the Da route or the Bridgette route
Paulie thinks PAul will do the Da route.. Paul told him the only people that will be pissed if Bridgette doesn't go home this week is James, Michele and Possibly Zakiyah..
Paulie and Zakyah agree that Bridgette is lost now. Paulie doesn't think she's a threat at all. Zakiyah doesn't trust her.
Zakiyah – Michelle is all heart broken
PAulie – low key crush
Zakiyah – it's not low key.. I was liek how you doing girl
Zakiyah as Michelle – ohh I miss Frank already you know I had a crush on him
Zakiyah is conerned with Meech becuase she's really close with Nicole.
Paulie says he hopes it gets to the point where people don't take things personally. Says Cody's season people never took things personally.
Paulie says it'll be so much better once Victor goes again.
They think Natalie is the Definition of a floater.
Paulie – Rachel Reilly would tear her a part
Zakiyah – YEEEES
Zalkiyah is upset that she's never won a competitions yet, "I'm letting peoples down.. I'm letting you down.. I want to prove myself"
Zakiyah – there's 3 legit losers
Paulie- You, Natalie and Da
Paulie goes on to count everyone's Competition wins. Says Victor has only one 1 competition says he doesn't count the battle back wins. (LOL of course Paulie won't)
5:04am Paul comes out of the Diary room grumbles that he's getting called into DR's at the butt crack of dawn.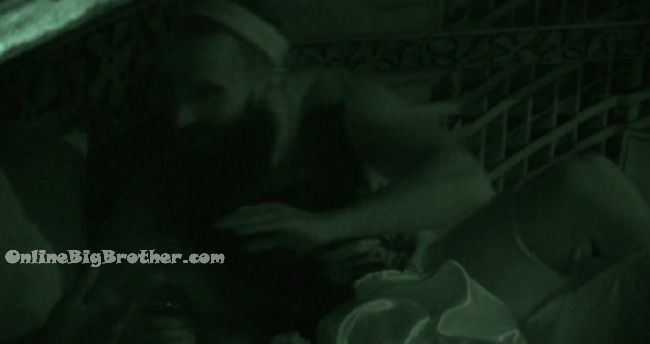 5:05am HOH Zakiyah, Paul and Paulie (Exec = Victor)
Talking about Victor being pissed.
Paul – so yeah friendship.. boning..
Paulie – Friendship.. boning
Zakiyah heads to the toilet..
Paul whispers to him that Bridgette is going or they will backdoor Da'Vonne, Never cared.
He told the Diary room PP all the way friendship
Paulie – we're going to be sitting there final 2 lauhging..
Paulie – hey everyone Bridgette is going home.. psych.. Da'Vonne you're going home whoops
Paul – dude EXEC is so pissed..
Paulie – Bridgette we're the only people you can trust.. next week your out whooops
Paul – whoops..
Feeds cut, when they're back Zakiyah is now with PP, talking about competitions.
Paulie says he's going to go to Nicole on Saturday and blow Da up.
Paul – what about MEECH
Zakiyah says she's closer to DA than her.
Paulie is going to work on Michelle.
Paul says Meech doesn't have a thought of her own unless she hates someone than she's got all sort of thoughts of her own
Zakiyah agrees.
Paulie says Da is roping Bridgette in
Paul – Da approached me 30 times
Paul adds she grills him every time he comes out of a room.
Paul – if you came out a room with Genghis Khan I wouldn't ask you so many questions..
Paul says Da'Vonne is doing sketchy sh1t.
They try to think of ways to prevent Victor from wanting to sleep in the HOH with Paul.
Zakiyah – EXEC is going to get punched in the face
Paulie – Ezxec has max 4 weeks
Zakiyah – If I get he's going home
Paul – this week Bridgette or Da,
Paul – next week ?
Paulie – the other one…
Paulie – the next week ?
Paul – Natalie or the other one..
5:40am everyone sleeping
9:24am A few people up but mostly sleeping
10:38am Sleeping all feeds

[polldaddy poll=9485250]