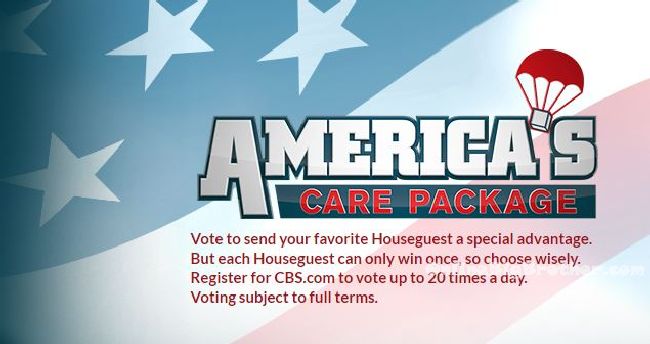 America's care package is your chance to send one house guest an advantage that could help them in the game. Below is the list of care packages and the order they will be delivered. Each week a different care package will be in play. You can only vote for the current weeks care package. Think carefully before you cast your votes because once a house guest receives a care package they are not eligible to receive another. You can work together with fellow fans and strategize just like the house guests to impact the game. Vote now! Voting is Free and you can vote up to 20 times per day.
"Never-Not Pass"
WEEK 1 – July 28 to July 29
The winner of this care package cannot be named a havenot for the rest of the season. So long slop.
"Eliminate Two Eviction Votes"
WEEK 2 – July 31 to August 5th
The winner of this care package could single handedly flip the house by preventing two house guests of their choosing from voting in next weeks eviction.
"Super Safety"
WEEK 3 – August 7th to August 12th
The good news is the holder of this care package will be safe for the week. The bad news is the house guest must also wear a "Super Safety" costume all week long.
"Co-HOH"
WEEK 4 – August 14th to August 19th
This winner automatically becomes Co-HOH, sharing all HOH perks and responsibilities for the duration of the week, including choosing 1 of the 2 nominees.
"BB Bribe"
WEEK 5 – August 21 to August 26th
The winner gets $5,000 to bribe one house guest. Bribes my influence voting, competitions, vetos or nominations. The bribe can only be given to one house guest, for one action, within the week leading up to the next eviction.
[polldaddy poll=9485250]