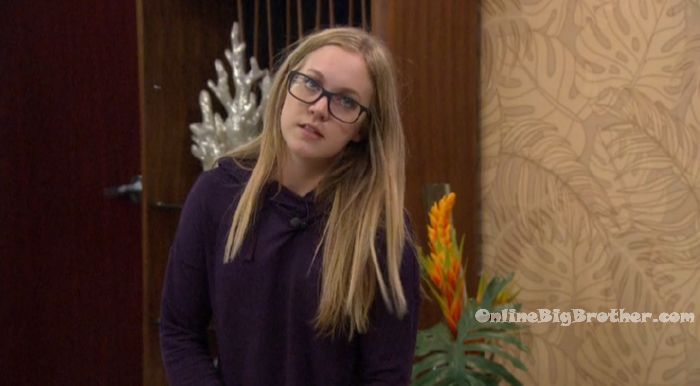 8:20pm HOH room – Alex and Morgan (sisters) are talking. Alex – with this whole sisters twist I wonder if America would vote one of us up so that it would make it really awkward …like how do I campaign. Like do I or can I campaign to save you. I do think there are people that America would put up before you. It makes me paranoid. Morgan – it makes me so freaking paranoid so that I can't talk to anyone. I just need it to be tomorrow so I can find out. Alex – it isn't the best for my game but it is the best for your game. Like if I didn't put up Shane and Danielle and I made a deal with them… then I put up like Justin and Scott or Justin and Monte and whoever America puts up. And then Shane and Danielle would vote with me no matter what so that it would ensure that you wouldn't go home. But I can't play like that… I didn't come here to play like that. I have to play my game. Its weird because its like do you save your family or do you save yourself? Morgan – No you have to play for you. Alex – I'm sorry if you go home but I will fight for you. Morgan – I would send you home if I had to. Obviously I would send you home if I had to. Alex – eventually there probably would come a time like top 5 or 6 when we would start clashing heads and putting each other up… but for now just trying to survive. Morgan – right now I really trust Neeley. Neeley has said she connects with me. I've said she is safe with me but she hasn't really said it back to me. Alex – say America put up you and Shane or Danielle win veto and take themselves down .. I would probably have to put up Scott to ensure he goes home over you. Morgan – I want to split Danielle and Shane up. She is the snake behind it all. Alex – she has personal relationships with literally so many people in the house. Morgan – I know Monte will have my back no matter what. Alex – maybe .. he is wishy washy… and still so far up Shane's butt. It just depends on America's vote. Morgan – I trust Whitney. Alex – I do too but what scares me is that everyone does. She's like a dark horse to go far in this game. Morgan – do you think me being havenot means America might also put me up as a nominee? Alex – I wouldn't stress to much about it. If you do get it, just don't freak out.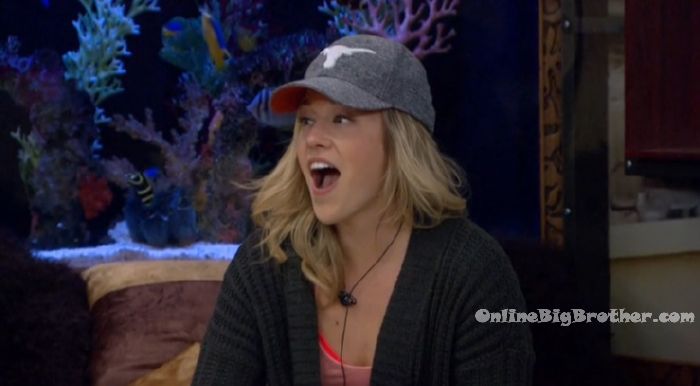 9:20pm Backyard – The house guests are hanging out in the backyard chatting and golfing. Kryssie, Jason and Neeley are talking. Kryssie – its bizarre that Scott was bragging about confronting me. Now when America puts you (Scott) up we can get rid of you and not feel bad. They better put him up because that is the only way that someone from over here is staying. Jason – its true. Kryssie – I think America knows too because they would not have made him a have not done that otherwise. At the end of the day lying for the sake of lying will get you sent home. Danielle joins them. Kryssie – he was running up there and telling them everything and coming down at night to tell us everything .. and I'm glad he is having fun playing the game but he is f**king burying himself. Danielle – I want to see someone who I ride with win. I am not going to give it to someone who doesn't care if he wins or loses. BYE You can go f**king home. Jason – Morgan ain't here because this is big brother. Morgan is here because this is a tv show and she's a pretty blonde chick. Monte isn't here because he loves big brother .. Monte's here because hes a big ol' swoll guy that wants to be on a tv show. The pretty people are here to be in front of the press photo and we all saw how that went.
10:20pm – 11pm Jason, Danielle and Kryssie are talking. Kryssie – this Scott business has to work in our favour because after Justin did that today they're all looking at him now. And they were kind of looking at him but now they're looking at him… You're the reason our family might hate us when we go home. Jason – they're family ain't going to hate them. America might! But really if America hates you .. they're not knocking at your door everyday saying America hates you. Stay off of the internet and social media. There are plenty of people that come off of this game hated and don't have their live ruined. I mean obviously in this one were America is voting for things you want them to like you. It really doesn't matter if you lost the game. People forget in two weeks. Everyone that hated Paulie .. I bet are at his meet and greets right now. SO its not like it matters. Kryssie – that being said America likes us and knows we give a sh*t. Danielle – America knows we're real. Whitney and Justin join them.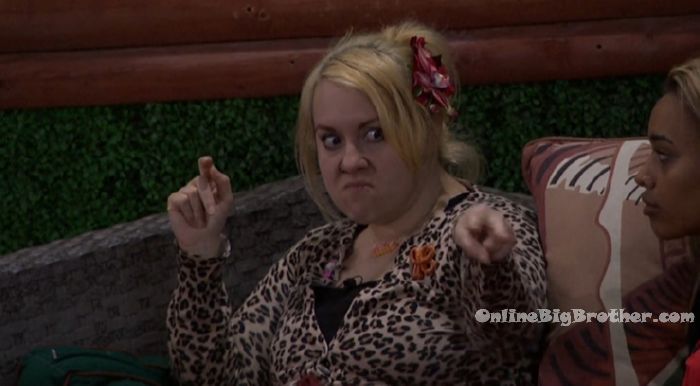 10:55pm Havenot room – Scott and Monte are talking. Shane – the only thing that will work in our favour is if Shane and Danielle are up. Monte – America isn't going to put up Neeley, Whitney and they can't put up Jason Scott – I am almost positive it is going to be me or you and if we don't win veto .. one of us is going home. Monte – they're going to put up me or you.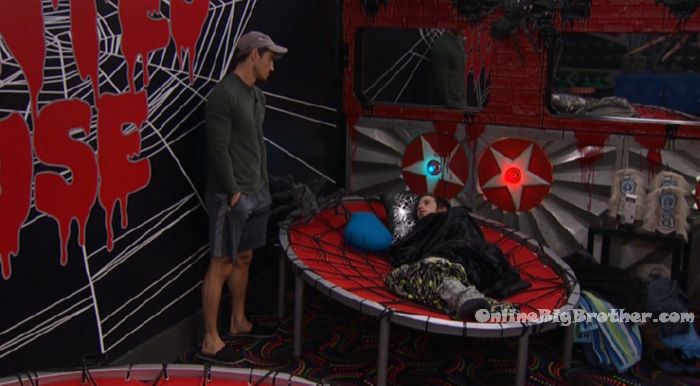 12am – 12:55am Danielle and Shane are hanging out in the hot tub. Meanwhile on the backyard couches – Whitney, Neeley, Jason and Justin are chatting. Justin talks about New Orleans. Danielle – America doesn't like y'all. Kryssie got America's care package and four out of the five of you are havenots.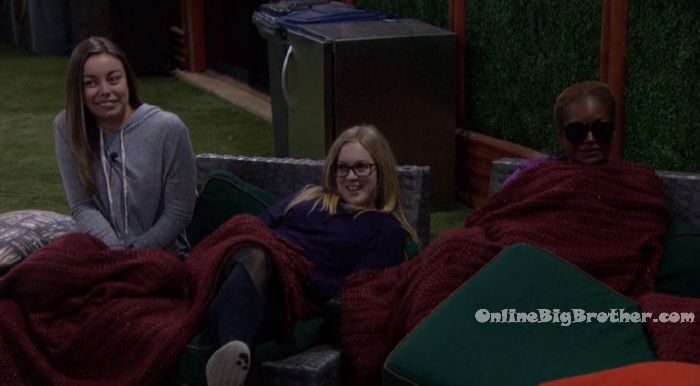 1:10am – 2:45am Shane, Danielle and Kryssie practice golfing. Jason, Danielle and Shane move over to the couch and talk about the fight from earlier in the day.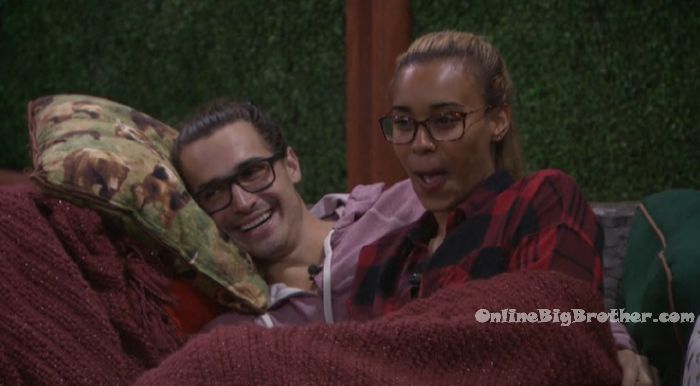 3am – 3:45am Jason and Kryssie talk about Scott. Kryssie – he is dead to me. I'm grossed out by him now. Jason – I respected him on a superfan level. Kryssie – we don't even know if he is a super fan.. he might have just studied before he came here. Jason – he might not even be spitting out real facts, I wish I knew enough to fact check him. Kryssie – if he doesn't go up, our odds are f**ked, f**ked. Jason – if you run around and talk different sh*t about everyone you will get caught up. Kryssie – and to make up a lie about me and then say it to me. Jason – I don't see myself finding any respect for him the way he is playing. Kryssie – he made a powerful enemy in me. Jason and Kryssie head to bed.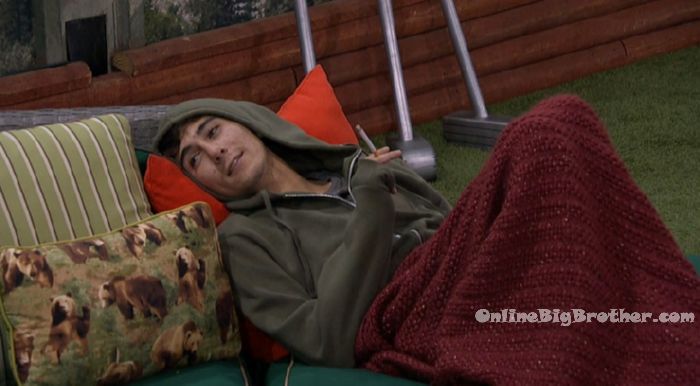 3:50am All the house guests are sleeping..
[polldaddy poll=9545742]