Watch the 1st WEEK of the BBOTT Live Feeds for FREE!
Click here for your: 1 Week FREE Trial!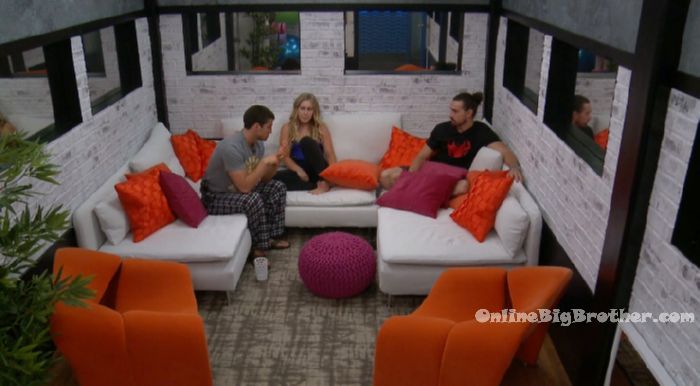 BB BUG – Can't be 1st HOH
So far – Justin, Shane, Scott, Kryssie, Danielle, Shelby, Neeley, Morgan.
8:25pm In the lounge room. Monte, Shane and Alex are talking. Alex — I love Whitney and I know I can trust her. Monte – I don't trust Jason. Alex – I can't get a good read on Cornbread. Monte and Shane say he's a good guy. Alex – I get good advice from him but ever time game talk starts he leaves the room. Alex tells them I would never target y'all. We've got the same goals too. Shane – I like Morgan and Whitney. Monte – I don't trust Jason, Kryssie or Neeley. Monte – Jason has been here before. He's a threat. Shane – Justin, Jason and Danielle are together .. that's what I think. Alex – I think whoever puts up Jason .. America would respect that they have the balls to do it. Alex – if y'all can control Danielle I think I can get Whitney and Morgan. Whitney joins them. Monte – I need to know y'all have my back. I'm going to try and get this HOH. If I do I may go after Jason. Alex – I would never put any of y'all up if I get HOH.

8:40pm Outside the HOH room – Cornbread and Shane are whispering. Shane – its only been a freaking day. These people are too busy doing their circle jerk and figure out who they are and not playing the game right. It's a marathon. We've got our foursome but on top of that we've got Alex and Morgan. Cornbread – do they know about Scott? Shane shakes his head no. Whitney joins them and tells them to be careful talking. Cornbread – circle of trust. I've got y'all. I'm going to move. Cornbread leaves. Whitney – we just need to ride it out. This week is fine because the only one that's lived is Jason. Shane – I'm not worried about Jason. I would rather get out Kryssie. Whitney – I think she's a loose cannon. Shane – she would need to be backdoored.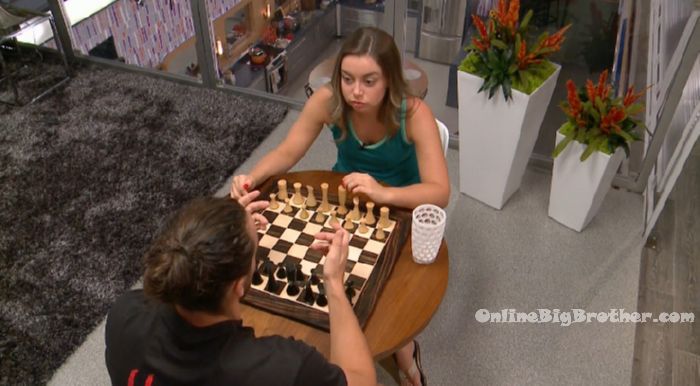 9pm In the backyard – The house guests are hanging around the hot tub chatting. They talk about the HOH room having a bath tub or not, breast feeding, etc. Shane and Cornbread go to play pool.
9:35pm Jason and Scott are geeking out about the feeds and their knowledge about past seasons and house guests. Jason – I just don't want to disappoint myself and go out earlier than I did last time.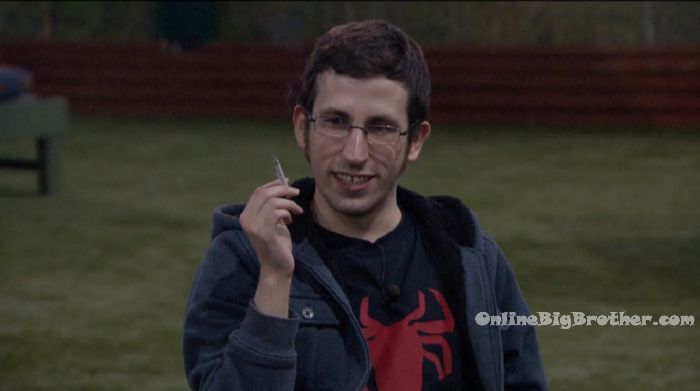 10:45pm By the Pool – Cornbread, Neeley and Shane are talking about random things by the pool.
11:25pm In the kitchen – Monte tells Cornbread – we need to keep this circle tight. Shane is bringing too many people in. He's trying to bring in Danielle. We just need to make sure we have enough vote to send Jason home if we put him up. Cornbread nods. Cornbread then goes and talks to Shane and tells him y'all need to protect me if I put Jason on the block. Shane – oh yeah.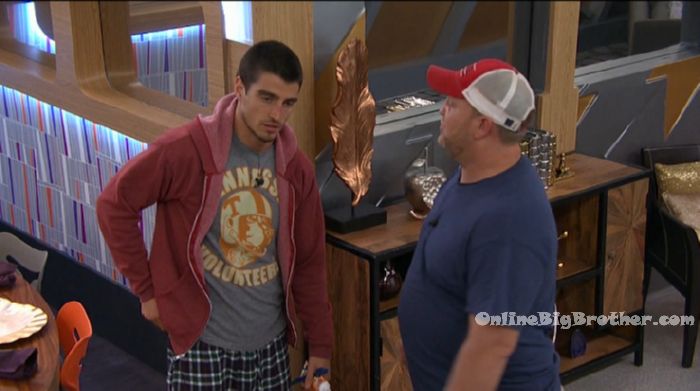 11:10pm – 12:35am Backyard couches – Jason is talking to Shelby and Kryssie. Jason is worried about being taken out because he's been here before. Scott joins them. Kryssie – YOu are the only one out of all of us that is likable because everyone feels like they know you .. so if you end up there (as HOH) no one would hold it against you. That's why I didn't give it (BB Bug) to you. They continue talking about random things. Kryssie talks about her tattoos and how when she gets out shes getting a pin up girl with the predator's head on her leg. She tells the live feeders not to steal her idea. She says she told a tattoo artist she was going to get knuckles tattooed on her knuckles and then he did it.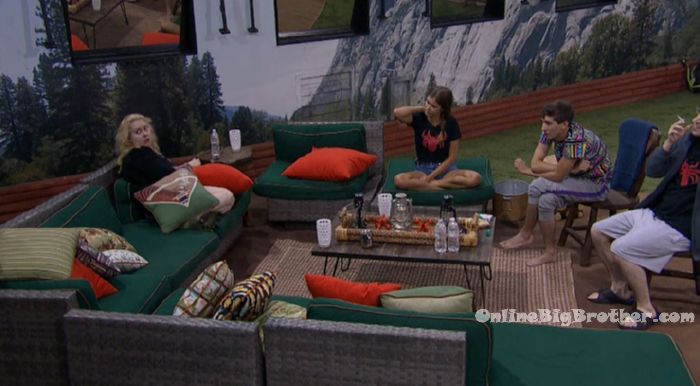 Shelby "This is how I pull all the fuck boys at the club" #BBOTT @bigbspoilers pic.twitter.com/yl7485JdRv

— Dawg (@DawgsBigBrother) September 30, 2016
1:15am – 1:35am Backyard – Scott, Jason, Justin, Kryssie and Shelby are talking about random things. Kryssie talks about her foot fetish and whether or not they can fit their fist in their mouth. Off camera Scott puts his fist in his mouth. Jason – I'm probably the most arrested person to be on here. Justin – I've been arrested 11 times. Jason – you've got me beat. Lets here it? Justin – I'm from New Orleans. I've been a victim of police brutality and sh*t when he was 17 / 18. Jason – sue them! Justin – no you can't, that sh*t always happens in New Orleans.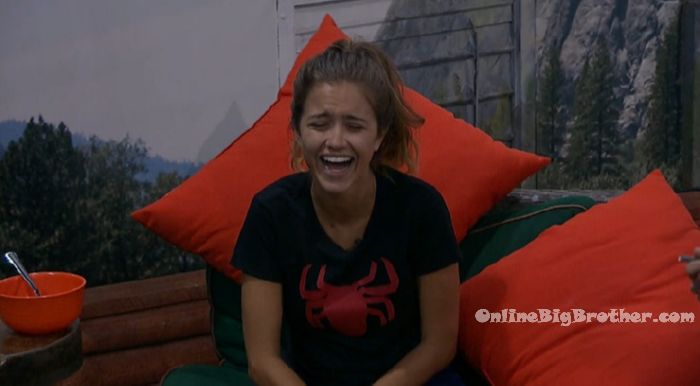 1:45am – 2:05am Justin starts talking about how big of a crush he has on Danielle. Justin says he isn't bothered that Danielle's attracted to Shane and sleeping in his bed. Jason – she's attracted to attention. Whoever gives her the most attention tomorrow she will like. Justin – She has that natural beauty. Justin – I think Monte will be a problem. Kryssie – everyone is so nice still. The smart thing to do who ever is HOH .. if they (Shane & Danielle) do get in a showmance .. they got to be the first to go. The talk turns to drugs. Justin – I've literally done every drug out there. Kryssie – have you done meth? Justin – I've done it once and never again. I like herb. Shelby – in life I don't want to go through it not trying everything but meth is one thing I will not try.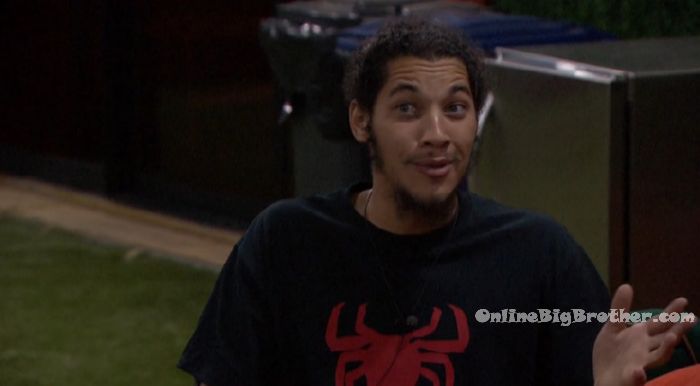 [polldaddy poll=9537527]