Quick Big Brother Spoilers
Head of Household: Monte
Nominees:
POV Players:
POV Winner:
Veto Ceremony:
Havenots: Turner & Jasmine
Lock your ranks in before midnight
Festie Besties:
Turner & Jasmine (She's also safe)
Joe & Monte & Terrance
Daniel & Kyle
Brittany & Michael
Alyssa & Indy
Nicole & Taylor
How Nominations will work: One pair will be nominated
How the Veto Player Pick will work: Turner/Jasmine, nominated pair, and drawn pair
– If one of the pair wins the veto, the other is also safe.
– If the nominated pair comes off the block, Turner would nominate another pair.
– Eviction: One of the pair on the block will be evicted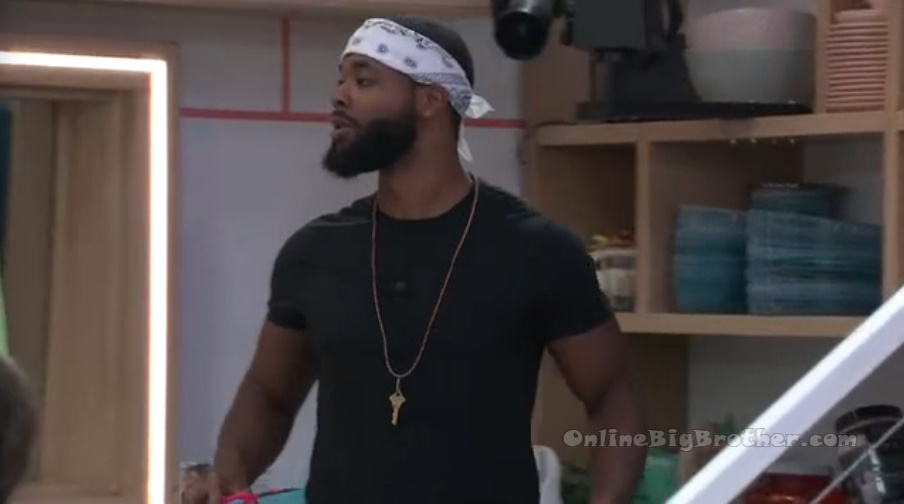 8:47pm The live feeds return from the head of household competition. In the kitchen Monte has the HOH key around his neck.
MONTE is the NEW HOH!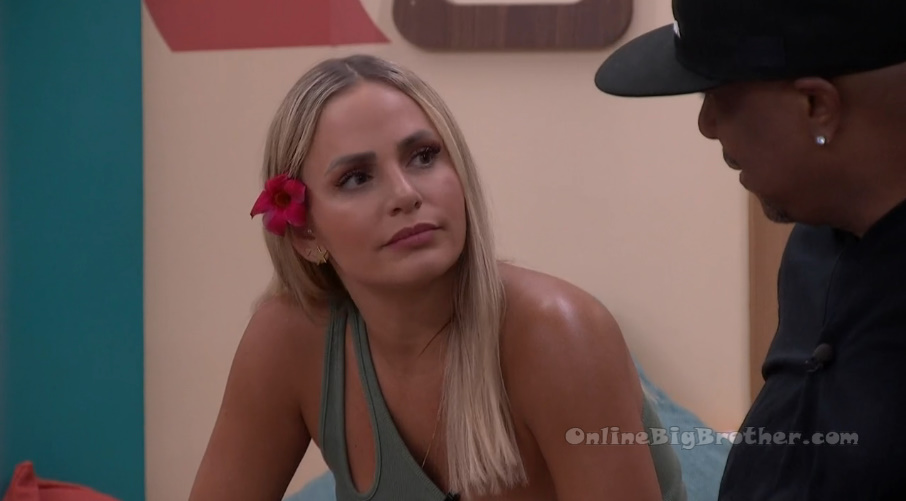 Bedroom – Joe and Terrance.
Joe – yo, don't feel bad. You know that me and Monte got you. Terrance – I know. Its just … why does the energy feel so f**king sh*tty that I'm here. Joe – they were sending you home and Monte and I weren't having it. In the last minute we were like f**ked. Kyle joins them and Terrance leaves. Joe to Kyle – I need your reason for switching to be that Joseph and Brittany came up to me and were like why are we hearing about PO's Pack. And you had no choice but to change your vote. Kyle – and I will be like Taylor knew, you knew, Brittany knew. Joe – yeah and when the girls ask me why I changed my vote I am going to tell them that Taylor told me and Terrance about PO's Pack. I came to Kyle because the story is that you and Ameerah were talking and when I asked Kyle he just looked down held his mouth and walked away. You didn't say yes or no but you basically told me so then I voted against it. I am going to start sh*t talking you so that you and I aren't close. And Brittany came up to you as well and you did the same thing and didn't answer.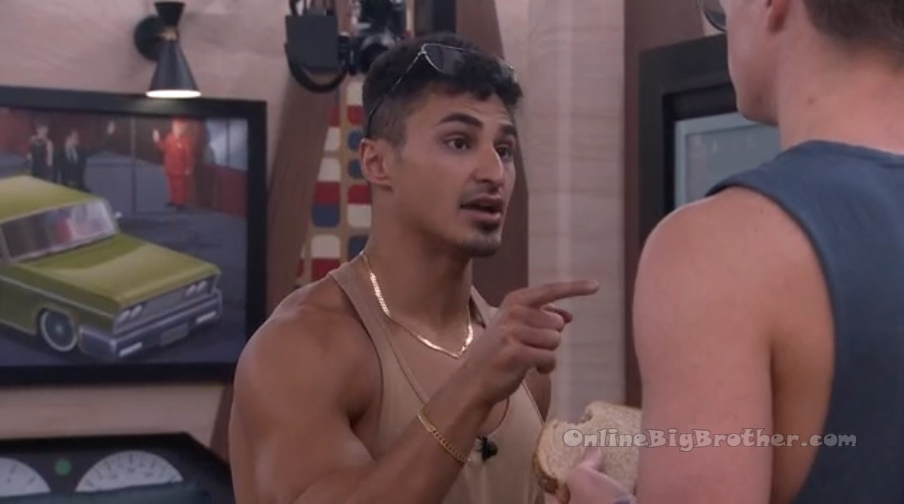 Bedroom – Joe and Terrance.
Joe – remember when I came in here and I told you don't pack? Terrance – I know you did. Joe – you better watch out for the people that you thought you were tight with. I know you and me don't talk much but I told you from day one that I respect you. You're a grown a$$ man. You've got loyalty. You've got a family you're fighting for. I respect every aspect of it. And I don't care how close I get with someone personally .. I gave you my word. Terrance – you did. And my word is my bond to you. Joe – SAME! Terrance – I would never be disloyal to you. Joe – same. It took everything for us to like save you. Terrance – I know. Joe – and even the people that you were sleeping next to that were taking care of you .. they were going against you. Terrance – I know. Joe – the same people that were pissed are going to want to be your friends again. You know the people that voted for you. Terrance starts to name the people that voted for him. Joe – name the people that voted against you. Terrance – Jas, Alyssa, Indy and Nicole. Joe smirks and agrees.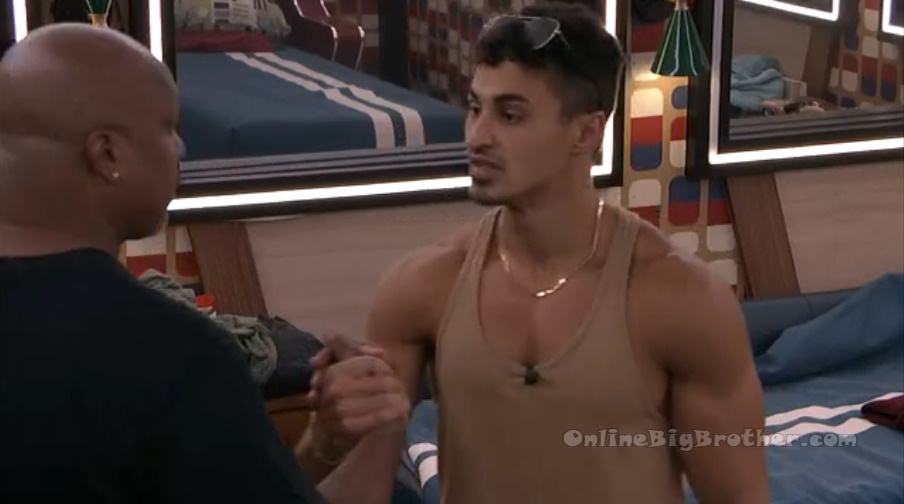 Storage room. Michael – now its time to act.. Kyle joins them. They both talk about how they're owning up to their votes.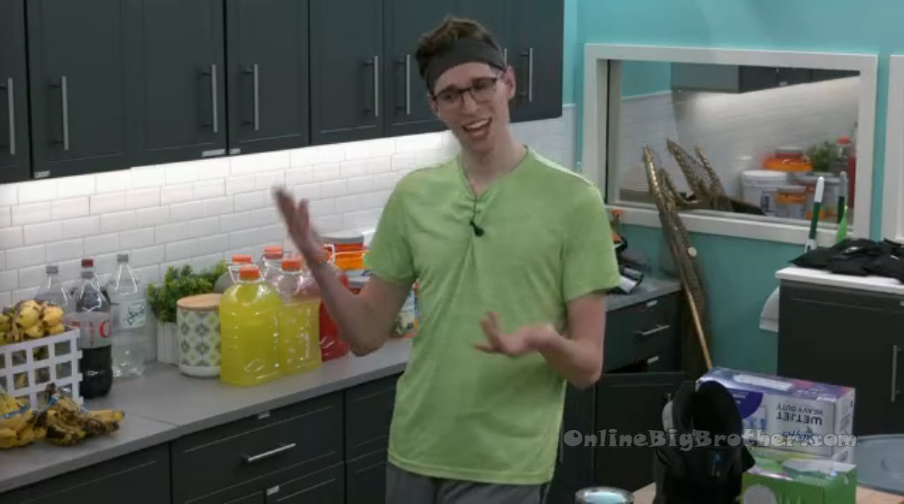 9:05pm Bedroom – Nicole and Daniel.
Daniel – I had no clue. I sensed something was changing. Nicole – so did I. Joe – Monte and Joe was a little too much.. what is happening. You really don't know. Nicole – I really don't know. Brittany told me that she changed her vote right before the vote. Daniel – Michael for sure voted Ameerah out. He just told me. Nicole – yeah he told me when it happened. Daniel – he is in on it. Nicole – they're all in on it. Daniel – the guys. Nicole – yeah, they decided not to tell me, you and Terrance (Terrance knew, Turner told him last night) because they knew that we were close. Daniel – I knew. Nicole – I knew something was wrong. I told you that I don't trust Monte. Daniel – I don't either! It was good for my game initially because I don't f**k with that alliance. Nicole – just make sure they know that you didn't know anything about it. Daniel – I didn't. Nicole – I need them to trust me. They still trust me. Me, you, Terrance and Turner. Daniel – Ameerah is gone. Nicole – me, you, Terrance, Turner. Daniel – 100%! Jasmine? Nicole – I can't trust anybody. They were scheming. Something was going on with those two. I don't trust anybody. Daniel – we need the four. Nicole – if they had told me I would have been fine. It just sucks that I didn't get to say goodbye to her (Ameerah). Daniel – me too, I was like aww whatever. Nicole – Like you made me go to Terrance and cry to him and tell him bullsh*t. Daniel – the thing is he (Monte) is such a bad liar.. I saw it in his face when he said yeah we're going to do him (vote out Terrance). I knew immediately. Alyssa joins them. Daniel – do you know what happened? Alyssa – no I don't. Daniel – how did you vote? Alyssa – I voted out Terrance. Daniel – I voted out Ameerah .. which might have been what sparked it. Nicole – Kudos to Turner for making the move. Daniel – biggest move in the game so far. Alyssa – Kyle never said anything to me.. nothing. Nicole – it draws a line.. which means I am next and I wouldn't be surprised if Taylor is with them. Alyssa – she voted with them. If I go on the block against Taylor, I am definitely going home.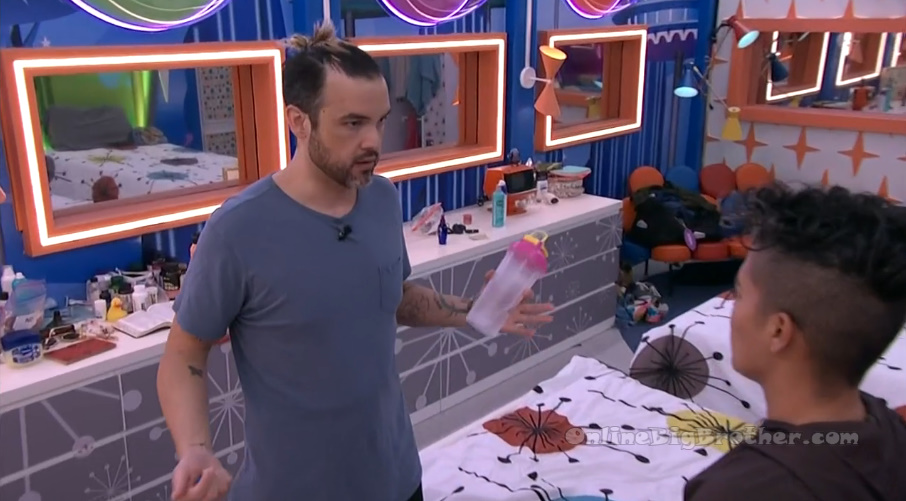 9:14pm Bedroom – Daniel and Kyle.
Kyle – I thought it was good .. that was the only alliance that I thought was solid. We had the Oasis which was Pooches baby which we all knew was a sh*t show. Like I don't think you and I even talked. Daniel – no. Kyle – moving forward in the game that was it .. I don't have other alliances. Today Michael and Nicole run up to me and are like Brittany knows about PO's Pack she was coming at Michael about it. And then I also get Joseph saying that Taylor overheard something about PO's Pack and so then he is questioning me and then I thought you knew about it so I was like everyone in the house knows. So then I talked to Michael and Monte .. I knew it wasn't Michael because him and Brittany are like the tightest in the house and if she is questioning him .. okay I trust him. And Monte I trust .. I don't know .. so I assumed it was one of the girls. Daniel – its crazy if Ameerah is in it and your own alliance is turning against them. Daniel – A heads up would have been cool and I would have been in on it. Kyle – I am sorry dude. I should have told you. Ameerah, Alyssa and Nicole .. I trust them but how did it get out? Who would have shared it with Brittany? Daniel – I think she just overheard.. she walks around a lot.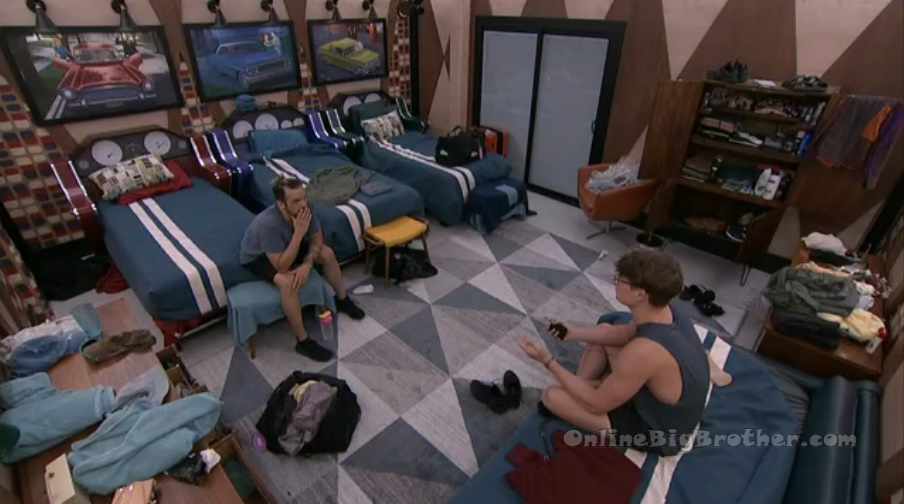 9:30pm Bedroom. Alyssa and Brittany.
Brittany – I am so sorry and I am going to be straight up with you.. It was brought to my attention before the vote some things that Ameerah's been a part of and things she's said particularly about me that I think put my game in jeopardy as well as the rest of the Girls Girls. Alyssa – what kind of things? Brittany – that she was part of an alliance called Paloma's Pals. I don't know who else was in it. Honestly I don't really care. Its done now so honestly I don't even care. All I know is what was spoken in that alliance. All I know is that me and Michael going up on the block last week was not an accident. That I was going to be one of her targets. She considered me an emotional player. Alyssa – who was HOH last week? Brittany – Turner. Alyssa – and she was going to put you up? Brittany – that I was her target when she won HOH. Alyssa – who said it? Brittany – multiple people. Alyssa – I never heard that. Brittany – that Indy and I were the next targets because we're emotional players. Alyssa – to my knowledge that's ridiculous because she said if she were to ever split someone up it would be Jasmine and Turner.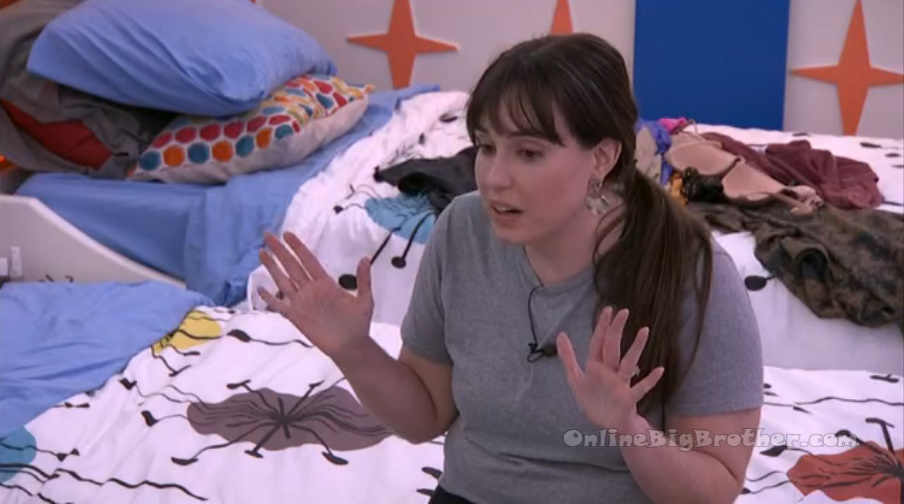 9:25pm – 9:45pm Bathroom – Kyle and Nicole.
Kyle – Two nights ago I was talking to Ameerah in the storage room and Jasmine came in after and it was me, Monte and Ameerah.. and Jasmine said that she caught Taylor's ear against the door and we were talking about votes too. Nicole – I f**King said goodbye to Terrance. Kyle – I didn't think she heard anything. Nicole – she f**king heard something.. F**king big mouth McGee over there. Kyle – I know and today all of a sudden it got around that everyone knows. Nicole – That's the thing as a f**king alliance .. we're not an alliance anymore. How are we in an alliance if you guys are going to hold sh*t against from us? I understand holding sh*t away from Alyssa because she has the biggest f**king mouth in the world! Like why didn't anyone say anything to me!? Kyle – I didn't think she heard. Nicole – if we're in an alliance together.. why are we not working together?! Like why couldn't anyone say anything to me? I still would have vote for Ameerah (to stay) to still look good with the women. But now honestly there is a f**king line in the sand. This really sucks! I just feel really stupid. And I would never do that to you guys ever! Kyle – I know. Nicole – and Ameerah was ride or die with you guys. Kyle – I know. Nicole – I know that I pissed off Monte the other day with what I said to Taylor.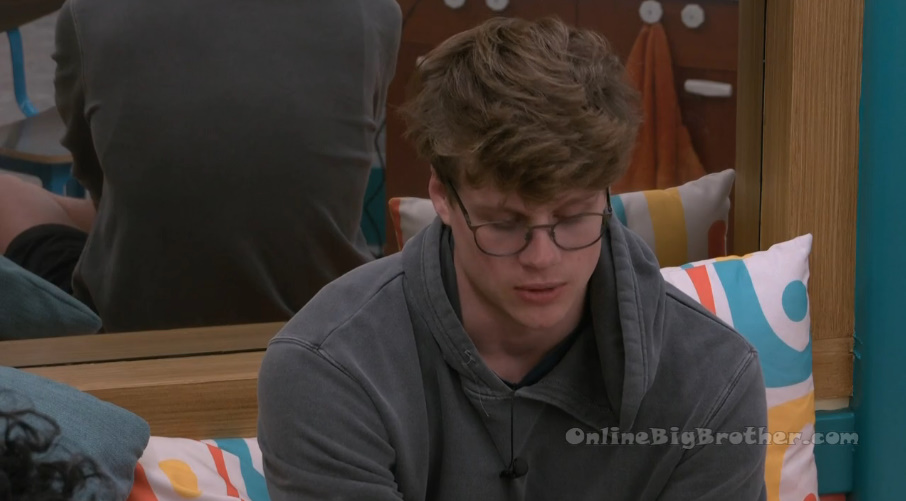 9:46pm Monte tells the house guests that last weeks havenots get to choose this weeks havenots. Monte – Myself, Terrance and Joe cannot be havenots. No one volunteers. Indy says not Jasmine because of the stairs. Indy says Brittany and Michael but the says cancel because its Michael's birthday on Monday. Alyssa – Tuner and Jasmine. Monte – sorry Turner, no HOH showers. Turner – Dude, no showers anyways .. f**K it!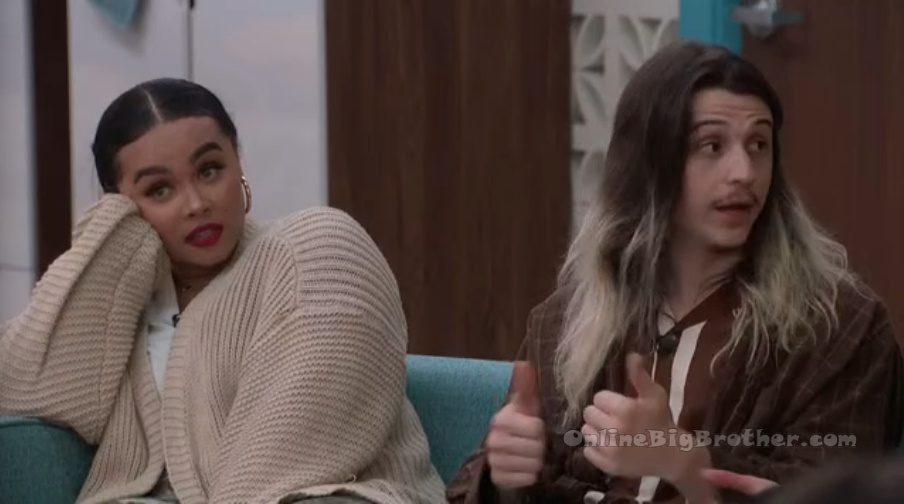 10pm Bedroom. Alyssa and Kyle.
Kyle – I told you, I don't have another option other than PO's Pack and the girls are so tight. Alyssa – why didn't you tell me? Kyle – I found out right before. Ameerah told me that she would never vote for you or Jasmine. And you told me the same thing that you would never vote for Ameerah and Jasmine. You three are on that page… and that's a final 3 in my mind!? Right?! Tell me I'm wrong? In my mind if I say that I will never vote for you and never vote for Monte .. and you guys reciprocate that .. In my mind that is as close to a final three as I can imagine. That is where I am coming from. Alyssa – in my mind I would always fight for you and protect you. I literally asked Monte one minute before the vote if everything was the same and he said yes.. why did you hear otherwise? I am just disappointed I guess. Now I am just alone I guess. Kyle – you're not alone. Alyssa – well I don't f**king have you. I don't understand. I don't understand why your first thought wasn't maybe I should tell Alyssa. Or maybe you just don't care. Kyle – I did think about it .. just think of the optics of I tell you before the vote and then you have that reaction and you're put in a tough spot of like hey do I have to vote out Ameerah or Terrance because the house is flipping to vote out Ameerah. It was a tough conversation to have and I just avoided it. I'm sorry, I am sorry. You trusted me. Alyssa – Its big brother you should never trust anyone. Kyle – in my mind you've never said you would never vote for me but you have said that about Ameerah and Jasmine… in my mind I am fourth in line. Can you honestly say that you would vote for me over Ameerah or Jasmine? Alyssa – yes. Kyle – I don't know. Alyssa – well you obviously don't know me then. I should have given you verbal confirmation. I just thought with the way that I act with you.. I thought you would just know. Kyle – you're my best friend in the house. Alyssa – clearly not. Kyle – you are. Alyssa – I always have you back and I hope you have mine because I like you as a person.