Quick Big Brother Spoilers
Head of Household: Monte
Nominees:
POV Players:
POV Winner:
Veto Ceremony:
Havenots: Turner & Jasmine
Lock your ranks in before midnight
Festie Besties:
Turner & Jasmine
Joe & Monte & Terrance
Daniel & Kyle
Brittany & Michael
Alyssa & Indy
Nicole & Taylor
How Nominations will work: One pair will be nominated
How the Veto Player Pick will work: Turner/Jasmine, nominated pair, and drawn pair
– If one of the pair wins the veto, the other is also safe.
– If the nominated pair comes off the block, Turner would nominate another pair.
– Eviction: One of the pair on the block will be evicted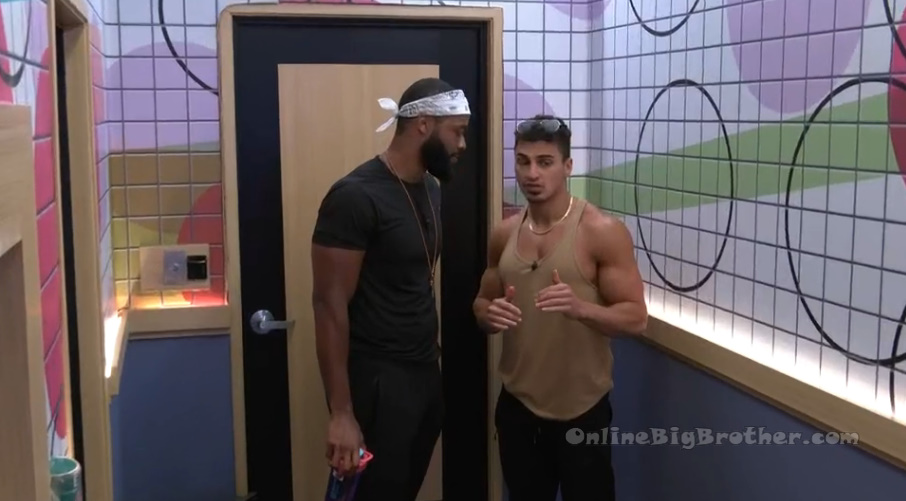 10:20pm Outside the havenot room. Monte and Joe
Joe – SO I planted a seed with Daniel. I said there was a rumor going around that Ameerah was in some type of alliance and everyone started to freak out and betrayed her. I told Daniel that I wasn't sure if Nicole was in it. But that I think Taylor had something to do with it. So we should send Taylor home. You need to back that up and be like Joseph .. be like I want Taylor gone. So somehow we just spin it. Try to say that you'll get rid of Alyssa because Nicole thinks it was Alyssa. She thinks it was Alyssa or Tuner the night before.. so plant that seed as well. Monte – have you talked to Kyle about that? Joe – yeah. Say that people were starting to come up to me saying that they think Taylor and Ameerah were working together. And say, I need to put up Taylor because so far everyone that's come up to me has said that Ameerah and Taylor were working together.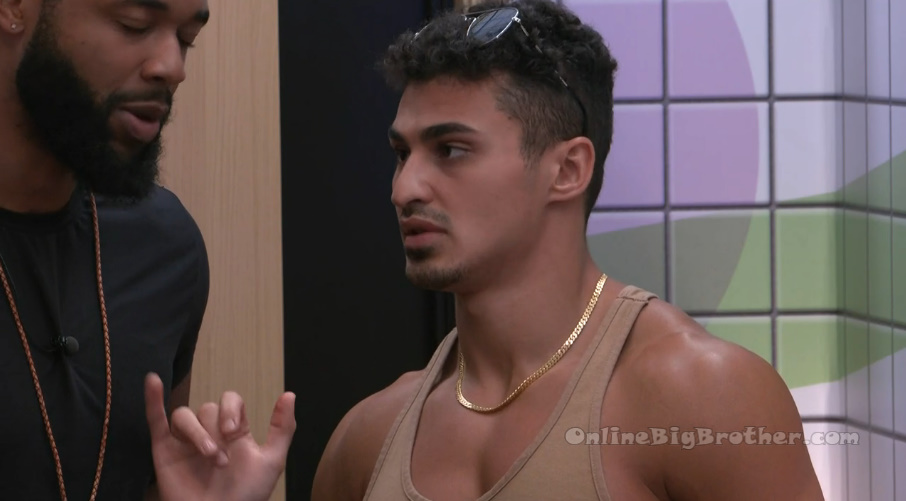 10:24pm Bedroom – Terrance and Daniel.
Daniel – obviously I am so happy that you're here. Terrance shakes Daniel's hand and says thank you. Your word is your bond. Like this was a flex on them. I don't know how everyone is going to feel and I know that some people are mad that I'm here. Daniel – people like myself .. glad I gave you my vote. That doesn't change but being in the know.. but that doesn't matter because I am glad you're here. But people like Jasmine are upset because the wish they would have know. I (Jasmine) would have gone with it.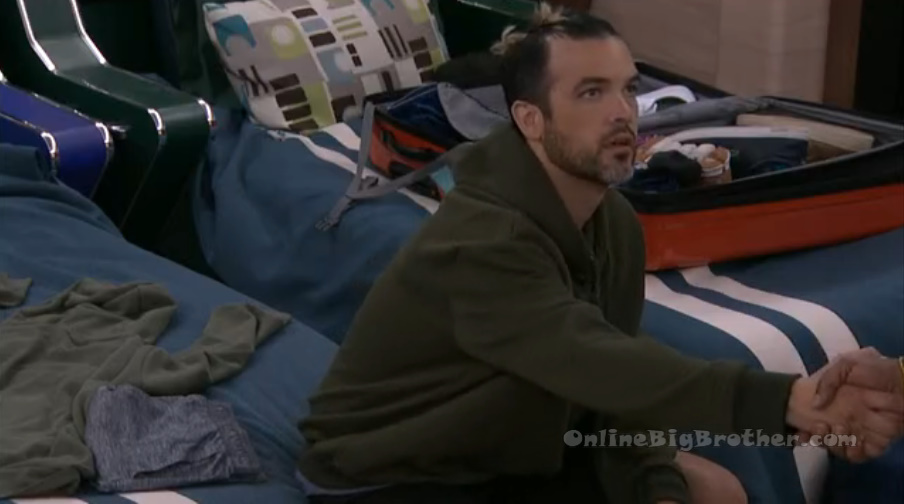 Havenot room. Kyle, Brittany, Monte and Michael.
Kyle – me and you and Monte need to get on the same page.
Monte – I've been really silent because I don't know what to say. Have you guy's had a chance to talk to anyone to come up with anything? Kyle – I've chatted with Amyssa and Daniel and Alyssa is going to talk to you. I said I talked to Monte a minute before and said are we good and he said yes .. So that is something but basically what I said was Brittany converted Michael like right before about PO's Pack. I was like okay that proved that Michael wasn't saying anything and I trust Monte isn't going to say anything. Then I hear the Joseph know, Jasmine knows, Taylors' heard something. All of this happens right before the vote. I felt that it was swinging. I was like Alyssa we should have had that conversation but you said multiple times that you would never vote out Jasmine and Ameerah. I was like I should have told you but that is the way it kid of fell. Monte – okay. That was my story.. but she is smart enough to know that they can't be pissed to our faces. Monte – they've been very distant. Nicole is eating it up. Daniel is eating it up. But like Jasmine, Alyssa .. they look at me as if I am the walking devil or something?! Like how dare I win HOH!? Monte – what about you Michael, have you told anyone? Michael I did talk to Alyssa and I said that Brittany confronted me and I told Nicole. And then Nicole went upstairs and told Kyle and Ameerah. I also played off that I was sitting there and didn't know what to do.. Brittany – I basically said the same thing. They were more hurt that I didn't tell them. I think they saw me as one of the girls. And now this very much shows that I wasn't. But also Ameerah had been throwing around my name as one of the top emotional players. Monte – who should I say told me? Kyle – you can say that you heard from us. I did say that us three chatted. Monte – so as far as voting out Ameerah? Because the three of us in PO's Pack which makes us very much the house.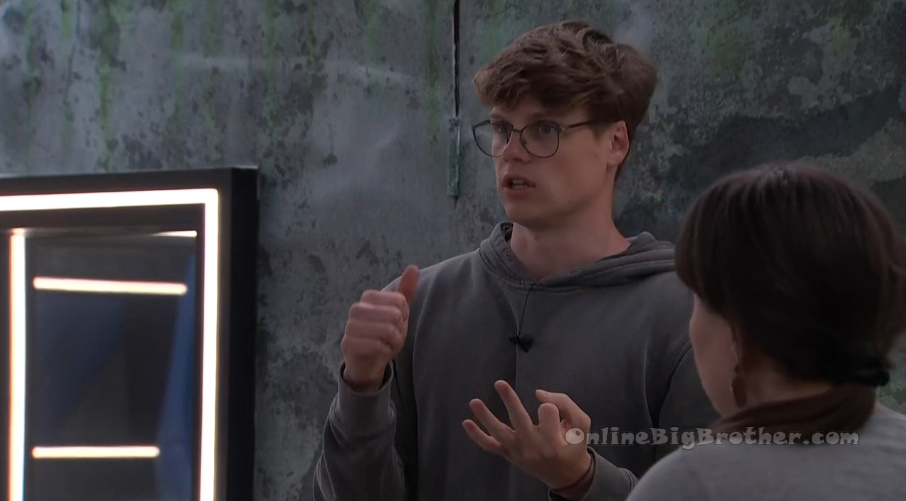 10:56pm – 11:15pm Alyssa joins them and says sorry I was just trying to figure out where everyone was … and they're all right here?!! Michael – you missed your old room. Alyssa – yeah I really wanted to come back. Turner joins them and tries to figure out what bed he will use. Alyssa to Monte – well congrats! This is super excited. Its huge. I am so invested in seeing peoples families. Alyssa asks to talk to Monte real quick. Everyone leaves. Alyssa motions that her mind is blown. Monte – I told you that things were good before hand but I know how close you and Ameerah were. Alyssa – I understand. Monte – I felt like the only thing I could say is that everything is good because you would have been forced to make a decision to vote your friend out or to give her a sympathy vote. This all happened very last minute. Alyssa – Kyle told me that. I don't know where your head is at. I am excited to see your HOH room. I love you and I want to move forward with you. Monte – I am sorry I honestly thought that you and Kyle would have talked about it which didn't happen. Alyssa – which should have Kyle!?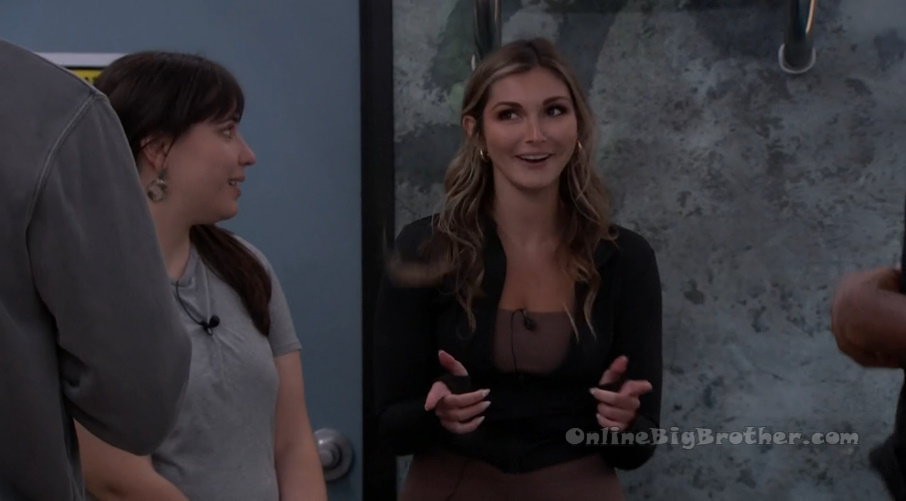 11:56pm Storage Room. Terrance, Joe and Monte.
Monte – guess what we're f**king safe this week! They talk about when Terrance joined their festie bestie group.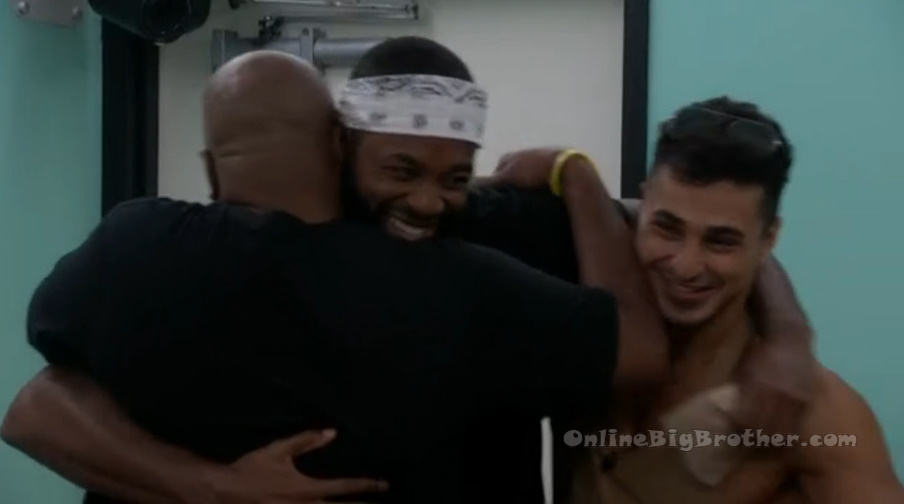 12am Bedroom – Nicole and Daniel.
Daniel – I will play their f**king game. If I get the veto and he like yeah we'll backdoor Taylor yeah, yeah, yeah .. and then be like NOPE, keeping Taylor .. f**K you guys vote these people out whoever the f**k they put up. Only you will know that, I will never tell anyone. And if you guys are on the block I will win the veto and use it .. even if they're like backdoor Taylor .. NOPE! They will think that I am fully on board with the Taylor thing. Nicole – Indy just lied to me. I asked her who do you trust the most in this house and she said Jasmine, Alyssa and Joseph. When I know that Monte is in that list. She didn't say his name. Daniel – she said that she trusts you since you voted with her. Nicole – she said that she didn't fully trust me until today. Daniel – then whatever .. take it. She is mad at all of them. Nicole – yeah because she feels left out. Daniel – but he (Monte) will win her over so quick.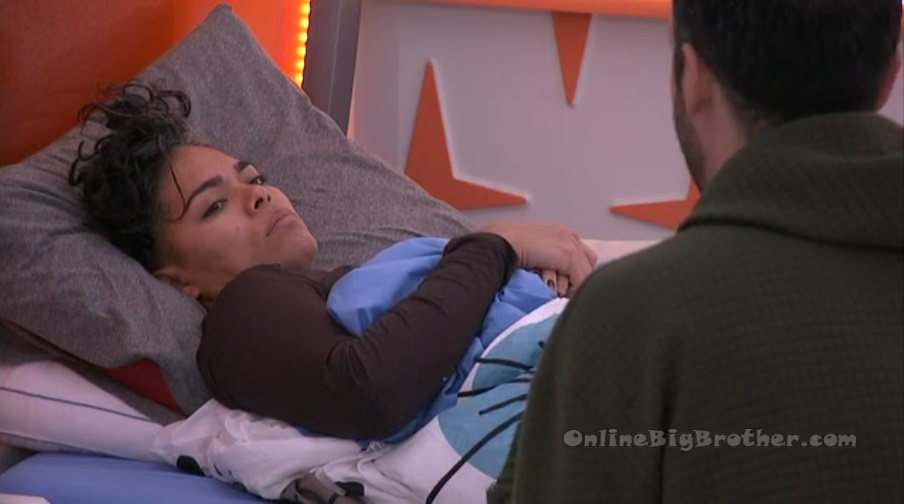 12:18am Bathroom. Indy, Jasmine, Alyssa, Indy and Daniel.
Indy – her hair was so pretty. Alyssa – Ameerah? I know. Indy – I hope she's happy. Jasmine – I don't think she is happy. Daniel – she is pissed as f**K! Jasmine – she is not happy. Daniel – she said you got me! Alyssa – who did she say that to? Jasmine – all of us. Daniel – because whoever flipped or whoever did that. Jasmine – you know what hurts the most? That we didn't know but Taylor did. Alyssa – that's what I am f**king saying. Jasmine – that's what hurts the most.. that she knew over (points to herself). She thinks she don't want it with you.. she thinks you (Daniel) bad but she don't want it with me. Daniel – I know. Alyssa talks about how she was about to go into the havenot room 20 minutes ago and Taylor questioned why she was going in there. Alyssa says she went in and literally everyone else in the house was in there and they went dead silent when she walked in.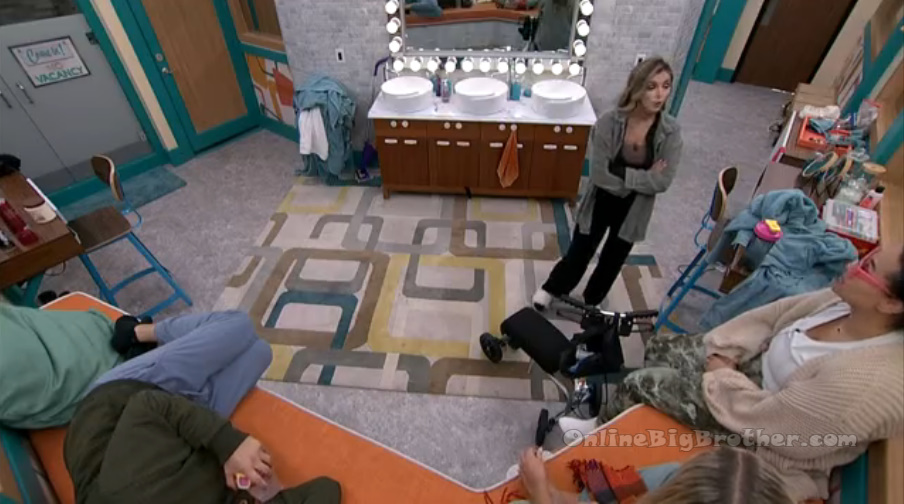 12:26am – 1am Bedroom. Terrance, Nicole and Monte.
Nicole to Monte – what happened? Monte – I think some information got out before hand that I was informed about very last minute and people were telling me that A) it looks like my game or peoples game have been exposed or whatever have you.. and then at that point people were like everyone is flipping. And I was like okay, I don't want to be on the wrong side of that. And I didn't want her to go around causing a stir… Nicole – I just wanted to f**King know. I had just said goodbye to this f**King dude and it was already a struggle to decide to go with the majority to vote to keep her. That's where I am at! Monte – no, yeah. I would have like to sit down with them. Nicole – right but now that you're HOH its like you're the one that made this grand master decision. Monte – I would love for someone to explain why I would do that? Nicole – what I am saying is I don't want it to look like that but at the same time I don't know who to trust. I can't even elaborately celebrate with you. I am like what the f**k is going on here. Monte – yeah and that is fair. I wish I could have told people who I was going with. Nicole – I am not mad about this (Terrance staying). Monte – not about who stayed or who left but more around the fact that people felt like they were blindsided. Nicole – I felt like I was blindsided for sure. It just sucks. I wish I could have said goodbye to her. My main question to you is.. is Taylor still your target. Monte – I've never felt comfortable with her in this house. Nicole – I am only asking because I want to know. It has nothing to do with anything else. I just know that you and I are very similar in the hard headedness .. and we like to make sure we get our point across. I just want to make sure that you know that I have your back .. as much as I have his (Terrance) back and its a respect thing. Whatever you decide.. I will never be mad at you for a decision. Monte – are you fine with that.. and how would you want it to be. Nicole – I just want you to know that I understand whether you put us up or you backdoor us. ..and you decided to keep her over me or vice versa. Monte – well I don't have a vote this week. Nicole – but you have influence in this house. Monte – I think there are multiple routes we can go with taking Taylor out this week. Now that I am finally here (HOH) I can do something about that. If its a backdoor strategy maybe I need to figure out who I put up first. Nicole – me picking her as my festie bestie .. I feel like that was a big enough move to be like I did that for you guys. Monte – okay, I need to sleep on what route that looks like and I need to get buy in on a pawn situation.. and then figure it out from there. Nicole asks Terrance to talk to Monte alone. Nicole asks how Taylor found out about PO's Possie. Monte tells her that Ameerah and Kyle were being a little reckless in the storage room. Nicole – so she pretty much had her ear up to the door. Nicole – My thing is who can I trust? Joseph is already coming around whispering. Like keep that sh*t discrete.. when people see you coming up to me whispering people start asking me questions.