Quick Big Brother Spoilers
Head of Household:  Monte
Nominees: Brittany & Alyssa
POV Players: Monte, Brittany, Alyssa, Turner, Taylor
POV Winner: Brittany
Veto Ceremony:
Havenots: 
Lock your ranks in before midnight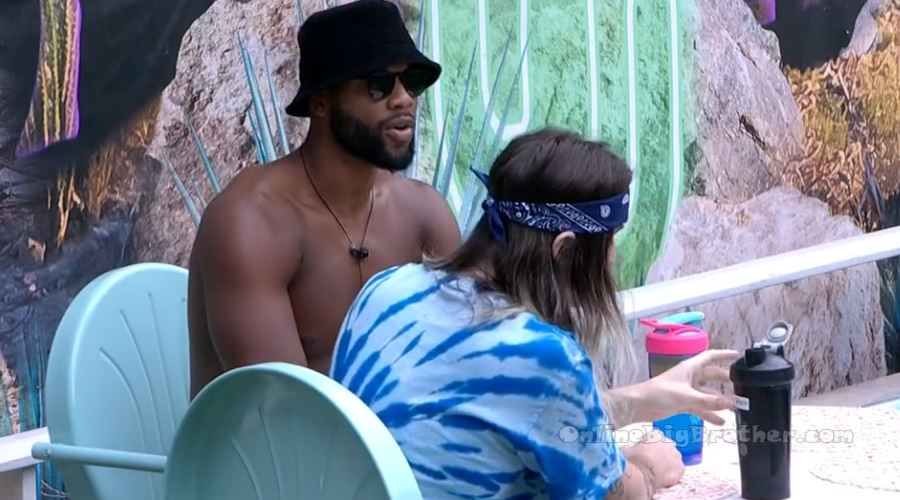 6pm Backyard. Turner and Monte.
Monte – that conversation I had with Brittany.. it was so out of pocket. It was so hard to keep a straight face. She was trying to get me to say something instead of just telling me. The same old bullsh*t as last week. She said that she feels closer to Taylor because Taylor filled her in on everything that happened last week.. but Taylor couldn't have said anything more that what I told her last night.. So that is BS! I honestly can't f**King trust Brittany. I honestly don't know if she will vote for Taylor. I think she is going to assume that you're going to vote for Alyssa if Taylor is on the block. I think she would actually vote for Alyssa to stay.. Turner – and then put the blame on me? That it was the opposite. Monte – yeah or that she got convinced by Turner to keep Alyssa or something like that. But in my opinion you tell her as much as possible I would love for Alyssa to say but in reality you know we got our agreement. You're off the block .. and the only thing I am asking is that you just vote Alyssa out this week. And then when the vote comes .. if it is a split that means that she was about to turn on Taylor and we can f**king use that next week so that if anyone of us is sitting next to Brittany. She feels good about making that call to vote out Brittany. And Brittany was about to throw her out the week before. Taylor is one of those people where.. when someone (Brittany) is playing this dirty .. you can't trust whatever move they're going to make. She has no loyalty to us. Turner – I don't think she has loyalty to anyone. I also hope that Taylor knows how good Brittany is at mental comps. If she doesn't think she can beat me in a mental comp, I don't think she can beat Brittany in an mental comp. Monte – that's what I was thinking.. you're (Taylor) sitting here thinking everything is sweet but Brittany but you got to look at how well Brittany has been doing in these comps. Look how close she came to me in that damn horror fest and then it was neck and neck with you guys in the veto… and then she pulled the trigger and won. She proved that she can beat Turner. It was just so f**ked to have that conversation (with Brittany this morning). It just disgusted me man! That makes me not want to have any one on ones with her. Like I am going to get to the point where I am just going to call her out on all the bullsh*t and just be very blunt. I was really reserving myself in that conversation but now I feel like you're insulting my intelligence. Turner – oh big time. Monte – by trying to manipulate me into these things. Turner – dude I definitely hate when people bring personal stuff into it to try and guilt trip you. That is a whole other form of manipulation.. that is so f**Ked. It is so annoying how Brittany vouches for me to take out Michael. And the week after I take out the biggest competitor… wants me out. Monte – oh yeah that is the plan. Its very cut throat game.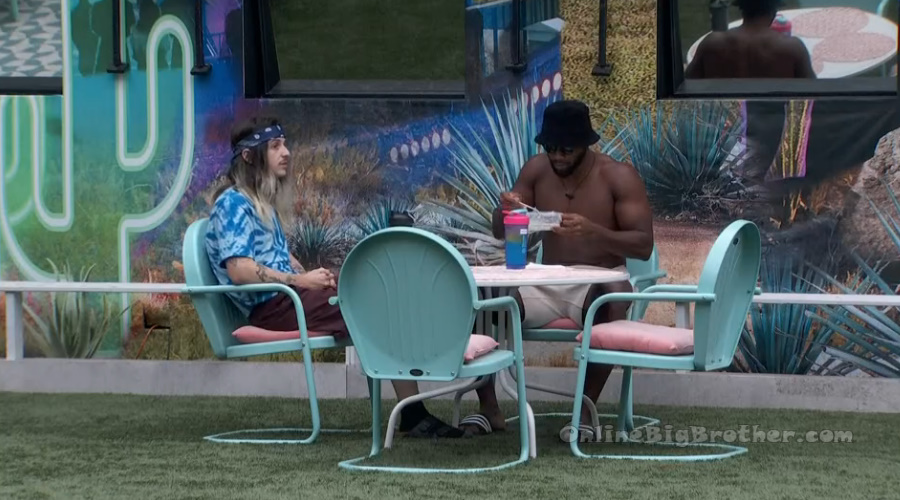 7:40pm The house guests are just lazing around the house. Brittany is talking to Alyssa about Michael's eviction speech. Brittany – I get it now but at first it felt like a betrayal. Alyssa – I would have been truly shocked. I would have been heartbroken if he voted me out. Brittany – I was just confused. Now I realize he was just doing what he needed to do to save his game and I think he was warning me that people were talking sh*t about me. I just wish I would have been able to say goodbye. I am glad that the goodbye message was recorded after I was able to settle down ..I was like I still consider you my best friend. I am not mad at you for what you had to do or say. I am sorry. I could still see him being like .. you b***h I hate you.
8pm Monte working out.
8:40pm Alyssa staring off into the distance in silence.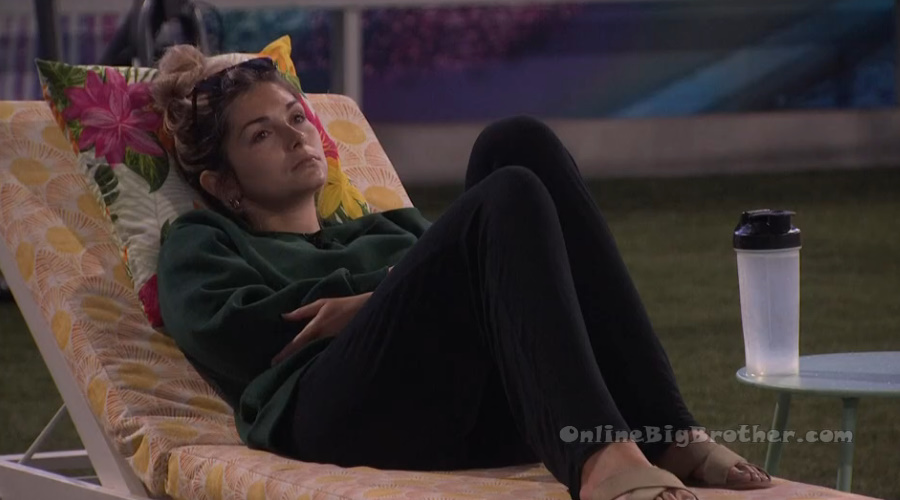 9:11pm Monte enjoying a bath with his Sushi from Thursday..
9:55pm – 10:35pm Quiet evening in the BB house..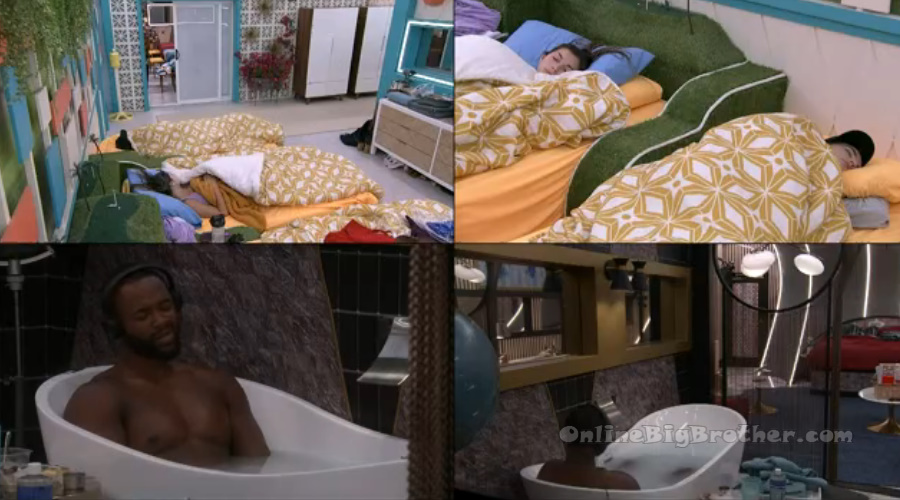 10:50pm Sleeping outside – Facts!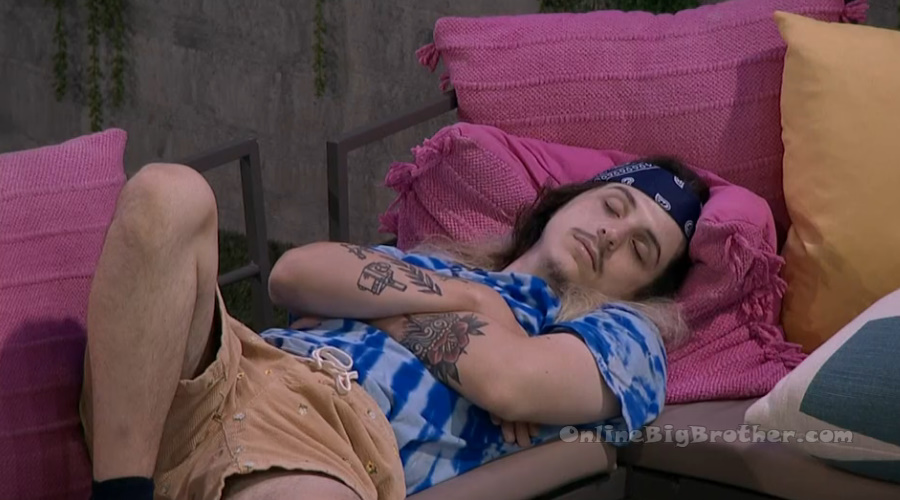 11:25pm – 12am Backyard – Monte and Brittany talking about Michael being evicted. They chat about random things.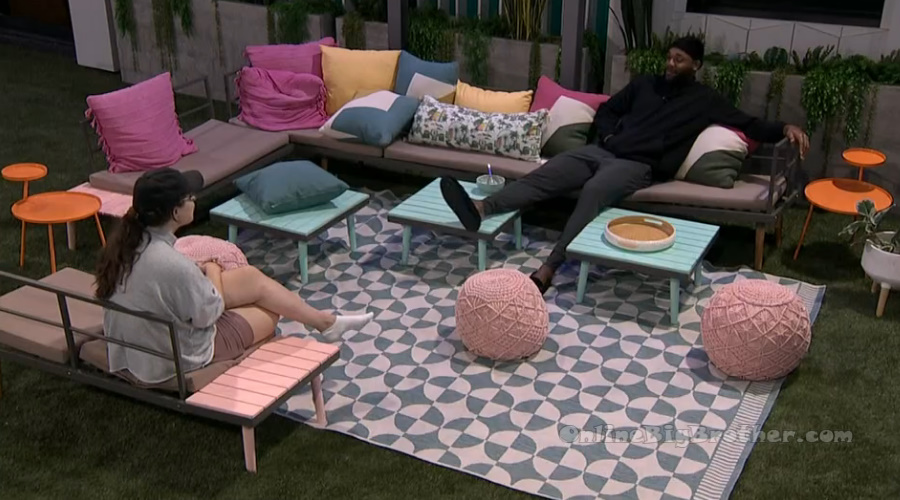 Without reader support this site and these spoilers wouldn't be possible.
Please consider a donation to keep the madness going.
Any amount is greatly appreciated!