Quick Big Brother Spoilers
Head of Household:  Monte
Nominees: Brittany & Alyssa
POV Players: Monte, Brittany, Alyssa, Turner, Taylor
POV Winner: Brittany
Veto Ceremony:
Havenots: 
Lock your ranks in before midnight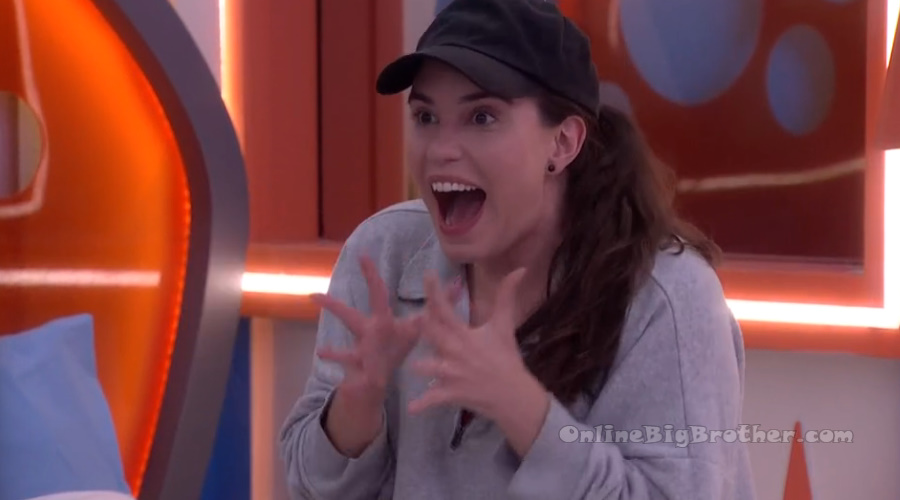 12pm Bedroom – Taylor and Brittany.
Brittany – I know that trusting anyone in this house is hard in this game but I really do believe. Lucky for us we will have a really clear… I didn't want to give him an ultimatum but it was kind of like a hey here is how we can get back completely locked in and on track as final 3. Taylor – its a good final 3. Brittany – Finale night .. the recap episode.. us three! Can you imagine! Taylor – oh my god Brittany.. I thought I lost another friend in this game. Brittany – you and I have been through way too much. Taylor – that's why I was quiet. Brittany – I know. I totally understand now. Especially talking to Monte .. the blind spots that I have done to him .. that you have done to me. And honestly it was just not wanting to make a big deal of something and being scared. It will just feel so good if he does it. I just hope.. I don't want to bombard him.. I've already bombarded him a lot and I know he's got a lot to think about.
HOH room – Alyssa and Monte.
Alyssa starts crying – I am just tired … and yeah that was worst case scenario and I just feel like and now I am probably what they think is the target so like coming back in from the veto and they were in the bubble room for two hours .. and Taylor to Brittany was like how did it go with Monte .. come in here. They are just like avoiding me. Ah…I am probably the target which is not fun! There is a long week ahead of us so that is fine. Is that what everyone is saying .. I am assuming? That I should be the target? To like prepare. Monte – well.. I don't think that's been the case thus far. I just really don't like when people (Brittany) continue to lie to my face. Its not you.. its Brittany. The conversation this morning with her was just horrendous. Like it was literally testing my patience. And I caught her in a bunch of different one. Her responses were just really fluffy. Alyssa – that's a bummer. Monte – that is what I don't like about being HOH when people start telling you things because its convenient or because they want you to get a certain agenda done. I just want to talk to you about best case scenario… so its either Turner or Taylor. You know how I feel about Turner and you know how I feel about Taylor. I really don't like the fact that I have to put either one of them up. And I take responsibility for this because I didn't wake my a$$ up and get there to avoid this situation but at the same time here we are. Alyssa – I love Turner and Taylor so much. They're both amazing amazing people. Probably because Brittany and Taylor have each other through and through.. Taylor said they made a final two really early on in the game. They've worked really closely the entire game ..like I don't think I fit in anywhere in their picture so .. so best case scenario for myself.. if it were Taylor and me.. unfortunately which would be horrible .. if Taylor left this week which would be unfortunate because I do really love her.. then that the HOH competition would more than likely be endurance ..and that would be me and Turner which I think we would have a good shot against Brittany. I would make sure Brittany leaves. I am not even going to pitch for Brittany's vote because I am assuming if anything it would be a split vote. I would make sure everything in my power to make sure Brittany left so that we were the final 3 people in here. Turner has 3 HOHs …I would love to see you and I as the final 2. I am not bullsh*tting you. Monte – that tells me a lot because that means that this whole girls thing is not a thing. Alyssa – no. Monte – they keep pinning it on you. Its hard for me to see myself putting Turner up just because next week what does that do for me!? Then I am next in line. Putting Taylor up gives the most perspective and at least the most opportunity for you.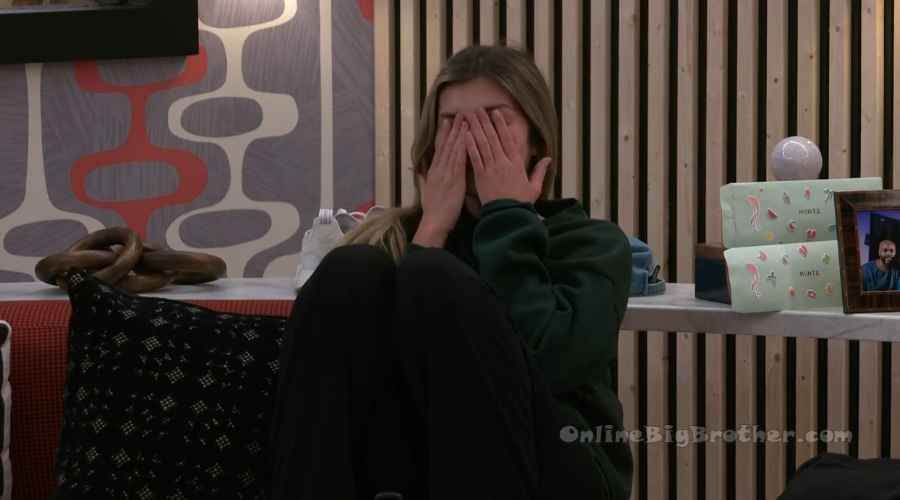 12:20pm Bedroom – Alyssa and Brittany.
Alyssa – it just sucks so much! I just sucks feeling like the target. I am just tired! Alyssa is crying. Brittany – I know, I know this is hard! Alyssa – I am just done! I am so overwhelmed.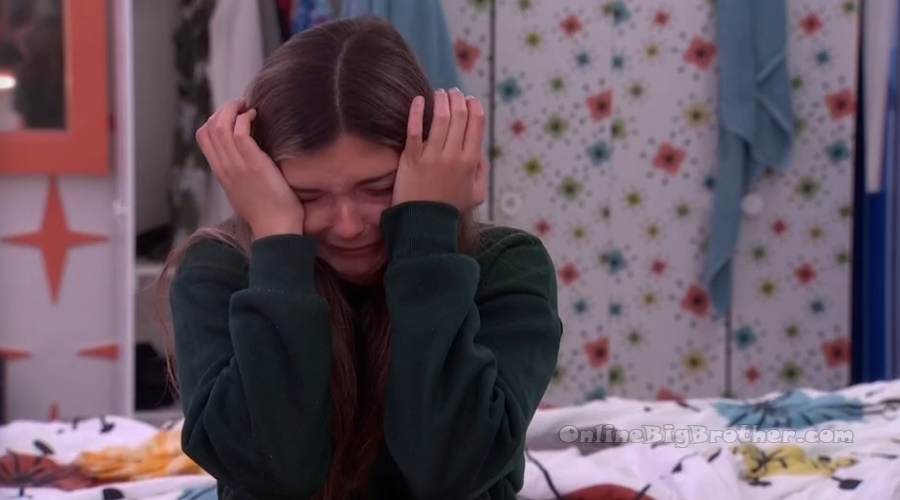 12:40pm – 1pm HOH room – Monte and Taylor.
Taylor – how are you? Monte – it f**king sucks because I could have prevented this but I just have to take responsibility for this and I will have to live with it. Taylor – not waking up? Monte – yeah but it is what it is. Brittany is going to take herself down and now I am left between a rock and a hard place. Brittany came up here and had a conversation with me and it was testing my patience just because she was lying so much. It was just really bad! I am not good being told a certain thing and knowing its not true. She also indirectly threated me and said that if I don't do something this week she is going to have to consider that in her vote if she is not on the block next week. Its just so bad. And she continued to question myself and Turner which to me it doesn't matter how many times I have to say it you don't believe me and you're not trusting me. So I know if the situation presents itself next week she would vote me out in a heartbeat. That conversation did not help her cause with me, it made it 10 times worse. Oh she also brought up the fact that.. Big Brother switches the feeds. Monte – Its hard for me to take what she is saying as fact. I feel good about you and the conversations we've had. But I do NOT feel good about her. I am thinking about when it comes to competitions next week. I feel like I have a much better chance of you winning HOH over Brittany .. than Alyssa. Taylor – yup! Monte – and I also feel like I have a much better chance if I am sitting on the block next to Turner that you would pick me to stay. Taylor – in a heartbeat! Monte – so that is the situation. I feel like it is way better for my game for you to stay this week. The only issue is if I were to put up Turner .. I know in a heartbeat that Brittany and you guys would relish in the opportunity to take him out this week.. but if we take him out this week I am almost 100% assured that Brittany would be fine with me going next week because she has conversations with Turner about final two .. she has conversations with you about final two.. with Alyssa. She hasn't said jack sh*t to me about final two. So what does that assure me to believe .. that next week I am for sure her target. I can't trust her any more. There is no game relationship I can't have with her. I was trying to give her grace .. but there was not room for any.. it was just so bad! Taylor – I just don't get why she would do that. Only because the conversation that she and I had was so not what you're telling me. And that is a bummer! If the conversations that she and I had .. where the conversations that you and her had I think it would be clear that she wants us to be final 3 in the end. Monte – it was more of a threat than a conversation. I am not feeling good about Brittany to be honest with you. I just look at actions. Taylor – you've got to understand that I don't trust Turner in terms of going on the block. That man has not touch the block on eviction night. I have 4 times. He has put me up twice. He has put Brittany up 3 times. He has lied to my face about me touching the block before and what happened. Monte – yup yup .. I know he has and I know what that does with your trust for him.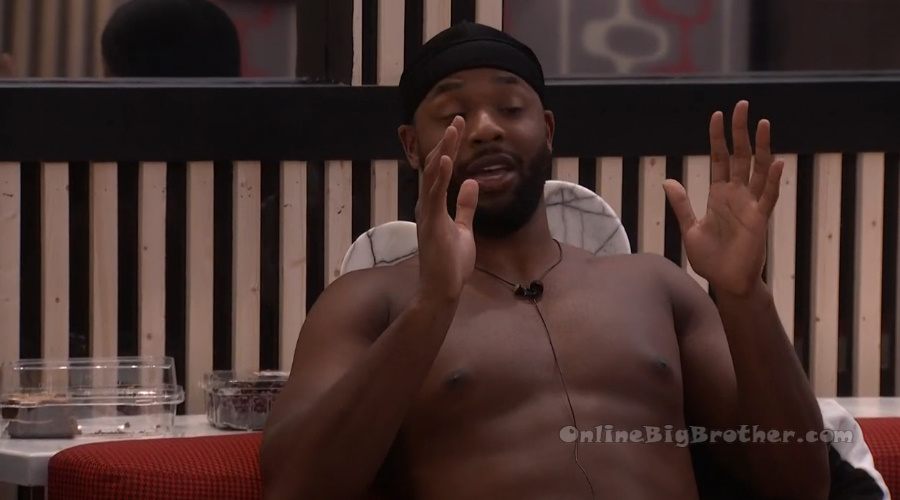 1:33pm HOH room – Monte and Taylor.
Monte – would it be too much to ask you to apply lotion to the back? I can't reach. Too soon? Taylor – stand up. I am literally scratching your back right now .. you better f**King scratch mine next week ..okay!? They both laugh. Monte – no, that is going to happen!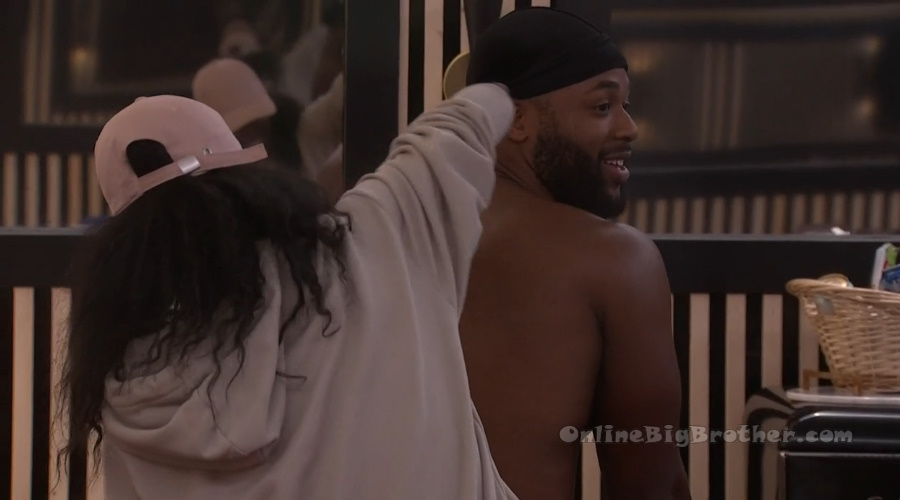 2pm Brittany's off switch is broken.
Brittany – I am so FREAKING HAPPY! How!? How?! Like I am killing it this week! I was 9 seconds away from winning HOH and 1 gear away from Turner. but I won veto! I got it! WOW! And it woke you up in the middle of the night and I knew that was going to be the case so I went to bed at 9pm and I had a full 8 hours of sleep because I am a fan of big brother and I know that they wake you up in the middle of the night and mum was the word to everyone else .. so there!! Oh my god! Oh my god! It was so crazy! It was so crazy! And now I am going to be in final four! And that means I get to play the most important HOH of the entire season which is the final four HOH. And I could win! I could win! Oh my gosh! Crazy! Crazy! I could win! I could win! WoW! So Steven if you're watching .. be proud of me! I did it! I am sure Michael is like where was this Brittany when I was here? So yeah now I am good this week and we just have to see what Monte does. I hope he puts up Turner. I really really really do.. I don't know if he will. I feel like that would make more sense to him.. but I hope he does. WOW! Oh man! This is nuts! I don't think I ever thought I would make it this far in the game! There's a chance I get a video message on Thursday!
2:50pm Everyone sleeping but Brittany who is cleaning dishes in the kitchen.
3pm – 4:20pm State of the house today.. Brittany heads out into the backyard to play a game with Turner.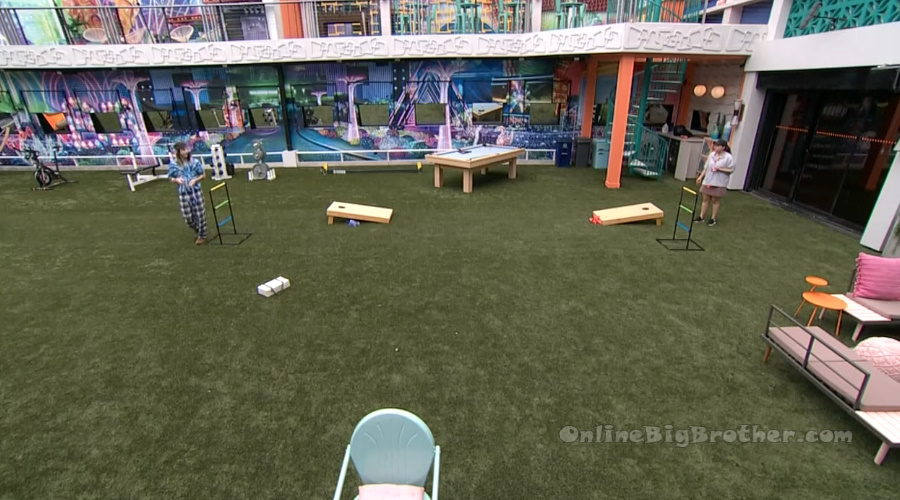 4:35pm – 4:53pm Bedroom – Taylor and Brittany.
Taylor – He wants to rebuild trust with you. He does. I think he kind of wants to see if you go and have conversations with Turner after I go up about flipping the vote on me and keeping Alyssa. But I will sit there comfortably because I trust you. I trust my people Brittany. Brittany – I know ..but that does not equal trusting me.. him. Taylor – there is time.. there is a lot of time between now and Monday. I think we give it a little bit if time today but we have time before Monday. Brittany – if he is set on this being a final 3 why would he even jeopardize it. Like why would he risk it!? Taylor – I know. Brittany – its basically an oxymoron. Why are we even in this mess?? Because he is believing lies that Turner says. Like I don't even feel like I should be tested! Taylor – he is nervous that you will go after him next week. He said that you said if I go up or if I leave this week you would take that into your consideration next week or on jury or something like that. Brittany – oh if he is putting you up then that clearly shows that he is not for us being a final 3. He didn't like that because it was a little bit of a threat. Brittany – I think that is just kind of facts! You screw people over and they don't like it. I wouldn't expect anything other for me. Taylor – he is scared you're going to come after him next week. Brittany – what do I have to say or do? Taylor – keep me, that's what you have to do. Brittany – why wouldn't you ensure a final 3? If he is not with us .. then he is not with us. We erase that option. Taylor – you're here next week. Monte is here next week. Brittany – that's why it makes sense to work together. Taylor – you or me have to win HOH next week. We win next week and then get him out. Brittany – I will literally pull Alyssa up in front of him and say Alyssa you are on your own. Your only option is to win HOH.
5pm – 5:42pm Bedroom – Taylor and Brittany.
Brittany – Seriously I would offer .. try to tell Alyssa right now in front of him that she will be here this week but you have to win next week. I would give him my wedding ring and he could give it back to me when he is safe and he makes final 3. Like I don't know what else I can do. Taylor – don't do that! Brittany – It just doesn't make sense that someone that has lied repeatedly gets the benefit of the doubt every time. There has to be something I am missing .. I just don't understand. How does one prove future actions when I have nothing.. and why does he think that Turner would still be my target next week if he does this?! If he is so worried about me winning. I am not saying that I would target him .. but he does this and he still expects me not to turn on him?! This is really working out for Turner really well.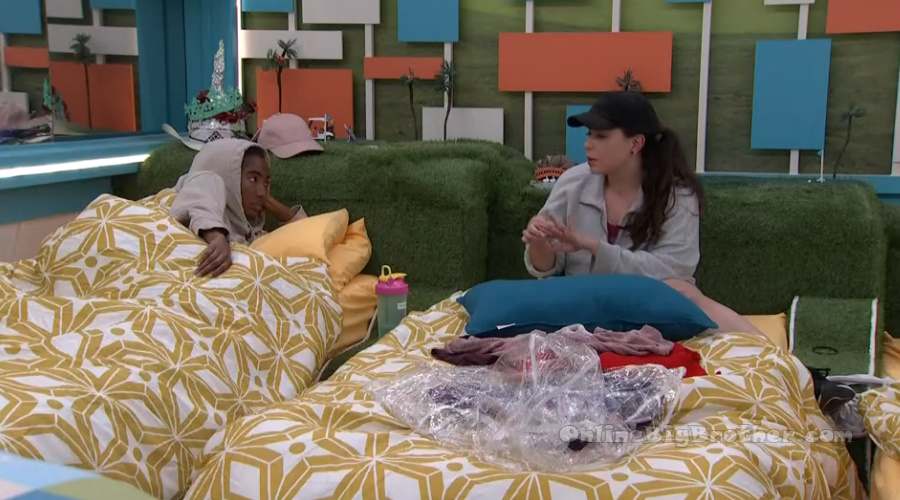 Without reader support this site and these spoilers wouldn't be possible.
Please consider a donation to keep the madness going.
Any amount is greatly appreciated!