Quick Big Brother Spoilers
Head of Household:  Michael
Nominees:
POV Players:
POV Winner:
Veto Ceremony:
Havenots:  None so far
Lock your ranks in before midnight
Festie Besties:
Turner & Jasmine
Joe & Monte & Terrance
Daniel & Kyle
Brittany & Michael
Alyssa & Indy & Taylor
The Situation
Terrance, Monte, and Joe are going up as the pawns. Daniel is a target still but there's potential this week for something else.
9:49 am Daniel and Terrance chatting about past seasons. Michael deep in thought.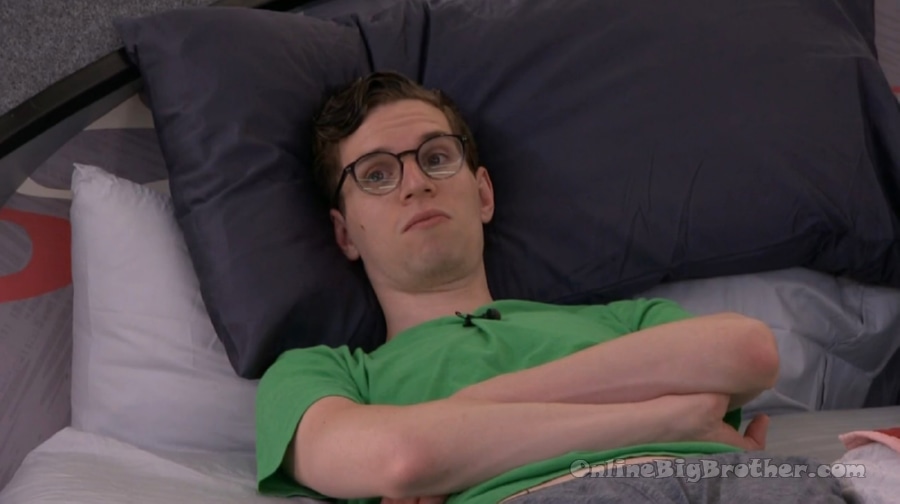 10:10 am Michael alone
I feel good about the alliance now but my concern is some of the biggest threats are in this alliance. I think Taking a shot at the alliance will fracture it and leave us with a 6-5 situation and if they won the numbers are back even. That's only if I can keep the rest of the alliance intact which is unlikely. There's no way Taylor is going up or going home this week. Daniel is complicated. It would be smart for us to align based on our positions in the house.
Indy would be a great person to sit next to in the final 2. on a game level I don't think a lot of people want to see her win. I don't want to see Indy go this week. I really like Jasmine BUT.. I do see that she's playing a lot harder then she's letting on and I dont' think I am included in these plans. I love Joe. Joe is a HUGE physical threat.
Monte is the biggest threat to win the game but if I take a shot at Monte I'm taking a shot at Joe.. Monte also has Terrance, Jasmine, and Indy there's no I can let Monte get too deep into the game.
Monte is the best competitor in the house he's super smart, she stays calm focused, and physically fit. he's also volunteered as a pawn if he goes up and something happens and he goes home.. (see gif) not mad about it.
I really like Alyssa I think she's a good liar. WE'll what we can do moving forward I'm not getting her out this week. Kyle, I love Kyle. Kyle is honestly the person I talk to the most game with. Do I want to risk Kyle going home this week by putting Daniel up? Not really but if I have to put up Daniel. I love Terrance but similar to jasmine I think he's got things going on that I am not part of. Which is obviously a concern. Turner, no way I will target Turner this week. Which I funny of you asked me three weeks ago who I would target Turner would have been at the top of the list. Brittany is another person I would love to make to the final 2 with.
I've had a final two since the start of the game.
If everything goes according to plan this week a guy will be going home. Last week 4 women went on the block and I'm not repeating that.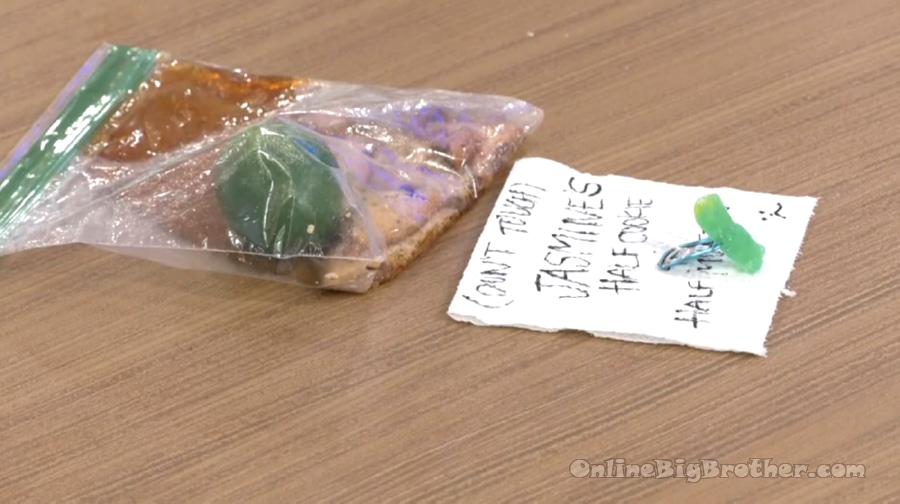 10:21 am Some shots of Jasmine's stupid muffin that Turner poured water in last night.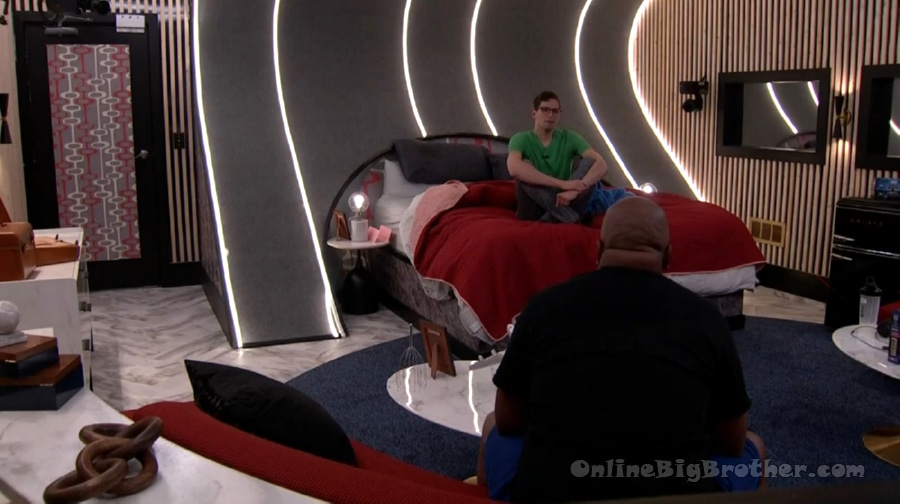 10:50 am Michael adn Terrance
Terrance – congratulations.. definitely needed to happen
Terrance asks him what his plan is.
Micheal says he hadn't had a chance to talk to everyone. "There are a few things I'm going to ask everyone to get a sense. I don't want to make any assumptions umm.. but I guess is there anyone you are aware that the house is kinda feeling or any vibes?
Feeds cut. when we're back
Terrance- I do want to see a person like us win… I don't know Mike I don't know what you do in this situation you have relationships with everybody here.
Terrance throws Daniel's name out as a nomination because his rants yesterday were frowned on.
Terrance – the move has to be something that umm.. propels.. I call us the US'S
Terrance goes on about how he's out of the loop.
Terrance – I don't care who wins I just want it to be Fair..
Micheal says that based on what happened yesterday he has an idea of what this house will want. "Do I throw them up as an initial nominee do I back door if I backdoor who do I put up as a pawn, there are only three groups"
Terrance – Our group is more numbers based to be more motivated to win the veto. you see what i"m saying you got three people going for the veto. You go you and Britt going for the veto.
Terrance- the initial UP will have to be the people you rock with.
Micheal – I dont want you to go home this week. Joe and Monte are two very big physical competitors if it is physical I'm sure they can beat him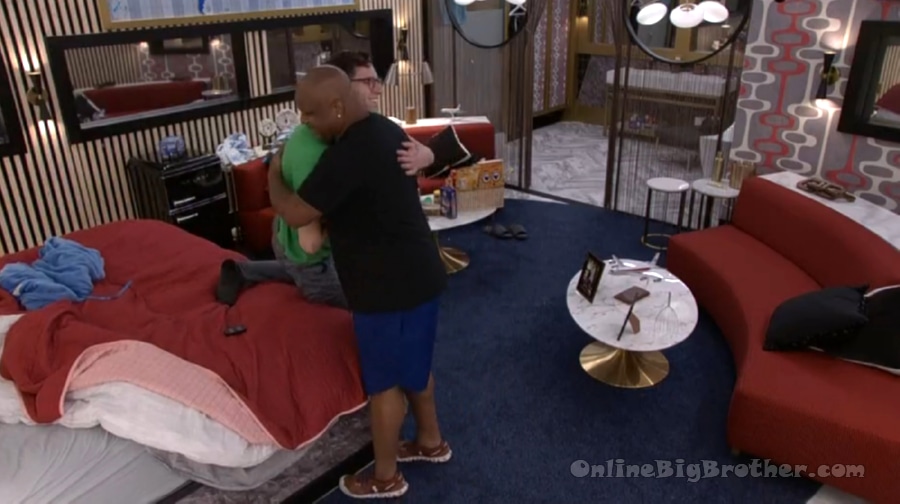 They hug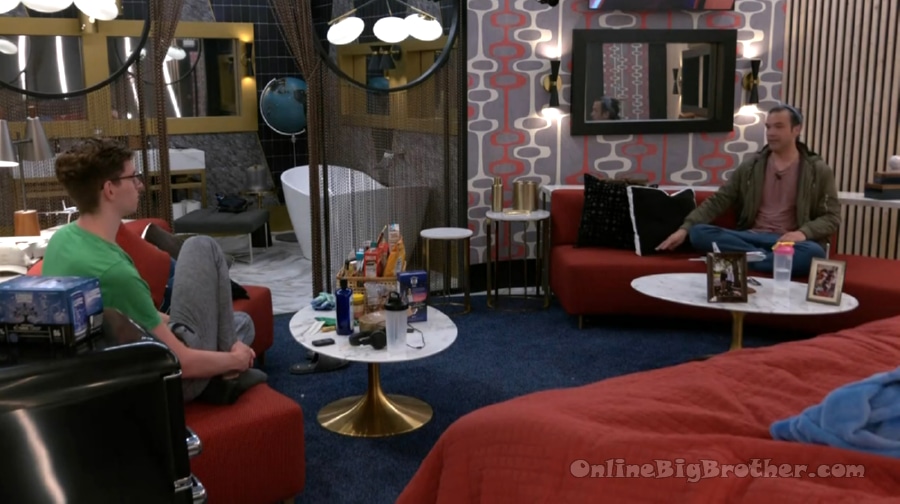 11:06 am Daniel and Micheal
Micheal -I know you and Nicole were really close how are you doing today?
Daniel – pretty broken. Being close to Paloma and her going home early then Nicole goes yesterday. it was a reminder of the fear of losing people in real life
Daniel – losing family and stuff these things remind me of those moments.
Daniel – today I'm rebuilding
Micheal says he didn't say anything disrespectful last night
Daniel thanks him for not lying to him about Ameerah's and Nicole's vote.
Daniel – I have nobody I have no power as far as numbers go. I'm a open agent willing to do anything to get further in the game.
Daniel – I'll stand up what I believe him if you can use me to take those shots you don't want ot get that blood on my hands. Or even people you aren't aligned
Daniel says if he keeps him one more week he has his Jury vote. "if the game ends today not only you win by stats but you also have my vote"
Michael – I prefer you don't tell everyone (Comp wins stats)
They laugh.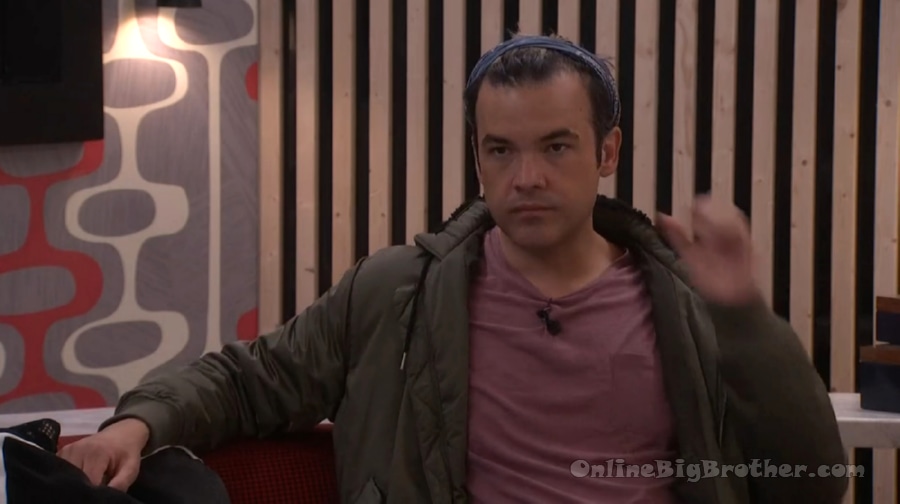 Micheal – after yesterday a lot of people are going to throw you out there as a target
Micheal – I see someone that is alone and I see the value there. If I do keep you in the game I see us having been in similar positions. On paper, I'm looking at it that we need each other in the game.
Micheal – Can I make that happen without jeopardizing my position. I see the vaue in keeping you here. For my personal game it helps me. I am assuming people are going to want to backdoor you. That's what people will come up here and pitch to me. I wouldn't put you up initially and then if a Veto doesn't get used..
Daniel – it's not your fault
Micheal – that would be best case scenario.
Micheal – if I don't put you up and you stay do you have any idea what you are thinking moving forward?
Daniel – I was thinking about this last night. I mean it when I say it I have no plans which means I will do anything. I don't care and I mean that more than ever. I'm down to take anyone out and Becuase of our talk two days ago you are not even a thought.
Daniel – I have no problem going after any single person.
Daniel says he doesn't see himself winning he just wants to get top jury.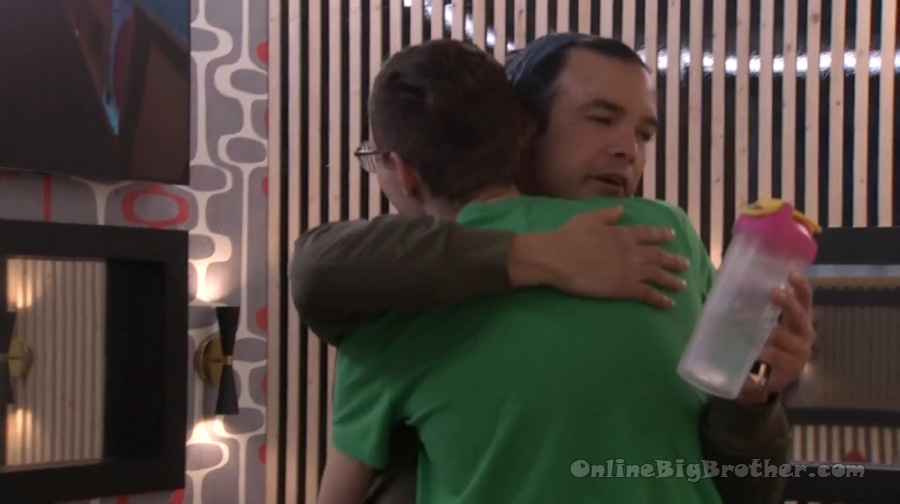 they hug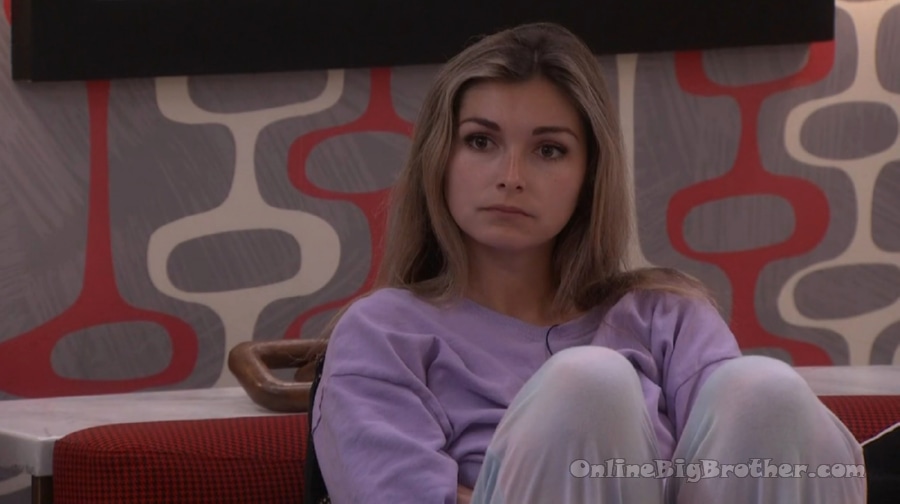 11:27 am Alyssa and Michael
Alyssa says Daniel is the person she would like to see gone.
Michael – that's what a couple of people have said already
Michael asks her how he should make this play, Backdoor or straight up?
Alyssa – You could go either way.. I don't know what I would do if it was me..
Michael – There's a one-in-three chance he plays in veto.
He tells her it will most likely be the boys going up.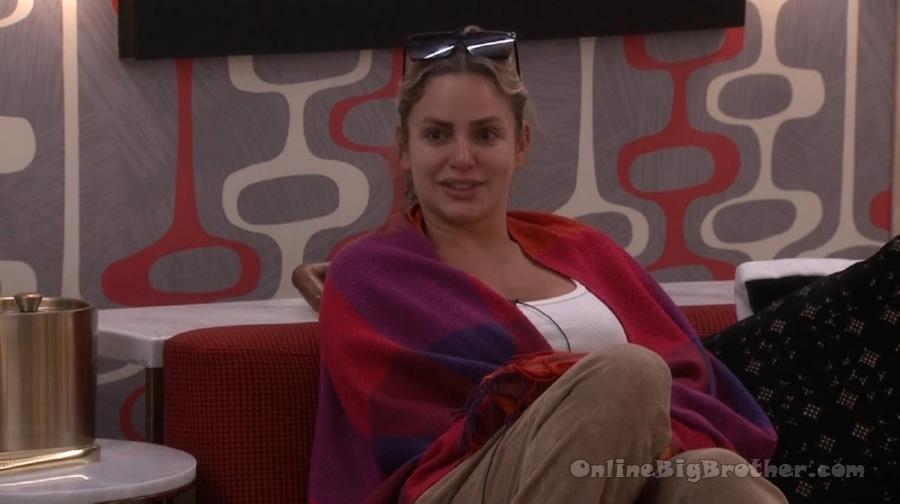 11:37 am Indy and Michael
Indy says she's afraid if Daniel goes who is next?
Michael agrees. (he brought this up with Alyssa)
Indy – as a friend don't take this as a game play if I was you there are only two ways yuo can do this.
Michael – the concern putting Turner and Jasmine up I don't want to risk losing Jasmine.
Michael adds there's a chance she might not be cleared to play in the veto so she could go home without a chance to save herself.
Michael goes over the same talking points about how putting the three guys up increases his chance that the veto gets played so he can backdoor. He tells her she's not going up.
Indy "I never thought about you. I love Brittany, I'm honest with you and her. She broke me when she vote Ameerah out because I was expecting her to at least help me and she knows that it doesn't she's my target.. even coming up I don't see me and you against each other. if you get the money I'll be happy"