POV Holder:
Jared
Next POV
April 9th
POV Used
No
POV Ceremony
April 4th
HOH Winner:
Raul
Next HOH:
April 6th
Original Nominations:
Joel and Mitch
Current Nominations:
Joel and Mitch
Last Evicted Houseguest
Paige, Sharry, Christine, Kelsey, Loveita, Dallas
Have Nots
Joel, Ramsey, Brothers and Maddy
Want to watch the Big Brother Canada 4 live feeds but live outside of Canada?
Bypass the geoblocking with HideMyAss VPN and be Canadian Anywhere: VPN Help Guide
ALLIANCES IN THE HOUSE
There will likely be a lot of alliances during the season – keep track, read our alliance help guide.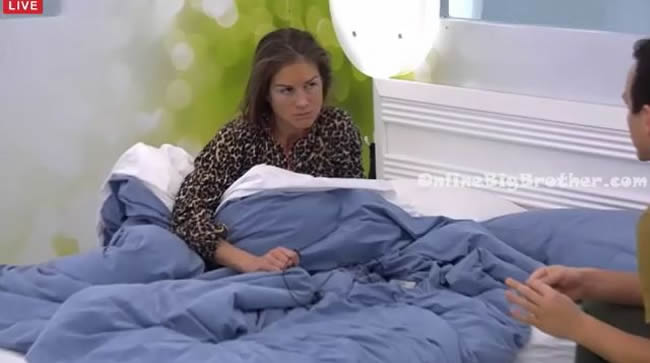 9:30am In the bedroom – Mitch talks to Nikki in the bedroom. Mitch says they would presume you and me would save each other so if I could offer them.. If one of us is there you have two votes to save you. Or if we win HOH we won't put you up. Or and this one might be harder for you.. If I go up against them and someone else, you vote to save them because I think that's the only way they'll think … I think I'll just say that for now because they know you're honest. I'll say if I go up in that triple the only reason I am here is because of you, so she has to save you. Nikki says done and shakes his hand. Mitch says hopefully that will convince them a little bit. I just need to talk to Tim. Its hard to get him alone. Campaign day .. down to work.
9:55am Backyard – Mitch tells Phil I have a proposition to run by you and you don't have to say anything. I just want to say it to you, is that okay? Phil says yeah. Mitch says like I said the other day I think the hardest part for you guys (Phil/Nick) will be surviving a triple (eviction) and I spoke to Nikki about this so that I could speak on behalf of her. What I am willing to offer and swear to you whatever gives you a comfortable guarantee.. Should I stay here.. both Nikki and I will swear 3 different things. Neither of us would put you up in a triple, if we're not up, we both vote to save you. And If I'm up Nikki will vote to save you in a triple eviction if you're up against me. Phil asks really? Mitch says she would do that knowing that my only chance to stay is if you guys save me this round. Maybe you keep Joel and that's best for you this round but this way you have two votes. I think because if the trio goes up they'll all save each other. Cassandra and Tim will save each other. Maddy and Ramsey will save each other. So it will come down to one or two vote differences. Phil says yeah. Mitch says if I am here because of you, it is my only chance and I'm not going to f**k that up. And on top of all of that, the promise that I made to everyone that I'm going after those three (Jared, Kelsey, Raul). Just think on that. I'm prepared to make that. I don't know about Nikki too.. if I do go and you don't vote to keep me .. you probably won't get Nikki's vote in a triple because she is very emotional. Mitch tells Phil that there are other things he wants to tell him too but needs to get permission from other people first before he can say anything.
10:10am – 10:45am Tim tells Nikki I think Mitch and I could be friends outside of here. Not in here, he missed out on a full month of fun with Tim. Tim then has a talk with Phil about being insecure and life after big brother.

11:30am In the bedroom – Mitch tells Nikki that he talked to Phil and told him the deal. Mitch then re-explains the deal to Nikki just so she remembers it if Phil asks her about it. Nikki says she thinks it will be difficult to get Cassandra. Mitch thinks once he gets Tim, Cassandra will follow. Mitch says even if the brothers don't switch it could be me & you, Tim & Cassandra, Maddy & Ramsey. And it kind of works because we all have our twosome.
12pm – 1pm Mitch gives science lessons in the living room.
1pm In the bathroom – Tim and Jared are talking about Mitch in the bathroom. Jared comments how Mitch won't talk to him any more, leaves the room, won't eat the food he cooks. Jared says when they were in the hot tub together just him and Mitch .. he just left and didn't even help put the cover back on it. Tim says that he and Mitch have so much in common and the whole last month Mitch hasn't even cared to get to know him.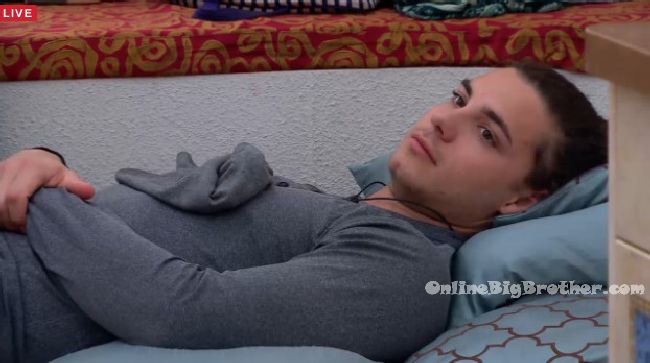 Watch the Big Brother Canada 4 Live Feeds anywhere in the world with HideMyAss VPN.