POV Holder:
Jared
Next POV
April 9th
POV Used
No
POV Ceremony
April 4th
HOH Winner:
Raul
Next HOH:
April 6th
Original Nominations:
Joel and Mitch
Current Nominations:
Joel and Mitch
Last Evicted Houseguest
Paige, Sharry, Christine, Kelsey, Loveita, Dallas
Have Nots
Joel, Ramsey, Brothers and Maddy
Want to watch the Big Brother Canada 4 live feeds but live outside of Canada?
Bypass the geoblocking with HideMyAss VPN and be Canadian Anywhere: VPN Help Guide
ALLIANCES IN THE HOUSE
There will likely be a lot of alliances during the season – keep track, read our alliance help guide.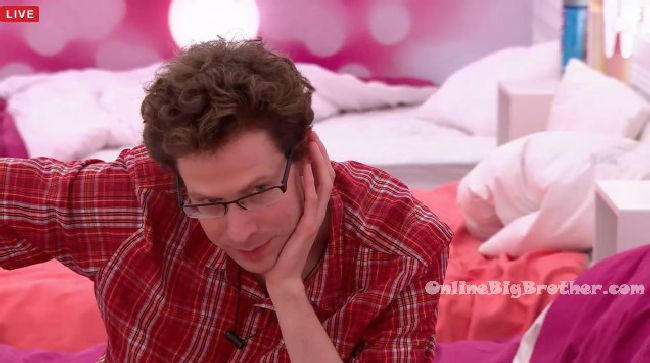 4:30pm In the bedroom – Joel tells Tim even if you make a decision to go the other way and I'm still here, I won't hold any grudges. Tim says my only decision is in my head. Am I choosing to not be a wildcard by voting Mitch out. I don't want in on the three (Jared, Kelsey, Raul). Unlike Cass and the brothers, they want in with the three. I have other ideas how to break them up. Mitch judged me and felt intimidated by me. He just didn't trust me. I've made my decision and now I just need some time to work out the next few steps. I just have to make sure within this particular move …giving what the enemy wants because I feel we can still defeat them. I'm not siding with them. Joel says I'm not either. Tim says its about how far you're willing to go in the game. Are you willing to lie. Are you willing to lie saying something is good for their game when its not. Joel says for him its who is sitting at the end and if someone was more genuine they would get his vote.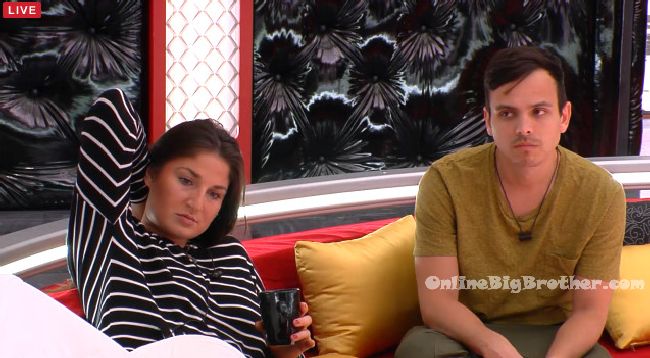 4:35pm In the storage room –
Mitch says if I am on jury and you voted for me then if you're at the end you will have my vote. If you don't vote for me and I'm on jury then you will never have my vote. He tells Cass that he wants her to come talk with Maddy now too. They head into the high roller room. Mitch tells Cass that Jared and Kelsey offered Maddy & Ramsey a final four deal with the fact that they would go after you. Maddy says this just happened a couple days ago. Cass tells Maddy that she wouldn't put her up and that she knows her saying "Your a$$ is grass" was just game for you. Cass says if I do vote to keep you, I lose my trust with Joel. Mitch says if you do vote to keep Joel, that is just one vote. Maddy tells Cass you won't even get close to final 3 with those 3 still in the house. Cass says I know that. I don't know right now if I am voting for you to stay or leave. I'm just conflicted. Maddy says I am ready to shake on it right now that I am not going after you till those three are gone or till at least only one is left. Cass tells Maddy that she isn't even after Maddy. Mitch says if I go, who will be the next target. Maddy says Joel will still love you either way. Mitch says I will to. Maddy says do you want a friend or do you want 100 grand?! Maddy asks do you trust those three? Cass says you can't trust anyone really. Maddy says I only trust Ramsey and everyone knows that. Mitch says if I am still here you three are all safe. They'll go after me. Mitch says and if you really are that close to Joel, they'll put you up together. Cass asks how did they make a final four deal with you and Ramsey without Rual? Mitch says they're making deals with everyone. Which ever one works out for them is the "real one". Jared joins them.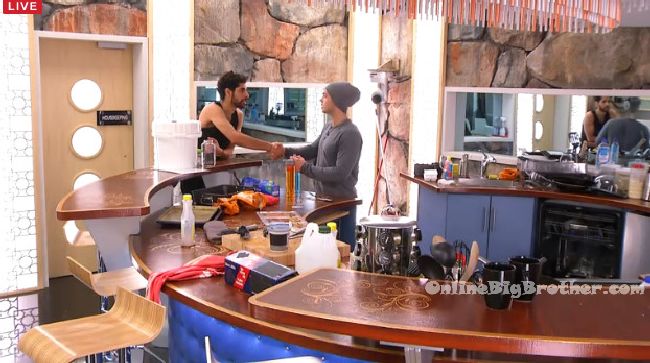 4:55pm – 5:10pm In the kitchen – Jared tells Ramsey that things between me, you and Maddy have changed but things between me and you haven't changed. Jared says that Maddy was trying to slander your (Ramsey's) name. Saying it wasn't her decision and that it was your decision to side with the other side. Ramsey says I give you my word that nothing has changed between us. They shake hands. Jared says I don't care how you vote this week. It doesn't matter. Tim spent as much time with you guys this week as he could to gather as much information, just like he did with the koala bears. I think he's going to vote Mitch out. Jared says worst case if you're up on the block I would never vote you out and I could convince Kelsey to not vote you out also. Ramsey says going in to next week I don't need to win HOH. Jared says I absolutely want to win HOH, its the only way to secure things.
Maddy tells Ramsey that Cass sees it now. Mitch told her something. She left the room and came back and said she couldn't believe it. She just feels bad because she's close to Joel and doesn't want to vote against him. Ramsey says I think they're going to try and get us to turn against each other. Maddy says that would never happen and if they do try, lets pretend they do and give them that power. Ramsey tells Maddy about his conversation with Jared.
5:30pm – 5:50pm
Cassandra talks to Joel about her conversation with Maddy & Mitch. Joel says I'm not going to be playing this game with fear because someone else is making threats. Cassandra says if you see me talking to them its not because I'm switching. I'm voting Mitch out. I want to go to the end with you. I need to win HOH this week. Cass says if its a mental knockout comp, take Maddy out first. She has a good memory. We just need to stick together. Those three will not go against each other over us. We're fourth and fifth. Joel says Mitch is such a crafty individual. I can't talk like him. All I can do is go to people and present the facts.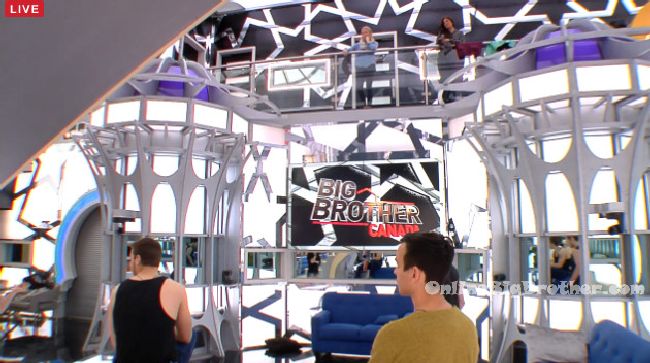 6:20pm – 6:50pm Phil asks Kelsey is there any deal with Maddy and Ramsey? Kelsey says you know moving forward what the plan is. No there is no deal. Mitch asks so you didn't say lets make a foursome? Kelsey says no. Mitch asks to call Maddy and Ramsey in to discuss it. Kelsey says We're not working with them, we made a deal with them. Mitch says lets bring them in here then. Kelsey says never in a million years did I say we want a final four deal with them. Mitch asks so who with the target next week? Kelsey says everyone knows. Mitch asks so Maddy and Ramsey. Kelsey says obviously. Mitch goes to get Maddy & Ramsey. Mitch tells Kelsey she's stumbling over her words. Mitch tells Kelsey that he was called out for things that he said and now he's going to call her out for things he thinks are lies. They head into the living room and Maddy and Ramsey come out onto the balcony. Mitch starts exposing the things he thinks are lies. Kelsey says she really doesn't want to have the confrontation on camera because she thinks she looks like sh*t. Mitch keeps asking Kelsey who she is going to put up going forward. Kelsey says she doesn't have to say… Kelsey then points at everyone in the room and asks Who are you putting up? Who are you putting up? Who are you putting up? Kelsey says I never made a final four deal with Maddy and Ramsey.

Watch the Big Brother Canada 4 Live Feeds anywhere in the world with HideMyAss VPN.
Share it YO!!
Tweet