POV Holder:
Bridgette
POV Competition
July 9th
POV Used
NO
POV Ceremony
July 11th
HOH
Bridgette
Next HOH
July 14th
Roadkill Competition Winner:
Frank
Original Nominations:
Paul, Tiffany, Bronte
After POV Nominations:
Paul, Tiffany, Bronte
Have Nots
Nicole, Corey, TIffany
7:49pm Corey took a shower! (Yeah it's been slow)
Nicole gets a makeover
In case you missed Nicole's new look. #BB18 @DawgsBigBrother pic.twitter.com/4KBcc6CjwX

— OnlineBigBrother.com (@bigbspoilers) July 12, 2016
8:20pm James and Natalie
JAmes doesn't want her to be sad if ends up going home one week. They'll see each other in jury.
Natalie says she use to get sick as a kid because she ate so many mangois. In venezuela there's mango trees everywhere, 'Whenever I wanted a Mango I had one"
Natalie – do I look curvy.. Do I look like a curvy girl .. I don't want to be curvy
James – you look fine.. What do you want to look like
Natalie – skinny.. Like I use to be.. I feel huge like a whale
Cameras shift to outside for a moment..
Natalie – no napkins.. Awesome
James – you can use my shirt
Natalie – that's OK i'll use my shorts
Natalie says Paul and Bronte are getting close, jokes theres another showmance in the house. \
Natalie has cut up a bowl of fruit. Her and James eat it.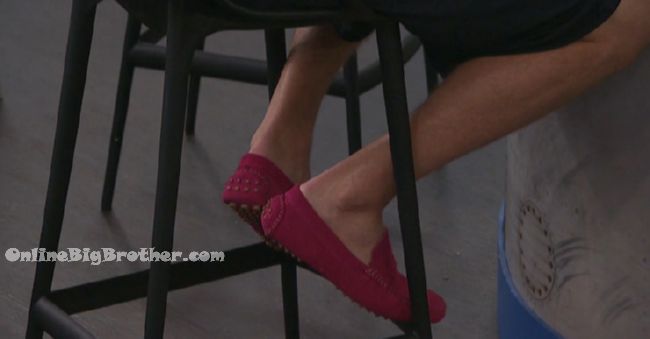 8:38pm Coreys slippers
8:42pm Tiffany and Michelle
Tiffany thinks COrey, Nicole, PAulie, Zakiyah and Da'Vonne are in an alliance. She points out how they spend a lot of time together now where they use to not. Tiffany adds nobody wants Frank in the house. Nicole, Da'Vonne and Zakiyah aren't with Frank they are with them but they also have a smaller group they are not part of.
Tiffany – it's almost like we're all just working together one big group..
Tiffany says the good thing is Da'Vonne is telling Tiffany things and Tiffany is telling Michelle things so they are both in the know. TIffany told DA'Vonne
Michelle – James is up Natalie's butt.. I tried warning James last night he's so oblivious
Tiffany – it's good to have showmances in the house they're targets..
Tiffany says Da told her theres a lot of things that is going on between Paulie and Zakiyah that they don't know about..
They were kissing and cuddling
Michelle – they are good at hiding it..
Tiffany says Frank made a final 2 with Da'Vonne day 2.
Michelle – why do you trust her this stuff..
Tiffany – I told her point blank you and her are the only two I trust in the house
Michelle – did Frank make final 2's with anybody else
Tiffany – yes Zakiyah.. I think Corey..
Michelle – tell me everything you can now.. At least I can soak it all in..
Tiffany – I'm trusting you like a vault
Tiffany – don't you see Paulie and Corey always talking.. Game.. They have a true final 2 i'm 99.99% sure.. Paulie wants someone he can trust and doesn't know the game very well.
Tiffany says she wants a final 3 with with Michelle and Da'Vonne.
Michelle thinks three girls in the end would be awesome.
Tiffany now says Frank making all those final 3 final 2 deals way too early why not stick to the plan they had.
Michelle – ya get all those girls out (Bronte, Natalie, Bridgette)
Tiffany asks if the order is Frank Bridgette Natalie Paul
Michelle says it's so disgusting that James chasse's Natalie
Michelle thinks it's all strategy
Tiffany thinks Natalie likes james as a brother but james is seeing it differently.
Tiffany – they might rope you in and say to me Say?nara
Michelle – No that's not fair
Tiffany asks her to let her know if she's in trouble
9:56pm Bronte and Natalie
Talking about getting closer to Paul, "It's amazing what a little bit of flirting will get you in this house" Bronte for Paul's image/style Paul is attractive, "I would never date Paul" Bronte likes nerds.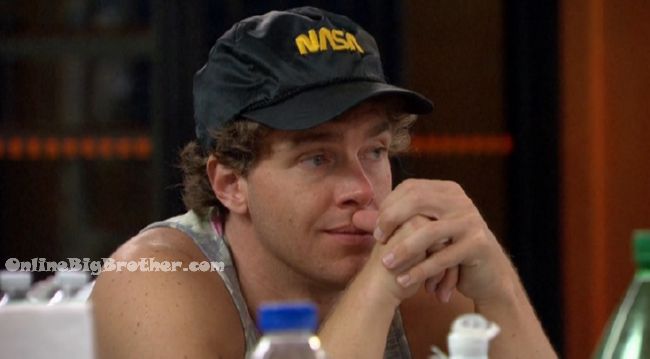 10:42pm Frank and James
Frank's telling him they should keep Bridgette over Michelle, says Michelle is emotional. James is worried they down too many guys the girls may get toegether won night and decide hey there's never been a season of all girls.
James- this is crazy we're taking all the guys out..
Tiffany joins them.. chit chat..
They start talking about movies. James says the first thing he's going to do when he gets out of here is watch the new independence day he loved the first one.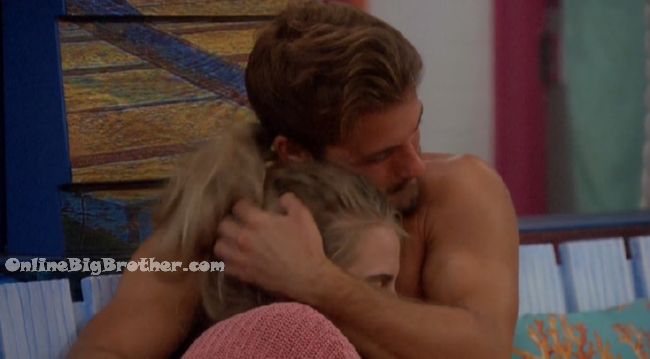 10:53pm Bathroom
Paulie to Nicole "There's votes to keep Everyone safe"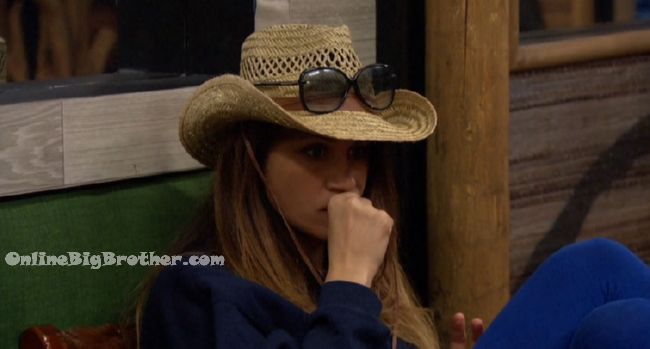 10:57pm Michelle and Tiffany
Tiffany says every time she enters a room Nicole leaves.
Tiffany – I cannot deal with Bronte.. Jesus.. I want her gone.. Her voice..
Tiffany – James and Natalie were cuddling.. UGH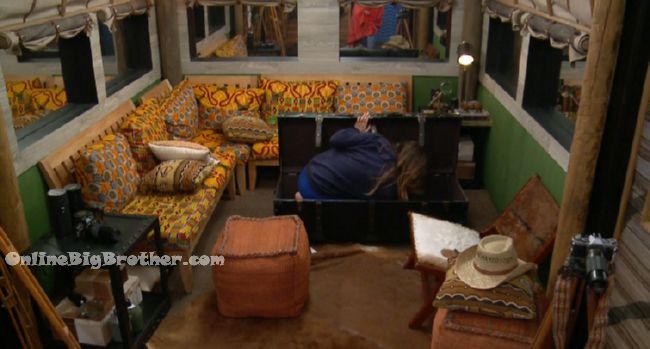 11:00am Tiffany decides to scare JAmes..
Tiffany goes to get James but he sat on the box… He moves eventually but doesn't get scared.. 🙁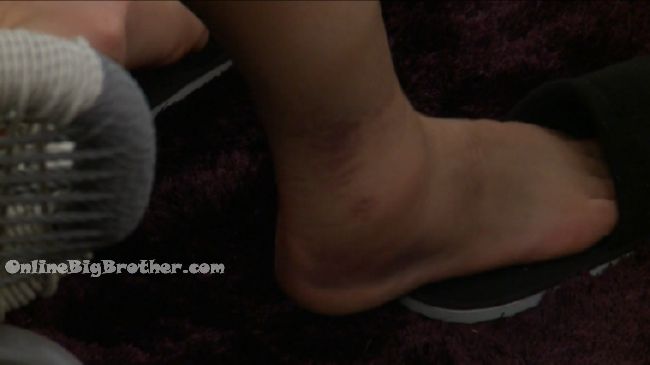 11:25pm HOH Bridgette and Frank (Brdigette's messed up ank;e)
Talking about Michelle being sick again from the sun. Bridgette can't understand why the girl doesn't wear sunscreen they all have been telling her. Frank thinks that it's in her programming when you tell her to do something she won't do it.
Frank wishes there was a Big Brother reunion every year. Frank says the wrap party is super low key, it's the size of the kitchen and dinning room.
Frank doesn't think Bronte and Natalie will ever fully trust him. Bridgette thinks Zakiyah will break if Paulie leaves first.
Frank – she'll last longer than Paulie.. unless I send her home… that's the point she's tied for the least threatening person in the game.
BRidgette – whose the least threatening..
Frank – you should know this
Bridgette – NAT NAT
Frank brings up Natalie's comp performances, "she f***g walks around the house pirouetting all the time how is that threatening"
11:50pm Frank starts talking about Southpark.. Bridgette never watched it before. Frank goes on about how great the show is..
[polldaddy poll=9464831]
[polldaddy poll=9464369]
[polldaddy poll=9465176]