POV Holder:
Bridgette
POV Competition
July 9th
POV Used
No
POV Ceremony
July 11th
HOH
Bridgette
Next HOH
July 14th
Roadkill Competition Winner:
Frank
Original Nominations:
Paul, Tiffany, Bronte
After POV Nominations:
Paul, Tiffany, Bronte
Have Nots
Nicole, Corey, TIffany
CBS All Access: Live feeds are only $5.99 per month – Try it FREE for 1 WEEK!
Big Brother 18 Alliances Help Guide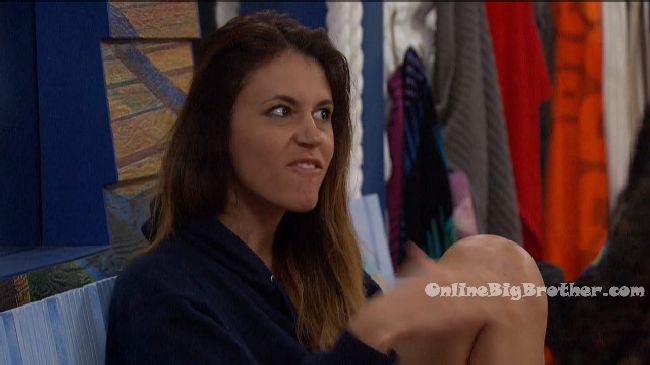 5:25pm In the bathroom – Davonne and Tiffany are talking. DaVonne says maybe the 5 doesn't exist any more. They do the same to me. That's why its important to mix and mingle. Tiffany says I know right now I'm fine but.. Davonne says not to sound cliche but "friendship". Tiffany says Nicole never wants to talk personal. DaVonne says maybe we just linked up with the wrong people. Tiffany asks and who's the next target. DaVonne says after Frank it would have to be Paulie because he's going to be hard to get out. DaVonne says it sucks because Nicole doesn't even realize she's on the outskirts of that. Tiffany says DaVonne says Corey isn't smart enough to do anything. Tiffany says I'm starting to see who really has my back .. and its only you. DaVonne says I'm going to be PISSSED if Thursday comes and something else happens and I'm out of the loop about it.. because they see us talking. I'ma be PISSSED! I don't understand why when I walk up they be quiet .. when you walk up they be quite.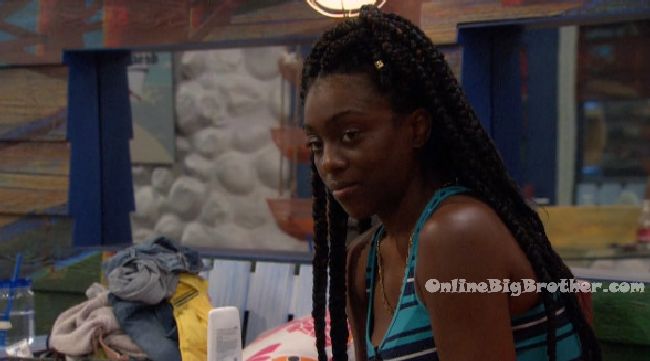 5:55pm – 6:30pm Backyard –
Paul and Bronte are talking about his brand. Bronte asks Paul waht made you audition for the show. Like how did you find it. Paul says that they found me .. kind of .. I think someone signed me up. Bronte asks did you go in to an open call? Paul says no, I did interviews and sh*t. I never thought I would get it. I was too intimidated by it. Like they pick random people. Big Brother blocks the feeds. When the feeds return – Paul says there's a few more favours that I need to do for this crew for them to trust me. Like I'm literally walking on egg shells. Bronte says me too. Paul joins the backyard crew tossing oranges back and forth.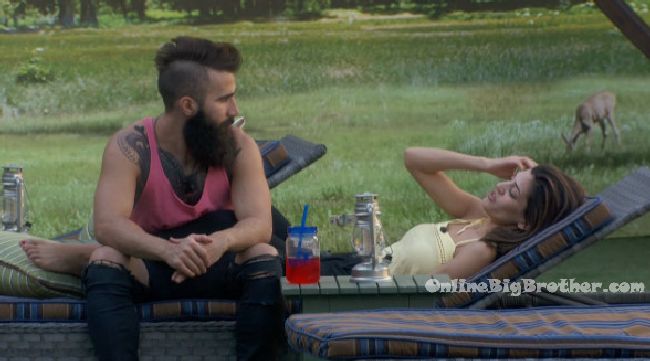 6:50pm The game ends and they all sit on the backyard couches chatting about random things. Nicole joins Zakiyah on the hammock. Nicole tells her that she felt the same way about her birthday when she had it in here. Being locked up in here and having your birthday is just different. I felt kind of numb. Zakiyah says yeah that's how I feel. I'm just trying not to cry in front of anybody. Nicole says today Frank and I screamed about your cake. I was using vegetable oil and he screamed to substitute butter. I said I was going to make it how I wanted to. Then Bridgette said don't help her. He said I bet all your cakes at home suck! Then he had 2 pieces.. I was like oh hows that vegetable oil?! Zakiyah says he's a f**king a$$hole! Excuse my language but I don't like him! Nicole says I hate how he brings out the worst in me. He says he's just joking. Zakiyah says joking is going to get you evicted. Someone should say that to him. DaVonne joins them. DaVonne says he's a fan of the show .. why would you play like that.. he knows when you play like that you go home.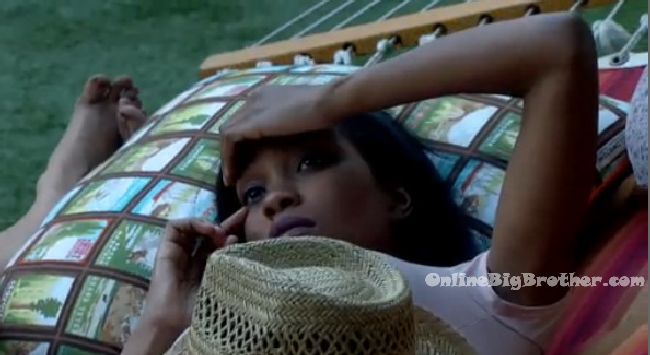 7:20pm Bronte touching Paul in the HOH room. (Natalie and Bronte suggested she do some game flirting.).
7:05pm – 7:30pm Michelle says I might be next.. I had a fight with him. He was bossing me around about how to cook the cake. I told him he was so bossy and he told me to shut up. I said you shut up. Tiffany says I just hate feeling like the outsider. I feel really alone right now. Its so stupid I know. I know people don't know what's going on inside but its not fun. If I wasn't on the block I would be way more carefree. Michelle says I'm so afraid that next week won't work out. Tiffany says I want people that I can trust .. and I want you to be one of those people. Michelle says I want Bridgette gone so bad. Tiffany says she's seen me upset and she hasn't checked on me once. She's checked on Zakiyah. I'm on her team, isn't that weird. Tiff tells Michelle about the fatal five alliance (Corry, Paulie, Zakiyah, Nicole and Day) Tiffany asks her not to tell anyone. I trust you. Michelle says she won't say anything, it doesn't benefit me. It would hurt me more than anything. Tiffany says that Day tells her things and she is going to share everything to her (Michelle) from now on too. Tiffany tells Michelle that she is in a good position in the game and that everyone likes her. Tiffany says Day, me, you and James could be a potential other situation in addition to our Fatal Five alliance.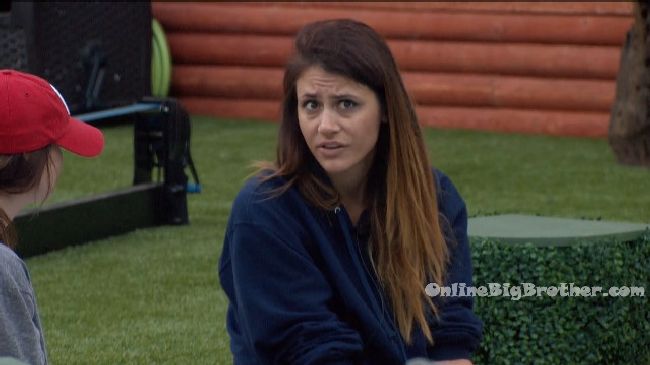 Bridgette's ankle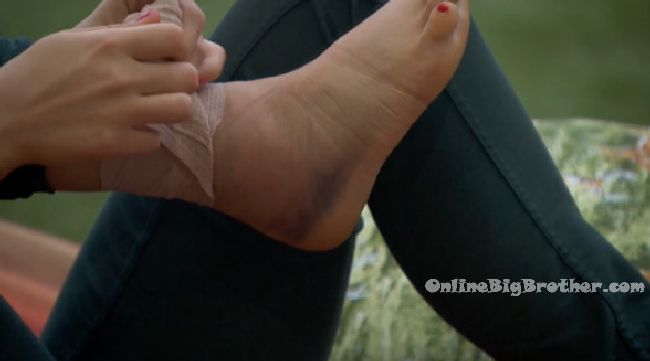 7:50pm Kitchen –
Corey, Tiffany and Nicole are chatting. Tiff asks so what would happen if I ate.. I won't but? Nicole says penalty vote. Tiffany says that would be bad.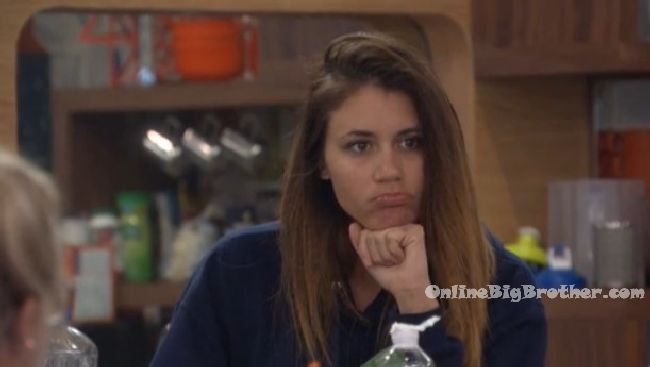 FLASHBACK and watch everything you missed: CBS All Access FREE Trial!

[polldaddy poll=9465176]
[polldaddy poll=9464369]