POV Holder:
Bridgette
POV Competition
July 9th
POV Used
No
POV Ceremony
July 11th
HOH
Bridgette
Next HOH
July 14th
Roadkill Competition Winner:
Frank
Original Nominations:
Paul, Tiffany, Bronte
After POV Nominations:
Paul, Tiffany, Bronte
Have Nots
Nicole, Corey, TIffany
CBS All Access: Live feeds are only $5.99 per month – Try it FREE for 1 WEEK!
Big Brother 18 Alliances Help Guide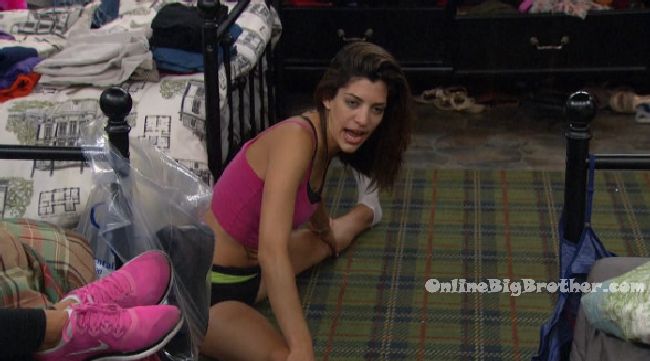 12am – 12:40am Bedroom – James, Bronte and Natalie are talking. Natalie and Bronte both say they don't even want to be friends with Jozea and Victor. Natalie says if I see them I will… turn my back to them. James asks Natalie if she went to the open casting call or if she submitted a video. Natalie says neither. I was recruited. From my friend Tiffany that did The Amazing Race. Natalie tells James he needs to win. I'll win it if you don't want to take it.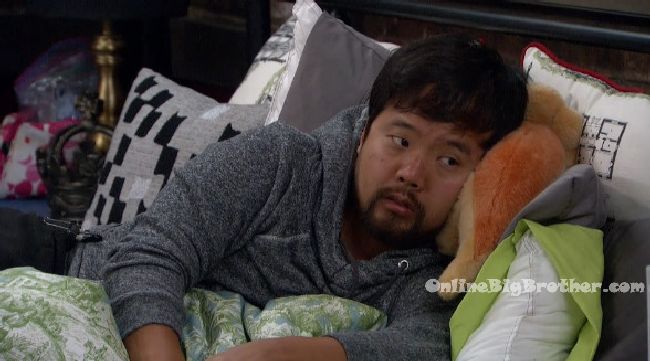 12am HOH room – Frank and Bridgette are talking about books and movies. At 1:28am Bridgette says who knows where I'll be at when I'm 28 or 29 but I would love to apply to Doctors without boarders. Maybe I'll get my MP. Bridgette says 2 or 3 years. Frank says you can write me scripts and sh*t! Bridgette says yeah! Your Alprazolam (Xanax). Frank says yeah something like that. I'm addicted to morphine. Bridgette says no you're not. Frank says I love it! Bridgette says I know what withdrawal looks like. Frank says they give me some every morning. Bridgette says Shut up Frank. Big Brother blocks the feeds. Bridgette says you wouldn't be able to get 4 months supply of methadone. The talk about heorin. Frank says I don't f**k with that, anything that can get you hooked for life. Bridgette says the worst I've tried is Cocaine. Frank says I've never done acid or anything like that.
FLASHBACK and watch everything you missed: CBS All Access FREE Trial!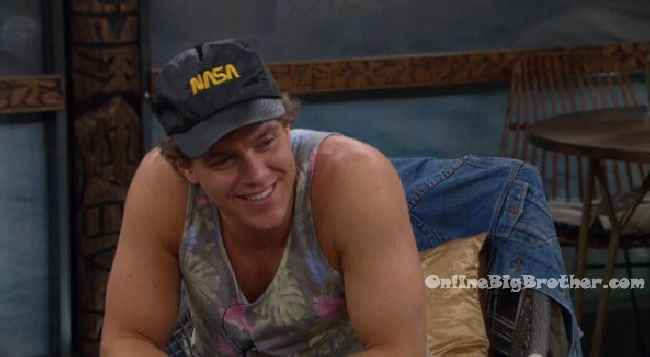 12:50am – 1:20am In the living room – The house guests are playing charades. Zakiyah does Austin Powers. Tiffany does the Big Lebowski. Michelle tries to do Reservoir Dogs. Zakiyah does Bourne Identity.
1:30am Havenot room – Nicole and Corey are talking. Nicole says all I know is that James and I have to work on our relationship. Its awkward. Corey says we need to break up him and Natalie. Nicole says he's going to be so heart broken. Corey says she said I was sexy. Nicole asks do you encourage it? Corey says no. Nicole asks do you say it back? Corey says no. She is persistent. Corey says once I'm no on something, I stick to it. I can't go from day 1 or 2 of her coming on to me strong to being like okay. When I set my mind on something its pretty set. Nicole says I can't believe she keeps doing it. She must think she has a chance. Corey says I think she just likes the attention, which is weird because I don't give it back .. I don't give her attention.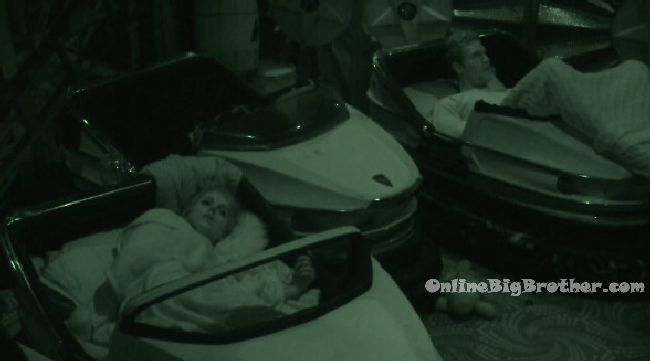 1:50am
Nicole asks James do you guys kiss? James says we haven't taken it to that level. James explains how they cuddle. James demonstrates how it went from this to this. Corey sasy this was me and Nicole last night.. James asks how did ya'll get into that? Corey says we're into some freaky sh*t bra!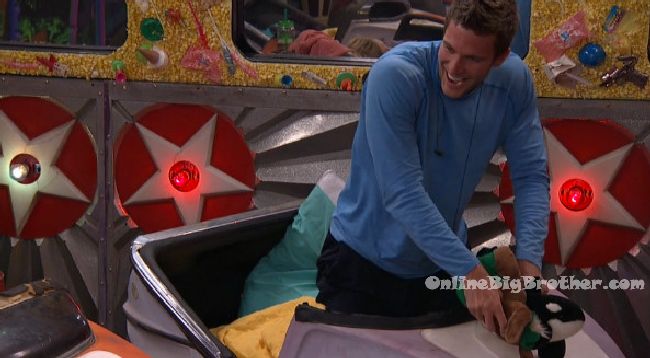 2am DaVonne is talking to Michelle. Michelle asks do they want me to throw it so they can get me out. DaVonne says that I haven't heard. Even if they try and throw it I still have to win HOH because he (Frank) is definitely coming after me. Out of everybody he's coming for me. And you know if I'm HOH I would never put you up. And I'm trying my damnedest to win this roadkill. I want to put his a$$ on slop! DaVonne says Thursday's going to be hard. Here's the cold part .. I know you guys have issues with Bridgette. I've got issue with Bronte.. But if we ever got together and kept that girl in the house and kept Bronte in the house and unfortunately sent home Paul .. We would have 8 women in this house .. SOLID! Nobody is trying to hear that. In order to get Frank to trust us, Tiffany has to go home. That's how they're going to prove they can be trusted. It sucks. It's almost like she's being sacrificed. Michelle says its almost like I'm going to be expendable next week. DaVonne says Na, these people love you Michelle. Michelle says I feel like everyone has someone except for me. DaVonne says I love Zakiyah and Nicole but they have their showmances. We all we got. Michelle says I'm sad how everything falls a part. DaVonne says you've got to mix and mingle. Because if they decide to flip and choose their showmances over me, then I have other people. DaVonne says it sucks because I thought it was going to be us girls to the end. People love you. Michelle says I think people think I'm a clown. DaVonne says no people think you're funny as sh*t. Michelle asks do you think we should give her at least 1 vote? DaVonne says I will. Michelle asks will you tell anyone? DaVonne says no. And if its the one vote to keep her oh well! Oh well .. and if she stays she's going to be guns blazing! Davonne says I'm not scared of Frank's a$$… he's a punka$$! Michelle asks do you think he (Frank) wants her (Bridgette) as his Boogie? DaVonne says he thinks he's Boogie.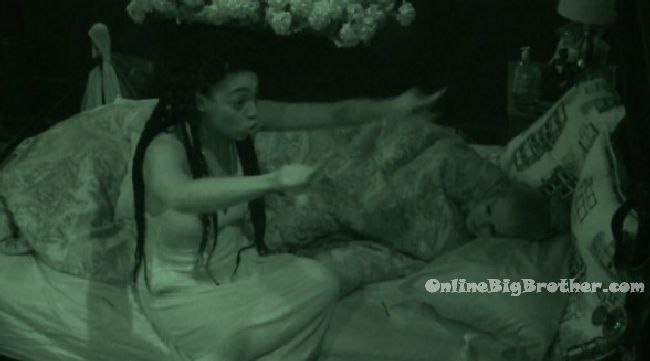 2:25am Havenot room – James tells Nicole and Corey would make some cute babies. Nicole says I think we would. Corey tells Nicole you've got some good genetics .. you're a breeder. Nicole tells Tiffany that she is doing really good and being chill. You're good.
Backyard – Paulie, Zakiyah and Paul. Paulie says next week if we do it a certain way, you (Paul) shouldn't need to be on the block at all. Paul says I don't mind. Paulie says if we can't get Frank next week .. we'll get his second half (Bridgette). Paul says the more Frank is around the more he is going to be on to people wanting him out. Paul says just because I hang out with Bronte and Natalie doesn't mean I'm with them. Paulie says you're not guilty by association. Paul asks what is the plan to get Frank out? Paulie says to backdoor him. We'll basically tell Bronte and Natalie if we don't get him out, one of them are going.
2:50am In the bedroom – James, DaVonne and Michelle. Michelle asks do you know why Frank wants you out? Probably because of our argument, probably because he can't beat me, probably because he's bored. DaVonne says I don't like that he's up there with all those girls. I don't like that he slept up there in in drawers. Michelle says I know.

2:55am
DaVonne tells Tiffany that to my knowledge people want Bronte out of this house. If some underlying BS is going on, I don't know. Tiffany says I told Nicole obviously I would keep you guys safe. Bronte who knows who she is going after. I've got 5 right there .. you, Nicole, Corey, Michelle, Z.
3:15am – 3:45am HOH room – Natalie, Bronte and Bridgette. Bridgette says if I was in the finals with Zakiyah I would be pissed because she's not playing. We're playing! Not that she needs to go now but at some point. Birdgette says this is perfect that Michelle thinks that I don't know what I'm doing, she thinks its Frank. Natalie says I like Nicole a lot, she's cool. Bronte says I like Nicole a lot too. If I put her and Corey up I would hope she didn't go home over him. They agree she wouldn't.
See what they can't show you on TV – CBS All Access: 1 WEEK FREE Trial!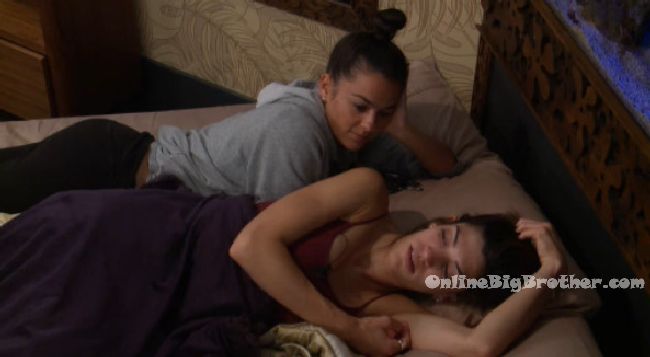 4am – 5:10am Backyard – Paulie, Zakiyah, Corey and Paul are up chatting. Paulie says that if we don't get Frank out next week .. we will keep putting him up. He will need to win out to the end. Paulie says Frank pretending like he doesn't want to get his hands dirty .. when like people have seen his season and know he's a competition beast. Paulie says the last HOH was a crap shoot .. there's no way the next HOH is another crap shoot. Frank doesn't want to win HOH this week. We've decide to use the power of veto .. and Frank take a seat! Corey says I can't wait to see his face.
Paul and Corey play a game of pool and then head to bed.

FLASHBACK and watch everything you missed: CBS All Access FREE Trial!

[polldaddy poll=9465176]
[polldaddy poll=9464369]