POV Holder:
Bridgette
POV Competition
July 9th
POV Used
?
POV Ceremony
July 11th
HOH
Bridgette
Next HOH
July 14th
Roadkill Competition Winner:
Frank
Original Nominations:
Paul, Tiffany, Bronte
After POV Nominations:
?, ?, ?
Have Nots
Nicole, Corey, TIffany
CBS All Access: Live feeds are only $5.99 per month – Try it FREE for 1 WEEK!
Big Brother 18 Alliances Help Guide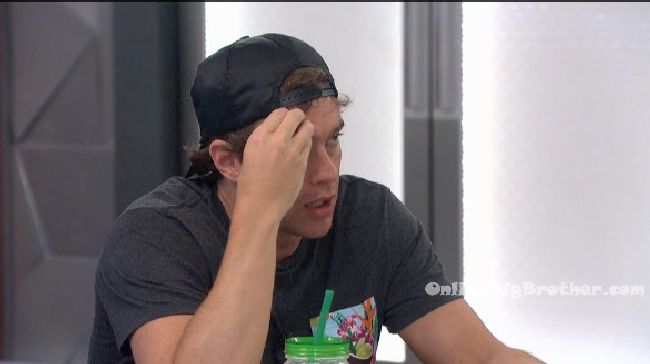 2pm Frank is alone in the kitchen eating and talking to the cameras. Frank says Mom, Nana, I miss ya'll. I hope I'm not embarrassing anybody. Mom I hope I've been cussing less and less. I feel like I've been doing a little bit better but I'll continue to work on it for you. I hope I'm not being too harsh on people but its kind of fun .. maybe I'm a jerk. But it's kind of fun some times. Its not fun.. its just .. I know I've been hard on Tiffany but she kinda made it personal. She said she wanted me out before jury. Trying to get my own alliance members to turn their backs against me. I mean, I might be a little cocky but she was real cocky to think that she could do that. Ashton Bonnie Evans I miss you and love you.. I hope I'm making you proud. Frank finishes his eggs and opens the sliding glass door to yell "YA'LL KEEP IT DOWN!!" Just f**king with them.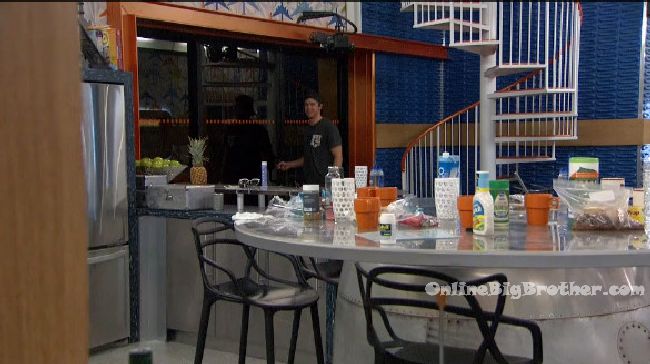 2:15pm – 2:30pm Frank heads into the safari room. Frank gives shout-outs to his friends and Mike Boogie. He says I wish I knew what you all know .. who voted that one stray vote. Obviously the POV hasn't happened … Tiffany stays on the block and goes home on Thursday. Working with the 7 pack ..still kind of an 8 pack if you include Paulie. I'm getting closer with Bridgette, Bronte and Paul. Natalie. I'm in a pretty good spot right now, better than I was my last season. Everybody wanted me out. Obviously I've had to be a little more dishonest this season. ..telling people the way the votes were going to go. But I don't really feel too bad about pulling the wool over Jozea and Victor's eyes. They would have done the same to me. If fact they were trying to .. they jsut weren't good at it. Tiffany is doing the same thing… and I was nice to her. I am nice, she's jsut confrontational. I am too but I forgive and forget. I don't know where my true allegiance lies.. I did make a final 2 deal with Nicole .. we'll see if that sticks. I think she probably has my back but I think Bridgette does too. I think Paulie and Corey do too. With soon to be 12 people left in the house .. that's a third of the people that have my back. That's not bad. Other people have my back too just I'm not their first priority. I could be being lied to too. I'd love to see me, Nicole and Bridgette in the final 3. Or me Nicole and Natalie in the final 3. I need to get Day and Michelle out. And Paulie and Corey out And James. Then I'll get Zakiyah locked in with me. Paul and Corey join him.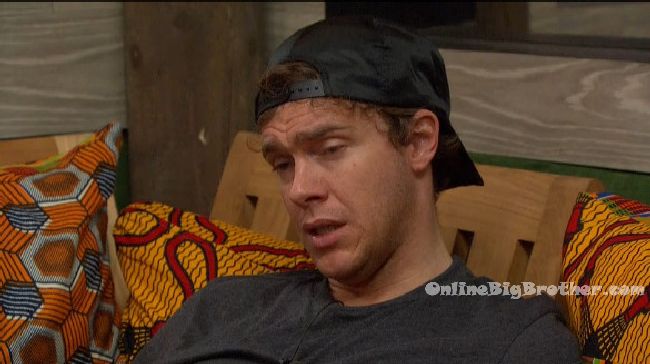 3pm Frank says I'll tell you what … I don't think Bronte is a threat right now. Zakiyah agrees. She's been put up so many times it broke her. Frank says it seems like she cracks in all the roadkill comps. I just wonder who we should get to be HOH next week.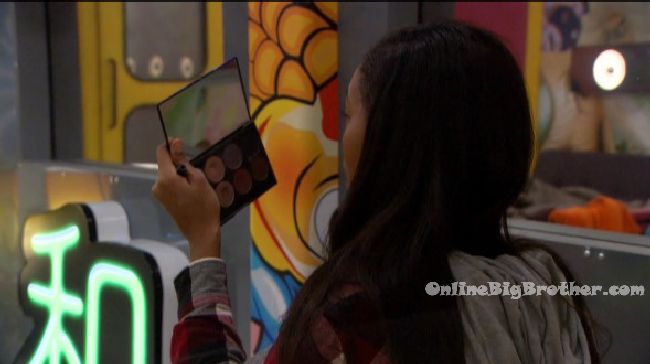 3:20pm – 3:40pm Frank tells Corey .. if we get a chance next week I want to take a shot at Day. I don't want her in jury talking sh*t. Corey asks what do you mean. Frank says I don't want her talking sh*t in jury. You can taint a jury. I'm just worried about if we end up cutting her and stabbing her in the back .. she will taint the jury. Corey says oh that's true, I know what you mean. Frank says she's a good speaker. Ideally I would like to get Michelle to win HOH. And put up Bronte and Natalie. Then we win the roadkill comp and not tell anyone. That would be another big target out the door. Another successful week. Frank says the thing is Day is dying for a win right now .. and I'm not sure what she would do. I don't think she would put me up .. I think she would put up you or Paulie. Like lets get one of these strong dudes out. Frank says I don't want to compete against Day in some of those mental comps in the end. I don't want to compete against Michelle in some of those either. You're right, everything is going great right now.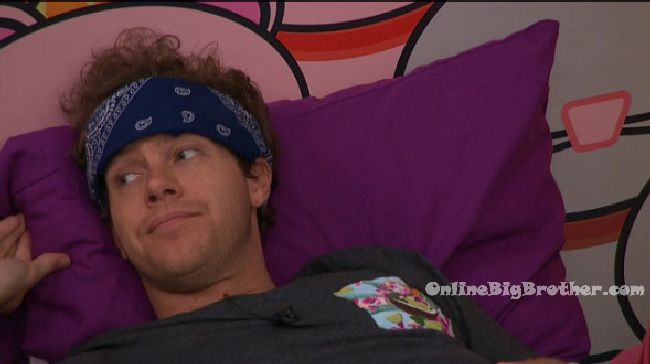 4pm – 4:15pm Paulie and Corey are talking. Paulie says he basically said he wants to clip me, you or James by 7,8, 9. Paulie says if it doesn't sink we'll just have to do it the traditional way. Corey says we'll get him out. Corey says he wants to keep Bridgette and Paul around. Paulie sasy yeah he said that to me too. He wants to get Day out. Paulie says I told Paul that Frank was the roadkill winner 1st and 3rd week. Corey says and he (Paul) was probably up because of Frank too. They talk about filling in Paul on the backdoor Frank plan. Paulie says once it gets down to 7 people we just have to turn on.. You keep Nicole close and I'll keep Z close. Corey says we got him bro! Its good because the girls love us. Paulie says we just have to get rid of the one person to tag us. Its also good to have Paul around. He's over there with Bridgette, Bronte and Natalie and he's definitely someone that can win stuff. Paul joins them. Paulie tells Paul just be careful when you're talking to Frank. Paulie says I'm just reassuring. He's been trying to make a bunch of different alliances in the house. Paulie says we've got to bite him (Frank) before he bites us. Paulie says when the time is right ..you're going to tell Bronte he (Frank) was the one that put her up (Roadkill nom). Paulie tells Paul that Frank is going out the backdoor not the front door. Paul says I don't care if I go up next week as a pawn. I'm a trooper.. I don't care. Corey says its friendship! Paul says I thought he was like that with you guys. James says no, he's playing everyone. Paul says I've noticed the tone he has. Paulie says charming.. warm. James says like a pedophile.. come on in..

4:25pm In the bathroom – Frank is talking about how the other people on his season talked bad about him behind his back all season. He said he loved when he won the power of veto on the live show and the crowd went crasy. I was like you see that!? You're on the wrong side! America hates ya'll!! Bronte says and then you won America's Favourite. Frank asks didn't you say Dan Geesling made a face when he read it. Nicole says he read it before Julie did. You could tell he was not happy about it. Frank says that's why I don't really care for Dan either. Nobody S's their own D as much as Dan does. Bronte asks what is S's his own D? Frank says sucks his own d**k. Nicole asks what does that even mean? Frank says it means he kisses his own a$$ better than anyone else does. He's so far from humble.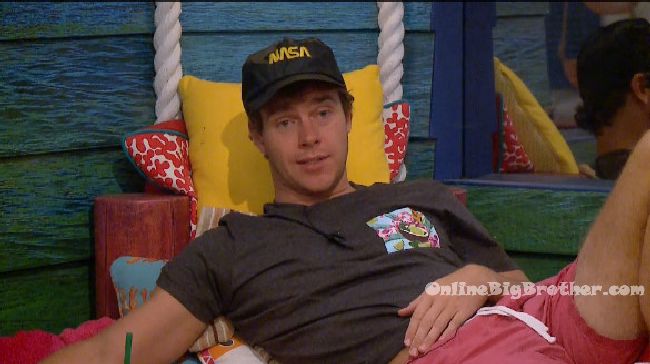 4:45pm Bathroom – Corey tells Nicole that they talked to Paul about getting out Frank next week. Literally the hole house is against him. Corey tells Michelle that Frank wants to target Day next week and then he wants you out. Corey leaves. Nicole tells Michelle not to repeat that .. we don't want him to flip the script. Michelle says oh I know, I won't. Its pretty much old news already. Nicole leaves. Michelle says I frickin hate Frank.

5:30pm Havenot room – Tiffany says he wants me to freak out and make myself a threat .. which I haven't been. Paulie tells her to try not and sleep as much. Try to get up and pop around.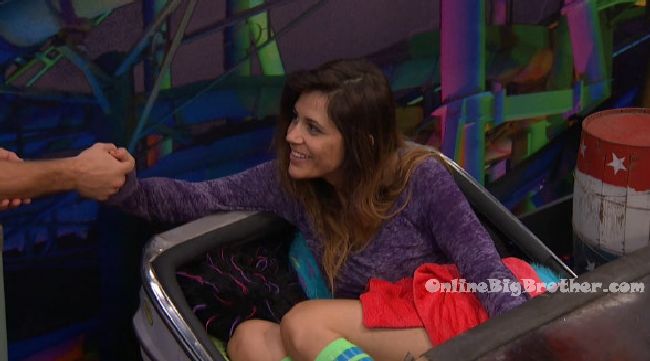 5:30pm – 5:48pm Big Brother blocks the feeds. When the feeds return all the house guests are leaving the HOH after being locked down.
6:20pm Paulie, James and Corey are working out in the living room with their "prison gym"
FLASHBACK and watch everything you missed: CBS All Access FREE Trial!

[polldaddy poll=9465176]
[polldaddy poll=9464369]