Quick Big Brother Spoilers
Head of Household:  Taylor
Nominees: Indy and Terrance
POV Players: Taylor, Indy, Alyssa, Kyle, Terrance, Jasmine (Host is Turner)
POV Winner: Kyle
Veto Ceremony: Veto was not used.
Havenots: 
Lock your ranks in before midnight
The twist
Wording from the Thursday night show
For the first time ever the game will completely change as the house splits into two groups. These two groups will have no interaction and in a Big Brother first, two completely separate games of Big Brother will play out simultaneously all week long all of it culminating with a double eviction like no other"
Reward / Punishment Veto Results:
– Kyle won the veto
– Alyssa won $5000
– Jasmine won a trip to London, England
– Terrance – "Ink 182" 182 temp tattoos
– Indy has to wear a "Punkitard" for 1 week and perform concerts
– Taylor and Joseph will be chained together for 24 hours.
1:04 pm Joe says they have 5 more hours until their freedom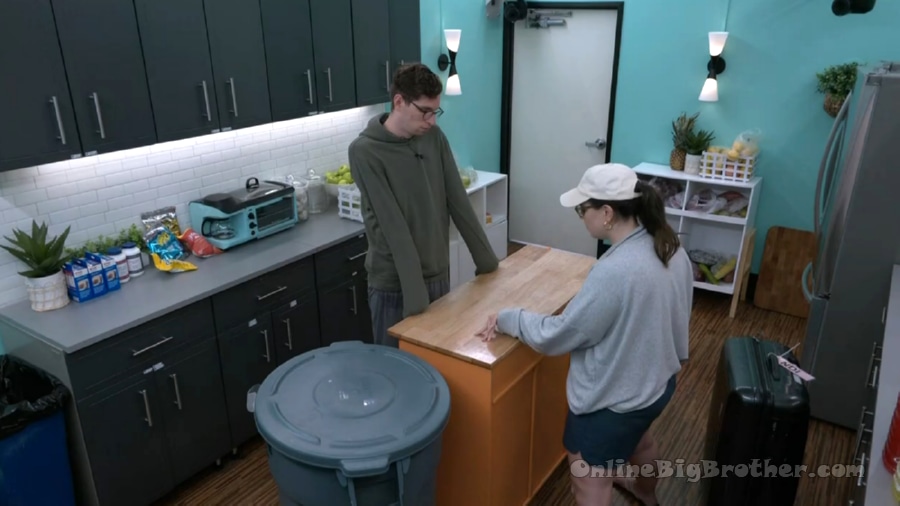 1:04 pm Brittany and Michael
Britt – like you were saying yesterday if it comes down to who formed the leftovers that's a side. The more they don't see it the better it is for us.
Britt – how can we keep them focussed there.
Britt – we've been viewing it like a Monte, Joe, Taylor and A Kyle, Turner and us. If it's actually a Turner/Kyle Vs Joe/Monte and they are fighting it out. You me and Taylor we slide through.
Britt – how do we do that without showing we're doing that..
Michael- Kyle not using the veto has already started the fighting
Britt – I know Taylor is
Michael – I talked to Monte 'it doesn't matter to me how the order goes it's more how people act when deciding'
Britt says up in the HOH yesterday it was Taylor, Monte, and Joe in the HOH. "I caught the tail end. When Kyle came in the conversation switched.. I was like Sh1t when are we. I expect that from the other side I don't expect that from the leftovers.
Michael- right
Britt – is the conversation every switching when we walk in
Michael- I'm not sure.
Michael- Monte goes to bed so early now all of a sudden he's staying up.
Britt – I think he's sensing .. the thing is I would love to buy some goodwill.. We expose Kyle too soon for all he's been talking about and he gets win we'll take the blowback. It's not worth it. We have to plant seeds like very very carefully
Michael- I agree
Britt – when Taylor interrogated .. that's too strong of a word, Questioned me. I told her exactly where we were (With Kyle using the veto and Alyssa going up)
Britt – what he's doing right now is not good for his game. I'm okay with that but when you start ropeing us in on that.
Michael – I do trust Kyle, Hes given us a lot that we could blow up his game.
Britt – for sure I do . Out of the seven other than Turner we're his closest.
Michael- Turner isn't one the same thinking (as Kyle)
Britt agrees.
Britt – these sides that he has come up with are not solid.
Michael- I agree. I don't think anyone knows we're as close to Taylor as we are.
Michael says he was fed up having to stay up until 5 last night. If they go to bed then the people staying up will talk about them.
Britt – I don't want to be locked into anyone else's narrative. if it's Joe or Kyles. We could be in the best position if we played it right. \
Michael – If we play it right. Do you think they will bring Terrance
Britt – I think so
Michael – I shouldn't push too hard with giving Indy a sympathy vote. it's one of the four I would like to do it on.
Michael – Taylor said the worst case is if it goes to a tie-breaker.. I'm like that's not the worst-case scenario. Taylor you were like 'let's target Terrance, let's target Indy, Let's target Alyssa back to Indy.. You have changed your mind soo much'
Michael- you have told us who the target is and switched it back and forth literally every single day and now that it might fall to you .. no you don't get to tell us who the target is. I am so annoyed
Michael – we are doing what we made fun of them for doing. We're up there to 5 o'clock and we all come down the stairs we are doing exactly what they did
Britt – I know. If we go to bed early they talk about us.
Michael- I may have said I would like SLEEPING RULES ENFORCED (OMFG ME TOO)
Michael- it's impacting the game at this point so I hope this happens. I didn't nap for the first 30 days.. like I didn't take a single nap. The game talk doesn't happen during the day it happens at night when everyone is asleep
Michael – I hope Kyle wins and takes a shot.. Honestly I do
Britt – that is the best case scnario.
Michael- I can't decide between Monte or joe who I want to see go first.
Michael says Monte is the better competitor but Joe has the social bonds.
Michael – I wish we could have a conversation and trust Jasmine
They agree they need to hang out with Taylor just the three of them.
Britt – I don't like a Taylor HOH it's too chaotic and it really goes to her head
Michael – yeah
Britt – I would never sit on the bed I would sit on the couches. If she paints a bigger target on herself it's fine.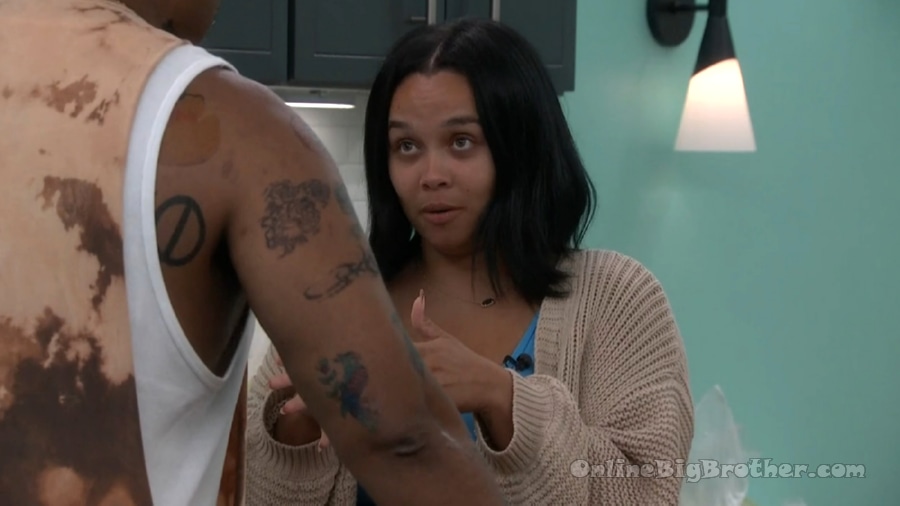 3:22 pm Jasmine and Terrance
Jasmine tells him she's voting to keep him.
Jasmine – this is the best. Hopefully moving forward.. I got to break it to Indy tomorrow. Not today but tomorrow. I think that is the best decision in my game.
3:24 pm
Terrance is almost done with the tattoos. He's been told he has to wear them until tomorrow night after the show.
Terrance – two more to go.. yes yes
(he's got more than two)

3:35 pm Kyle and Michael
Kyle says he's saying he's undecided and tomorrow morning let her know. "She's starting to freak out. I feel bad that's gotta suk for any of us to be in that position"
Michael says last night before Brittany and Kyle came up the rest of the leftovers were talking about how Alyssa and Terrance are studying and preparing for a mental competition. He asked them why not send Terrance out maybe they should discuss it. They were all like "NO NO NO he can't win anything he's come last in everything.
Michael – You were just saying.. between the two no matter what indy and Terrance will be more on their side.
Kyle brings up when they were over at the pool table and he asked "what's the plan for next week" they said "it's simple jasmine"
Kyle – if it's so simple next week why was it CHAOS this week?
Michael – Yeah
Kyle – Monte, Joe, and Taylor I'm almost 100% they have something
Michael brings up how all the sloppy things they would accuse the other side of doing they are doing now. "We shouldn't be staying up until 5am every night."
Kyle – Indy wins HOh she will never put up Monte/Joe. If Alyssa wins HOH she will never put me and you up. She will put up Monte and Joe. At its core that is why they were fighting for.. They never came out and said it.
Michael – there would be a reason to target Alyssa that would make some sense but they went with the 'She clowned Taylor on her HOH'
Michael – I don't care about that.
Kyle – it comes down to winning comps now
Michael – yeah .. yeah
Kyle – if I hadn't won the veto Alyssa is gone. I won't be throwing any comps. It's hard for me keep sticking my neck out for Alyssa when she's proving to be so emotional.
Michael – once we can fill her in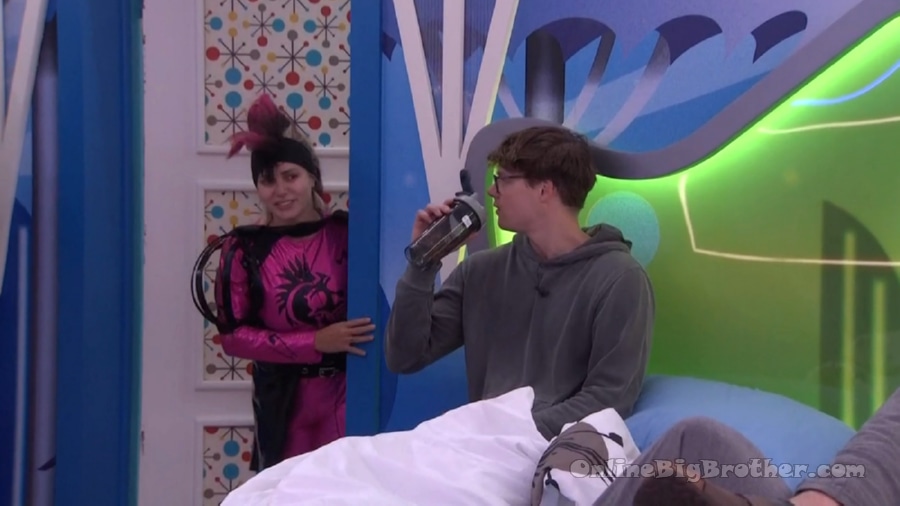 indy jumps in and wants to talk to Michael.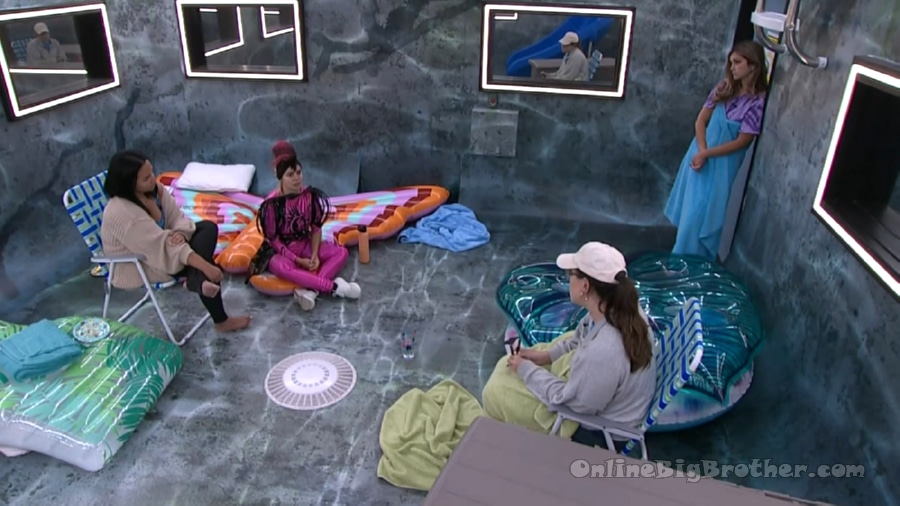 3:36 pm Indy, Alyssa, Brittany and Jasmine
Indy asking for their votes.. "at least three like Ameerah did"
Indy – I don't know how this happened. I didn't do sh1t I didn't talk shit I had no alliances. I don't get it.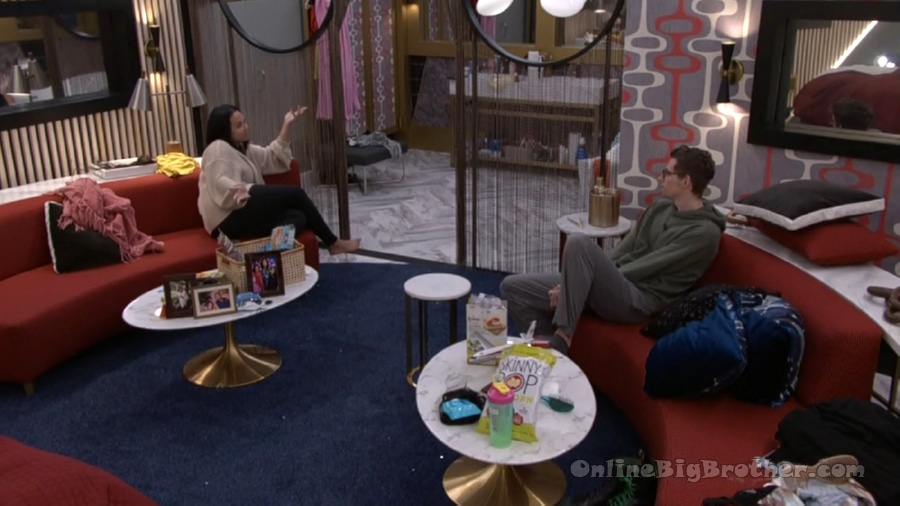 3:55 pm Jasmine and Michael
Jasmine says she doesn't want to see Indy go. If Jasmine does vote to keep her she doesn't want to be the only one.
jasmine – she is someone I wouldn't put up. you are one of them. If it's final 3 you have to do what you have to do
Michael – you have 10 people next week
Jasmine says she's close to Terrance but nothing like Indy
Michael – I don't have a reason to vote either of them out. Indy has more positives.
Michael says it's been tough to talk to joe and Taylor alone because of the punishment.
Jasmine – how does she feel if it's a 4/4 vote?
Michael – she won't want that. No HOH would want that.
Michael doesn't think the 5 locked in votes Indy is saying she has are really Locked in.
Michael – I'm leaning towards wanting Indy to stay
Jasmine – I just can't be disloyal at this moment.
Michael – I don't want either to go.
Jasmine says next week Kyle and Alyssa are off limits to her. Wonders who the target will be.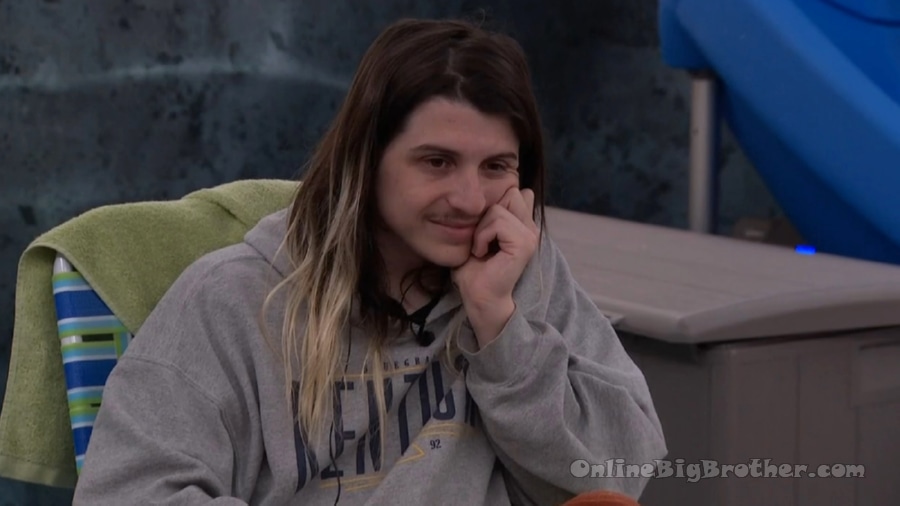 4:06 pm Turner and Indy
Indy – told me people are talking but I have this feeling in my heart that I am okay at the same time you never know
Turner – is this your first time on the block during eviction
Indy – yeah .. I'm so nervous.. I dreamed so much to be here I fight so much to be here. You guys can only imagine coming from another country another background.. Everything is so new. It was a lot of work and a lot of faith to come here.
Turner – I hate to say this but I'm in the same boat as everyone (undecided)
Turner – I do love you being in this house. I haven't talked to Terrance yet. I will keep you updated. I am very close to Terrance.
Indy – I Know you are I want to give myself the opportunity to ask for your vote. I would love your vote your vote could be the one that saves me.
Turner- I hope you appreciate my honesty
Indy – if he stays and you vote for him I will never take that against you
Indy – I have your back when it's your turn.
Turner says he'll talk to her later today or tomorrow when he knows what he's doing.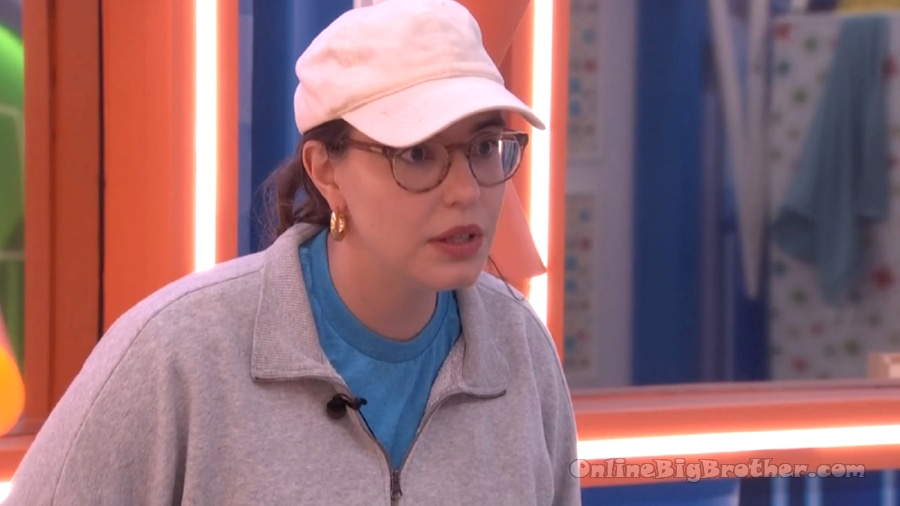 4:12 pm Britt and Michael
Britt – jasmine told me she was undecided and I said I was undecided. I asked her does Indy know you are undecided.. she was like 'yeah yeah I told her I told her'
Britt – I knew that was bullshit so I went to Indy and asked do you have the votes Indy and she said YES. She said she had Jasmine and Alyssa. I told Indy you better double check I am hearing things from the girls you are saying you have that they are not 100%
Britt – that is when I told her I am undecided. I said I am not getting the full story
Britt adds at that point Indy pulled all the girls into the HOH and of course, Jasmine had to talk first and she said she was decided
Britt is hoping if Indy can find out that she was honest with her that she can get Indy's jury vote. "I'm not as close to her as the other girls but I was more honest with her that might mean something at some point in time"
Michael – I feel like they are voting Indy out.
Britt – they are.
Michael – I'm going to vote for Indy to stay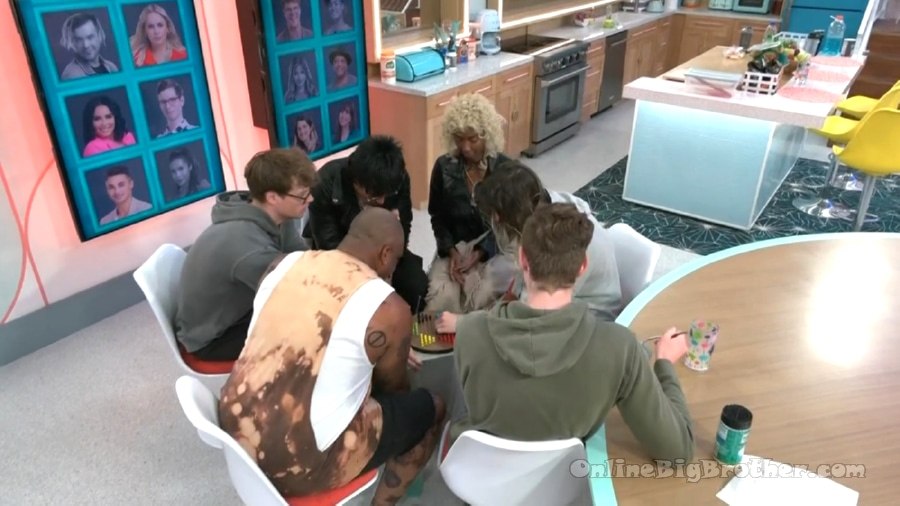 4:37 pm Chinese checkers
5:20 pm Makeup and a shower
5:43 pm Terrance tries on Joe's costume wigg. Kyle tries on Taylor's wigg "Grandma Pat". Joe tries on Taylor's "I feel like a IT guy that is a little rebellious"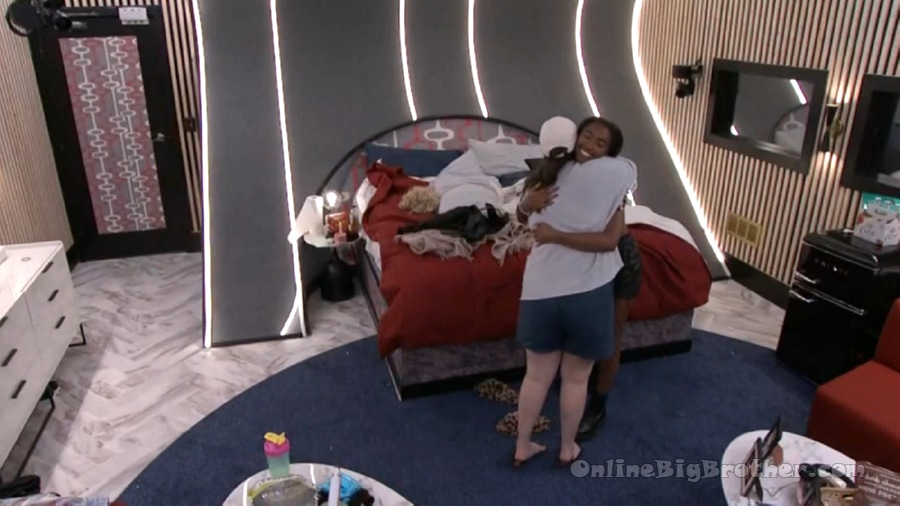 5:51 pm Taylor and Britt
They are free from the punishment costumes.
Britt goes on about Jasmine saying she's undecided and Britt says she's undecided. "I asked her Does Indy know and she goes yeah yeah"
Britt mentions talking to Indy and warning her.
Taylor says nothing happened between her and Joe while they were chained up. "I'm attracted to him I will never ever ever ever EVER let what happened between Kyle and Alyssa happen between me and him"
Taylor- Alyssa is trying to get us to be closer and more public with our affection.. She was like take some of the pressure off us. why would I do that.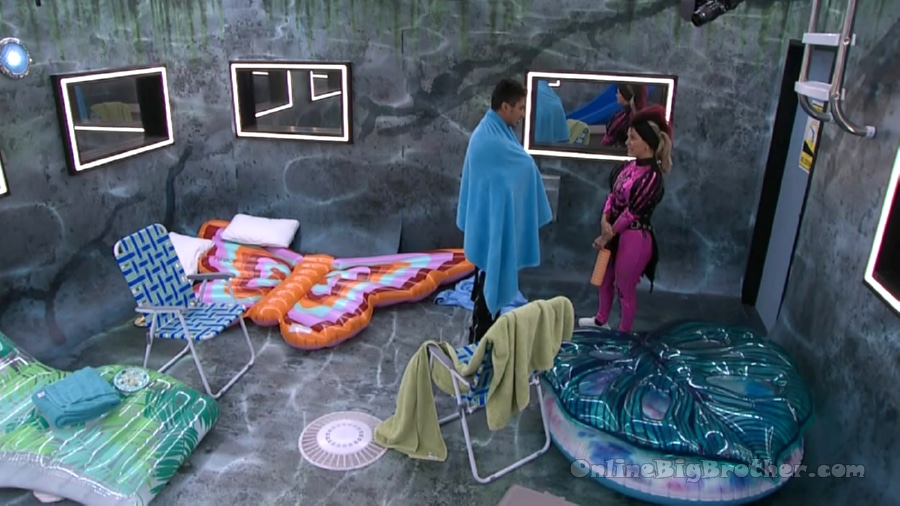 5:51 pm Joe and Indy
Indy – I have Michael and Jasmine's votes for sure.. they didn't say.
indy – you are going to vote for me to stay?
Joe – of course, baby.. I will be honest with you I will check with the house. I am voting for you to stay. From what I heard people are saying you are staying. You know how stupid this house is. I haven't received any updates I've been chained to Taylor. No one would talk to me.
Joe – of course saving you baby is the priority
Indy – Kyle, Alyssa, you and jasmine you need to talk to them.
Joe – you are counting Kyle?
Indy – no I am not
Joe – what did Michael and Brittnay say?
Indy – Michael for sure. Britt is more let's see by tomorrow.
Indy says the person who is for sure is Turner because he's close to Terrance. Monte told her he's voting with the house.
Indy – and we're the house
6:00 pm Feeds cut to cats.. must be the halfway party
7:00 pm feeds still down
8:10pm Still blocked..