Quick Big Brother Spoilers
Head of Household:  Taylor
Nominees: Indy and Terrance
POV Players: Taylor, Indy, Alyssa, Kyle, Terrance, Jasmine (Host is Turner)
POV Winner: Kyle
Veto Ceremony: Veto was not used.
Havenots: 
Lock your ranks in before midnight
The twist
Wording from the Thursday night show
For the first time ever the game will completely change as the house splits into two groups. These two groups will have no interaction and in a Big Brother first, two completely separate games of Big Brother will play out simultaneously all week long all of it culminating with a double eviction like no other"
Reward / Punishment Veto Results:
– Kyle won the veto
– Alyssa won $5000
– Jasmine won a trip to London, England
– Terrance – "Ink 182" 182 temp tattoos
– Indy has to wear a "Punkitard" for 1 week and perform concerts
– Taylor and Joseph will be chained together for 24 hours.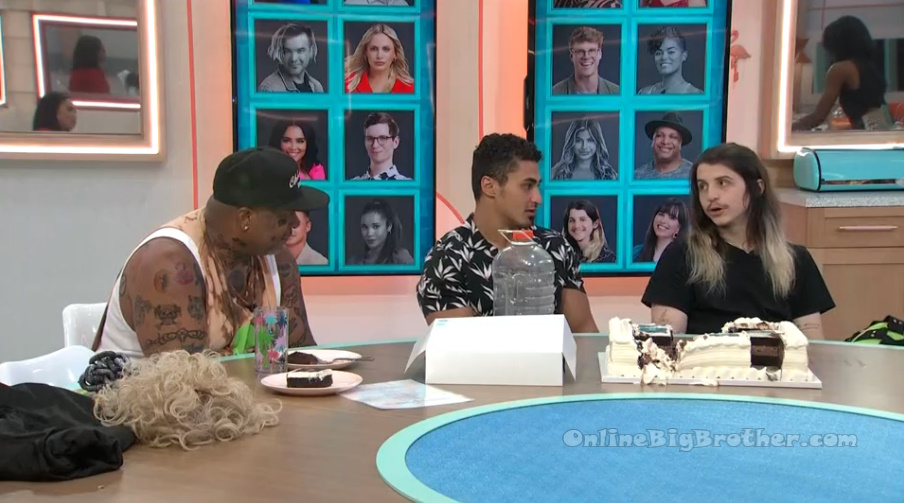 6pm – 8:16pm The live feeds were blocked for the halfway party. The house guests got pizza and cake with everyone's face on it. Jasmine – I am glad its the halfway point because this was FIRE! I am excited! A few more hours till its (her birthday) all over but really its not over because its a birthday week! Turner – its your birthday month. Jasmine – basically. Turner – its your birthday year. Jasmine – Turner, I am really ecstatic that you were able to celebrate my birthday with me. I am glad everyone was here, it made it special. Jasmine – I want a March baby or a fall baby. I am not birthing a baby in the summer. I am sorry .. I just feel like that is too much!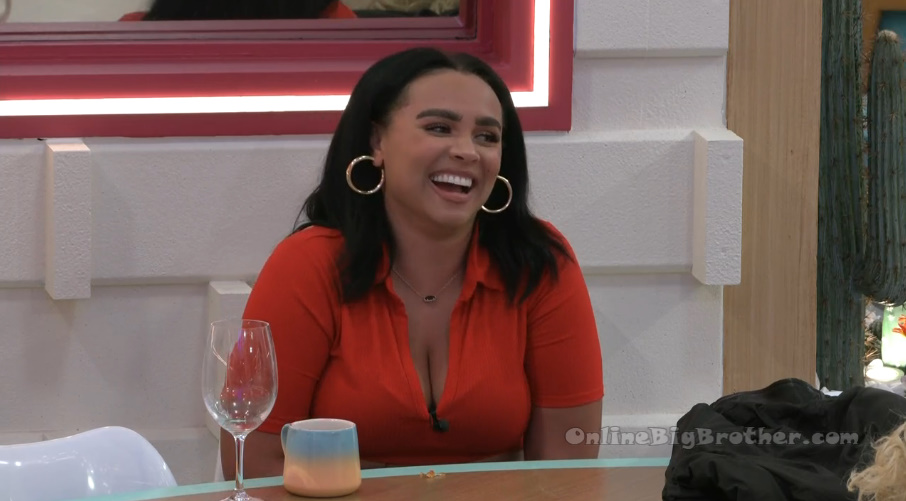 8:30pm Bathroom -Indy & Michael
Michael – I will try and check in with people tomorrow and make sure things are good to go. Indy – I told him (Terrance) I hope the best for us happens. God is in control. And I never said anything bad about him so I can get a vote, you know? Michael – yeah, that's true. Indy – I think he somehow will appreciate that. I said whatever god asks for us, its out of our control. I am confident but everyone changes their mind in a second. Anyways, it is what it is. I did my part. Are you still feeling good. Michael – yeah but Thursdays are always weird. I will try to check in and see where everyone is at. Indy – I feel like no one wants to say anything to give their game away. That is what I am feeling. Michael – yeah. Indy – if everyone stays the same I am going to have seven (votes). Michael – Hopefully. Indy – and I don't go.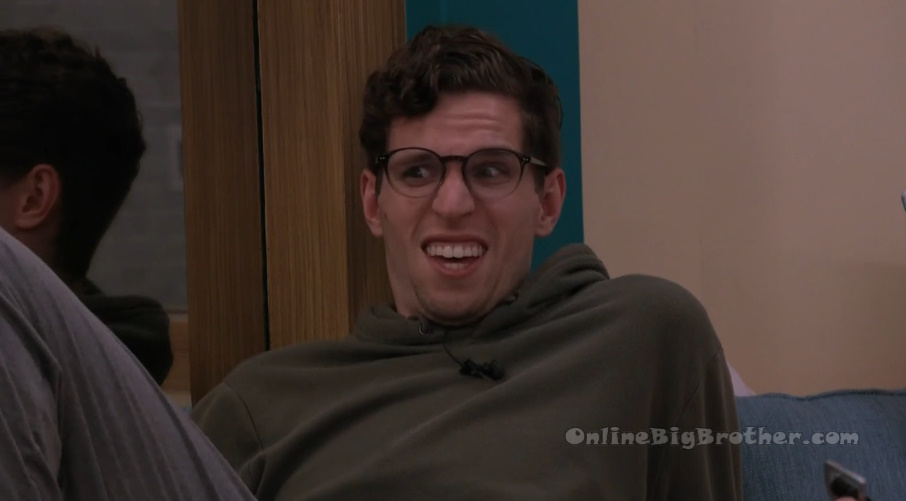 9:10pm – 9:25pm The house guests are laying around in the bedroom. Turner is snoring. Meanwhile in the bathroom. Michael, Kyle, Alyssa and Brittany. Michael – do you think we're getting hit with the double tomorrow? Alyssa – I hope not. Kyle – the first two to jury, that would be insane. It was cool though today, we are halfway. Who do you think is the most pissed out of the evicted house guests so far? Alyssa – Ameerah. Michael – I think its Nicole. Brittany – I think Daniel. Kyle – I feel like Ameerah is kind of embarrassed. Don't you think .. with how smart she is to be the second one voted out. I feel like she is pissed. Alyssa – I don't know she seemed shocked. But she handled it well, what did she say .. you guys got me. Brittany – god, I don't even remember I think I blacked all that out. Michael – watch its actually Pooch that's the most angry. He is just dragging us all on social media. Kyle – I feel like he is the most sad.
9:35pm Bedroom – Jasmine and Terrance.
Terrance – she (Brittany) is moving very weird. Jasmine – very. Terrance – very. Jasmine – even when I asked her where her vote was she was like Ahhh..I don't know.. Terrance – she said she was waiting to talk to people. …. YOU only talk to Michael, who you waiting for!? Jasmine – I saw them whispering in the kitchen and when I looked up they tried to stop. Which is fine but Brittany told me out of her own mouth that she is not close with Taylor and they don't talk game. So that is why I don't care if they have something.. but don't lie to my face. Terrance – right.
9:40pm – 10:05pm Bedroom – Brittany and Alyssa.
Alyssa – what are you thinking? Brittany – I don't know, I am really really torn up. Alyssa – she (Indy) said that Michael said that you would never vote her out. Brittany – yeah I think that's true. But I get the feeling that its the sympathy vote. Alyssa nods. Brittany – I don't know what are you thinking? Alyssa – I don't know. I feel bad but at the same time I will probably end up voting her out. I know she loves us and really does have our best interests.. Brittany – I know. Alyssa – its hard. Did you talk to Terrance. Brittany – yeah, I feel like he is a little clearer on what he would do moving forward. And that doesn't include targeting me which is appealing. Alyssa – yeah he said the same to me. And I think Kyle would vote (to keep) Terrance and Turner as well.. and Monte. I think .. I don't know because I think he is close to Terrance. I have no idea about Joseph. I have no idea where his head is at. Brittany – me neither. Who is the stronger competitor? Alyssa – Indy. Brittany – who do I think would target me less down the road. Probably Indy. Alyssa – yeah. Brittny – I don't know. I just feel like I am in a tough spot. Alyssa leaves. Indy – she said that it was never her intention to send me home. Brittany – no, no. Indy – I think she will tell that to everyone.
10:15pm HOH room – Michael, Taylor and Monte.
Michael – Indy pulled me and Brittany into the havenot room along with Jasmine and Alyssa .. not a lot was said while I was in there. She said I've got my five its you four and Joseph. I don't know why people are now undecided because we are the house if all of us vote together. And that was basically it, she was like I've been loyal, I've had your guys back. And when I talked to Jasmine alone she was like yeah I don't know. I am hoping to talk to Terrance today. She is basically saying that she is undecided but she has told people she is voting Terrance out. Taylor – yeah. Michael – and she's told Indy that she's undecided. Taylor – basically when I talked to Brittany she was the one that told Indy that she does not have all of those five votes locked in. And then that conversation happened where she pulled all of them and basically Indy thanked Brittany for giving her the heads up. And in the havenot room was the first time that Indy heard from Jasmine and Alyssa that they're both undecided. And also, Alyssa told Brittany that Indy is going home. Monte – oh really?! Hmmmmm!? Taylor – when I was in the back Indy looked at them and said I just want to make sure we're all on the same page.. and if its a tie, you're going to vote for me? I was like yeah if its a tie. I could swing that. I don't know .. she doesn't have the votes. Monte – how are you feeling Michael. Michael – I don't know I still would like to give her a vote. I don't want her to go out unanimously .. but also I don't know if you think that's putting that in jeopardy of putting it in a tie, I don't want to put you in that position. The alliance is more important to me, like if that is going to cause any distrust. Is that something you're open to? Taylor – I don't think your one vote is going to push things to be a tie.. Unless Jasmine votes to keep her but even then it can still be a 7-1, 6-2 vote. I am comfortable with that. Michael – then if you are comfortable with that, then that's what I'll do.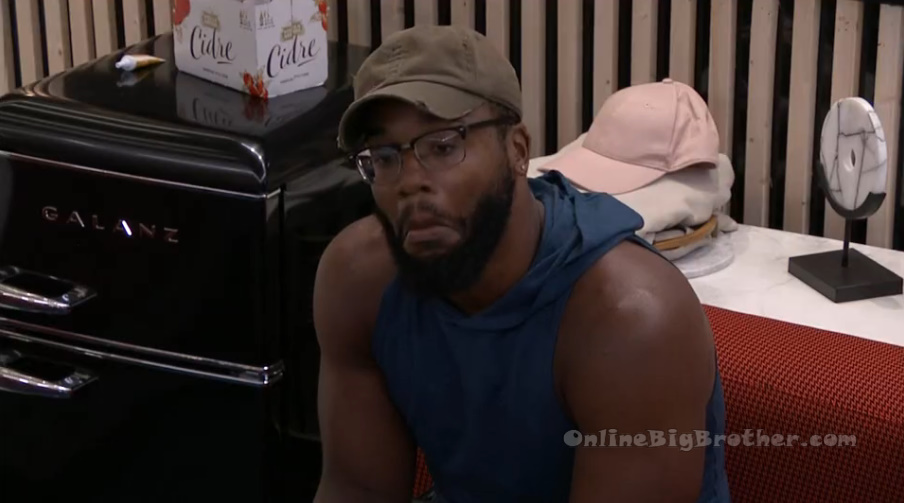 11:45pm Bedroom – Alyssa, Joe and Jasmine.
Alyssa – what are you thinking about with her for tomorrow? Joe – oh for HOH or.. Alyssa – no for the vote. Joe – oh I don't know that's why I came after you two. Jasmine – but where do you want to vote? Joe – of course I love Indy and Terrance but at this point in the game I have to move however is best for all of us and whatever we need to do. I remember last time we talked about saving Indy but.. Jasmine – I think she has some other people that will keep her. I have visually seen people say that they will keep her in front of me. And I have also had one on ones with people and they've said they're keeping her. Joe – I know for sure there are people that are not voting for her. I think Turner is one for sure. And Kyle, I don't think is either. Monte, I heard he is going with the house. So where ever the majority is, he doesn't want to be on the wrong side of it. Jasmine – who is the f**king house?! We don't even know! Why does he keep saying that!? He has been super lovey dovey on her .. like rubbing on her and stuff like.. at this point everyone has a showmance up in this b***h! Except me, Terrance and Brittany. I don't know I am a loyal person and if I don't vote to keep her, how would I look to y'all!? Joe – I don't know, us three should all be aligned. Voting Indy to stay is the last thing I heard. Alyssa – Yeah I am struggling a lot. I love Indy so much and she has been our person in the game. But her and Terrance, there are just pros and cons. Joe – that is the thing I love Terrance. Jasmine – me too.
12:30am – 12:45am HOH room. Taylor, Monte, Michael, Joe, Kyle and Turner.
Taylor – who do you want to sit next to? Like use their own words against them. Joe – you can be like honestly Kyle f**ked my plan up .. no offense but.. Kyle – no. Joe – Like I was never considering Indy vs Terrance. I was considering a Monte vs Terrance but Kyle f**ked my game up … I am sending Indy home. I am not keeping a bigger threat. I think they will respect it. Like that is literally what Indy and Alyssa are saying right now. Jasmine is saying I am not going to send someone who is going to work for me if they get HOH. Kyle – would they push her hand in that situation though? Like would they be like alright lets push her and be like lets take her to four .. do you think they would fold and vote her out? Joe – even if Jasmine and Alyssa hop… like I will even tell them if you guys want Michael and I will vote for you two and Indy can never know who the two votes were because they never do like where the votes exactly fell. Right now if they think there is a chance to save Indy, they want to. Alyssa joins them and the conversation ends.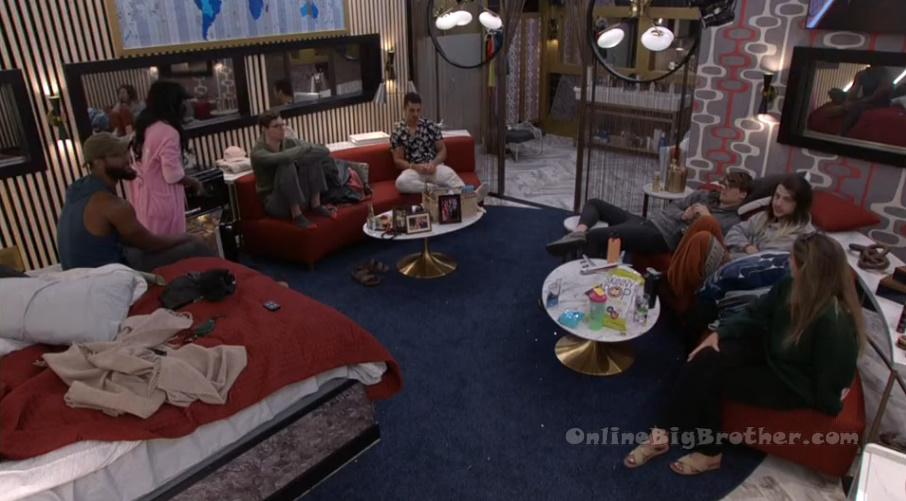 1am – 1:20am Bedroom – Joe and Indy.
Joe – I want to go ask Taylor where her head is at because god forbid there is a tie. Jasmine joins them. Indy – Oh I asked her, she said that she would keep me. Joe – did she tell you this before or after Kyle didn't use the veto? Indy – both. Jasmine – she said it today in front of Michael. Joe – she was pretty upset that Kyle didn't use the veto. She wanted to like buy some credit with everyone by putting up Monte or someone. Indy – I think its Monte but I don't care. Joe – Turner, I don't think is voting for you. Indy – yeah I know. Kyle, I don't know .. he was like I don't know bro .. and whenever I get that I count that as a no. Monte said he is going to do what the majority is going to do. I haven't really talked to Michael or Brittany. Indy – Michael promised me. Joe – so it looks like those four. Indy – so if you guys tell Monte and Brittany.. Joe – I'll go find out what those two are doing. Joe leaves. Indy – its not your birthday anymore. Jasmine – Its my birthday week. I think Joseph likes you. Indy – Your a$$! Baby, we are bros!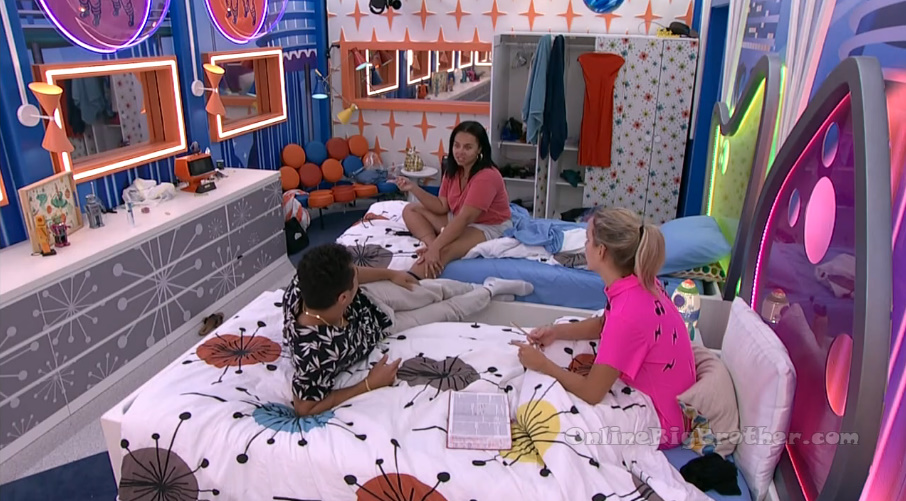 1:30am HOH room – Taylor, Monte, Joseph, Michael, Brittany, Kyle, Turner, Alyssa.
Monte and Joe are playing chinese checkers. The others are chatting about random things.

1:40am Bedroom – Indy and Jasmine.
Indy – You, Alyssa, Joseph, and Michael. I have four. I just need one. Jasmine – Or Taylor. Indy – or Taylor. That's it. Jasmine – you should be upstairs so that way you're mingling with people so that way they can't .. you know what I mean because they're not really going to talk. And then they'll be like damn she's up with us late fighting for it. Indy – don't you think that's the opposite like annoying. Jasmine – its like showing people why they enjoy you. I don't know, I have a different perspective. Better to be in the know, than not in the know. And its not like you're talking game.. you're just chilling. Indy – true. Indy heads upstairs.
2am Up in the HOH room – The house guests are chatting. Turner convinces Kyle to be vegetarian for 24 hours the day after tomorrow.

2:05am The HOH crew dare Taylor to smear cake/icing on Joseph's face.
Joseph "I was backdoored with the cake! I was betrayed!" #BB24 @bigbspoilers https://t.co/sLQeY1sIb2 pic.twitter.com/sQdXZisXmA

— Dawg (@DawgsBigBrother) August 18, 2022