Quick Big Brother Spoilers
Head of Household: Jasmine
Nominees: POOCH and Taylor
POV Players: POOCH, Jasmine, Taylor, Ameerah, Terrance, Michael (Host Daniel)
POV Winner:
Veto Ceremony:
Evicted:
Havenots: Terrance, Nicole, Pooch, Daniel
Lock your ranks in before midnight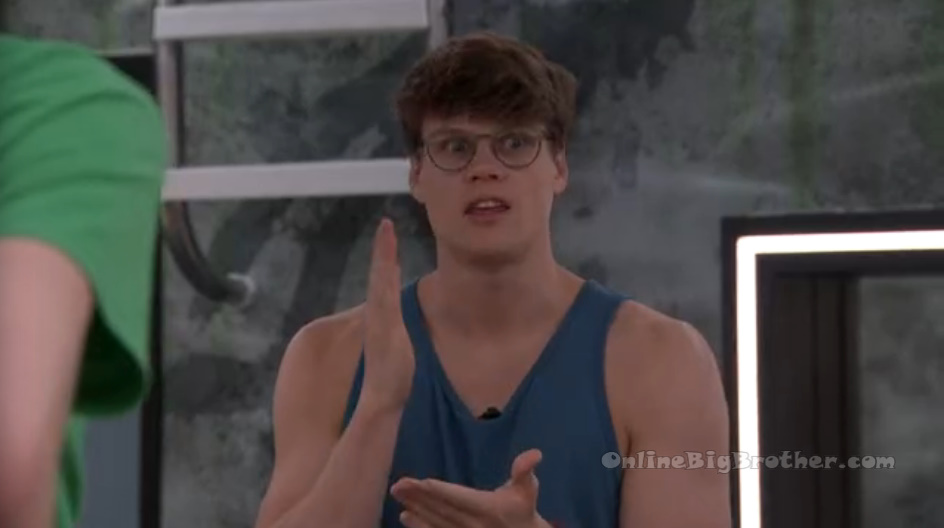 12pm Havenot room. Kyle and Michael.
Kyle – I feel like everyone feels like they have to win next week because if its another girl and then another guy goes home .. the only thing is and my pitch to Monte is like Ameerah and Nicole they say they have our back we get Pooch out this week, they're promising Taylor next week. Like this is going to be a test. I am fine getting ride of Pooch at any point .. even if Taylor wins HOH and nominates you I still feel like we have the numbers and we can hold strong but I am worried the girls are going to gang up and if Monte is up .. lets take him out. Or Kyle, or you.. Michael – yeah like if the see a shot, they'll take it. Kyle – exactly and they're proving this with Pooch. They're big thing is he is up and he's an option, why not now. Michael – and if they have the numbers to take him out this week .. they will have the numbers next week to do that. Kyle – yeah. Okay they're promising Taylor next week but then all of a sudden its Taylor and another shot. And its like okay we have the numbers… why not. You can't fault them for that. They have a girl down… well we'll see after the veto. Was it a good conversation with Pooch? Michael – I mean he did all the talking but …he talks so much.. and talks in circles that I am just like I don't feel threatened by him. The best thing he can do is just keep f**king up. That's why him winning the veto would be good because then we wouldn't have to make that decision (to vote out Pooch or not). Then Taylor would go home. Kyle – and it would show Jasmines card of who she puts up. Then lets get rid of Pooch next week… like he is out of control. Michael – its just so funny that the best thing he is doing for himself is digging a hole.. that is going to be the reason to keep him around. Kyle – Jasmine is the same way, she just rambles. She spilled a lot of the beans. Its Nicole and Ameerah that I am worried about because they're extremely intelligent. A women first alliance and the boys have kind of done the same thing but.. I am worried about Monte .. like they were legit yelling.. They head out of the havenot room.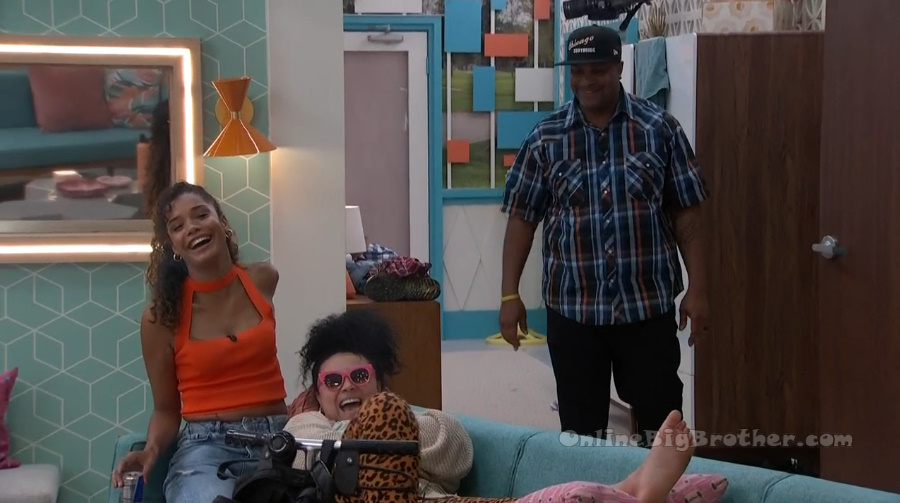 12:05pm Living room. Terrance, Alyssa and Jasmine.
Alyssa – what did they say (about her ankle)? Jasmine – that they're going to do an x-ray.. and I could have a boot or a cast. A cast obviously is if its broken. Terrance – I don't think its broken though.. like she still has motion. Jasmine – they're going to do an x-ray but I also get a choice to compete. Alyssa – are you going to? Jasmine – if its something physical absolutely not! Why would I even risk it? But I feel good.. if it was anyone else… but I feel good.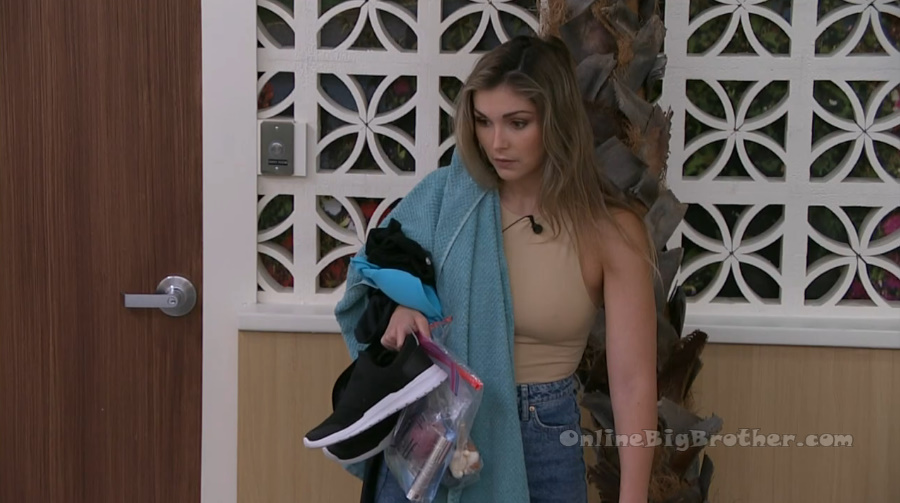 12:50pm Living room and Kitchen. The house guests are sitting around chatting while they wait for the veto to start.
12:58pm Bedroom. Kyle, Michael and Ameerah.
Kyle – I think all the outcomes will be fairly similar unless Pooch wins. Ameerah – and honestly even if he does its not the end of the world. Kyle – yeah I don't think so either. Ameerah – its like whatever. Then we'll just take out Taylor. Either outcome, the six of us are good. Kyle – yeah I'm not too worried.. Can one of us just win HOH next week? Ameerah – I'm going for it. Michael – I'm going for it. Ameerah – we all have to go for it. Kyle – the last one I was like as long as Taylor doesn't win .. we're good. Ameerah – I was actually good with Jasmine and I knew she wouldn't put any of you guys up so she is not going for you guys at all. Kyle – no she is awesome.
1:03pm The live feeds switch to the kitty cams. The veto competition is starting now..