Quick Big Brother Spoilers
Head of Household:  Michael
Nominees: Alyssa and Terrance
POV Players: Monte, Alyssa, Michael, Terrance, Taylor, Brittany
POV Winner: Michael
Veto Ceremony:
Havenots: 
Lock your ranks in before midnight

2:39pm – 8:50pmBig Brother blocked the live feeds for the Power Of Veto competition.
Michael WON the VETO!!
– It was the BB Comics veto competition.
The house guests are in the kitchen talking about the veto competition. Monte – it took a while to get the order right. Turner – how many zip line trips did you have to do? Terrance – sh*t I did a lot! Michael – I did 8 or 9. Alyssa – 9 or 10. Taylor – I felt like it was 6 max for me. Michael – I did half of each row. Taylor – I thought I had it! It took forever. Michael – it was really hot. Monte – The ice Fest was awesome! Alyssa – I had a lot of fun, that was awesome.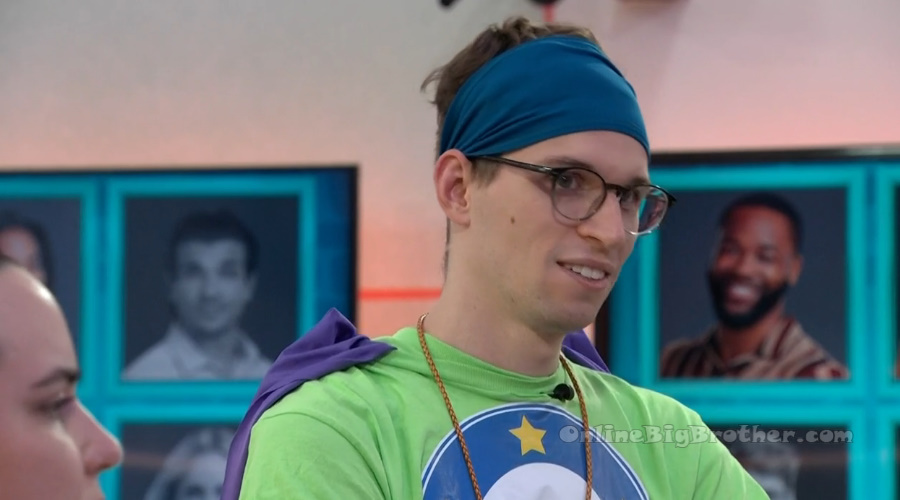 9:02pm HOH room – Michael alone.
Michael – BB F**KING COMICS!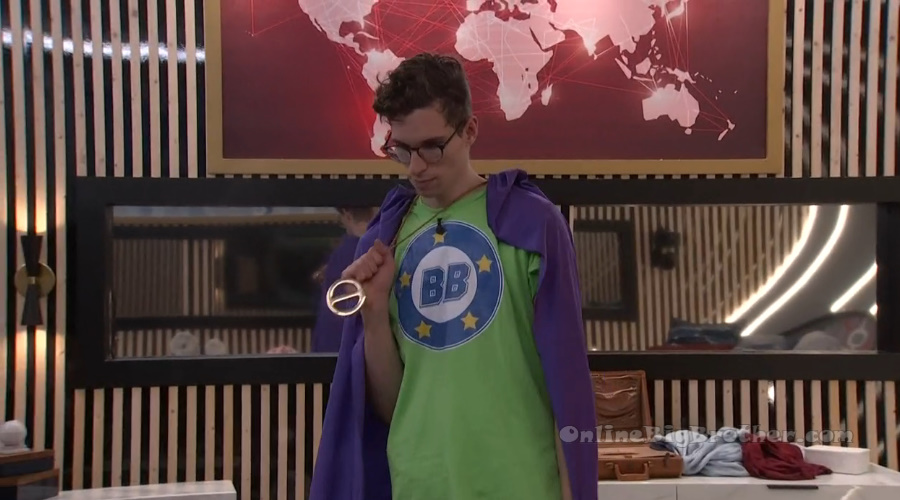 9:15pm Kitchen – Brittany and Terrance.
Terrance – it could happen still. Brittany – you never know. Terrance – I need three and I am working. If I could sway Monte and maybe Taylor .. who knows. I don't know. Brittany – if it sways, I would be right there. But Michael saved me so many times I don't feel right now that I don't think I could actively go against what he says and that is me just being completely honest. But if it sways, I would be the first because I tried to test that today. Terrance – its fine. Brittany – there are a lot of days.

Bedroom – Monte and Turner.
Monte – he (Michael) won again as expected. Turner – yeah. Monte – I was telling Taylor that I hope that competition where they throw the balls at you and they splash is next week. If it is next week, I am locked in! Turner – oh yeah, I believe that. The fact that noms this week are the same is f**king amazing. Monte – yeah, we're golden. The plan shall proceed. T said in the kitchen, you know I'm going to be campaigning. I just hope it doesn't get foul between him and Alyssa. Turner – I don't think there is a chance he would stay.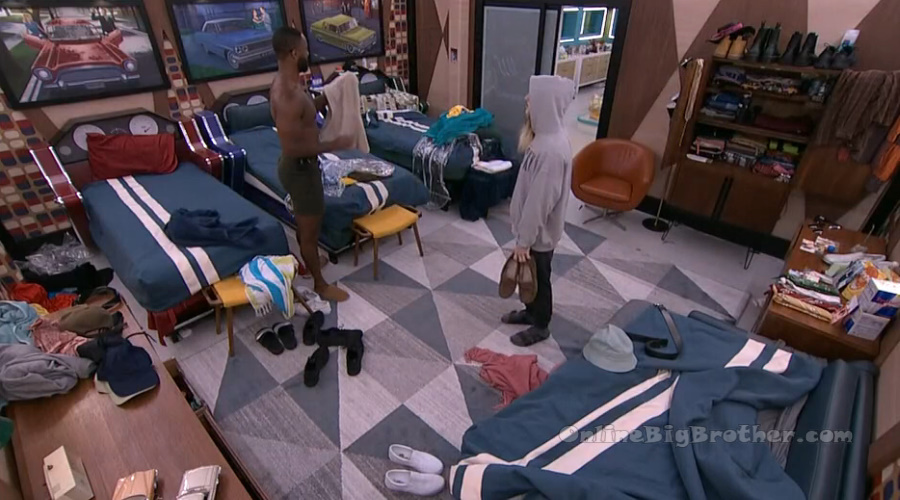 9:35pm – 9:50pm Kitchen Table. The house guests are sitting around chatting about the veto.
10pm – 12am The house guests are eating and chatting about past events of the season and other random life stories and things.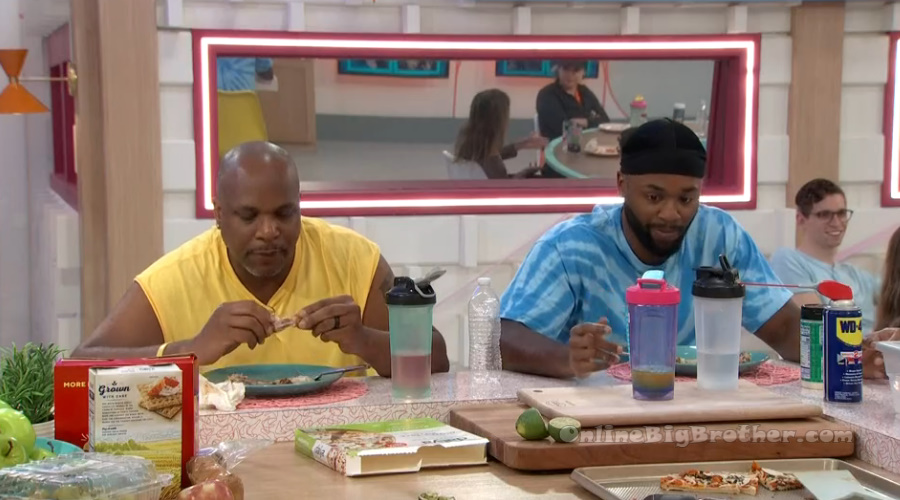 2:00 am
Turner, Michael, Brittany
Talking about what the hardest competition has been thus far. Brittany says the wall was.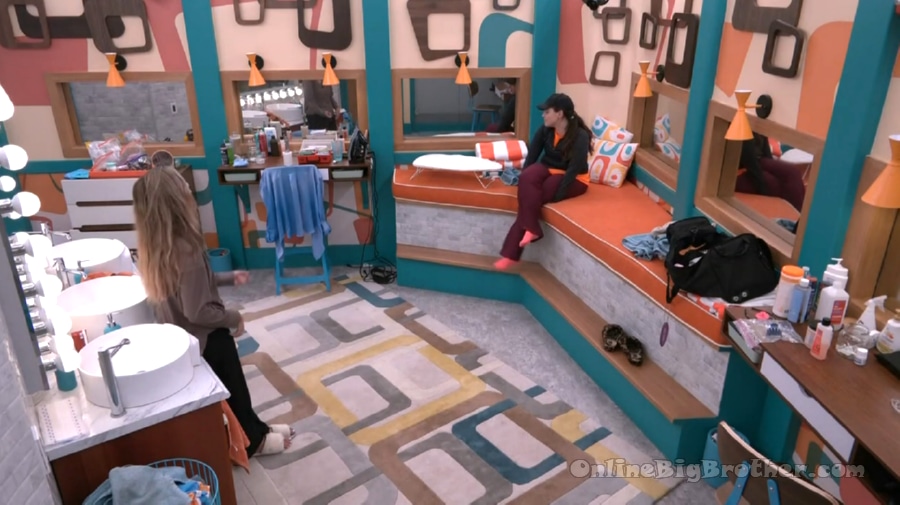 3:07 am Brittany and Alyssa
Brittany says one person in the house will win 750K
Alyssa – it almost seems unreal
Britt – what would you do?
Alyssa – I would probably retire my mom.. She's worked her ass off to help me and support me. She's the hardest working woman ever I love her.
Alyssa – I would donate a lot to my local animal shelter that one that has the really cute dog.
Alyssa – I would invest in real estate so that I can continue saving money for myself so I can travel and just kinda start some business maybe in the fitness industry. Help maybe postpartum women. so something like that..
Alyssa – what about you?
Brittany – if we can't have kids naturally we would adopt or do IBF .. that get really expensive. It's like 40K minimum. Then we would catch up on retirement. We're behind where we should be in our young 30's for retirement. Set some aside for schooling of our eventual kids and maybe take a vacation.. Oh and buy more furniture for our house. Right now we have a slot of bare rooms.
Brittany wants to start a business "something to do with guided meditations… I like that" (Cringe)
4:24 am Morning shoutouts…
During the shoutouts they are supposed to say what their favorite super hearo is.. Turner says he doesn't really like super hero movies. When Taylor gets up to do hers the feeds cut.. When we're back Terrance is doing his shoutouts.
Terrance – my favorite super hero is wolverine cause even when you're hurt you can regenerate and get back up.
Monte about to start and the feeds cut. When we're back. Terrance says his favorite super hero is Batman because he's built up a lot of skills and doesn't have any powers.
Terrance – batman is a more respectful super hero cause all he has is a bunch of gadgets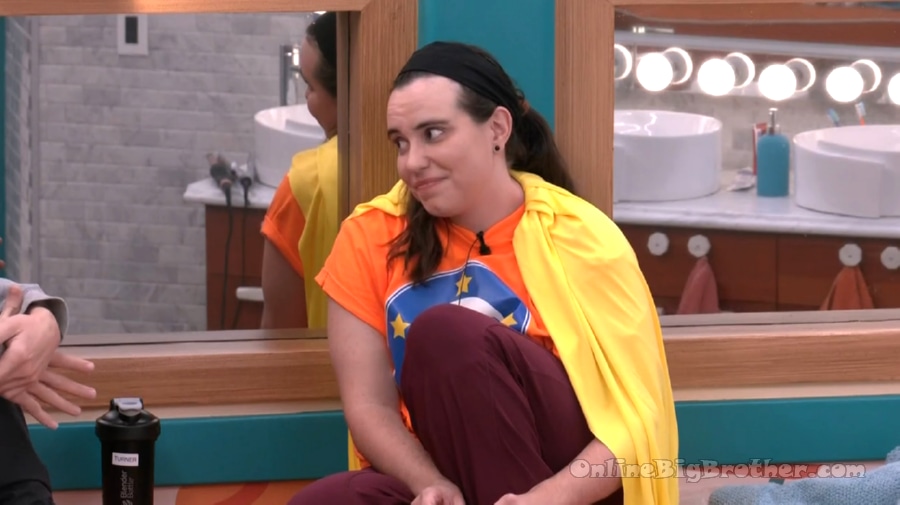 5:00 am – 6:00 am Brittany and Turner
Britt – tomorrow go through everyone that is left and pretend you are final 2 with them and see where you would think the remaining jury votes would fall and who you would have a shot against with the final jury's I am curious to hear you remaining in this house you think you can sit next to and win.
Turner – who do you think you can sit next to?
Britt – very few people
Turner – you did a good social game..
Britt – a lot of my game is tied to a certain someone. That will be impossible to overcome.
Britt – I was thinking ohh my god if I sit next to Taylor.. she has this amazing story how can I combat that. Monte has played the cleanest most loyal game you could imagine and if Alyssa makes it all of her friends are in jury and she survived while not being a leftover.
Britt – Michael has won all the competitions and Terrance is gone this week..
Turner says he feels he has a good chance to win HOH next week but if he doesn't he thinks it will be Alyssa going up with him. "Hopefully not but I know I am the one non BroChella person here"
Turner says it would be crazy turn of events if the two of them made it to the end.
Brittany says he can take the shot she can't take.
Turner – your two best friends in the house are the people that can win most easily..
Turner – people can win against Alyssa.. Everyone has to be honest at the end of the game.
Brittany says it never crossed Michael's mind once to put Turner up (No matter how many times Brittany hinted he should)
They start talking about Alyssa going this week and how that might be better because it leaves a Clear target Terrance in the house for another week.
Turner – She on the block now I don't think someone will put her up again. People love Alyssa.
Britt – it might be a little to late for Alyssa to go.. if we have a double on Thursday people will be more apt.. you know it happened so fast.. I don't think you get easy targets out on doubles.
Turner – Yeah..
They agree nobody in the house will win against Michael. Britt feels bad even talking about this because she's been so close to him.
Turner – outside of this house we will still be friends but do you want to make a friend move that costs you 750K dollars.
Turner mentions Terrance would be good in the final two "People don't like him in jury"
Britt – I can see leftovers getting pissed if either of us went to the end with Terrance. That's like a BID-D. I want the final 2 chairs to be leftovers.
Turner says Monte, Taylor and Michael won't be taking him to the final 3.
Turner says outside during Dyre fest Alyssa tried to make a final 2 with him and she made a final 2 with Kyle.
Turner – she tried to make a final 4 in here. She was like me, you and Kyle Final 3.
Britt – she's trying to make a final 2 with me.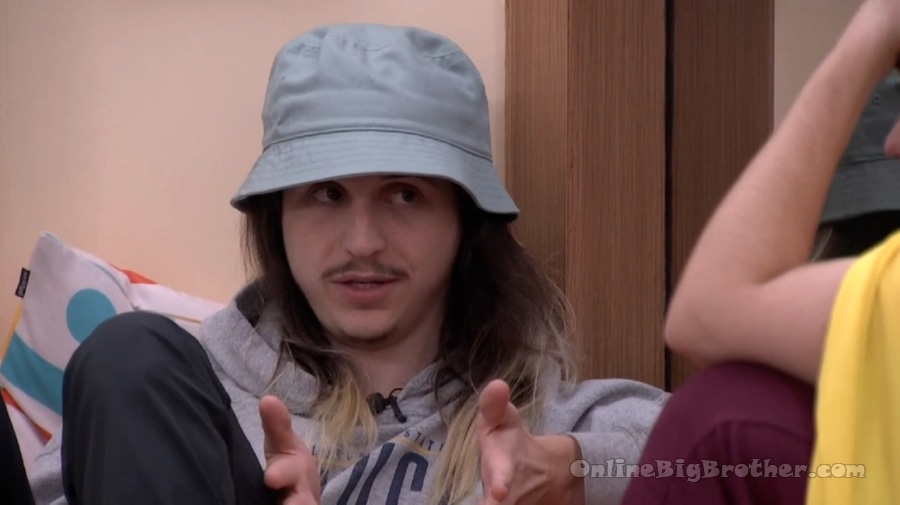 Turner asks what would be the argument they could make to get Alyssa out this week other than "it's good for our game'
Britt – I think she's Thrown out Monte's name. I think Taylor's mind is set I think Michael's mind is set. Who wants to get Michael mad?
Turner – no one because he'll just win the veto and you're screwed.
Britt – I want you to know. You staying here is good for my game.
Turner asks if Monte has anything outside the leftovers.
Britt – he's close to Taylor.. I don't know
Turner – If I am going to far tell me to f** off. What if me, you, Taylor and Monte? that in and of itself is a good group that takes a few threats away and keeps two people paired with other people. I think that if people are being honest with themselves that is a realistic group of four that can help each others game and not be a automatic threat to one another.
Britt – that group would depend on you and I winning more for that to work.
Turner – I do have the combined total of their HOH's. Granted it's only two
Britt – you would be fourth on that list from a Monte and Taylor perspective.
Turner says that would give them 4 lefts overs and allow them to take out "the winner of the game we're all paying with now"
Britt thinks it will shake out like that anyways "Whoever gets the opportunity to take out Michael.. if they didn't take it they would lose"
Turner – Next week Michael can't compete
Britt – it all comes down to that veto
Turner – as long as we're all on the same page after the veto meeting this week I think that's a great group. Let me know if you are uncomfortable with that I would be totally respectful of that.
Britt – I think I just want to be careful.. you have to separate this isn't a friend competition.
Britt says Taylor "Holds grudges"
Turner – like crazy
6:20 am zzzzzz
9:37 am Zzzzz
10:44 am Lights on in the house. Monte and Terrance are up.

11:13 am Feeds on fire

11:52 am Britt and Michael
Britt – I had a very interesting conversation with Turner last night.
Britt – I get the sense he's trying to feel me out like Monte was trying to feel me out I don't underestimate that they still might be working together
Michael – same.. what did he say?
Britt – he wanted to check with me that he's not the backdoor target.
She goes over parts of the conversation with Turner. Like him suggesting Alyssa goes this week.
Britt – Turner thinks he has Monte.
Britt – Monte is loyal until an opportunity comes up
Britt says nobody knows why she's actually in the game and how much it means to her to get to the end. (autism?)
Michael wants to have conversations with Monte and Turner to gage if they believe them. "if you can try to talk to Taylor ONe on One
Britt – I got the feeling.. he's (Turner) in tighter with Monte