Quick Big Brother Spoilers
Head of Household:  Michael
Nominees: Alyssa and Terrance
POV Players: Monte, Alyssa, Michael, Terrance, Taylor, Brittany
POV Winner: Michael
Veto Ceremony:
Havenots: 
Lock your ranks in before midnight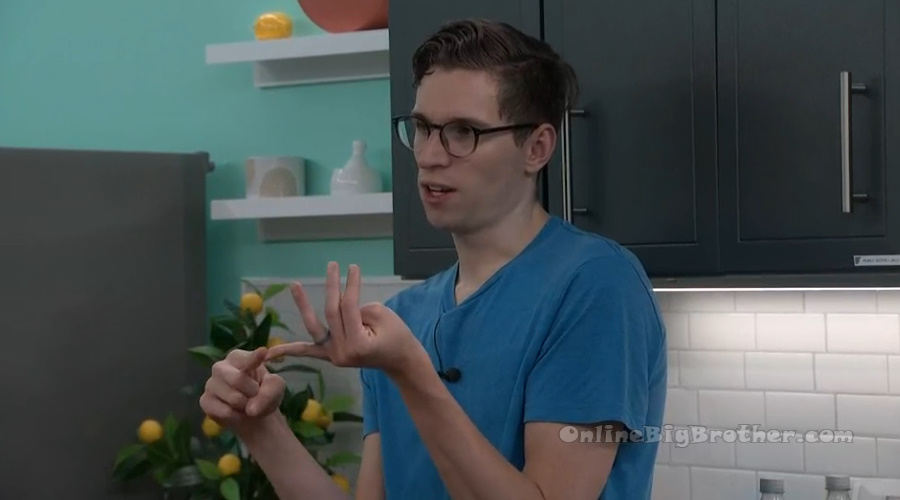 12:15pm Storage room – Brittany and Michael.
Brittany – I can't tell if its because he is extremely wishy wash which we know to be true or if I opened up a little bit more about the possibilities of this game and then he felt like he could divulge more. Michael – yeah. Brittany – it feels like sometimes you get a foot in the door with him and then he gets… ah okay that was the real story. Thanks. Michael – yeah. Brittany – I just feel like Alyssa is playing the convenience game which we know her whole game to be. It doesn't change now. I think she is telling us what we want to hear because she wants to get as far as she can. Which I think is fourth. She needs you more than Turner needs you to get far. Michael – yeah. Brittany – and I think she is banking on a big move at four to narrow it down. I guess just at the end of the day, what makes sense this week. I feel like we have three people that are targeting you the most. Not to discount that if Taylor and Alyssa had the opportunity that they wouldn't take it too. Michael – yeah. Brittany – but Monte, Turner, Terrance .. you can only get one out this week. Michael – yeah. Brittany – who do you want to leave next week? Michael – I don't know. I do have the fear that leaving Terrance in, someone is going to drag him to the final two. Brittany – I have that fear too. Me and Turner used to joke if anyone got to final two with Terrance.. then Terrance deserves their vote. I think that still stands and he was like yeah yeah yeah. At least Alyssa has the jury liking her .. and she can't win anything. Terrance has at least won some things and the jury. I think maybe he has Jasmine and maybe Kyle now (jury votes). I don't know how many people he has and that will be appealing to anybody. Michael – right. And he hasn't made anything happen in the game. Brittany – no, and he would be fairly easy to win against. I don't want Monte or Turner to think that is appealing. Alyssa and him have no reason to work together. Him staying in lessens our chance of having any loyalty with anybody else. I wonder if we have it anyways. Next week is final 6… so I think we have at least 2 weeks with Alyssa where I don't think she would put you up if she were to win something.
Michael – yeah. I just need to talk to everyone today. Brittany – what could anyone say today? Michael – just to read people. Brittany – and that is the thing with Monte, his strategy because he is playing such a clean game is to not say anything at all. But if we put him in a conversation like what would you do next week? Or what would you do in a double? He is going to have to say something. And that means he is going to have to go back on that and he pisses off both of us and one of us goes to jury .. that is our story. That the thing with Monte, like come on dude .. get some blood on your hands. He was already hinting at that during Big Brochella .. I haven't heard it since. And maybe it was Terrance's idea to backdoor you last week but whether or not Turner was going to do it. Michael – I just need to talk to people today. Brittany – we just need people to say what they would do next week and then see if they're lying. Michael – the only thing with Alyssa, if we kept Terrance this week. Who would she put up next week? If Monte left this week.. She is not going to put up Terrance. Michael – she would put me up. Brittany – she would put you up. The only thing she is willing to throw under the bus is Monte's name. That means leaving Monte and Turner in. Michael – which I don't love.. Do we lessen the competition or try and hope someone takes a shot somewhere else. If Monte does go this week.. obviously best case is you win next week. But if Taylor won and she was mad she would put me up. Alyssa would put me up. Terrance would put me up. Turner would put me up. Brittany – yup. Michael – But if Terrance goes this week.. there is a change Taylor hold for one more week. There is a chance Alyssa goes after Monte. And I know Turner promised to not put me up next week.. I expect him to go back on it but at least its something there. Brittany – we have to remember that Turner is very easily influenced. We can make him feel even more solid. I think he feels like he is safe this week because of that one week promise. And I don't know if there is a way for you to make him feel more safe beyond that. Michael – like we need each other. Brittany – we just need them to delay it.. because if they take the shot and opportunity all eyes will be on me. Like at least you can win things to protect yourself.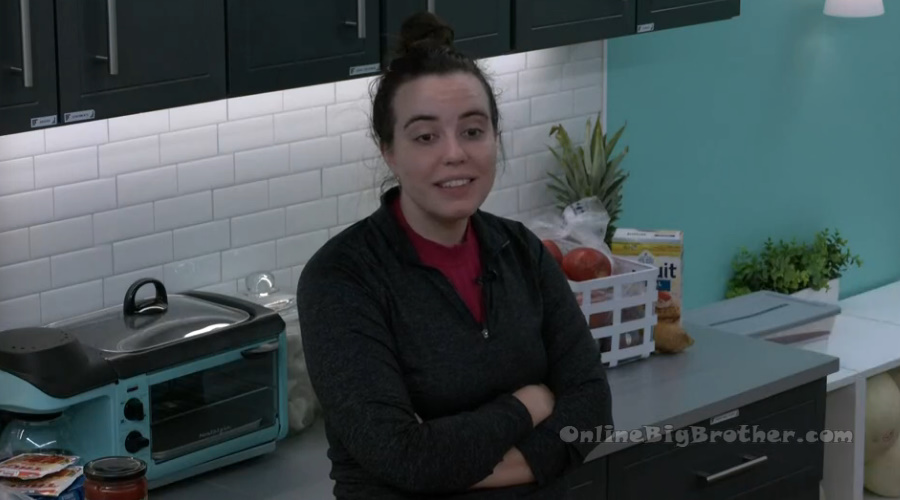 1:33pm Big Brother opens up the backyard.
1:22pm – 2pm Bedroom – Brittany talking to the camera about how thankful she feels to be on Big Brother, and all the other things she's grateful for.
1:50pm Kitchen – Turner and Alyssa.
Alyssa – so what was his plan? He had a final two with you. A final two with me. A final three with Michael and Brittany. Turner – everyone that does that in this game gets kicked out. Alyssa – he had a final four with Joseph, Monte.. Turner – well they're gone.. why would he say that? Alyssa – I don't know. Turner – why is he telling people his plans? What the f**k? Alyssa – I don't know! Turner – I am glad I did not give him a nice goodbye message. Alyssa – was it mean? Turner – No, it was just like you're destroying my game and I can't have you in this house. Alyssa – mine was you need to be a better man. I don't know what was up with him. Turner – well a lot .. not you know what? erectile disfunction. Was that a real thing? Alyssa – no. Turner – was it? Alyssa – no I promise. Turner – not that I am trying to dig.. its just so funny. Alyssa – do you want to know the details? Turner – no. Alyssa – its not a $exless house. Turner – I don't need to know. I've heard about under the pink blanket. Alyssa – under the pink blanket? Who told you? Him? Turner – MMmhhmm.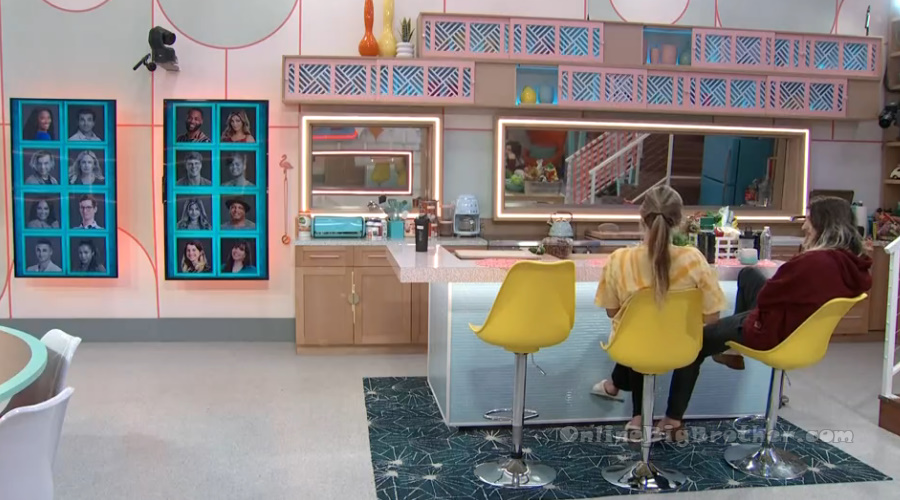 2:35pm Backyard – Brittany and Taylor.
Brittany – its going to be crucial who wins HOH next week and if its a double.. We all just need to be prepared for what that looks like. You and I are going to get a special amount of pressure to take a shot at Michael if that was the case. I am not convinced that next week is the week to do it… unless maybe it makes sense .. I don't know. You don't know if you will have the opportunity. Taylor – that is the thing. If I was going to have a shot at having a single veto I thought it was going to be yesterday. Brittany – so you think if the opportunity comes up next week .. we take the shot? Taylor – we just have to figure it out. Brittany – we just need to be on the same page. Taylor – yes. Because now its looking like 3 roads. I don't want to make a decision without you. And we don't want to make the wrong decision and squander our other two roads.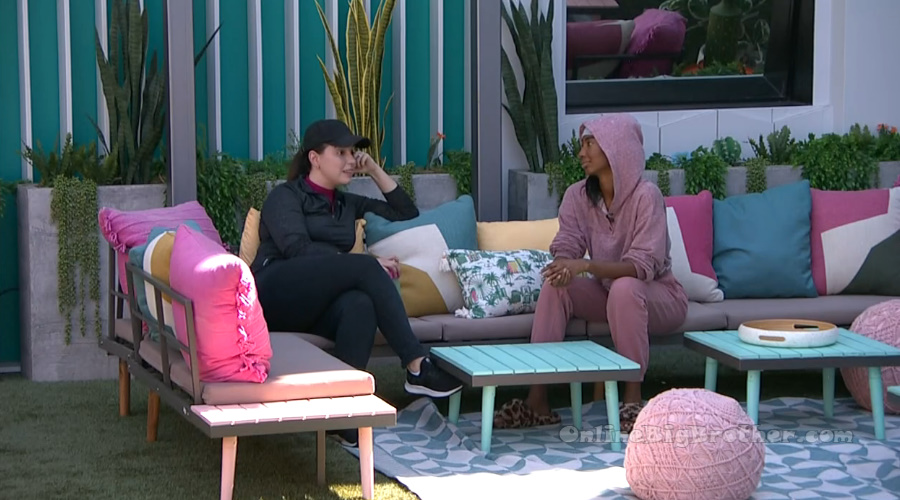 3:15pm Backyard – Turner, Taylor, Terrance, Alyssa and Brittany are chatting about random things. Turner, Alyssa and Brittany head inside. Monte joins Taylor and Terrance. Taylor – here is a hypothesis. Terrance – all the BB comics mean something.. they do. And we could not figure out for the life of us what Brittany's was. Taylor – Brit-flea the Head Itch in Charge. Terrance – what do fleas do? Monte – I don't know, lay it on me. Terrance – the main thing that a flea does is attach itself to a host and live off of it. Monte – is speechless. Taylor and Terrance start laughing. Monte – are y'all the only ones that have deduced this? Taylor – yeah. And.. Zing-bot confirmed .. we got the audio after he explained this. Monte – are you serious!? I wish I had known that before my DR! Damn!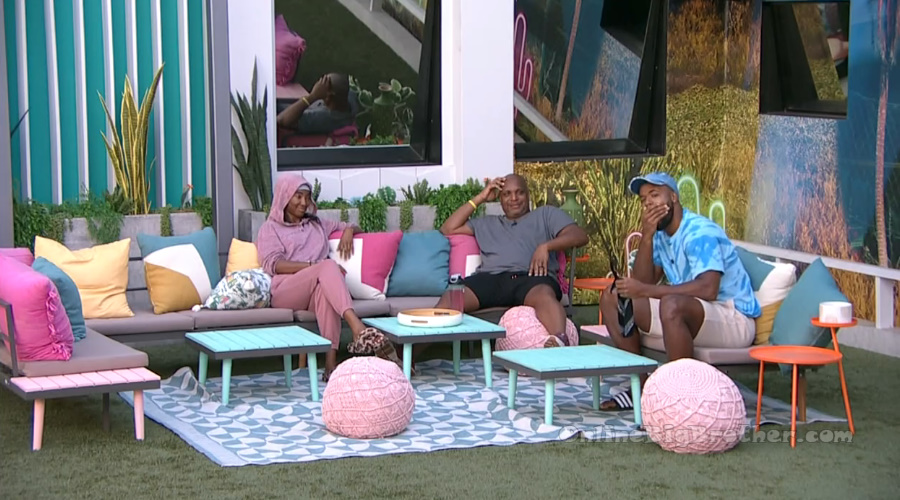 3:17pm – 3:50pm HOH room – Michael, Brittany and Alyssa.
Alyssa – I would obviously love to see us in final 3 and Taylor with us in final four.. and that's just me being completely transparent. That's how I think. That would be best case scenario for me. But what is better for how you guys see it? I am just thinking if anyone else won, I would definitely go up again. I just want to get past this week for sure… have you heard anything otherwise? Michael – no. Alyssa – that's nice, I appreciate that. Brittany – no one has come to me saying anything otherwise either. Alyssa – I get that Taylor doesn't have a lot of people so if she was to win next week.. I could see me being an option but I would prefer that not be the case but if it was I still wouldn't fault her for it as long as I know that we can still work together. Michael – and if she did win next week and put you up… obviously I think I would vote to keep you. Brittany – yeah, you would have us not up which means we would be able to save. Brittany – I don't want to speak for her but Turner put her up so I don't think they're the closest.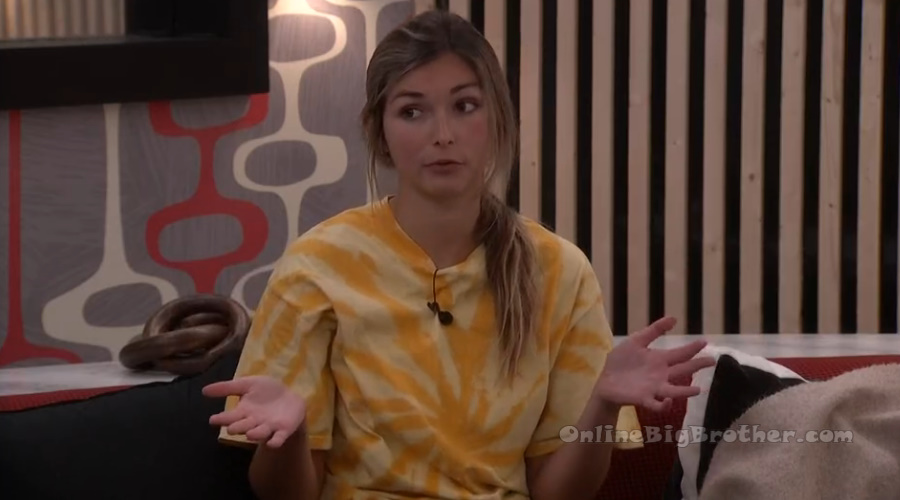 4:07pm – 5:20pm HOH room – Brittany and Alyssa.
Brittany – I don't think there is any scenarios .. like literally I've been running all the scenarios in my mind and you are good this week. Like there is just no if ands or buts about it. Alyssa – thank you! I feel good. At least with you, Taylor and probably Turner. Brittany – I mean Michael hasn't said anything about replacement noms or anything .. I mean I think its still 98% Terrance. But even if there was a situation like that .. there is not a chance you are going.. Alyssa – I also don't want to me like use the veto on me.. because he made those nominations and I have to build trust somehow. Its like okay I trust you .. even though I feel like I am going to throw up with anxiety.. its fine. Brittany – you're going to be fine. Because the votes are Monte, Turner.. Alyssa – you and Taylor. So worst cast I have you and Taylor. Brittany – and I think you would have Turner. Alyssa – I think so. Taylor joins them. Brittany – if Terrance goes this week its going to be 3/3.. 3 boys / 3 girls. Alyssa – and us three have the majority to win this next HOH. I think we have pretty good odds of winning that. Brittany – in terms of comps the biggest person we would need to beat is Turner. Alyssa – I think so too because Monte hasn't won a ton which is confusing to me. I thought he was a big threat. Alyssa – if I stay this week I would 100% not nominate you two. I would not put you up as the replacement. That is just not in the cards of my best interests of the game. How can I… like if I am lucky enough to stay this week.. Taylor – you keep saying that.. I am not letting you go anywhere. Alyssa – thank you. How can I benefit you going forward. Like what makes sense for you final five? Four? Like I am pumping this as three. Taylor – I think Turner and Monte would prefer to take a shot at Michael before any of us do. See how that works out. But whoever is the fourth person, I do feel good about us gunning for that person. Alyssa – I don't three women have ever made it to final 3. Taylor – This would guarantee 2 women sitting in final 2. Alyssa – this gives me chills. They reminisce about the past events of the season. Turner joins them.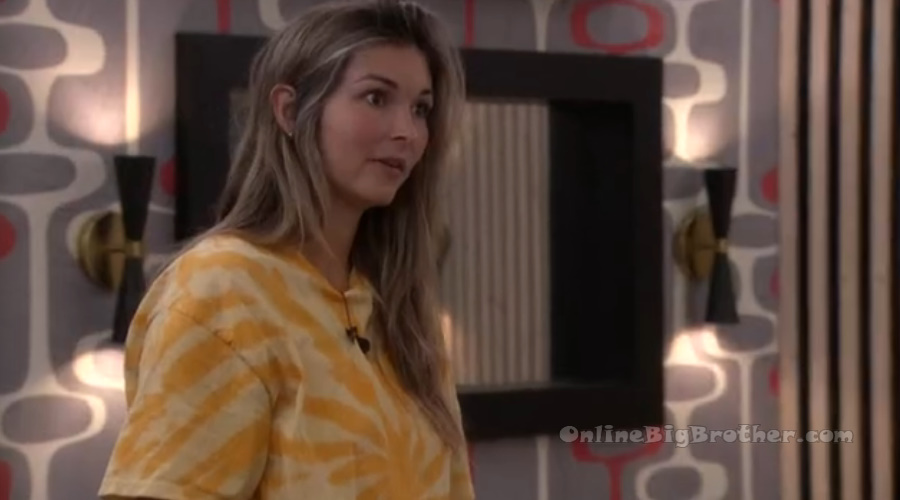 5:43pm Hammock – Taylor talking to the cameras.
Taylor – I have too many paths ..which is good but also scary. What am I willing to forgive and what am I willing not to forgive?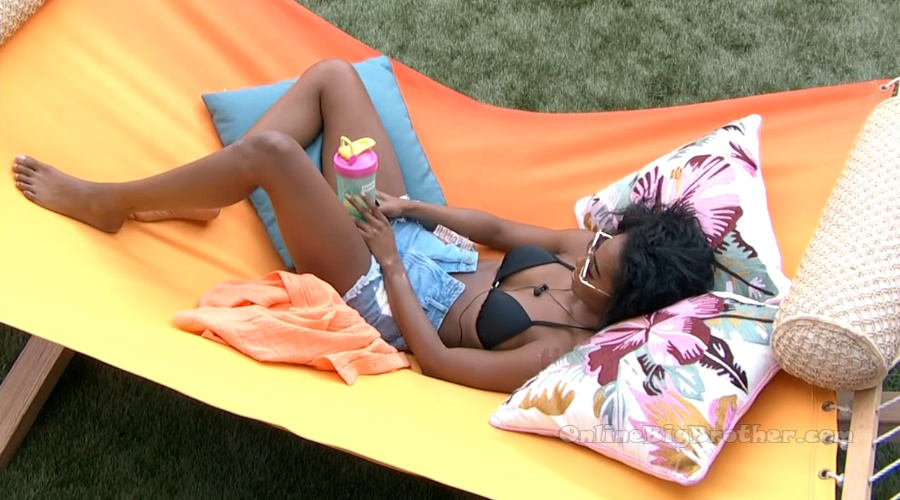 6:35pm Backyard – Monte is working out. Turner, Brittany, Alyssa and Taylor are sleeping on the loungers/hammock. Michael is eating dinner.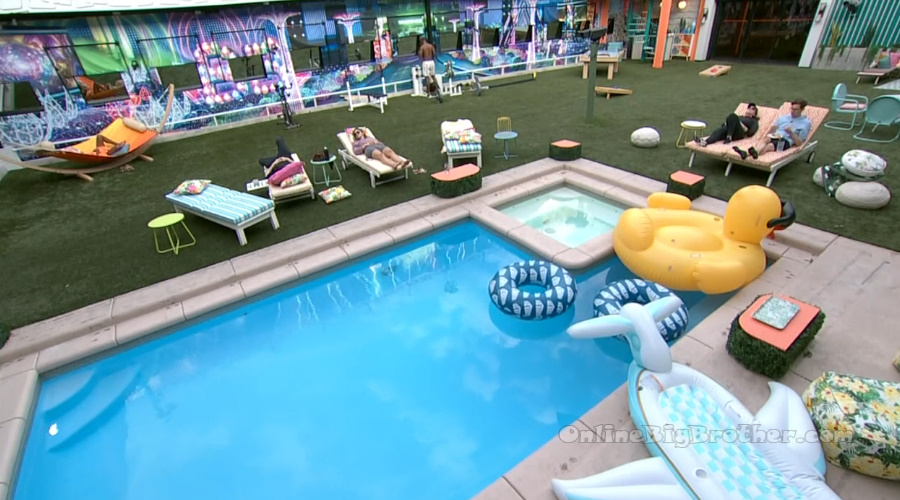 6:40pm Big Brother gave the house guests 2 bottles of wine. Alyssa – we're going to get drunk tonight! We also have the ciders and beer.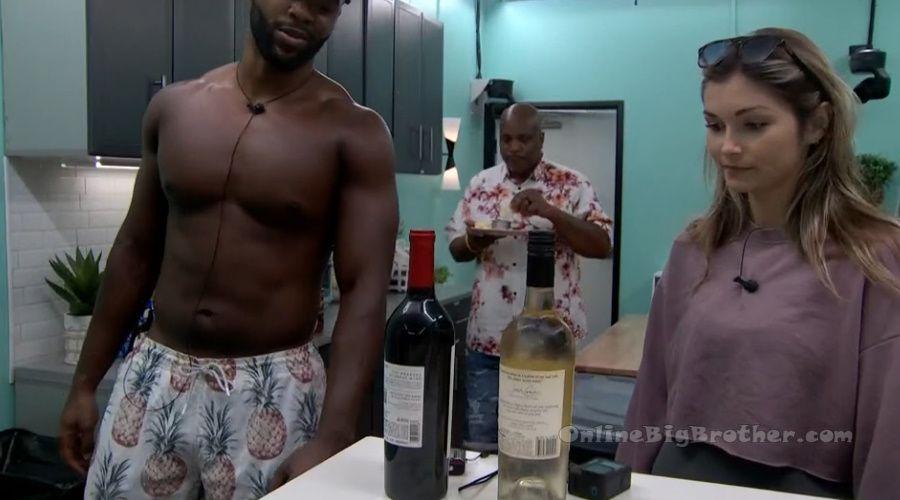 7:50pm Turner and Michael playing pool. Alyssa and Brittany are getting ready for party time! Monte – are we going to take it easy tonight or balls to the wall? Alyssa – I will let the night take me where it is feeling it. If we have a glass .. and we're feeling it we will have 12 more.
8pm – 9:05pm The house guests cheers to final 7. They all sit around the table and reminisce about the first day move in impressions of each other / other past events of the season. They then state what they love about each other and what they're grateful for.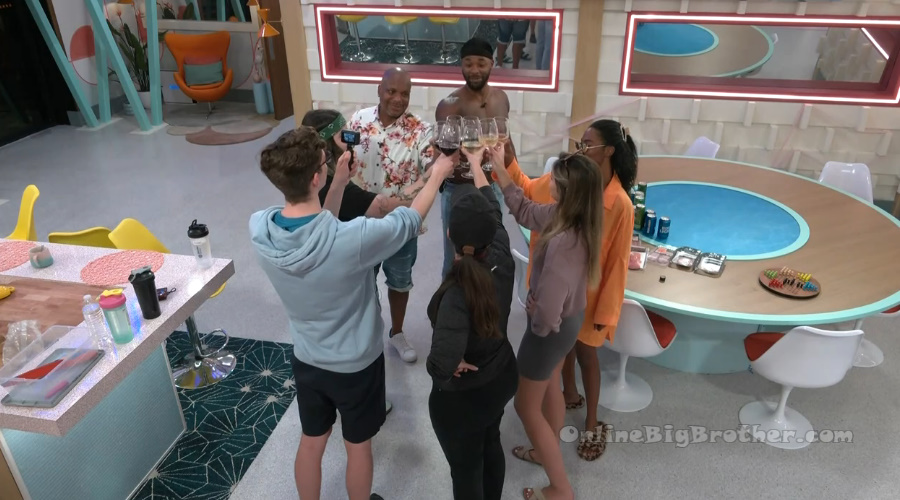 9:15pm The house guests offer advice for future house guests. Alyssa – be very open to having conversations with every house guest. Get to know everyone and don't judge anyone by who they are or what it seems like their story is. Be very open to learning people and who you could work well with..
Turner – don't make yourself a target and with peace and love don't pawn yourself week two. Everyone is obviously gunning for HOH but if you try to win one of the first 3 .. fight for your life for one of those. Connections will come to you one of those weeks. By week 4, connections are made.
Brittany – be true to yourself. Sometimes we think we have to be other people. Hold true to your vision. The how will work itself out.
Monte – prioritize your health. You could be sleep deprived or not eating the best food. The other thing I would say is actions over words.
Terrance – if you're the older person in the BB experience, just for it with your game. Do not be discouraged. If you're in a room with people half your age, make those connections, talk to them, get into it with them. They will embrace you and they will carry you.
Michael – I would echo everything that everyone else said and I would also give a little practical advice.. Number one practice staying up late. Try to memorize a couple of recipes. Bring sweatshirts and lounge wear. Bring a wide variety of clothes. Bring dressier clothes too. Those are my practical tips.
Taylor – Never throw a comp. Always always fight in this game because things can change over night. You want to believe in yourself and never give someone to take that opportunity away from you.

10:30pm Hammock – Brittany and Taylor.
Taylor – oh my god Brittany, we have so many options. Brittany – its either the best thing or the worst thing. I am scared because we're going to have to show our cards at some point. Taylor – yeah. Brittany – and its going to disappoint somebody.
10:35pm – 11pm HOH room – Alyssa and Michael.
Alyssa – I think Turner is very easily influenced. If Turner was to win the next HOH, how do we make sure we're not the target. Michael – right. Alyssa – I think that he could be convinced that Monte has played a clean game. Like you can't win next to him. I think that he could be convinced to do that. Do you see them (Monte and Turner) as close? Michael – I have never saw them as a pair. They seem good with each other in a away that I wouldn't have expected based on how the Leftovers crumbled. Alyssa – I was hoping to make it through this week. I assume you're not going to use the veto? Michael – That's what I am leaning towards. If everyone is cool with Terrance going, the I would leave it as that. Alyssa – I am cool with that, that you're going to keep it the same.
11:10pm HOH room – Michael and Terrance.
Terrance – after yesterday I know I was feeling a little overwhelmed and.. Michael – understandably. Terrance – so I had a therapy session because I felt like I absolutely needed it. Big Brother switches the feeds. Michael – no matter who is on the block .. that is what I want to hear, that you want to be here. Like I know from a smart perspective but as a fan I never want to hear that someone isn't going to fight. Even if that does make the road to the end harder. So I do appreciate you saying that. Terrance – just looking at it from a transparency aspect, I did withhold a lot of information from you coming into it and I should have been more forthright. And to find out I was the only one holding the water and everyone else was throwing me under the bus. It was a conversation had between all of us. There was I guess you could say an alliance (The After Party) but it fell apart as quickly as it came about. That was the only thing that I did not disclose. And I look at the game perspective between me leaving as a posed to her leaving. If the game stood as it is right now she (Alyssa) definitely has the votes just with the people that are in jury right now. I know it is possibly smarter for your game to get rid of me but I just strongly feel that I am still valuable to your game. Michael – I would lean towards probably leaving things the same. Terrance – I respect leaving it the same and just making it a vote situation. I just want a fighting chance to show you like hey we could work together more than I could be a hinderance.
11:18pm HOH room – Monte and Michael.
Monte – unless you have any news, I don't have any news. I don't think whatever happens tomorrow, I don't think it will be a surprise to him (Terrance). Michael – Both of them want to be off the block but neither of them are expecting it. On finale night I would much rather be sitting next to Alyssa than Terrance. Monte – I am fine with Terrance this week. It really doesn't matter to me.
11:28pm – 11:44pm HOH room – Taylor and Michael.
Michael – I am not using it. Did Alyssa talk to you today? Taylor – it sounds like she really wants a final four with the four of us. The conversation didn't go super deep but it sounds like she wants to protect you. Michael – surprisingly she is very questionable about Turner which really surprised me. Taylor – it surprised me too. Taylor – she is ready to send him out the door. Michael – is there value agreeing to this with Alyssa in case she wins to ensure that Turner does go up and then we can vote Turner out. Is there value in playing around. Taylor – I feel really good about our Big Brochella. It is possible that she could win HOH. He asked why are people keeping Alyssa over me. And I said people feel that they can trust her over you.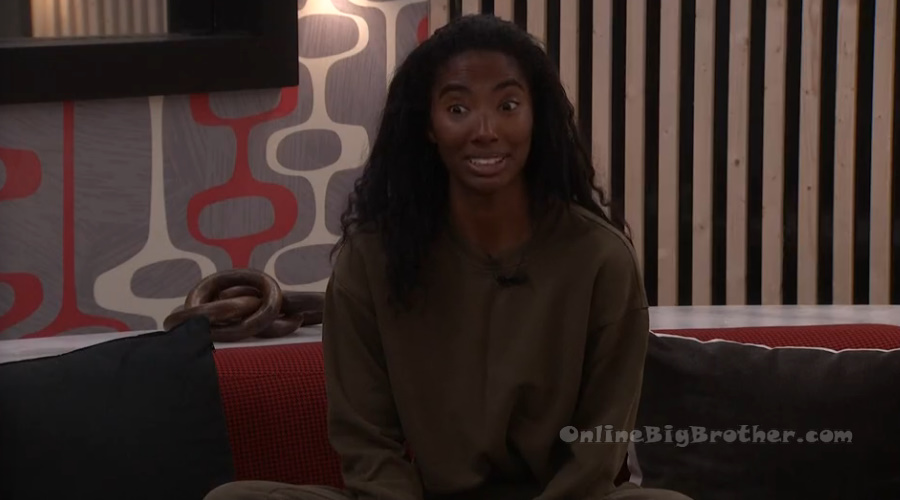 11:52pm – 12:15am HOH room – Turner and Michael
Turner – I mean this peacefully and with love.. you have won far more comps than I have. I have won the second most HOH so I feel like I fall into this crack of being someone people want to take out but someone if they miss they're not terrified of. So I feel like I am a good player but f**k I don't know where I stand at in this house after this week which is scary. But you have my word, you kept me safe this week, I will I promise you.. period! Michael – thank you. I appreciate that. Turner – we can trade that key back and forth. Turner – I am definitely not lying about this because if I was I would be a psychopath. It was Brittany and she came up to me.. oh my god I feel so bad about this and I promise you this is the truth. It was after good night messages she came out of the DR and she was like I feel good with Michael and I don't think he would ever take a shot at me but I don't want to be in second place. And then she was talking about how Alyssa, Brittany and Taylor are forming some sort of group.. and I was like well great I am not in that. But then she was like I don't feel good with Alyssa because she has the jury of votes with all her best friends in there and I also don't feel good about Taylor but I do feel good with you. I feel like we've played the same game and I am like with peace and love I feel like I've played a much better game but that is fine, I don't care. If I was in the end with Brittany .. with peace and love I think I would beat her. I think anyone would. And with Terrance going home this week.. I don't trust Terrance with anything at all. I think that it would be best if you, me and Monte work together so that we can trade off winning HOHs. Michael – and I think once one of us goes, the other will be next. We are in similar positions where we need each other. I do believe what you're saying. I think if the three of us can get in a room this week. Turner – I am pumped about it now. If I win HOH next week there is 0% chance of you going up or Monte going up. Michael – you have literally no idea the relief.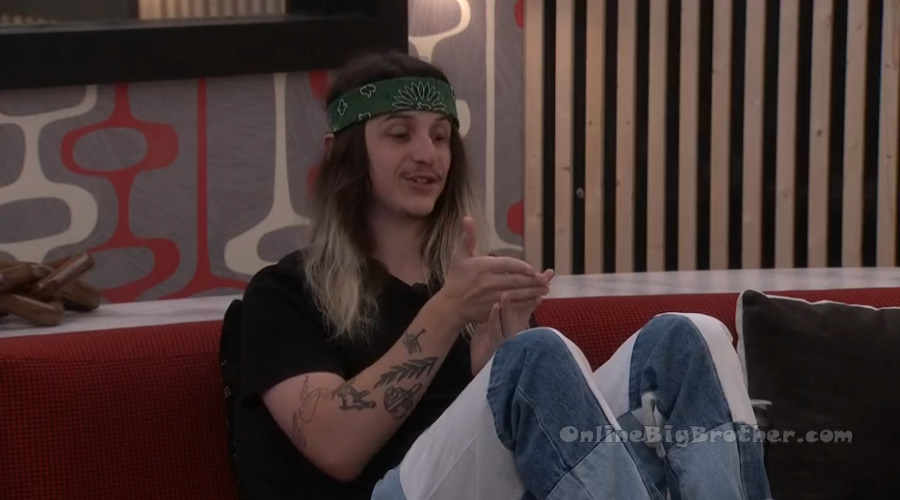 1am Taylor resting/sleeping in the hammock.