Quick Big Brother Spoilers
Head of Household:  Michael
Nominees: Alyssa and Terrance
POV Players: Monte, Alyssa, Michael, Terrance, Taylor, Brittany
POV Winner:
Veto Ceremony:
Havenots: 
Terrance and Alyssa will be nominated. Terrance is the target. (Not confirmed but if Veto is played there is a chance Turner is a target)
Lock your ranks in before midnight
12:50pm
Cams on Alyssa and Brittany sleeping..
12:50pm HOH room – Terrance and Michael.
Terrance – I just wanted to find out what your thought process was with me playing this veto or just the nominations.. like what was your thought process? Am I your target or what your goal was? Michael – out of everyone in the house I have heard that you are in some way shape or form been part of a plan to get me out so that obviously factored in. I brought that up yesterday and you didn't deny it. Between you and Alyssa, I would be more concerned about keeping someone that has plans to get me out. Coming into the game I always said that adaptability is something that I wanted to embody so I am not saying that 100% because yesterday that was how I was feeling. We see especially week to week that things change last minute. I want to play this game where I am adaptable.. so I am not going to say that anything is set in stone. Terrance – so its just funny when you think you're apart of something .. and then you find out that everyone in it put their hands up .. information is .. as soon as power shifts people put their hands up and certain people stay loyal to what it is. Coming back in from Dyre fest everyone was lets backdoor Michael, and I can't play for HOH. So yes, that was the plan coming back into the house. But I in no way had any opportunity or the ability to devise a plan to go after you. And I am not going to hold the bag that I am the mastermind about getting you out of the house. I am just not going to be the weight that is carried on my head. That wasn't the thought process in my head. There were multiple people. Michael – can I ask who did the idea come from? Terrance – from the backyard… basically everyone out there (Turner, Kyle, Alyssa, Terrance). Once Joseph was solidified to go home, Kyle brought up that we had to go after you and take the first swing. Michael – so if you were me what would you have done in this situation? Terrance – if I were you, and hearing the information I would have done my due diligence to say damn there was a plan in place to get me up and yes I did promise sanctuary to the person that was plotting to get me the f**k out of here. And it was like damn, you promised safety to Turner ..so what the f**k am I going to talk to Turner about .. you promised him safety already and you don't go against your word. Me personally, I would have put him up! I guarantee you safety, but I don't guarantee you did some f**k sh*t to me in my game! He gets a free pass to take a shot at you and be safe for the week. What do you think he going to do when he plays again. Do you think you get a free pass? Michael – no, I don't. Terrance – do you think its going to be the same situation. Michael – and looking at everything that happened last week, I just don't feel comfortable going back on it. Terrance – and I am paying the price for it.
Terrance brings up how Michael and Brittany didn't bring up the information about Kyle until after the veto. As sensitive and damning as it was nothing was said from Thursday to Sunday. Those are the questions you will have to answer to the jury. Michael – During the slit house we did not know if Kyle was going to come back and did not want to say it without Kyle there to say his side. Once we got back together Brittany and I wrestled with what do we say, when do we say it. Being in the game any information that is said or shared is always going to be under a microscope.. what the intention is and why? So if I do it before noms, I am trying to save my a$$ and stay off the block. If I do it before the veto, I am trying to throw people off before the veto. Because I won the veto, regardless of the information I can't go home this week. This isn't my last ditch effort to save myself. I was hoping that would make it feel like it was more genuine. I have nothing to gain here. In my mind I felt it was the best time to do it. I thought intentions would be called into question. No matter when I brought it up it was always going to look like it was self serving. Terrance – if there was nothing for you to gain from the information .. I think to me in my opinion… as soon as we came in the house the information should have been told. Big Brother switches the feeds. Michael – I know there are a thousand different ways things could have been done differently and if I could have done it differently I would. I know how it looked like he (Michael) is trying to manipulate all of this in a way to win money and that was not what I was trying to do. It was not a decision I took lightly. I respect however you feel about and I hope that you understand there was no malicious intent on my end. With the information I had, I did the best I could. I know I made mistakes and I am willing to own up to that. I do appreciate you having the one on one with me.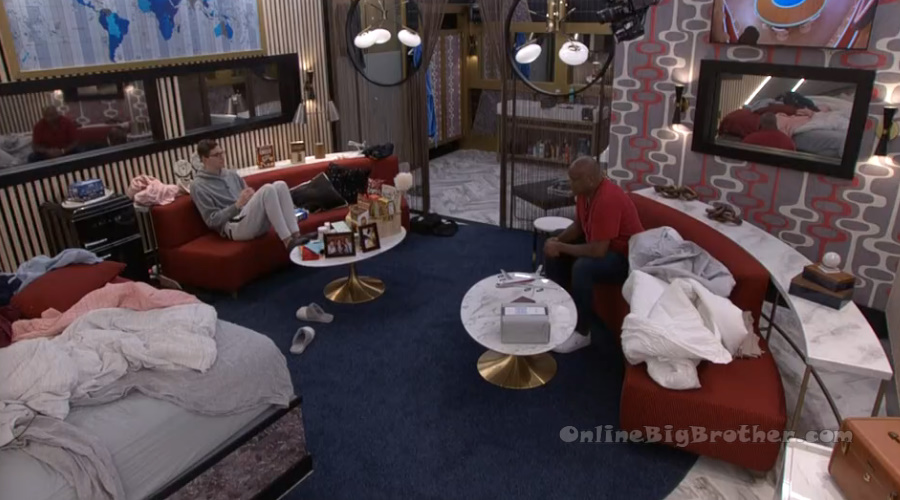 2pm HOH room – Brittany and Michael.
Michael fills Brittany in on the above conversation he had with Terrance. Michael – its not even about me. How this whole situation plays out is not about me. Terrance, Taylor, Monte and to a greater sense some of the jury people as well… are the ones that would have been directly affected if Kyle had gotten power to do something about it. And its definitely not poor me, poor me… is definitely not the take away that I want this to be but it just feels sh*tty that I am just trying to play this game and I am probably going to lose because someone thinks my intentions were something that they weren't. Brittany – I don't think jury is going to be swayed by this, I really don't. Michael – I don't know .. I just hope the facts are stated as the facts. And if Terrance wants to state how he interprets the facts, that is fine. But I just hope its not him going into jury and saying that Michael and Brittany manipulated the situation for their game and doesn't give any of the context behind it. But again .. its not about me.
2:39pm The live feeds switch to the kitten cams..
6:03pm Still blocked
7:25pm Still nothing… Tell me what your guess is for what veto competition this is? Hide the veto comp? BB Comics / Super hero veto comp?