Quick Big Brother Spoilers
Head of Household:  Michael
Nominees:
POV Players:
POV Winner:
Veto Ceremony:
Havenots: 
Lock your ranks in before midnight
The situation – Michael is putting up Terrance and Alyssa. Terrance is the target. Speculation at this point but we could see Turner on the block with the POUND being the reason.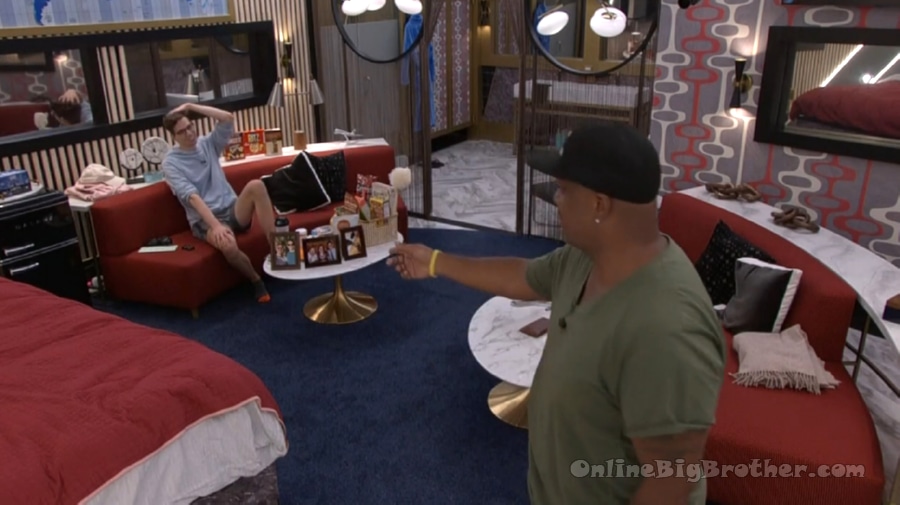 2:40 AM Terrance and Michael
Terrance goes a long retell of what happened in Dyre Fest.
Terrance – It was just crazy
Terrance tells him he didn't know about Turner's nominations last week.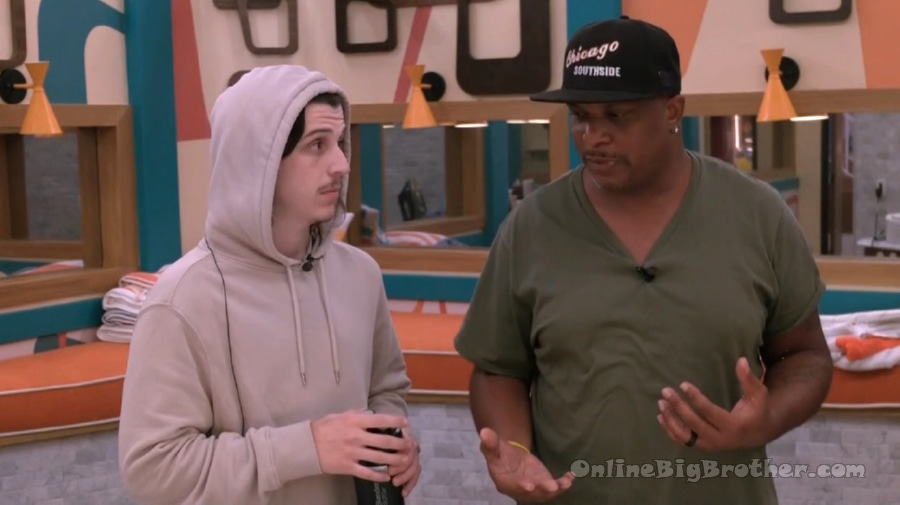 2:45 am Terrance and Turner
Terrance give him a debrief on what he told Michael about Dyre fest and Kyle. "Kyle told me everything but you held out and never told me anything"
Turner – did you tell him about the backdoor plan at all?
Terrance – no. nothing about that. He asked me if I knew who was going up initially I said I just knew I would be OK because I pulled him down.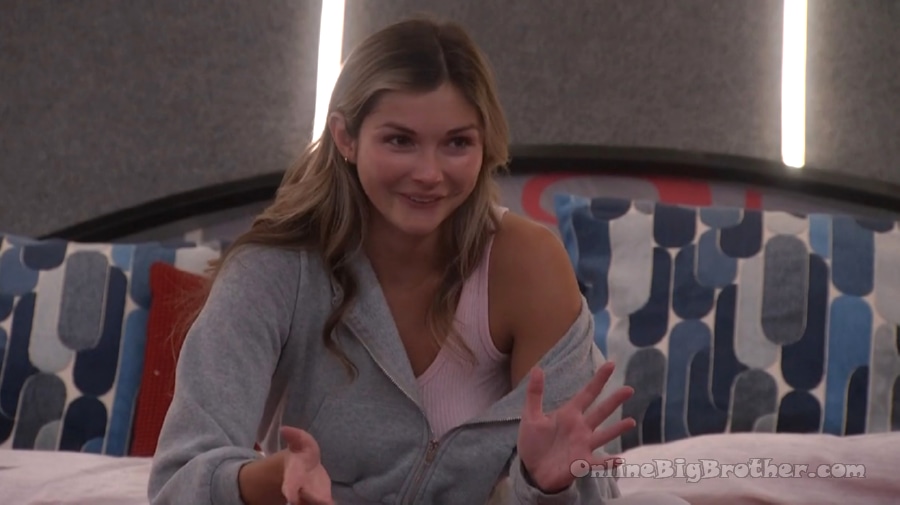 2:45 am Michael and Alyssa
Michael – I want to talk everyone tonight. probably not the smartest thing to not talk game after what happened. I'm still feeling where is the house. After the house meeting I felt it was a bit of a reset. I didn't think it was appropriate to talk game because Kyle did campaign. It didn't feel necessary to do anything like that.
Michael – I'm hoping this week we can get back to normalcy
Michael – there's no hiding my comp wins.
They talk about Kyle. Alyssa cries
Michael – I'm still not 100% certain what happened about Dyre Fest.. I heard Kyle said things and Joe said things .. I still don't know
Alyssa – I think it was both that said things
Alyssa – can I tell you something to keep between you and me 100%
Michael – YES
Alyssa – before Kyle left he said I'll tell you something that is about game that maybe you want o share wit someone you trust. Apparently inside the leftovers there was something called the pound.
Michael – the pound?
Alyssa – It was Monte, Joe, Kyle and Turner. They had a final 4
Michael – THe pound?
Alyssa thinks the name has something to do with POOCH.. "POOCH/pound"
Michael – kinda funny.. there was speculation because those were the four that stayed up late that night and got the conversations started. It's good to hear confirmation.
Michael – I did tell Terrance after last week I won't put Turner up this week I don't want the moral of the story to be .. do .. Putting Kyle up wasn't good for him. He did it because he felt it was the right thing to do I didn't want that to be less of a story like do the right thing.. so I told Terrance.. Unless I find out something wild I don't see myself doing that I'm just letting everyone know
Alyssa – that is really respectful and awesome.
Michael – I think people will be afraid to sit next to you at the end..
Alyssa – really?
Michael – Jasmine, Indy, Kyle.. You and Terrance have a great relationship you and turner have a great relationship your social game is really really good.
Alyssa – Whatever decision you make I respect and I will follow your lead.
Alyssa goes on about the events of Dyre Fest.
Michael says he plans to meet everyone tomorrow before nominations.
Alyssa leaves..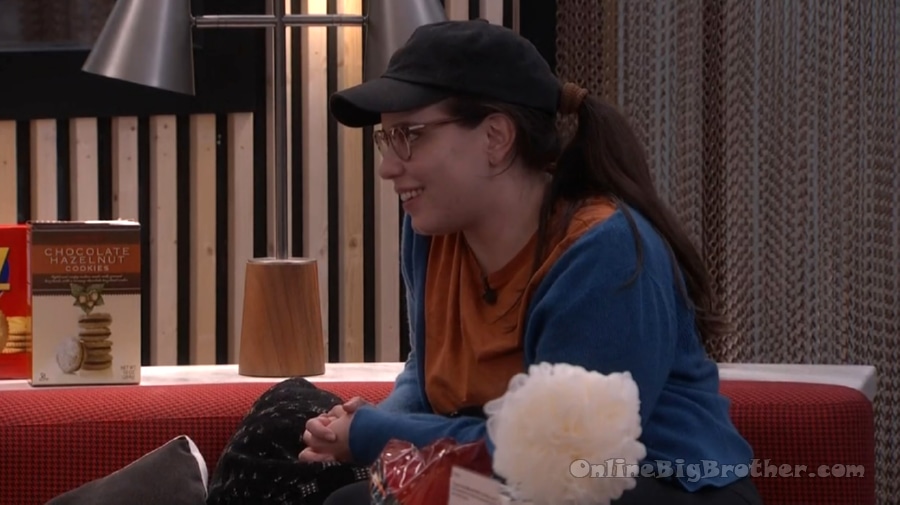 3:14 am Brittany and Michael
Michael – no one looked excited.. Terrance looked mad
Brittany – he looked pissed.. is that still the plan?
Michael – I would like Terrance out this week but I am afraid if I Put Alyssa up with him they are going to want ALyssa
Michael – Monte and Taylor will want Alyssa
Britt – Taylor will want Terrance out .. yeah
Michael – I feel bad I really do like Alyssa.. I do think the fact that her social gamer and the jury votes she has people will want to take a shot at her. She needs people. Maybe she needs us
Britt – She has Turner
Michael – she makes it sound like she doesn't
Britt – but Now Kyle is gone. Turner is smart..
Michael – I don't know ..
Brit t- I see arguments for both.
Michael – if there is a double I would much rather see Alyssa in it than Terrance. Terrance has proven he's good at the mental comps..
Britt – he's won more comps and he's actively gunning for you and Taylor
Michael – did you realize Alyssa's zing.. 'you're dead weight and useless' .. he said let me say it again so you understand it .. it was a double you aren't bright.
Britt – ohh my good..
Michael – it was so bad
Britt – she doesn't understand the severity that she hasn't been playing this game at all
Michael – she gets it.. she said 'I wish I had a group I could talk to'
Britt – what do you do? it's too late. Are you still thinking about putting them two up though?
Michael nobs "Yeah"
Britt – how will you handle it
Michael – talk to everyone tonight then check in tomorrow. what do you think of those noms?
Britt – those are good.. overall Turner is our biggest threat. I know we're not doing anything this week because of what happened last week I'm totally onboard with that. I'm just thinking next week you can't play HOH and Turner can. what puts us in the best position for that?
Britt – Getting rid of Alyssa or Turner this week gets rid of a number so that helps us.. who do we want competing against and who do we think will work I with us more. I am a little nervous if Alyssa understands her zing she will be more motivated to take a shot against you or..
Michael – How do we feel about Monte? I won't put him up as the initial Nominee and I don't even know if I would want to put him up as the backdoor or replacement but if he is not solid on the final 4.. Again also that doomsday scenario if we do take him out even if you or Taylor wins next week could be put in a position where one of us has to go up. So now I'm leaning towards not touching him I don't know..
Britt – we'll need as much force next week competing against Turner
Britt – we need to get Turner out soon.
Michael says if Monte is still around there's a better chance that it will be Monte and him on the block over Brittany and him.
Britt – if it was ALyssa she would put me and Monte up. I feel we're at the point where people will be like If I can't hurt Michael there's Brittany
Michael – I would hope they want Monte first.
Britt – I love Taylor but she is just waiting for somebody to take you out. She really thinks her and I are locked in for a final 2 and she doesn't want to be the one that do it. In her eyes it's me or her at the end and the one that takes you out wins.
Michael – we are the chenbots
Britt – we are no longer the underdogs here.
Michael – I don't think they will introduce a power at final 7
Britt – you don't think so? Lets hope so.. Doesn't America vote for something?
Michael – usually something before the game.. you never know..
Britt says last week If Kyle wasn't going up it would have been Monte "I don't know if he recognizes that"
Michael – Turner has one more things that Monte and Turner's HOH he's done more
Michael wonders if getting rid of Terrance is a "waste of a HOH?"
Michael – I also don't want to play like that.. there's big moves and smart moves
Britt – Terrance has proven he can win more than we give him credit for and he's a number for the other side.
Brittany – once we get Turner out it feels like its smooth sailings.. even Monte he hasn't proven
Michael says they just have to win from here on in.
Brittany says Terrance is actively gunning for him but with Alyssa he's good with her. "tell her she's a pawn"
Michael is worried about what Kyle will say in Jury "I feel like he's more mad at me. He pulled you for conversations and he never talked to me once"
Britt – really
Michael – Kyle will be throwing me under the bus
Britt – yeah there's a chance of that noone can deny the facts of your game. the comp wins. you know..
Britt – that is why we need to go together (to Finale)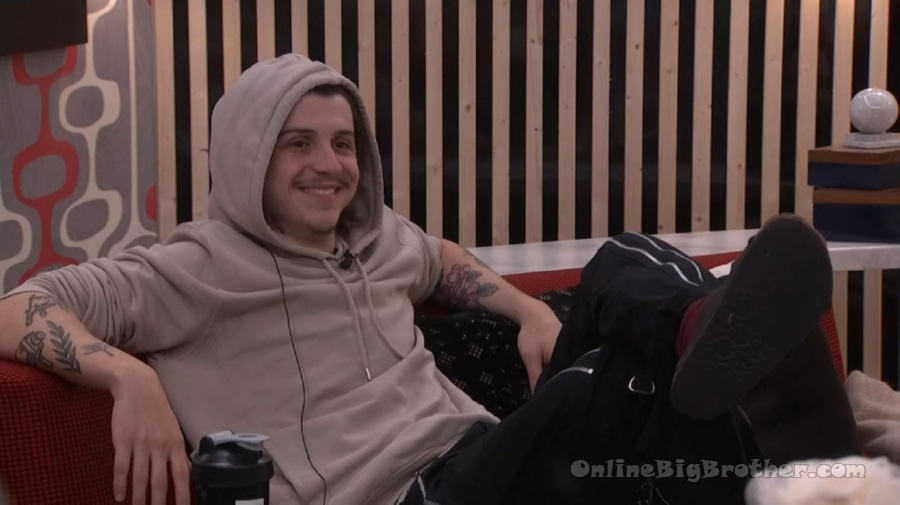 3:50 am Michael and Turner
Michael – obviously I am not putting you up
Turner – thank you you are the best.. where to begin.. is there any clarifying you need?
Michael says his obvious choice is Alyssa and Terrance.
Turner says if he wins the veto he won't use it.
Michael – between them do you have any preference?
Turner – personally I like Alyssa more but I'm either way I'm fully onboard.
Michael – Terrance has thrown both Taylor and Monte's names
Turner – they will be on the same page.
Michael – I am so worried about what Kyle is going to say about me in Jury.. He wasn't happy with me.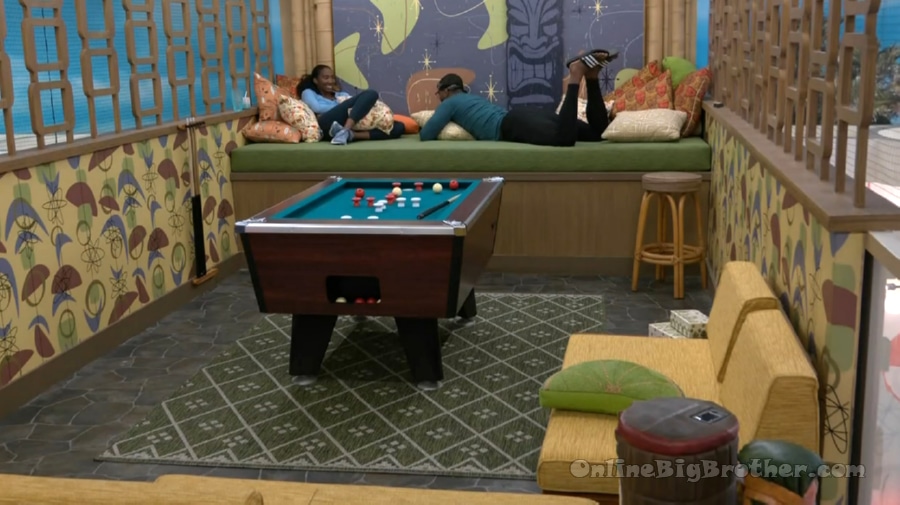 3:55 am Monte and Taylor
Monte about Brittany "Is she fine with second place"
Taylor nods
Monte – you think so? Okay that is.. I have not comments about that.. what do you think about this?
Taylor – we all have different goals in the game..
Monte – she actually said she's fine with second place
Taylor – She didn't say that
monte- But you can tell?
Taylor – yeah
Monte – judging how she wants to get Turner out this week if she were HOH that seems pretty foolish in my opinion.
Taylor agrees
Monte says even if Brittany wins everything from now until the end. Michael throws her all the veto's he will still win based on his social game. "it is a landslide"
Monte – what is your relationship with Brittany is there anything you wouldn't do in regards to voting if she was on the block? where's you head with that stuff?
Taylor – I would prefer to be final 3 with you and her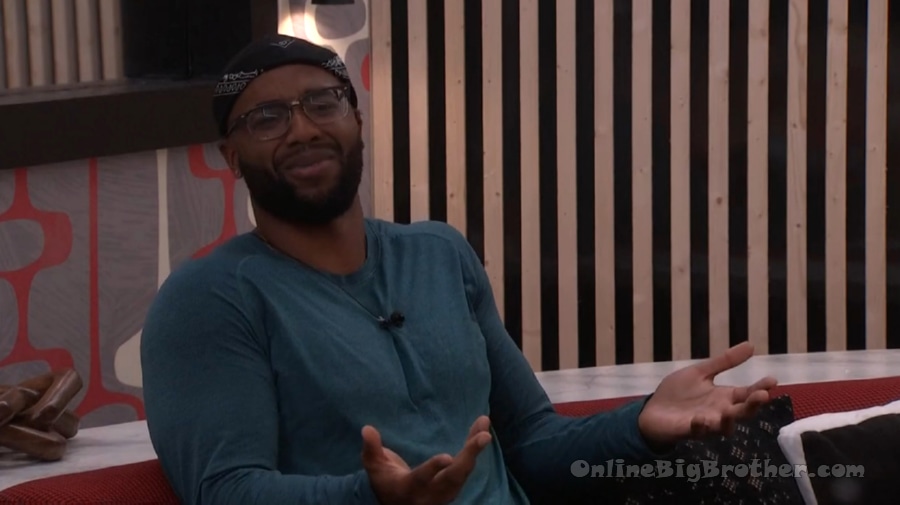 4:00 am Monte and Michael
Michael says he talked to Terrance and Alyssa first and said he'll talk to them again tomorrow. He couldn't tell them they are going up without talking to everyone else first.
Monte – that's fair.
Michael asks if he has any thoughts about Terrance and Alyssa going up
Monte – there's so few people.. you always need to justify it. it could be the good old we haven't talked a lot of game this season. I kinda think they know they are on the outs.
Michael – Turner said he wouldn't use it which was my biggest concern he would use it (Veto) on Alyssa
Monte – if he uses that veto he's public enemy number one next week
4:12 am Monte and Turner
Talking about how they are safe this week and everyone on track for them to get to 5 but if they get a chance to take a shot on Michael they can take it.
Monte – we will look like fools if we didn't ..
Monte says the thing that sucks about going to five with Michael is he will be able to play in that HOH. If he wins they might be able to convince him to put Brittany up as a pawn.
Monte – If Michael is sitting next to anybody but Brittany we might have a fighting chance because of all the shit him and Brittany did to get Kyle out this past week.
Monte – Terrance is PISSED about the way things came out. I am too because I feel like they were trying to play the situation. They forced your hand in putting up Kyle
Turner – they said it's not good for our game. It's SO good for their game.
Monte – yeah look where they are now both safe.
Monte – if we have a chance to take out Brittany I think we should
Monte says if the jury has to decide between, Him, Taylor or Monte VS Michael in Jury there may be "Enough Ruckus stirred in the jury where they are like YO that was some pretty low sh1t what they did to Kyle and How they enabled that for 2 weeks.. for a MONTH actually"
Monte – They wait for the final hour before you had to put up a replacement nominee to protect their numbers.
Turner – he's taken out 1/2 of Jury anyways.. the management of Jury is pretty bad.
Monte says Terrance it telling him he's not voting for Michael unless he's sitting next to Brittany
Monte – if there's a shot we can take a Brittany we have to take it
Monte – if I am the first out of the 5 to go to jury I'm telling them what Michael did.
Monte says he's not voting to Michael to win unless he's up against Brittany. "That wasn't a good social move"
Turner – It was the most F***Ed up Big Brother move ever
Monte – Yes, definitely. you throw somebody under the dirt and essentially expose something that should be exposed and you time it to the point where it benefits your game and then play it like you are the victims and you care so much about people that you had to share it all of a sudden.. that is bullshit. They said it themselves. If in Dyre Fest Kyle went there would be no need to talk about it.
Monte says next week if they win HOH they put up Alyssa and Convince Brittany she is the pawn. "The only issue is If F***ing Michael wins another veto. if he does we have to encourage him not to use the veto. at this point why force any of us to make the decision to put one Taylor up or one of us when we've all been on the block already and Brittany hasn't"
Turner says it would be amazing if Alyssa won HOH and took one of them out. (Brittany, Michael)
Monte says they need to get one veto on Michael "we're scot free"
Turner – he's out
Monte – he can't be perfect..
Turner – that is crazy
Monte – he was born for this.. the thing is he f**8ed himself when he held that information. If he and Brittany would have shared it right when they heard it..
Taylor comes out of the HOH. they decide to play pool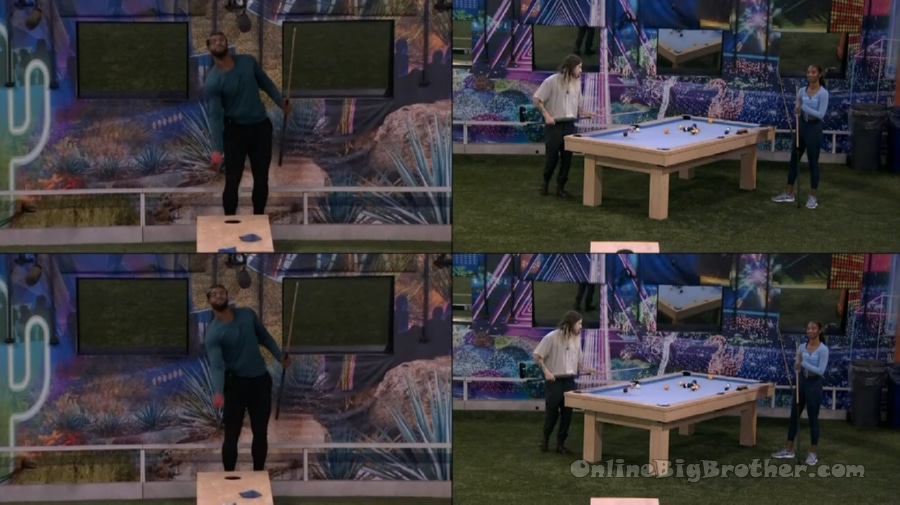 4:50 am pool/cornhole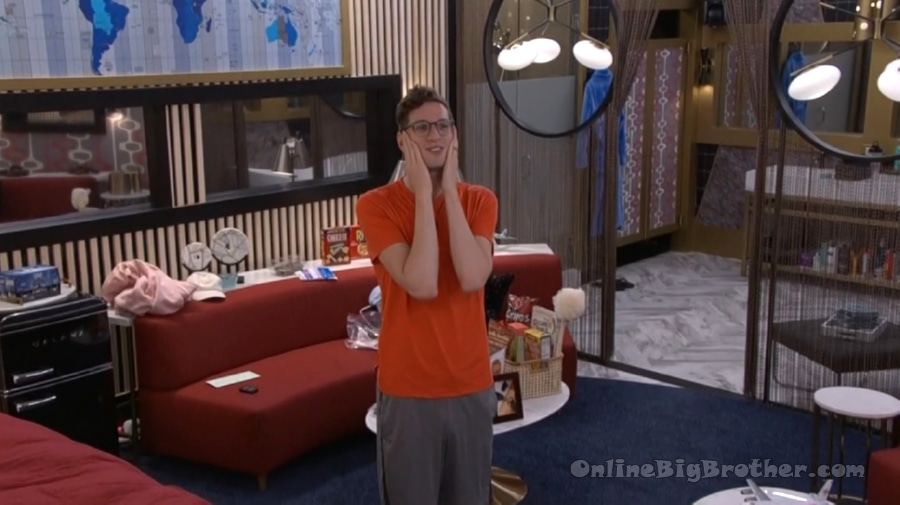 5:00 am Michael saying goodnight to Hayden

5:02 am these three are not feeling tired at all.
6:07 am zzzzzz
8:07 am zzzzzz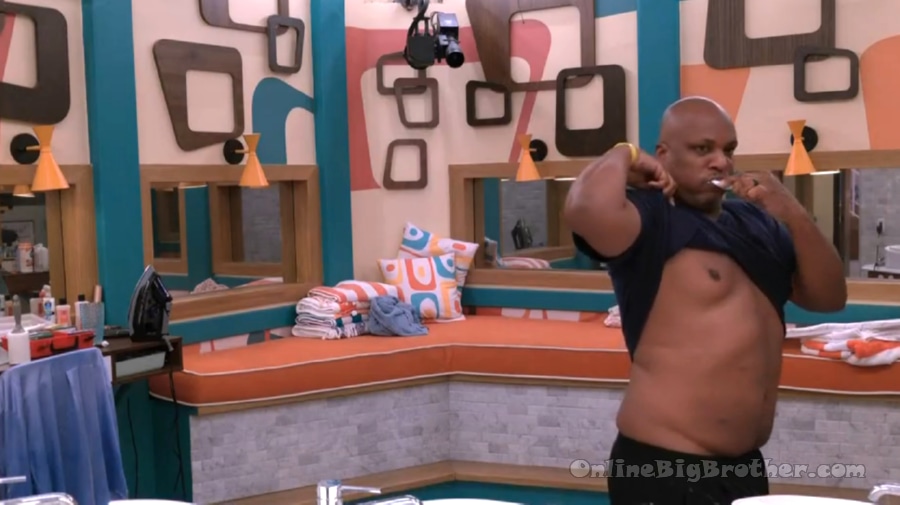 9:00 am lights on Only Terrance up.
Checking out his abs