Quick Big Brother Spoilers
Head of Household:  Michael
Nominees:
POV Players:
POV Winner:
Veto Ceremony:
Havenots: 
Lock your ranks in before midnight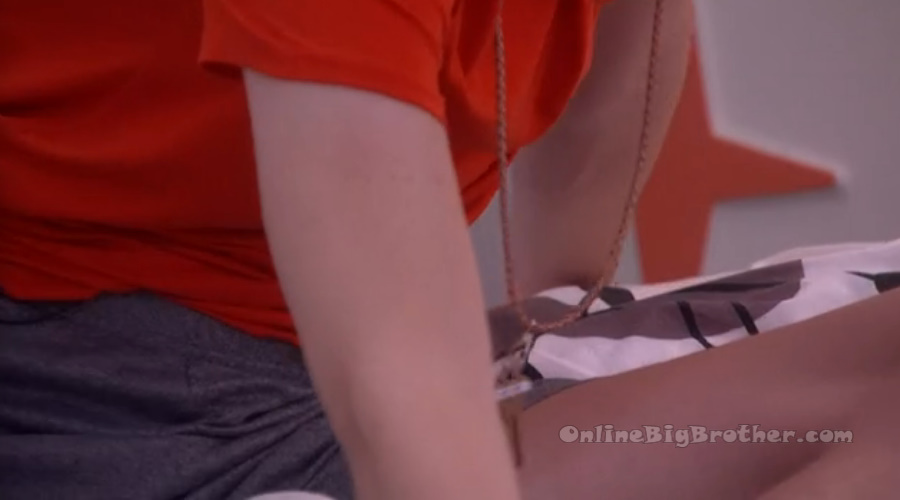 7:44pm The live feeds return with and Michael has the HOH key around his neck. Michael is the new head of Household.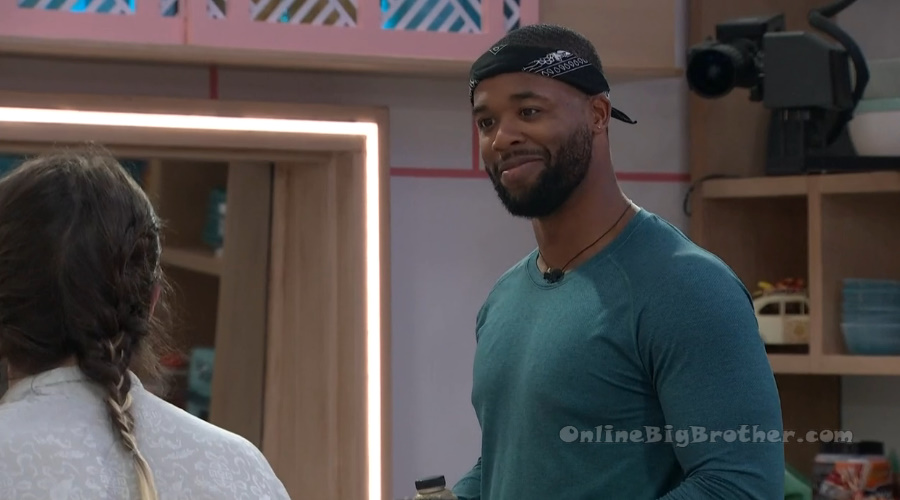 Kitchen – Monte and Turner.
Turner – that was exactly what I thought would happen. Monte – I thought maybe I could be the quickest … then I looked over and I was like okay I am right with him.. then I started trying to find the pieces and then I looked over and he was done. Turner – at the very least you or me will probably win next week. Monte – 100% 100%. Now we just have to make sure neither one of us is up on the block. Turner – do you think I am 100% good? Monte – I think you're 100% good .. the only thing is I haven't really checked in with Brittany where her head is at if one person does win the veto and brings one of us down. Turner – we'll make sure that doesn't happen. Monte – I don't think Brittany would want to force Michael to put you up. I don't think Michael wants to put you up because you didn't put him up last week. Turner – and he told me like 100 times that he wasn't going to put me up. Monte – I think we're both straight this week. Turner agrees.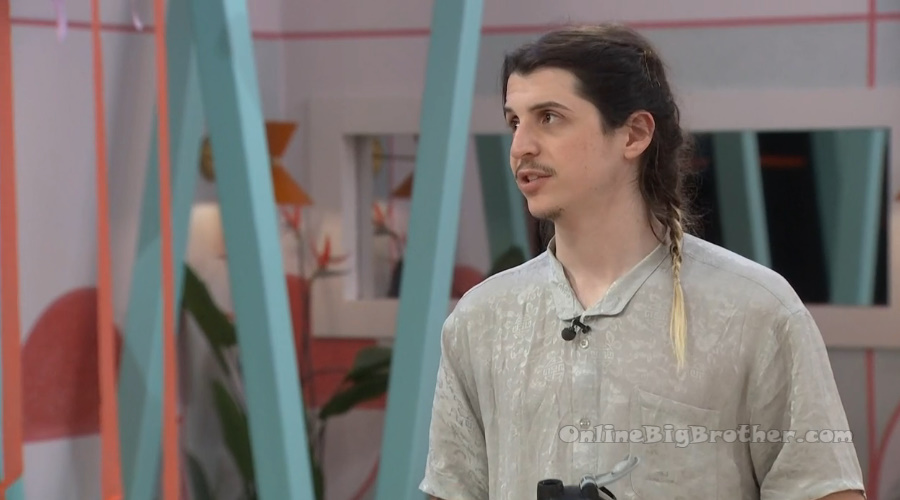 7:48pm 8:10pm Bedroom – Monte and Terrance.
Terrance – Think about it… so next week he (Michael) is vulnerable .. but he's not.. Monte – because he gets to play in the veto. Terrance – he gets to play in the veto. Monte – this is exactly what he needed. Terrance – he can just coast. Monte – he has to win EVERY veto. He gonna slip once.. I will make sure to catch him. I am not confident in what I am saying but he has to slip once. Then after that.. Terrance – yeah. Monte – lets just say I pray. Terrance – I got further than I thought I would. Monte – but you never know … things change by the minute. Monte – he (Kyle) has the rest of his life to choose what path he chooses. Terrance – Exacely, its kind of good that he gets to sit in jury for a second. It wasn't like an instant out. Thrown right into society. Monte – into the wolves… and hopefully with that time can die down …just whatever die down a bit because with time people forget things. And I don't think anybody going to forget it… it just won't be as harsh if he goes straight into the world. Terrance – yeah because you get that buffer in jury. Monte – a month from now. Terrance – so that could lighten the blow when he comes out. He going to get a lot of education in jury. Monte – oh yeah, I am sure Jasmine and Indy will make sure of it. Him and Joseph that's the only wildcard right there. Terrance – he going to get the really uncut version from Joseph. Monte – it will be very telling who he (Michael) puts up this week. Terrance – its definitely going to be me. Monte – you think so? Terrance – F**K YEAH! Get the f**k out of here. They are not going to put Turner up because the say that he got a pass from the situation. And they not going to put up Alyssa so.. Monte – it might be the two of our black a$$es. Terrance – it might be me and you. It is what it is. They better know that the jury vote is going to be considered… you can win all these things (HOHs, Vetos).. but I promise you one thing from me .. you (Michael) don't get my vote. Monte – yeah. Oh yeah.
8pm – 8:45pm Bedroom – Alyssa, Michael, Taylor, Turner and Brittany chatting about random things.
8:49pm The live feeds switch to the kitten cams.
9:15pm Still blocked..
9:37pm The live feeds return… The house guests are getting ready to make dinner.
9:39pm – 9:41pm The feeds are blocked again. Brittany – the person that leaves this week will get to tell everyone in jury what the zings were about.
9:54pm Kitchen –
Alyssa hits the table – Damnit! I hated my Zing. Monte – don't look into it too much Alyssa. Alyssa – and that is what America thinks of us? Monte – we don't know. Taylor – we don't know. Turner – It doesn't make sense, I shower .. what the f**k!? Alyssa – what did he say about a mask? Michael – masks are optional unless you have a face like Michaels. Taylor liked her Zing so she enjoyed it. Alyssa – oh my god! I have a cold heart Thank you!! Michael – maybe Taylor is just self-aware and then rest of us are delusional. Alyssa – why did he say underground? Do you DJ underground? Taylor – no, not literally. Monte – like an underground rapper.
10:50pm Kitchen – Brittany and Taylor
Brittany – It was imperative that we stay together this week. I think it is in Monte's best interest To utilize Michael to get out Turner because Monte, me and you all had the same number of puzzle pieces. Michael is a beast at this… all the personal trainers, muscles.. like its not muscles .. Taylor – everybody on the team brings something. Brittany – I just think its in our best interest to keep Monte to get Turner out. We need a plan A and a plan B. I don't want to get to far ahead of ourselves but sh*t this could happen. Taylor – the rest of the house doesn't have a plan or a path like this.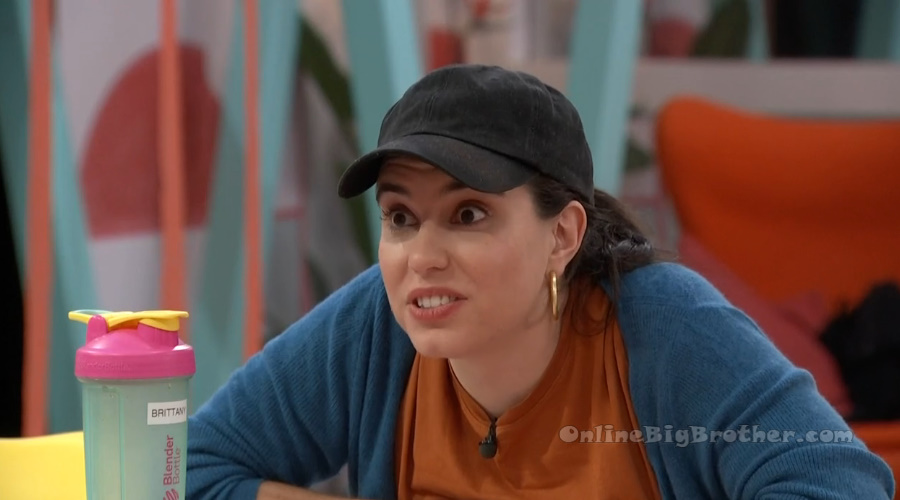 11pm The house guests are tired..

11:55pm The house guests get the backyard.

12:36am – 12:50am Backyard – Monte and Terrance playing pool.
Terrance – he (Michael) got to deal with that timeline and that asterisk going to be over him. Monte – you said the timing? Terrance – for the information. Y'all knew Thursday before we walked out this house and then we came back in the house on Thursday and it didn't come out till Sunday. Monte – no, yeah.. that's some straight bullsh*t. That was clearly game move right there and ain't nobody going to convince me otherwise. Terrance – and then when you tell me that it wasn't one.. thank you for letting me know that it was one. Confirming that .. what my thoughts was. Monte – they were trying heavy to bring me into the fold and make me feel good last week with Jasmine going home. But this is on god, they didn't tell me any of that sh*t beforehand. I lost all respect. By some type of miracle and hopefully I make it there but if we can get it down to a point where it is not Michael and Brittany .. if it is Michael and anybody else then the jury going to have a lot to say about that decision and about how they played the game.. and what they told people. Its one thing if you own it.. you know what I mean like put your d**K on the table and be like this is what I am working with but to see him be like oh no, no we wasn't trying to do anything for game. Its what we felt like and we had to make sure … You didn't make sure of nothing the past week and a half! Nothing! Terrance – worry not my friend .. if you make it to the end and you're sitting next to one of them.. the jury is going to .. all us minorities. Monte – all of us that weren't told about this when it was happening and we're only told when it benefited the white folk in the game because they were turning on each other.. Terrance – like they say the chicken will come home to roost no matter how you paint this picture. I got your canvas. Monte – at the end of the day.. people in the jury.. it is a very diverse jury …. everyone was claiming to be working together ..from Kyle's perspective he is in the f**king jury outside of Alyssa… outside of Kyle.. outside of Brittany. If I am in there I will be the first one to talk to the jury and be like they did some shaddy sh*t! Terrance – if its not you, its me.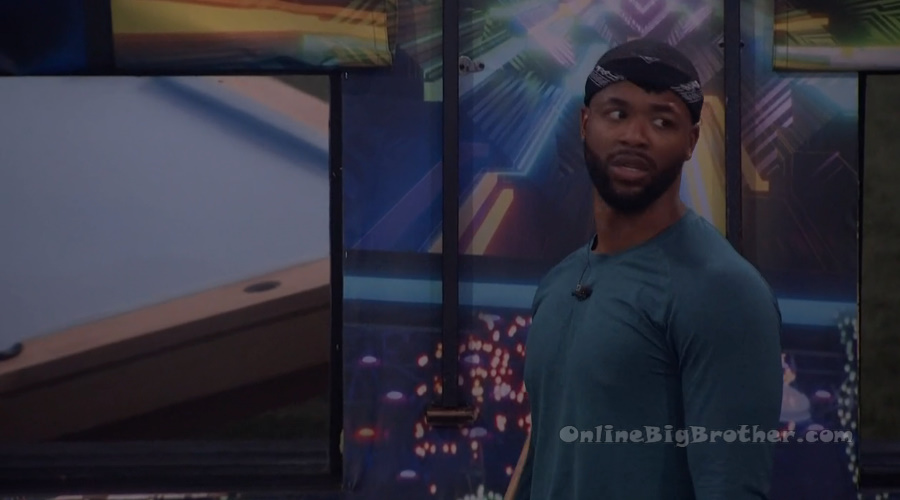 12:58am Michael gets his HOH room. They check out his HOH photos. Michael reads his HOH letter from Hayden.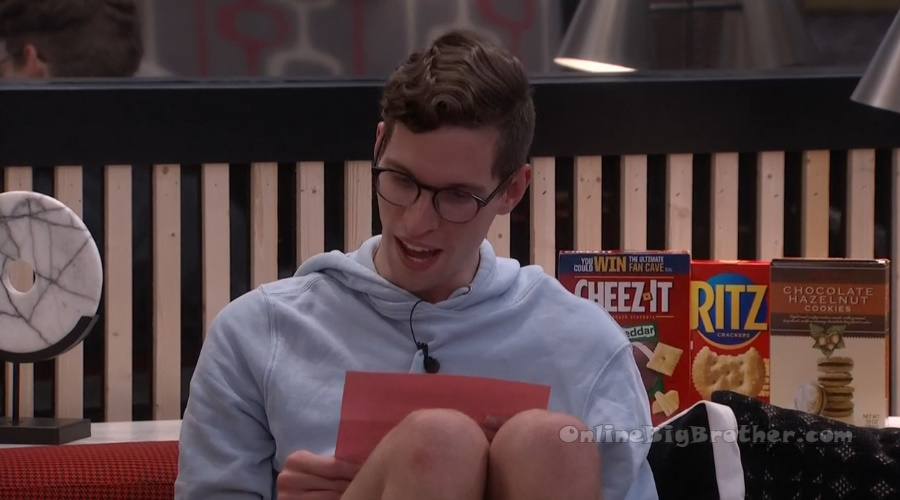 Without reader support this site and these spoilers wouldn't be possible.
Please consider a donation to keep the madness going.
Any amount is greatly appreciated!