Quick Big Brother Spoilers
Head of Household:  Turner
Nominees: Brittany and Taylor
POV Players:
POV Winner:
Veto Ceremony:
Havenots: 
Lock your ranks in before midnight
Bedroom – Alyssa and Brittany.
Brittany – me being on the block was not supposed to happen. Same with Taylor… whatever was .. is no more! Alyssa – I really don't know who is playing me right now. My head is so scrambled right now. Brittany – me too. Alyssa – I am trying to understand and learn.. but there is a veto so if you feel more comfortable after that we can go from there. Alyssa – I do love you. Brittany – I love you too. Alyssa – I am still learning and understanding. I am not setting you up for anything. Brittany – this is just worst case. I want to tell you everything.. and I have been trying to tell you little things across the weeks that I think you've been picking up on as an effort to not have you be the next person to go. But today very clearly showed what that was is not a thing. I am afraid if I spill the beans and everyone finds out .. I am a goner. I am done. Alyssa – and if you think its too heavy for me to hold I am scared. I don't think Jasmine going home was because of Fly Swatters or whatever. Brittany shakes her head no. Oh man Alyssa I just don't want to look back at this moment and be like this is why I went home. Alyssa – take a deep breath, meditate .. we have time. Brittany – I don't know. You would have me and Terrance. That's it. That's it. And Joseph was a part of it. Alyssa – I think he was lying through his teeth saying he was trying to save me. Brittany – No! Not at all.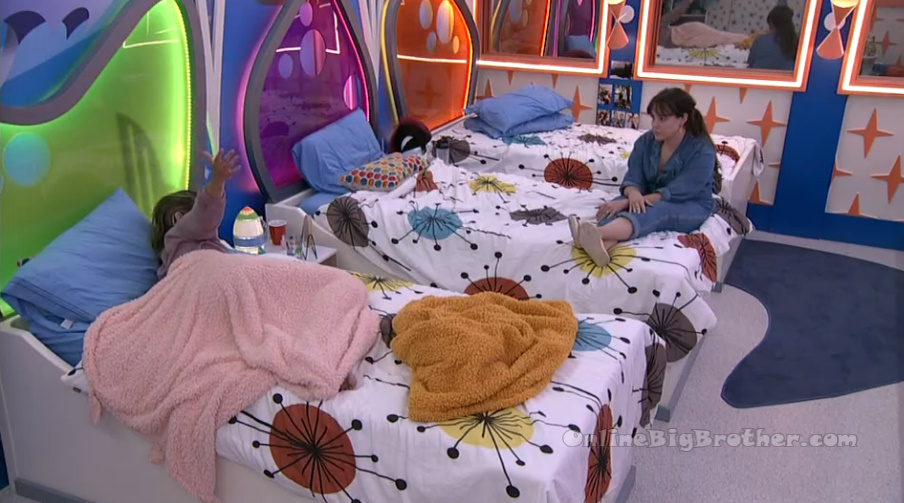 Brittany – I won't tell you everything but please don't tell him. Alyssa – I won't. I promise you. Brittany – I am just really sorry. Alyssa – its okay we're both still here. Brittany – whatever that was .. today it ended. And I think that is why I am crying the most because I thought people had my back and they didn't. I don't think Taylor or I are the target. I think Michael needs to win veto and he will take me down and then we're good. Monte goes up and either Monte or Taylor go home. Alyssa – that's what you think? Brittany – yup. I think if I win the veto and take myself down, they probably send my best friend (Michael) out of the house. Michael would go up instead of me and he would go home. I think if Taylor wins veto and takes herself down, Monte goes up. I think Michael or Monte are going home this week. Let me just say it because if I go home… Alyssa – don't do it if you don't feel its right. Brittany – I don't know what else to say other than its everybody. Its everybody and that includes Kyle and Turner too. But there must be more to it because we didn't make it to final 7. My guess is that we're close enough to the end and he won HOH so he decided it was time to take the shot at a big competitor and that he would rather compete against you or me later on so he broke the alliance early and he is going to backdoor Monte or Michael. Alyssa – he still hasn't told me anything and I don't know why. Maybe it was tell Alyssa as little as possible so she doesn't say anything. Brittany – that's probably it. The Leftover thing is done now ..it was called the Leftovers. It was all the people that didn't know what was going on. We banded together week 3.. I was brought into it after I won wood stack. Kyle and Turner started it. OH MY GOD.. I am literally going to get death threats! I am just freaking out right now. Alyssa – its okay. I knew back when Kyle and I were talking game .. that something was wrong. And no one was talking game with me .. so I understood that. Brittany – I knew at some point in the game Michael, Taylor and I would be expendable and we've reached that time in the game.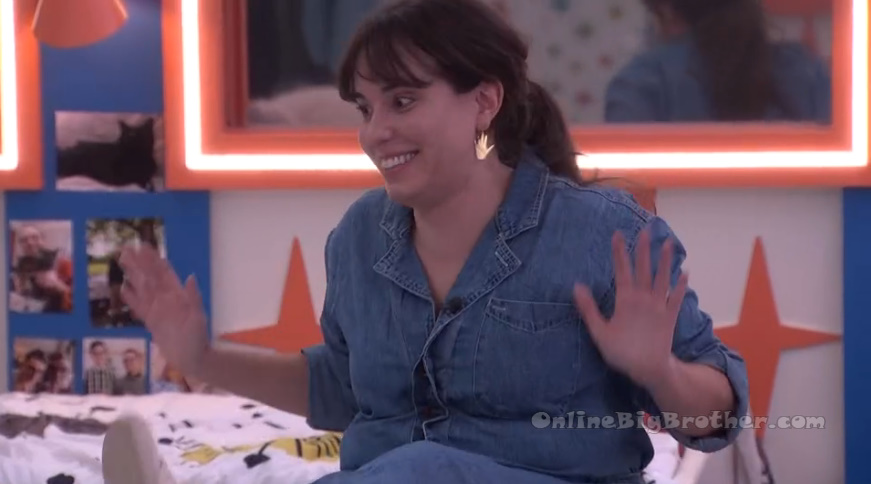 8:10pm HOH room – Monte, Turner and Kyle.
They talk about bringing Terrance in with them. Kyle – I just feel like I don't want to leave Terrance out of this. Lets bring him in. Turner – yeah for sure. Kyle – its going to come out eventually. Monte – he can be a plus one. Kyle – and dude… he is LOVING this! He is F**KING LOVING THIS!! He's got Taylor lying to him. He's got Brittany lying to him. He's got Michael .. and he is just EATING IT UP DUDE! So I am happy I am working with him. I don't know .. he hasn't had a good experience this far … like f**K it DUDE! I have nothing against him. He is no threat to us. Like lets f**king work with him… why not! F**K it! I trust him more than Michael, Brittany, Taylor! Turner – if we just had Alyssa and Terrance here… right there .. BOOM.. we just need to somehow tonight so that this doesn't become Daniel's F**King Oasis .. we just need everyone in one room. Kyle – lets do it for sure! Monte leaves.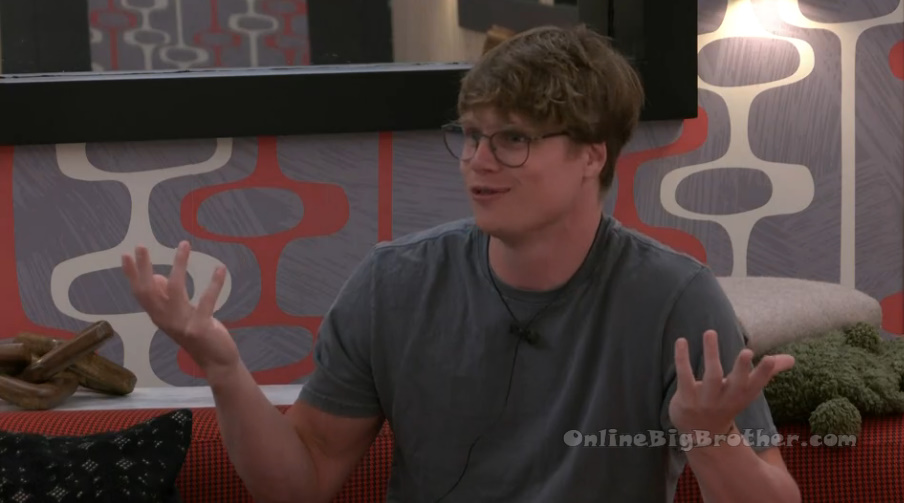 8:30pm HOH room – Alyssa joins Turner and Kyle.
Alyssa – BRITTANY JUST TOLD ME EVERYTHING! Kyle – yeah that's what I figured. Turner – really? Kyle to Alyssa – so I just told Monte do you think we should bring Terrance into the loop about what happened outside just so we're all on the same page. Alyssa – my brain is EXPLODING! Like EVERYTHING she just told me. Kyle – They're (Monte / Terrance) going to have the conversation. Monte will be on the same page as all of us. Don't say that we told Monte already. Alyssa – okay. Kyle – I just don't want to leave Terrance out again. Alyssa – Brittany said that she is not going to tell Michael. She said if you tell anyone .. I am going home this week. She thinks she is the one telling me all these things. The name. The plan. F**KING EVERYTHING! She said you can't tell them. She said that Taylor said you two were the first two she would take out of the Leftovers. Kyle – oh yeah Taylor told me that today. Kyle – how did it go? Alyssa – she was shaking and crying. She said if you tell them I told you .. she said she would go home. She thinks its Michael or Monte going this week. Kyle – they are all trying to figure out what the f**k happened last week and they have no idea. I knew this was going to happen. I told Terrance .. be prepared the next phase is going to be them spilling the beans and trying to get the narrative to where they're the innocent person. So I was going to talk to you (Alyssa) so be prepared because everything I have ever said ..just like with Joseph is going to come out again. I am sorry but you're going to have to hear about how bad of a person I am again two more times with Michael and Taylor. Sorry again. Alyssa – its okay. Kyle – Do we make an alliance with Monte involved. Alyssa – I don't think so .. we just stick with After Party. I trust Monte way more than Brittany. Turner – for sure.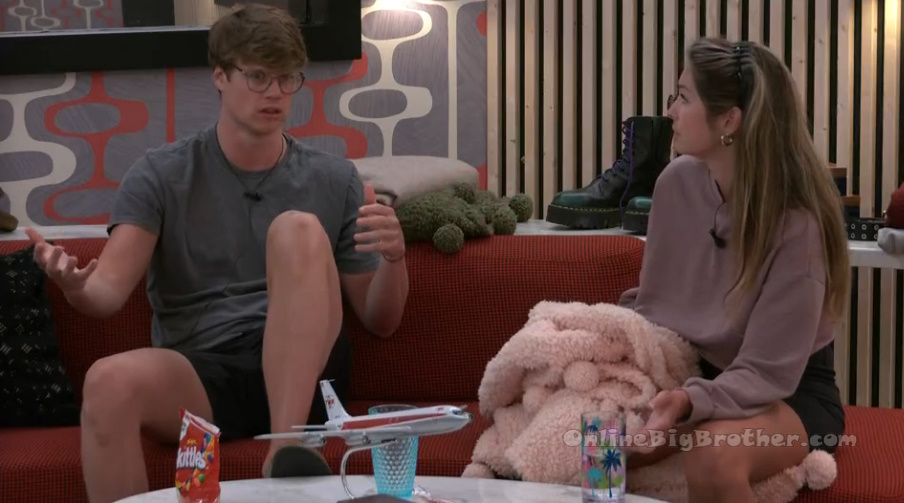 8:45pm HOH room – Terrance, Monte, Kyle, Turner and Alyssa.
Monte – we're here damnit! Lets f**king do this. Kyle – shoutout to Turner for winning the HOH. Giving us this opportunity.. Because without you my boy it could have been a whole different vibe. Turner – Now we have an objective and we can make it far in this game. Alyssa – final five for sure! Turner – this week one of them will be gone and it will be 2 vs 5.. and with flying colours we can make that happen ..between us we have a sh*t ton of wins and if we get out Michael we quadruple their competition wins. They have friggen one! Kyle – 1000%. Monte – we just have to make sure Michael doesn't get picked for veto. Terrance – I already planted seeds for Taylor not to pick Michael for HG choice because he is not going to use it on you. Turner – we just need to fight out life out for the veto.
Workout room – Brittany and Michael.
Brittany – I don't want to lie and I don't want to Pooch myself.. that's two things that send people home. Michael – yeah. Brittany – so instead I just shut up. Michael – yeah. Brittany – It sucks that its probably going to be ZING-BOT. I want to like enjoy it. Michael – right .. just have fun with it. We just have to get out of our heads. Focus. Have fun! Brittany – this is fun. This is not life or death. Its just a game we very much love and deserve to win. Michael – yeah. Brittany – so who would I pick if I can't pick you (HG choice in the veto)? Michael – Terrance .. because you can beat him. Brittany – right.
9:18pm Bedroom – Brittany, Taylor and Monte.
Monte – Me and Michael are starting to get the suspicion that they may know about the Leftovers. Brittany – really? Monte – yeah so I would try to dial back on trying to talk about anything. I got a hunch about it. I think they might try to pull info out of you. Alyssa already shared a little bit much and I am like how do you know this sh*t?! Brittany – what did she say? She told me a lot of what Joseph had told her. Monte – If "Joseph" told her that information I don't know what the cap is on that information. I feel like it could be way more than what she actually knows and she is just playing stupid right now. We just have to be careful with this stuff. Just be careful!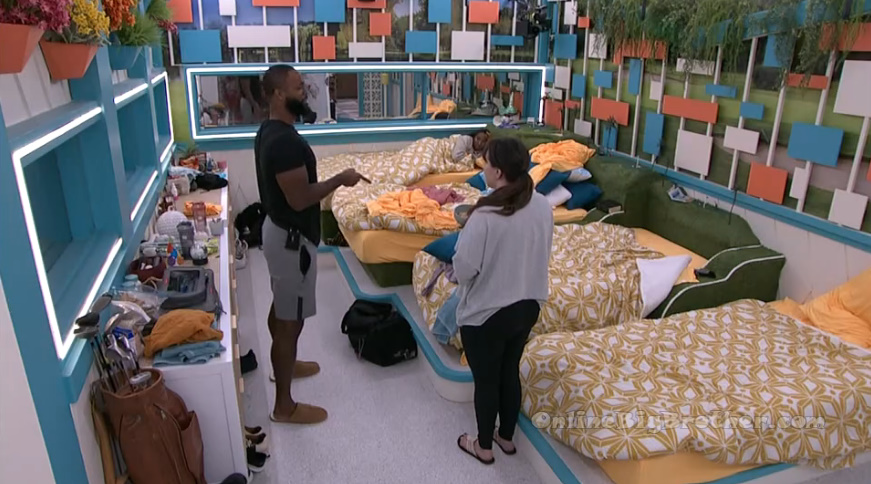 10:20pm Chinese Checkers for Michael, Turner, Taylor, Terrance, Monte and Alyssa. Kyle just came out of the diary room and Brittany is sleeping.

10:30pm HOH room – Kyle talking to the cameras..
Kyle – AMERICA! AMERICA! AMERICAAAAAAAAAA! Alright holy sh*t what a freaking week!!! Indy goes home. Dyre Fest.. so we're in the HOH and I am like oh sh*t! Leftovers goal was to try and kick out Terrance, Alyssa and Jasmine. Kyle then goes through the Terrance / Michael picks for Dyre Fest and Brochella. He then explains the whole Dyre Fest week in the backyard. Yo this is crazy there are 8 people left.. basically 7.. like if we can backdoor Michael this week and take him out.. holy cow! We have Taylor and Brittany we can take out next. And then I am solid with Monte and Turner with the Pound. I am solid with the After Party with Alyssa, Terrance and Turner. Then I have a final two with Turner and a showmance with Alyssa. I am like holy sh*t! I just went from being on the block to go home to like the best position in the entire house. How is that possible!? It just shows you how much can change in Big Brother. Winning competitions is the key! Unfortunately for Michael he has won a lot of competitions and he has been safe but listen Michael and Brittany coming after me .. that is so annoying. They act like they run this house. Its so frustrating. And its like BRO, I started the Leftovers and looped you in and I basically saved your game up until this point and now I am butchering the Leftovers so that I can take you guys out. He give-th, he take-th away bro! Michael and Brittany are crazy… they're sneaky sneaky players. They are really really good at this game. There is a path to the end. The next few weeks are going to be crazy! Taylor, Michael and Brittany are the bottom of the pack and they feel it. I love this game! I love you America. I want to make sweet sweet love to your face America! (for 10 seconds) Oh my god you're so beautiful to me!!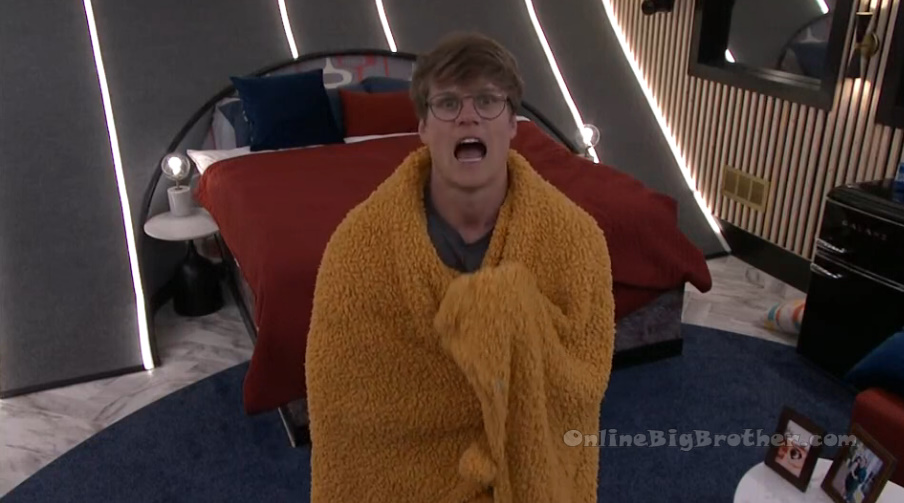 10:50pm – 11pm HOH room – Turner and Kyle
Kyle – Me, you, Monte have the Pound. Me, you, Alyssa and Terrance have the After Party. Turner – me, you and Alyssa have whatever the f**k that is. Kyle -do we have a name for it? Turner – no. Maybe that is just better so it doesn't get leaked. Kyle – yeah I think that is better. Turner – I think me and you are in the best f**king standing in the house. No matter what, one of them are going to leave next week. And as long as one leaves the next week we are fine. Michael joins them. Turner – what up dog?! Michael – I can stay and hang for a little but .. no 5am for me tonight. Kyle heads down stairs. Michael – well I would love to play in the veto if you got a house guest choice. Turner – oh for sure. Michael – cause I think its going to be Zing-bot and I really want to play in it. Turner – oh 100%! I'm sure if Brittany and Taylor also get HG choice they will also pick you. But I will definitely.. hell yeah! Michael – okay, well I appreciate that. Turner – I might shower and go to bed if you're cool with that. Michael – yeah.
Alyssa "This is something I do at the club!" #BB24 @bigbspoilers pic.twitter.com/W7aAtZw7qO

— Dawg (@DawgsBigBrother) August 27, 2022
11:35pm All the house guests are in bed..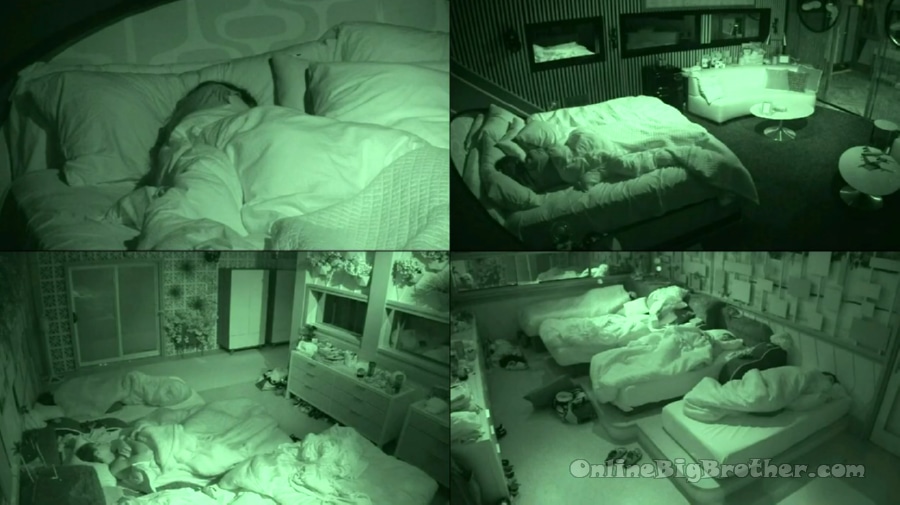 5:50 am Zzzzzzz
9:13 am zzzzzzzz
Without reader support this site and these spoilers wouldn't be possible.
Please consider a donation to keep the madness going.
Any amount is greatly appreciated!