Quick Big Brother Spoilers
Head of Household:  Michael
Nominees: Terrance, Monte & Joseph
POV Players: Terrance, Monte, Joe, Brittany, Michael Jasmine, Turner Taylor is hosting
POV Winner: Michael & Brittany
Veto Ceremony:
Havenots:  None so far
Lock your ranks in before midnight
Festie Besties:
Turner & Jasmine
Joe & Monte & Terrance
Daniel & Kyle
Brittany & Michael
Alyssa & Indy & Taylor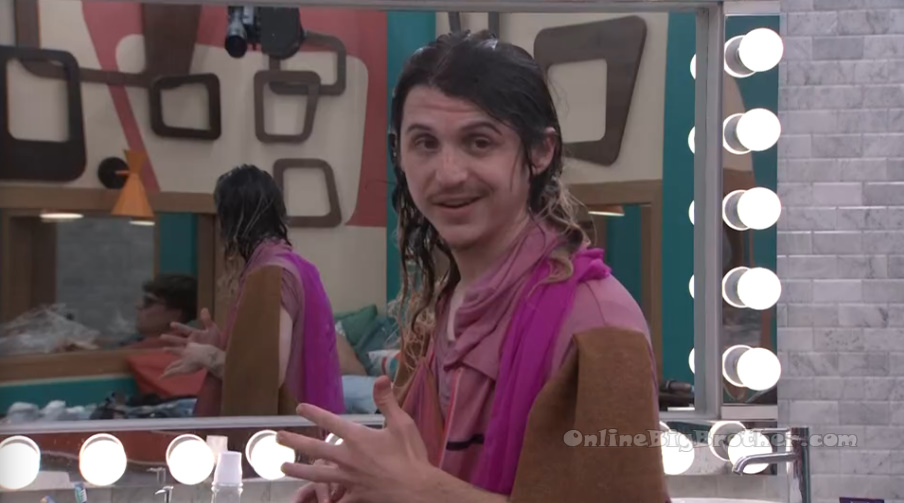 3:01pm – 6:33pm The feeds switch to the kitty cams for the power of veto competition..
The Veto Competition was OTEV
– Brittany got hurt in the comp, medical is coming to see her as she may need stitches.
Bathroom – Alyssa, Kyle, Joe and Turner
Turner talks about how he almost broke his knee cap in the competition. Kyle to Turner – DUDE four vetos! (Michael/Brittany won the veto) Turner – that is insane to think about! Joe – Dude he wins every veto he plays in. Turner – he's won 60% of the vetos he's played in… I mean in the comps he's played in. Kyle – he's played in 9 comps and he's won 5 of them. Turner – that is insane.
HOH room – Monte and Michael.
Monte – congratulations! Michael – thank you. We should talk later. Terrance tried to whisper something to me but I didn't hear what he was saying. I will try to talk to him. I don't know what it was about. I won't say anything till I talk to him. It sounded like plan scheme-y thing.
Alyssa tells Michael congratulations! You've got all the power this week.
7pm Kitchen – Indy is making salmon for dinner with the help of Kyle, Michael, Alyssa and Jasmine.
In the bedroom – Joe, Brittany and Daniel talk about how everyone got cut up in the competition and how there was a back section to search for clues that most of them didn't realize.
7:36pm Bedroom – Taylor and Daniel.
Taylor – can I ask you something? Why have I always been such a target for you? Daniel – for me? Taylor – yeah. Daniel – the Paloma situation. I got really close to her in a short amount of time. You're not a target anymore. Its not even a thought. I've told people if you think I am gunning for her.. you're wrong. And I don't think people believe me. So you're not a thought for me…. but in a good way. Taylor – I appreciate that, thank you. Daniel – that was just my loyalty to that girl, you know?! That's it. This past one was just me wanting to keep Nicole.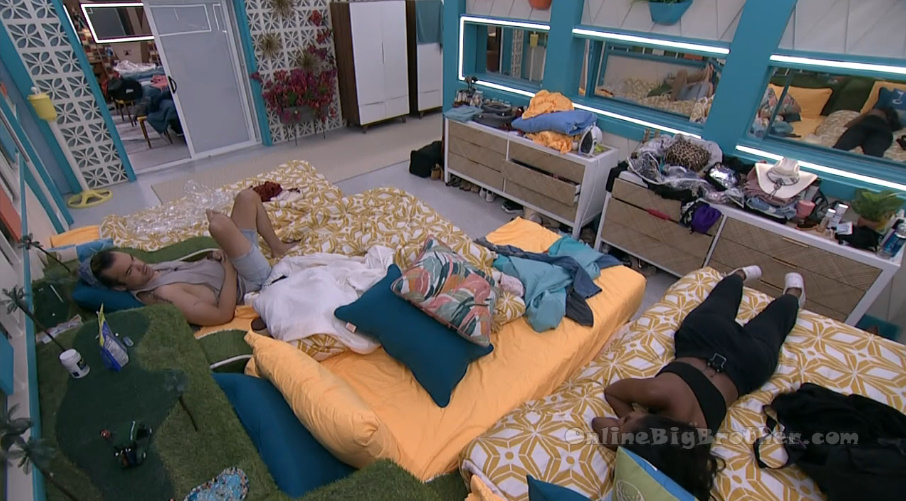 7:40pm HOH room – Monte, Joe and Michael.
Monte – Terrance is playing a good game where is socially active and very personable but I think his loyalty has always been with Nicole and Daniel.. even when they tried to vote his a$$ out. Joe – Terrance always tells me this .. my word is my bond. Nicole told him that if her hands weren't tied she never would have voted against him. He justified the way Nicole threw him out to dry. He said that me and you .. like we basically threw him a bone. Monte – yeah Kyle said that. Nicole convinced him like oh you think they want you. I would have saved you if I could but I had to protect me. Michael – she didn't even try. Joe – Terrance does not trust me or you (Monte) at all.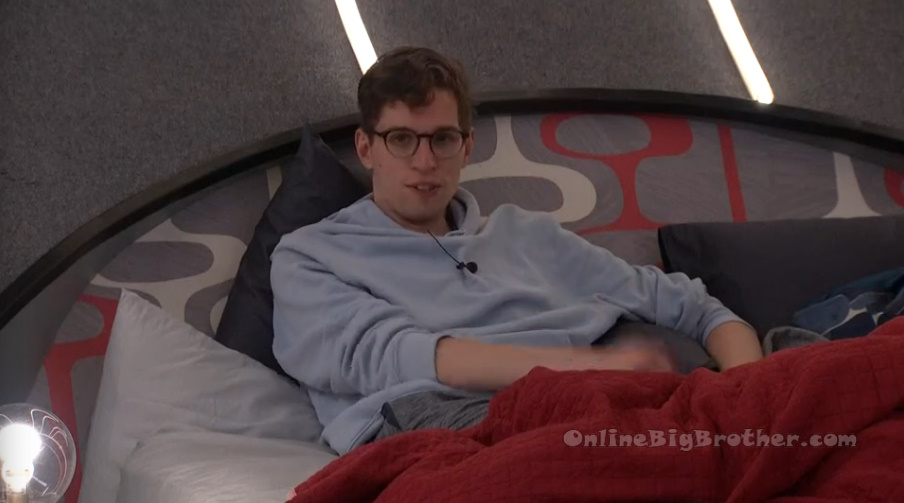 7:57pm – 8:11pm Bedroom – Kyle and Daniel.
Daniel – I was thinking of starting with hey dude, we don't know who you're with so we're not here to throw anyone under the bus… but obviously we just don't want to see the block so either you keep the noms the same or not … so if we don't touch the block we as Besties we will offer you (Michael) and Brittany for as long as the Besties are in the game you guys will never see the block. If either of us get HOH. Kyle – yeah. Daniel – that is the only thing that I could come up with. I would say see the block as in nominees or backdoor. Kyle – yeah, yeah. Daniel – I don't know why I am target .. I get that I speak up and say my mind. Is that why I'm a target. I've never been after him or Brittany. Kyle – you're no threat to him and neither am I. Like I just can't see a logical reason other than maybe because you're alone .. so no waves. Like you're not going to piss anyone off but is that the game you want to play. I would pitch it as this is my game plan moving forward that you're involved with. Next week I am going for HOH, its probably going to be a physical comp… Daniel – he can't play.. and Brittany is hurt. Kyle – We win HOH.. Daniel – and you guys are safe. You tell us who you want .. like who you think is a target .. that's who we will go for. Say I'm not a part of anything. I'm a free agent. I am not a threat. Why get rid of a number for you. Like I am ready to rid with you to the end. Be excited, be pumped. Daniel – yeah dude!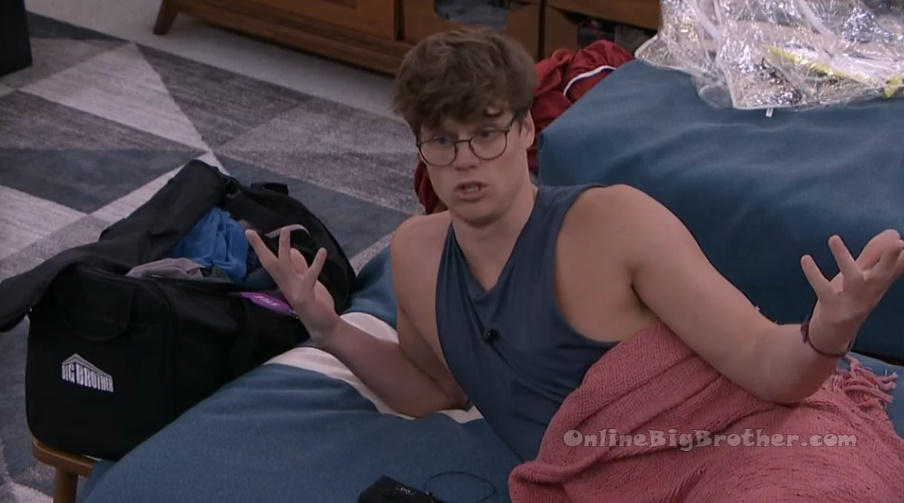 HOH Room – Daniel and Michael
Daniel – Us working together and looking out for each other in terms of Besties. I am not saying who to put up or whatever.. Keep them the same or put someone else up… because I don't have targets and I don't have allegiances I don't care. You have two numbers (Kyle & Daniel) who will do what you need to do. Our goal is to not throw anyone under the bus .. we're not saying put up this person.. leave it the same or whatever. But if you have a goal in mind, I am a free agent. He (Kyle) is down to ride. I know it would be a huge move… like if you kept them the same it would be a mad move…an insane huge move ..especially for week 5. I feel that week 5, 6 and 7 are pivotal weeks for the game. Michael – obviously when the veto came down to me and the three guys… I did not want to have to win but if I don't I am not going to have a lot of options here. The guys were going to obviously use it. And I know that if they use it, I am going to get a lot of pressure to put you up and I don't know if that is best for my game at this point and I don't want to be forced into making a move that I don't necessarily want to make. So I want you to know that I haven't made up my mind on anything for this week but I was like I would like to have the option. Daniel – I could be a shield for you moving forward. Like I look at you as like this guy is a killer! You're killing it and if you have me to shield in like not letting people even think about that.. I am this mad man I guess. Let me be the person that people want to put up. Just another layer of security. I have had no plans of coming after you. Daniel – congratulations! I really respect you. He shakes his hand and leaves.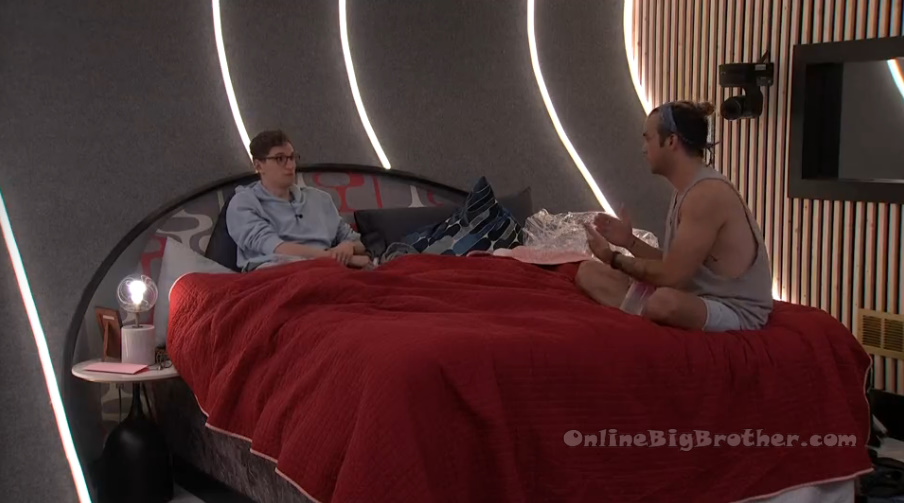 Dinner time!

9:25pm HOH room – Brittany, Michael and Jasmine.
Jasmine – I am genuinely excited for you. I've been excited for you since day one. I am just all about an underdog story. It makes me so excited and happy for you. This definitely changes a lot with you being about to replace or not replace. I don't know .. you would really have to see what is best for your game. Although I would love to tell you what I would probably do.. Michael – I am open to hearing things. Jasmine – do you think I would change it or keep it the same? Michael – would you keep it the same? Jasmine – I would keep it the same. Not Joseph ..Clearly Joseph hasn't won anything. He is great but he hasn't won anything yet. For me Terrance is Terrance, right?! Monte is a beast. He has been HOH, he was up there in the pie fest. This is an opportunity.. and I don't think it will be often it will come up. Michael – He was HOH last week and I told him I wouldn't come after him. So it would be hard to .. and I would need to know that there would be house support to do that. Jasmine – I definitely think you would have house support to do that. Joseph wouldn't vote him out but he is on the block with him so this would be the perfect time to do it. Michael – I definitely have a lot to think about and if I was watching at home what would I be screaming at the tv to do. Jasmine – He already won HOH so you know he is capable. His number one is Joseph. And Monte said it about him. Jasmine leaves.
Michael to Brittany – WE KNEW IT! WE F**KING KNEW IT! Brittany – I am telling you all four of them. All four of them. Michael – yup! How else would she know that all of them would be on board to send Monte home? She wouldn't! Brittany – I am telling I knew .. that's why I was so pissed right before veto. Michael – we knew it! Those five .. if they want to pull us over .. we are number 6 and 7. And if one of the Left Overs wins who are the first two people they are going throw under the bus? And they're going to be like Joseph, Michael took out Monte. Promised he was a pawn and then sent him home. F**K THAT! Brittany – f**k it! Michael – first ones in last ones out.. I do not trust them. Brittany – not at all. Brittany – the pro to getting Daniel out is we know for sure it takes them down a number. And it builds a lot of trust with Monte and them. And we can tell Monte and them you know that little alliance they were floating by you .. they don't have you. They need to stick with us now. I think its great that Monte, Joseph and Terrance know they need the Left Overs.. that they don't have anyone else. We need Monte as a shield.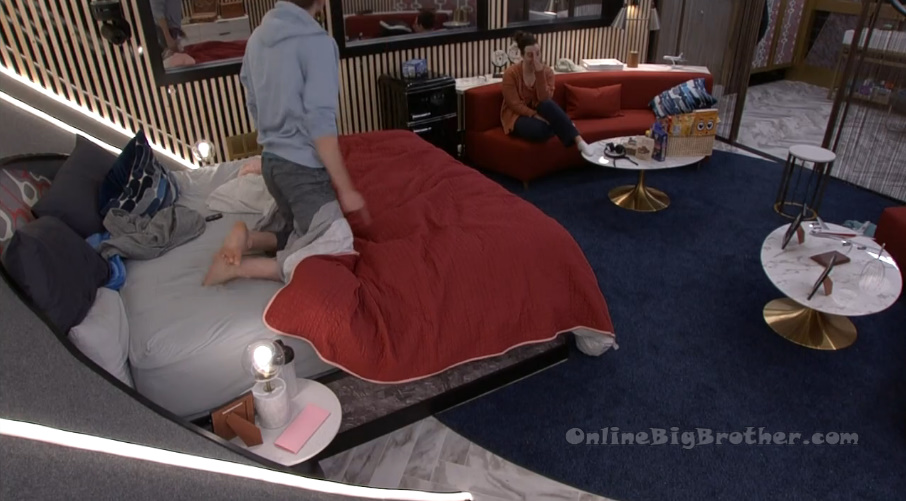 9:40pm Bedroom – Jasmine, Daniel and Terrance.
Jasmine – I told him I would get Monte out. He was like but do you think the house would be on board? If he stays he is going to come for me. I said look Daniel is alone. You have the opportunity to talk to him and get him on your side. She continues to tell them the rest of her conversation with Michael.