POV Holder:
Paulie
POV Competition
July 1st?
POV Used
?
POV Ceremony
July 3rd?
HOH
Paulie
Next HOH
July 7th
Roadkill Competition Winner:
Victor
Original Nominations:
Paul, Bronte and Tiffany
After POV Nominations:
? and ?
Have Nots
Da'Vonne, Paul and Zakiyah
Sign up and watch the 24/7 Live Feeds: 1 Week FREE Trial!:
Big Brother 18 Alliances Help Guide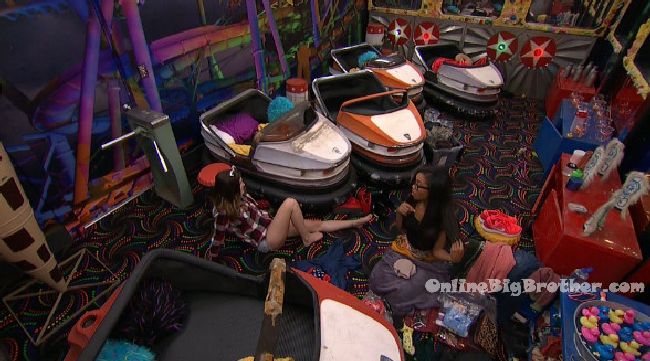 3:30pm Havenot room – Zakiyah says that she was saying that those girls wanted to combine and make something. Michelle says I just want to stick to the plan. Zakiyah says I don't really trust them. Michelle says I just want to get rid of them because I'm afraid the boys are going to want to take them. Zakiyah says I'm so vocal to Frank and Paulie about wanting to get those girls out. Michelle asks what did Frank say? Zakiyah says he seemed to be on board with getting .. Michelle says Frank doesn't want Bridgette out. Zakiyah says because he's close to her. Michelle says That's why she needs to go. He said if I could take one person to the end it would be Bridgette. I don't know when he said that but .. I don't know if he means its. Next week she needs to be gone! Zakiyah agrees. Michelle says I'm surprised he still trusts her after the spying thing. I mean we've been there since day 1 .. 2 even. Michelle says I feel like we can get Natalie over her. Zakiyah says yeah. I don't really talk to her much but.. Bridgette joins them and they talk about "the land before time" (sequester).
3:45pm – 3:55pm HOH room – Paulie and Tiffany study the days and talk about the past events of the house. Tiffany says I feel like once Vic is gone everything will be better. Paulie says I think things will stay the same but everyone will be happier. Tiffany asks what do you think those girls would do if they won? Paulie says I think Bridgette would be fine because she's on a team with Frank and I. Tiffany asks what's wrong with Zakiyah? Paulie says its just because she's a havenot. She's not doing to good on it.
James scares NICOLE @bigbspoilers #bb18 https://t.co/dLQ6Ov105C pic.twitter.com/Av1QvZOLDP

— Dawg (@DawgsBigBrother) July 3, 2016
4:25pm Kitchen – James, Michelle, Nicole and DaVonne are talking. James comments on how he (Paulie) likes TIffany. DaVonne says I'm willing to bet he likes Tiffany more than he likes Zakiyah. Every time something happens he runs straight to her. DaVonne says she's showed her cards on several occasions and I'm just going to keep my mouth shut and observe. She makes me nervous if she ever won HOH. I would be petrified. Michelle says that's why I want to get rid of Bridgette because we're going to be the only team with four. If any of you guys win .. put her UP!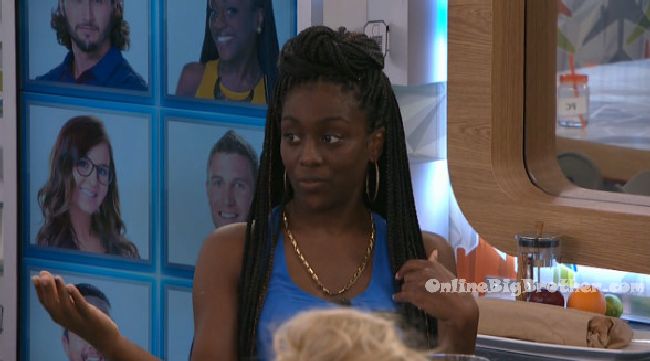 4:35pm Nicole and Michelle head out to the hammock. Nicole says she doesn't think that Bridgette would make a big move. Nicole says if Bronte wins HOH next week we're in trouble. I would rather Vic win HOH than Bronte because you can manipulate Vic but you can't manipulate her. James joins them and they chat about random things.

4:45pm The cameras switch to Michelle crying in the hammock. I just don't want to be hated! James says you're not hated. Nobody hates you. Michelle says there's no way I can't get a job now! James says that's not true. its okay. There's a difference between someone meaning it and an intent to be mean about it and someone using the correct terminology. No one thinks you meant that in a bad way. Michelle says okay good, because I'm afraid I won't be able to get a job after this and what am I going to do live in my parents basement. Usually I'm not .. words don't hurt me .. its just what other people think. James says its one thing if you would pick on someone that was short. Michelle asks then why did you say it was so mean and glare at me. James says I should have come at it in a different angle. That was my fault. Michelle says maybe that wasn't even on the live feeds. James says and its not even like you said it in a derogatory way. Like on season 15.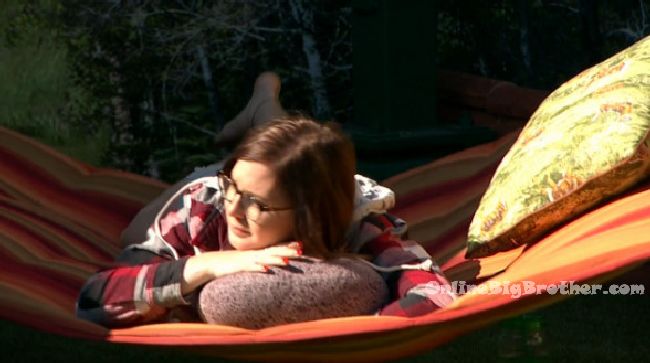 4:50pm – 5:10pm Bedroom – Nicole and Frank are talking. Nicole asks would you take me? Frank says yes, we already made a deal. Nicole says because I said it but you didn't. Frank says I would take you. Nicole says you've got a smirk on your face. Frank says ideally we take Zakiyah to the final 3 because we would beat her all day. Zakiyah joins them. Frank talks about wanting to get Tiffany out next week if they can't get Bronte out. Nicole and Zakiyah agree. Frank tells Zakiyah not to get too close to Paulie. … I'll kill you. Zakiyah says Oh I'm not. Frank says I just playing with you.

5:20pm Backyard – Michelle is talking to Paul, Bridgette, DaVonne, Tiffany and Zakiyah. Michelle says we were out here talking about sizes and height and stuff and I said the other day I was in the shower and I said a derogatory term which I didn't know it was one. Paul asks which was what? Michelle says M-I… Paul says midget?! Michelle says yeah. Is that really? Zakiyah says they prefer to be called little people. Paul says I think its the context of it. "Like HEY YOU F**KING MIDGET!" Then its derogatory. Tiffany tells Paul to be careful. Paul says I know, I was just saying it as an example. If it comes out like you didn't know better then its okay. Michelle says that James came out like it was so mean. I'm just worried I won't get a job after. Paul says he was just messing. Michele says no. Zakiyah says its probably just because he is short. Paul says you didn't say it with malicious intent. Michelle says I'm jsut worried people think I am an evil evil person. DaVonne says one thing I learned in this house is if you say something …let it die because if they didn't catch it they will now.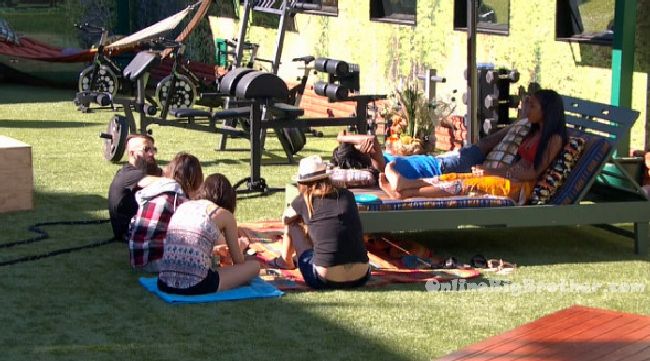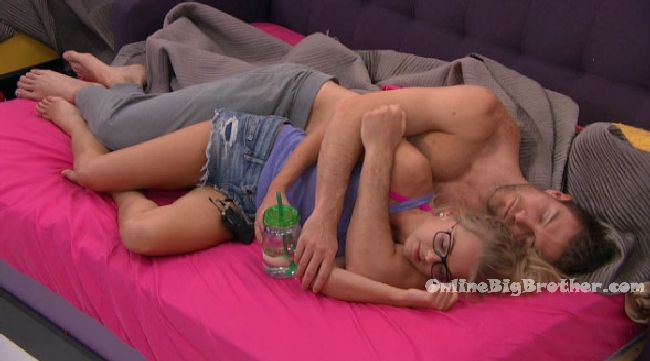 5:45pm In the bathroom – Nicole says that's fine we can do Tiffany the next week. DaVonne agrees. She doesn't need to go before Bronte. We can tame her (Tiffany), we can't tame her (Bronte). DaVonne says I feel like she (Zakiyah) would be a good number 3 .. her or Michelle. Nicole says I think Zakiyah might be better. I freaking love Zakiyah too. DaVonne says Zakiyah has come to her quite a few times about it. Nicole says She seems to have a relationship with quite a few people in the house. DaVonne says that's strategy. Nicole says she seems very loyal. DaVonne says 100%. Davonne says Vic might come back … as long as we are the only 2 to vote for him to stay he will be pissed at everyone but us. DaVonne says he (Frank) is playing a hell of a social game and James is working on AFP (America's Favourite Player). Nicole says I came back a little sassier because I can get pushed around.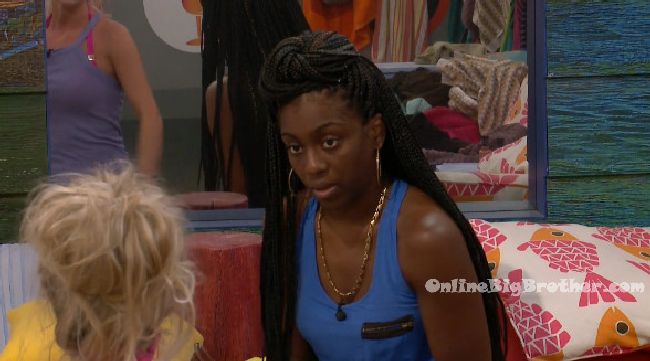 6:35pm – 7pm Tiffany comes and talks to Corey and tells him about how her sister is Vanessa from last season. Coery says oh really that's cool. Tiffany says that she didn't know if people would use it against her. Corey says no, Paulie's my boy and his brother was on before too. Tiffany says she's the poker player that got third and should have won. People compare her to Derrick. Corey asks she's the poker player. Tiffany says she's the number 2 girl in the world. Corey says I want to meet her. thanks for telling me. That's really cool. Tiffany tells Corey the way he is playing is really good. After Corey heads outside and plays a game of pool with Nicole. He tells her that Tiffany told him about her sister being Vanessa. Nicole asks did you pretend not to know? Corey says yeah.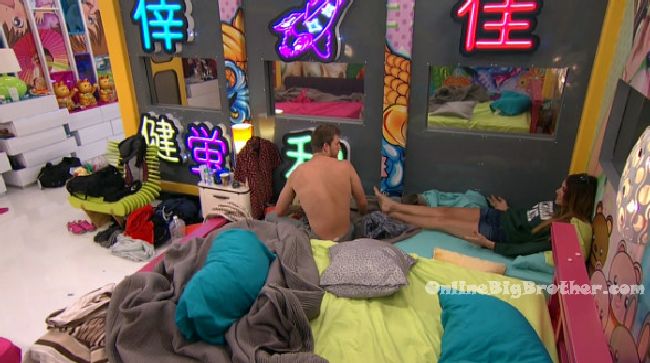 FLASHBACK and watch everything you missed: CBS All Access FREE Trial!

[polldaddy poll=9459672]