POV Holder:
Paulie
POV Competition
July 1st?
POV Used
?
POV Ceremony
July 3rd?
HOH
Paulie
Next HOH
July 7th
Roadkill Competition Winner:
Victor
Original Nominations:
Paul, Bronte and Tiffany
After POV Nominations:
? and ?
Have Nots
Da'Vonne, Paul and Zakiyah
Sign up and watch the 24/7 Live Feeds: 1 Week FREE Trial!:
Big Brother 18 Alliances Help Guide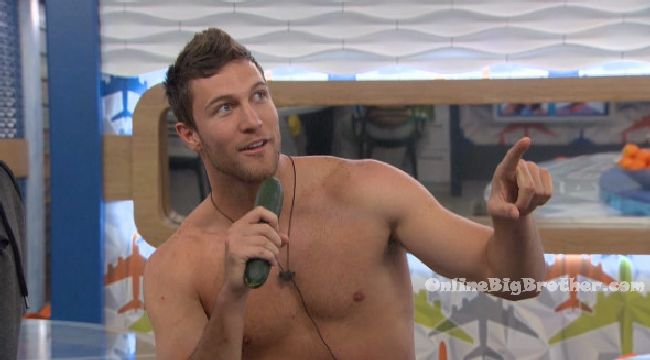 11am
Big Brother wakes up the house guests. In the kitchen – Corey says to the camera Dad, sorry I haven't won a comp yet! I'll win one soon, please don't be disappointed. Its not how you start, its how you finish.
In the bathroom – Nicole and Michelle are talking. Michelle says that James was saying there's always a few shot callers in the season. I asked him who they were and he wouldn't say. Nicole wonders who it is? That means if he knows who it is, then he's on the ins.

11:40am HOH room – James and Paulie are talking. They talk about studying the dates and quizzing each other later once they memorize that days. James asks do you have a crazy speech? Paulie says I'm not going to do a crazy speech. I'm just going to say its my decision. James says I was going to jump up too and say I had a part of it too. Paulie says disperse the heat.. I appreciate that. I don't mind taking all the heat though. I can't let wrongs that were done to me go unjustified. You've already done it once to me and I can't take the risk of you doing it to me again later in the game. James says he was ready to turn against his own team members because of some pranks. That's so petty. Come up with a better reason. Paulie says I see through his bullsh*t. I just felt a little bad if the whole house hate him. Frank wanted me to say it was a house decision and if I go against it I'm in jeopardy next week. James says he's going to be butt hurt. Paulie says he is definitely going to be butt hurt but that's his own naivete. James says he's going to be a Frank and beast it out in comps. Paulie says its too early for that. Paulie tells James that they told Vic it would be real obvious it was him if he put up James as the roadkill nom. James says I figured one of you said that.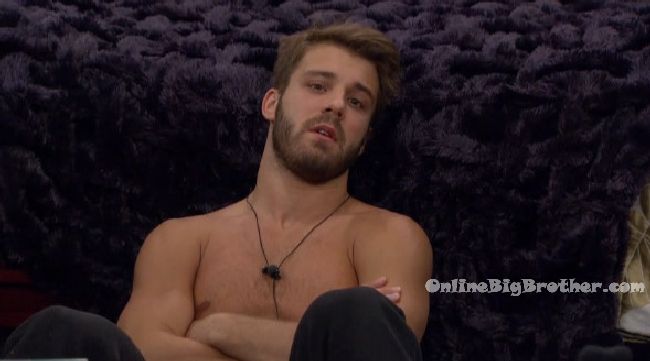 11:50am In the bathroom – Nicole tells Michelle how they (Frank & Paulie) want to keep Natalie & Bridgette around as extra vote. And then when they said they wanted to get rid of TIffany I was like okay. I don't care. Like whatever.. she is a part of the fatal five but she can be.. And then they mentioned Corey.. I was like okay I have have no control over him. Michelle says that's why I think it would be best to get rid of Bronte next week. That's scary I wish everyone was loyal. Nicole says everyone is .. they want to get rid of everyone on the outside first.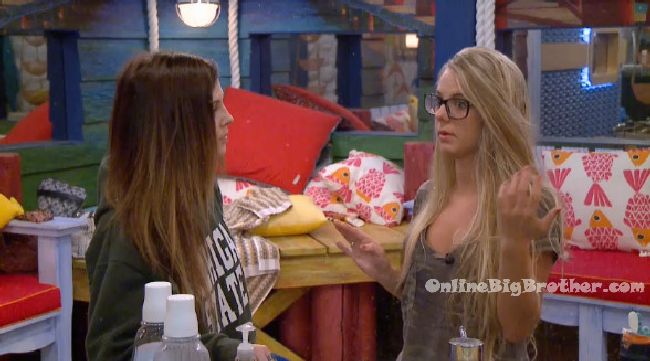 12pm – 12:15pm Havenot room – DaVonne says to be perfectly honest … if Bronte wasn't an a$$hole she would have been great. She would have been great! She's already clashed with too many people. I'm not into bringing any messiness into our group. DaVonne says she (Tiffany) got to go. Paulie isn't going to be down for it but …she's got to go. Frank can do all the work. Like I told them .. the people (Big Brother) I came in here wanting to make history! Because I feel like I was going to be the only one in here again but you in here. It just makes it even better because either one of us can do it. I don't give a damn. As long as it gets done. I'm so sick of.. you would be surprised with how many younger girls wrote to me about how they're never going to have a chance. It's never going to happen. Its rigged so that we don't win. So I was like the chances are greater with two of us in here. We have to make sure we don't mess this up. That's why I have to stay close to you and you have to stay close to me. Zakiyah agrees. DaVonne says we need to stick together. Zakiyah says if anyone I trust in here its you! Yeah Tiffany's got to go .. I don't know if its next week or what. DaVonne says she's got to go before jury.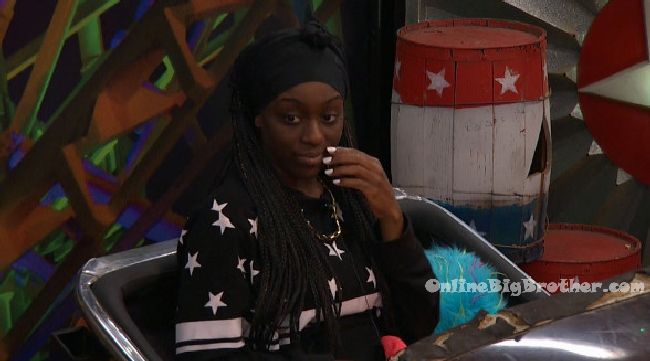 12:25pm Living room – The house guests are sitting around chatting and playing word games. In the bedroom – Bronte tells Natalie to be careful being too close to James because if they go after James they'll put you two up together. Natalie says I do love James and I have a crush on him but I would not let that get in the way.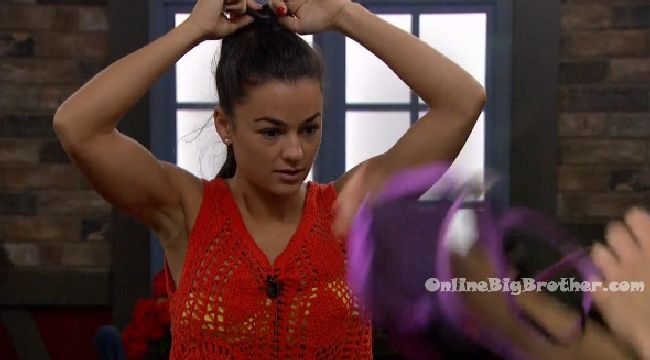 1:05pm Bathroom – Frank tells DaVonne that he wants Tiffany out next. DaVonne says yes! YES! YES! Frank says she's had problems with everyone and I don't like how close she is with Paulie. Obviously I hang around with Paulie a lot but .. DaVonne says I know what you're doing. Frank says I like Paulie and Corey but I don't want them around near the end. Ideally if Bronte wins something next week then we get Tiffany out next week. Frank says if we win ..especially if we win that Roadkill comp then we scoop her up and we're none the wiser.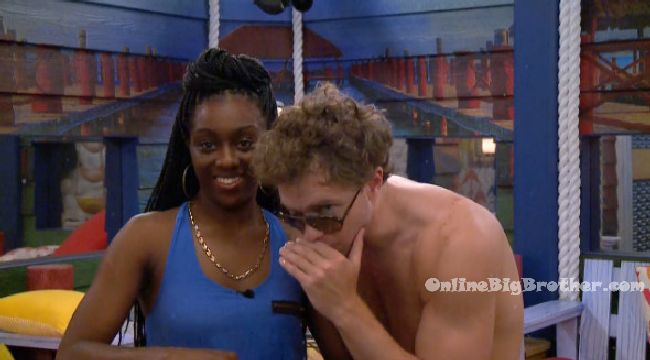 DaVonne's happy Frank also wants Tiffany out@bigbspoilers #bb18 pic.twitter.com/C1q9OL1d7b

— Dawg (@DawgsBigBrother) July 3, 2016
2:45pm The house guests are having a lazy Sunday afternoon of suntanning and working out.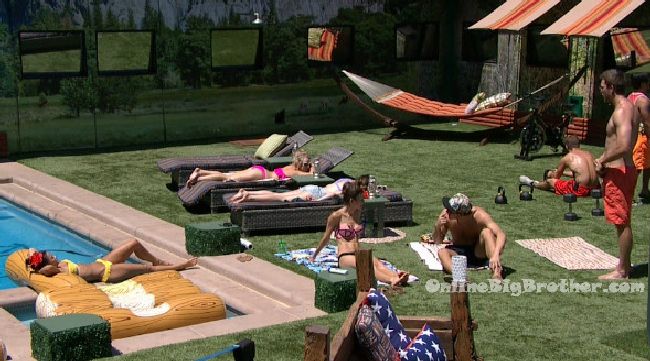 BB – "There is absolutely no jumping into the pool!"@bigbspoilers #bb18 pic.twitter.com/JDRVsk87mk

— Dawg (@DawgsBigBrother) July 3, 2016
3:10pm Nicole tells Paulie she is a little worried about next week. Paulie asks why? You shouldn't be. We're good for the next 4 weeks.. unless there's some crazy twist or something. Even then I've got your back! I'll protect you and keep you from freaking out. Nicole says I feel like I have post traumatic stress disorder. Paulie laugh and asks what from 16? Nicole says yeah, just from how I went up.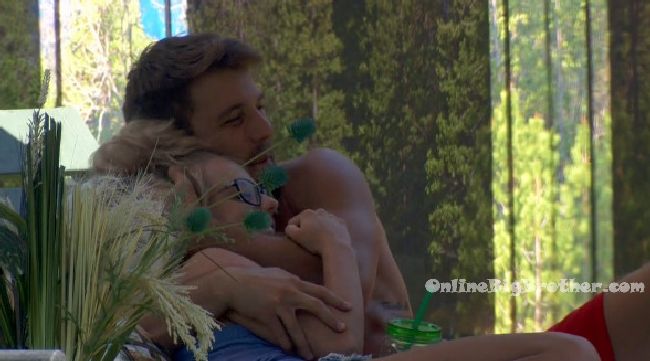 3:15pm The house guests see a banner in the sky "Will You Marry Me?" Big Brother locks down the house guests.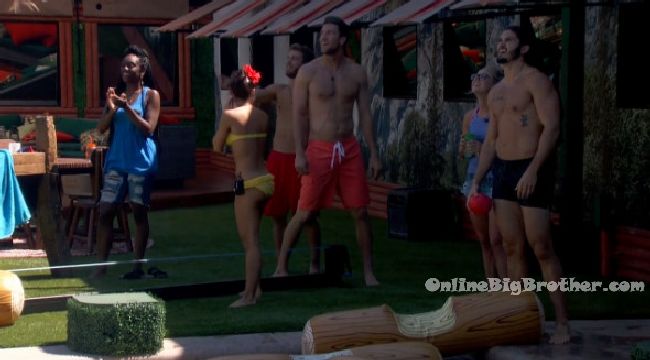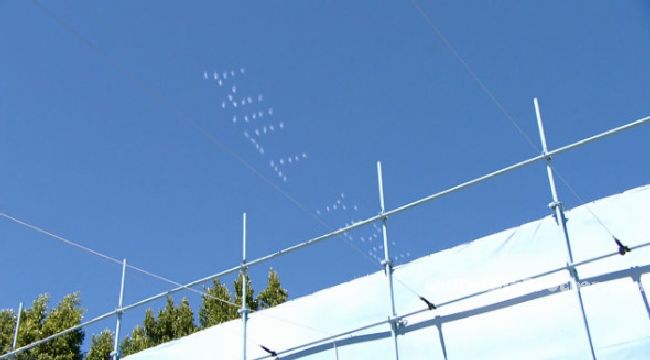 FLASHBACK and watch everything you missed: CBS All Access FREE Trial!

[polldaddy poll=9459672]