POV Holder:
Paulie
POV Competition
July 1st?
POV Used
?
POV Ceremony
July 3rd?
HOH
Paulie
Next HOH
July 7th
Roadkill Competition Winner:
Victor
Original Nominations:
Paul, Bronte and Tiffany
After POV Nominations:
? and ?
Have Nots
Da'Vonne, Paul and Zakiyah
Sign up and watch the 24/7 Live Feeds: 1 Week FREE Trial!:
Big Brother 18 Alliances Help Guide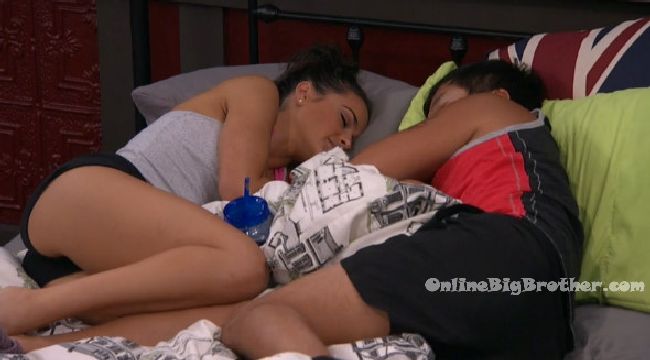 7:15pm In the bedroom – James and Natalie are in bed together. Natalie says I think we should explain what GT means to America. James says good times. Natalie laughs and says no, girl time. James tells her that she has luscious lips. Natalie giggles and says thank you. James tells Nat Nat that he's got her under his wing and can guarantee she'll make it to jury. Natalie says yay! Natalie says I need to get good at my puns. James asks what in the DR? Natalie says yeah, I always get shut down.

7:35pm Backyard – Nicole tells Corey she doesn't want him to throw the HOH. Corey says once he (Vic) leaves, we're going to have 9 people .. and outside we're going to have Bronte, Natalie and Bridgette. Nicole says if Frank asks if I'm cool with you throwing HOH say I am. I don't want him thinking I'm not. Corey says we already talked about it. They don't like Tiffany. I don't like Tiffany, I want her off my team. Nicole tells him he is playing emotionally. Corey says he's not. She weighs us down in comps. I think they're going to want to keep Natalie around for awhile and get rid of Bronte and Bridgette. Corey says Bridgette thinks of us as a shield for her. And Bronte, we could send her a$$ home whenever we wanted. I'm just going to sit back and watch it all happen for a while. Nicole says you're starting to freak me out. Corey says you should trust me. Nicole says I do trust you. If you guys are on the same page with everything .. it can't benefit both your games. Frank joins them. They talk about Bronte next week and if she comes off then Tiffany should go. Frank says I think its best if Category4 or BigSister win HOH next week. Frank says in 3 weeks we won't even have teams any more.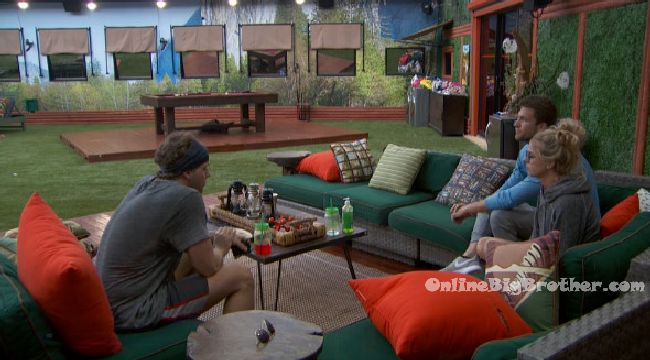 Nicole says I'm not paranoid I just have a lot of information … I just want to know I can trust you. Corey asks do you know something I don't know? Nicole says no. If you and Frank are on the same page.. Corey says we'll discuss anything before we do it.
8pm Paulie is napping and James is putting chex on him. Zakiyah put the chips on his butt. Paulie wakes up and eats the chips.

8:20pm In the backyard – Vic is training Nat Nat, Nicole and Michelle.

8:25pm – 8:40pm HOH room Frank, James, Corey and Paulie are talking about how fast the other side split after Jozea left. Frank says I thought a few of them would stick together. Frank laughs about how funny it was that Michelle said they need to get a girl out next week .. there's too much estrogen in this house. If one of us guys said there's too much estrogen in this house we would get merc'd on the internet. They talk about how they like Michelle and how funny she is. Corey says I can't believe Bridgette said she wanted to shave Michelle's eyebrows off. Frank defends Bridgette and says it was pretty tame thing to say and I think it was to blend in. Corey says some of those girls are so clueless. You can tell them anything and they'll some what believe it. Nicole was asking about how many sexu@l partners I had and she guessed 20. I asked are you serious?! I've been in a relationship for the last 9 years. Then Nicole guessed 4 or 5. Frank laughs and says girl I had 4 before I left middle school. Frank says we're taking these twists and using them to our advantage. The Roadkill twist and the team twist. Frank tells Paulie that Victor asked him if he was going to use the veto or not? I told him I don't think so. Paulie says yeah, that's why I think its best I take the heat for it.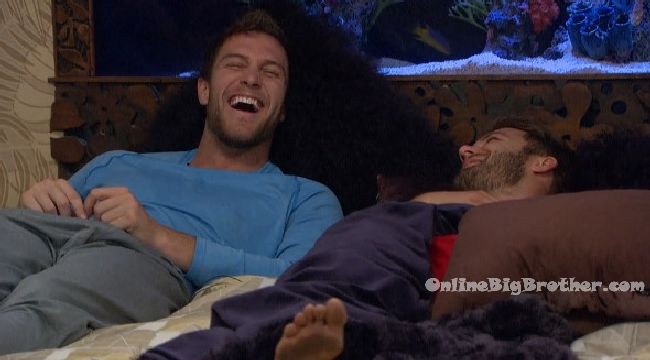 8:50pm – 8:55pm Havenot room – Michelle, DaVonne and Zakiyah are talking. DaVonne comments on how they all talked so much last week and now not so much. Michelle says well I know they want Bronte out next week. DaVonne says if its not Paul after Bronte .. I am going to be pissed off! A boy has got to go. Paul keeps getting moved to the bottom of the list. Why when he was in the top 3?! The only thing is that Bronte needs to go because she is gunning for Nicole hard. Tiffany is gunning for me but I'm not scared. Michelle says that Tiffany came up to her and said she couldn't get a read on you (DaVonne). I was talking to Nicole today and us 4 are the only ones I trust. Whatever we have to do to keep us 4 safe .. I'm good! I'm good! Maybe we should get Bridgette out of here .. because then she isn't an option to take to the end. Zakiyah says Bronte needs to go and then Paul. Michelle says Frank might get it handed to him .. if this continues. DaVonne says he's going to be hard to get out. Tiffany and Frank would take each other out. Michelle asks does he still not trust her? DaVonne says nope!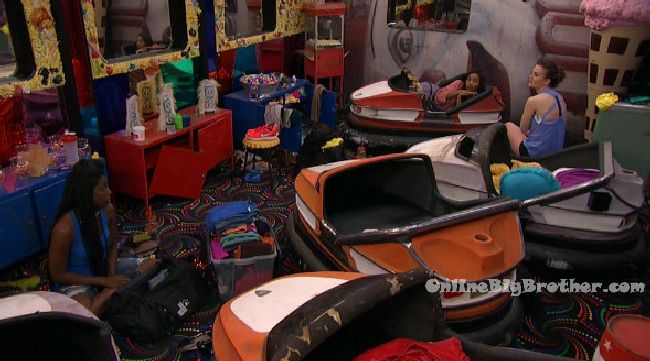 FLASHBACK and watch everything you missed: CBS All Access FREE Trial!

[polldaddy poll=9459672]