POV Holder:
JohnnyMac
Next POV
July 11th
POV Used
?
POV Ceremony
July 13th
HOH Winner Team 1:
Vanessa
HOH Winner Team 2:
Austin
Nominations 1 :
James & Johnny Mac
Nominations 2:
Jason & Meg
Battle of the Block Winner
Jason and Meg
Next HOH/ Next BOB
July 16th / July17th
Original Nominations:
James & Johnny Mac
Current Nominations:
?
Have Nots
No HAve nots this week
TRY the Big Brother 17 Live Feeds FREE for 1 WEEK:
Click here to ensure your live feed subscription supports OnlineBigBrother.com at no extra cost to you.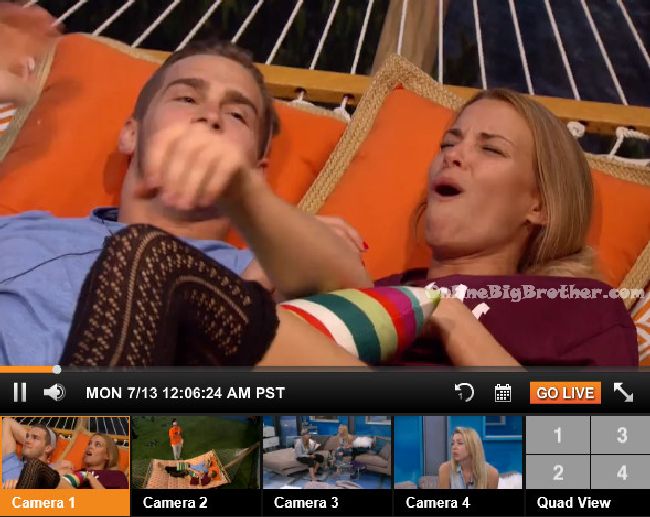 12:10am Shelli and Clay are laying out in the hammock. Audrey joins them. She says that Jeff tried to say that he was my biggest advocate the week that I stayed. Clay asks he was your biggest advocate? Audrey says that's what he said to me. He said me, Clay and Shelli really fought for you. Audrey says she said oh that's interesting because I heard you initiated this conversation and that's kind of poetic. You know that the two people that attacked me and made me feel alienated now are on the block. So if you don't mind clearing that up. Shelli says lets just drop it. Audrey says I want to call him out. Shelli says this is the kind of stuff you need to drop. Audrey says when he goes up and asks me for my vote I am going to be like you're not getting my f**king vote.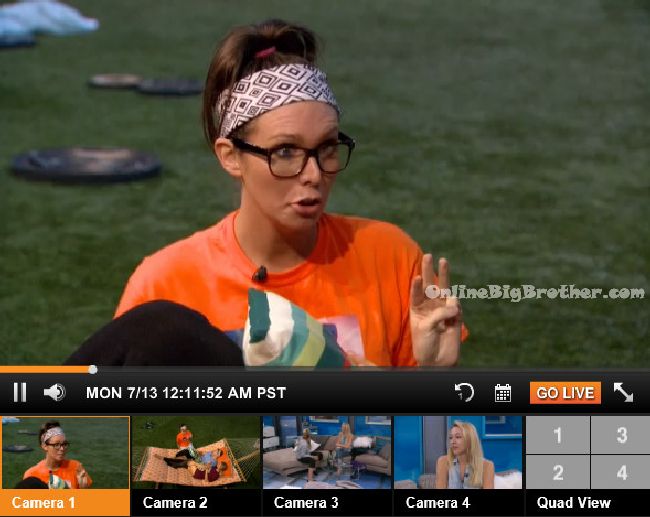 Up in the HOH room – Vanessa is talking to Julia. Vanessa outlines the reasons why Jeff is going up on the block. Julia asks aren't you nervous, like aren't you scared to put him up? Vanessa says no. Honestly I was nervous to put up Audrey. Julia says your balls are like this big!! Like I don't think anyone else would do this. Vanessa says after what he did last night I feel so justified. I was so happy to get his double talk exposed and then he hands me public attempt at slander with a cherry on top. I did a pretty good job at how James dragged Audrey's name through the mud and then admitted he lied about it.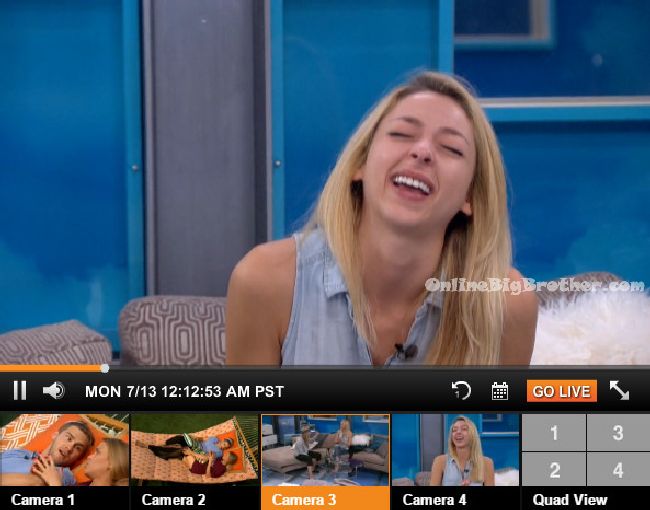 12:15am Gronk party in the backyard.

12:20am Jeff tells Clay and Shelli if I leave you guys should pull in Austin. Jeff says If I was against anyone else I wouldn't care. I don't want to campaign against James. I was like to Vanessa where do you think this is going to make you stand. Jeff says I don't know if a girl being there would help. Clay says you just have to approach her in a non-threatening way and set the tone. Jeff says she doesn't even understand that she (Vanessa) came at me aggressively. Clay says if she is so fixated on a certain way you almost have to agree with it. Jeff says I've already done that. Jeff says maybe I can get Austin to talk to her because he did admit to me that he jumped the gun with me and apologized. Basically just said sorry. Jeff heads inside. Shelli comments that she doesn't think Vanessa is aware of the extent that Austin is doing damage control. Clay says we just have to protect Vanessa. Shelli says for Austin to sit back and say oh no man it wasn't me, isn't right. I feel like I need to go tell Vanessa to make her aware so she can decide what level of trust she has in Austin.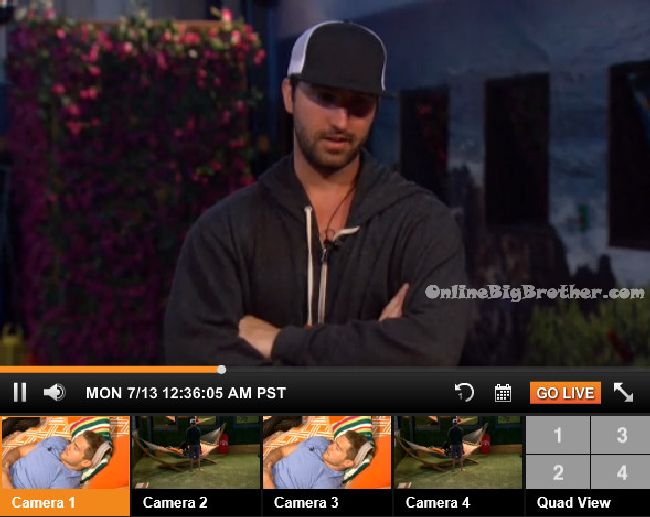 Jeff talks to Austin in the bathroom. Jeff says I honestly trust you. Everything from last night got blown out of proportion. Even if I stay in the house Vanessa isn't my target. Jeff says I'm afraid, I'm afraid I might go home. Jeff says Johnny Mac is my boy he already said I have his vote. And Jackie. Austin says that he will go up to the HOH room to see what the vibe is with Vanessa. Austin heads up to the HOH room. Austin tells Vanessa that he was trying to bring a group up here and bring you into an alliance. He wanted to say you can't put two well like people on the block and not expect repercussions. Vanessa says he thinks he has a shot of not going up on the block. He is 120% going up! I am not changing my mind.
Click here to get your 7 day FREE TrialBig Brother 17 Live Feeds
1am Hammock –
Clay tells James that a very big majority of the house is on your side. I don't think Vanessa would put up Jeff is she wasn't sure he would go home.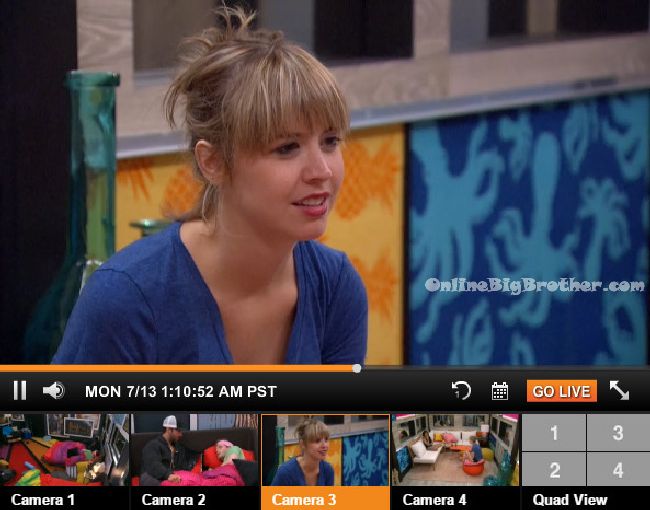 In the cabana room –
Jackie and Jeff are talking. Jackie says she (Vanessa) got lucky she won HOH. It's never going to happen again. Meg joins them. Jeff says I almost want to put Audrey in the hot seat and have a house meeting so she can see exactly what she is like. Meg says that Audrey had 8 people up in the HOH room thinking Vanessa was the mastermind of the house. How does she care about what James did but not about Audrey. Jeff says I don't want to pull the Audrey card. I already tried that. Does she know that Audrey was rallying people against her. Meg says that's what the dentist room argument was about. Jeff says I'm going to figure something out. Meg says I've had too many talks with Vanessa this week or else I would be up there. Meg asks what proof does she have to put Audrey up. Jeff leaves. Jackie says we're coming after you guns blazing .. well Audrey first but shes going on the block because she hasn't been up there. Meg says I want to take out Vanessa. Meg tells Jackie that Audrey has to go first but don't you want to satisfaction of taking out Vanessa? Jackie says oh yeah, it will happen.
Austin tells Vanessa that he (Jeff) said he has an alliance that you would be very surprised about and would want to work with. Vanessa says I already know about it, I'm one step ahead of him. Vanessa says that this is my HOH and am okay with sending him home, I do not feel okay with anything else. He literally tried to publicly slander and framed me. That is like not okay. Austin leaves. Julia asks Vanessa if one of us wins next week James has to go right? Vanessa says yeah. James, Jackie and Meg.
1:30am
Jeff comes up to the HOH room to talk to Vanessa. Jeff says it sounds like its already 100% that I am going up. Jeff says me saying what I said about the alliance wasn't good. It could have backfired on you and that wasn't good. It probably would have been better to talk privately. At the time I wasn't thinking rationally. However I just wanted to tell you something that there is some that dragged your name way worse through the mud. Jeff says I know you don't want to send someone innocent home. I know I'm not innocent but there's someone that's been way worse and dragged your name through the mud. Jeff brings up the meeting back during James's HOH room where Audrey deflected all the negative energy on to you. That you were America's player / Starting an all girls alliance. Vanessa says I know all these things. We got to the bottom of it and she actually apologized about it. It was so long ago and since then she's done other things that make me not trust her. I won HOH and am the one that has to live with the consequences. I respect you for making this attempt. All of the things you are accusing Audrey of, you are also guilty of. At the end of the day I don't trust Audrey either but I don't have evidence of a smoking gun with her as I have with you. Jeff says I've heard you want to get a whole bunch of people to come after me but honestly that wouldn't work. I would look at it as a bullying tactic and it wouldn't be good. Jeff says I'm not going to do that. Vanessa says best wishes to you in the game. Jeff leaves.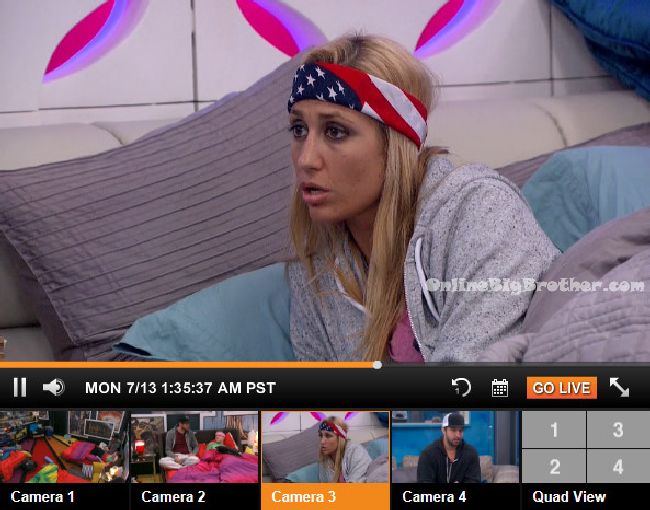 2:15am Gronk Party in the living room. "It's midnight give someone a kiss!"
2:35am In the comic bedroom –
Johnny says Becky's into tall guys and I'm not. Steve says right… would you if you could? Johnny says yeah, totally! Steve asks actually, you're being serious? Johnny says yeah. Steve asks and Becky would be your top choice I am assuming in the house? Johnny says yeah, she's cool. Steve says she's awesome. Steve says I am having the same struggle except I have the conflict of being a terribly human being. Johnny says just go for it man. Steve says but there are advantages and disadvantages. As you are aware? But I don't want to be the guy that is with two girls at one time. Johnny asks what are you talking about its just one person. Steve says they're not one person as you well know. Steve says How do you not even know one of their names. One of them is Liz. I think Helga is Liz, I think this one is not. Steve says if they don't get to the point where they come in the house then a Jace or Day would come back. It would be nice to see them (Liz & Julia) at the same time. Its a fun twist.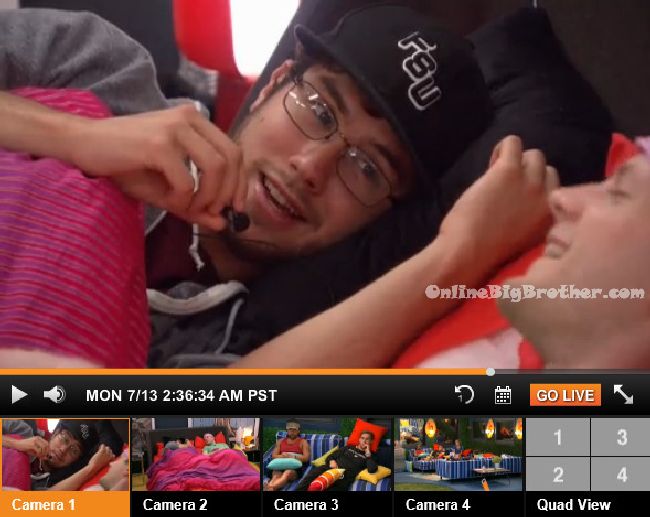 2:45am HOH room Vanessa asks Austin do you feel bad for Jeff? Austin says I totally do because I trusted him. I enjoyed the time with him and was sad that what we thought was happening actually was happening. If we could get him out it would be the biggest move at this point in the game. Vanessa asks is it a big more. Austin says its a move that you could talk about in final 2. He would have gone far. He would have gone deep. He set himself up really well. He keeps saying that he wants to confront you (Liz) with me. I think he is testing me to see if I know (About the twins). Julia says he can't do it man to man. The last thing he should do is confront someone who is a vote when you're on the block. If he asks me again I am just going to say no. Vanessa talks about her conversation with Jeff earlier. Vanessa asks who are the first targets on our side? Austin thinks Clay and Shelli because they're a duo that have put themselves playing both sides. That or Audrey, we'll have to see if they're still after her. Austin says that Meg cried to him today in the hot tub about Audrey terrorizing her. Vanessa says you can't buy into that she's an actor. Austin says I cried right along with her. If she is going to act, I'm going to act right along with her. I'm a wrestler that's what I do. Vanessa asks if Clay and Shelli are playing both sides why didn't they want me to get out James instead of Jeff. Austin says either Clay thinks he has something with James or Jeff has something on them too.
Big Brother 17 Live Feeds: Flashback to any moment in the season!
Clay silences Audrey @bigbspoilers #bb17 pic.twitter.com/e9BJmAgDNB

— Dawg (@DawgsBigBrother) July 13, 2015
3:05am Audrey asks Shelli who would you Shag? Marry? Kill? Shelli says I would marry Clay. Shag Jeff .. she asks what he's cute. If I shagged him I wouldn't have to listen to him. I wouldn't want to marry him. Audrey says she would kill Jason. Marry.. James joins them. Shelli gets called to the diary room and the conversation ends.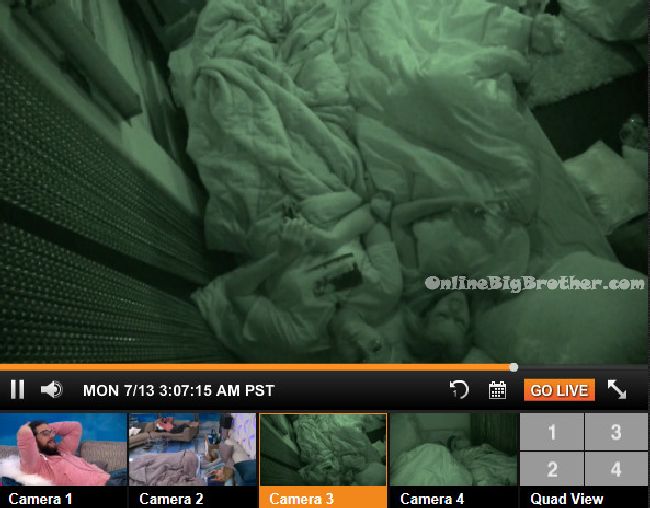 3:35am – 4:20am Audrey comes up to the HOH room. Vanessa asks do you think it looked bad when I confronted Jeff? Audrey says she didn't see because she was up in the HOH room. I think it was a justifiable action. Vanessa tells Audrey to go spy and watch people. Audrey says that Meg apologized to her for the falling out in the HOH room. She said I don't need to be worried about her if she wins HOH. Vanessa says she should be. Audrey says oh yeah, I'm not going to forget that. Audrey leaves. Vanessa tells Julia to get close to Audrey. Audrey says I feel bad for her because people were mean. Vanessa says I really don't like that mob mentality.
4:30am All the house guests are sleeping..
Live Feed subscription gives you CBS All Access thousands of archived shows. Live Shows like Big Brother, all the Big Brother Seasons, and 24/7 coverage of what is happening inside the Big Brother House. Plus there's flashback that lets you go back to any second of the feeds and rewatch what happened. Simon and Dawg will index the season just watch the parts worth watching. All this for $5.99 a month try it out 1 week free. Support our efforts and get your feeds via a link on this site. Live feed subscription Sign up
[polldaddy poll=8972565]
Share it YO!!
Tweet