POV Holder:
?
POV Competition
Aug 6th
POV Used
?
POV Ceremony
Aug 8th
HOH
Victor
Next HOH
Aug 11th
Original Nominations:
Michelle AND Zakiyah
After POV Nominations:
? AND ?
Have Nots
Bridgette, James, Corey
CBS All Access: Live feeds are only $5.99 per month – Try it FREE for 1 WEEK!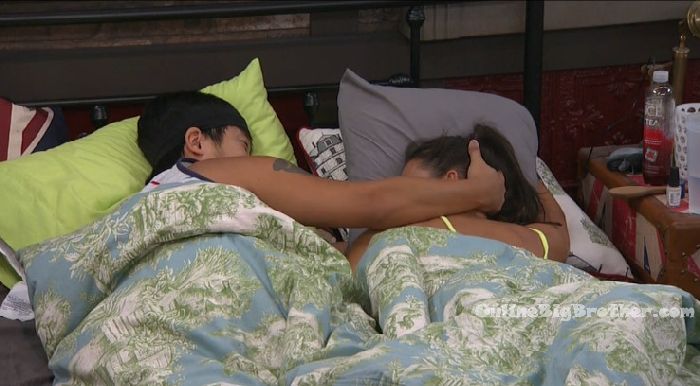 8:45pm – 9:10pm London Bedroom – James and Natalie laying in bed. James asks what are your feelings towards James? SO what are you feelings? Natalie says that's for me to know. James asks are we best friends? Natalie says yes. James asks are we lovers? Natalie says no. James says wow that fast. Are we potential boyfriend / girlfriend? Natalie says maybe. James says we'll leave it at that. Natalie says I've decided if I win HOH, I'm not telling anyone I'm a cheerleader. Right is that a good idea? James says you've kept a secret for so long you can't say it now. People will wonder what else you're keeping a secret.
James making BIG MOVES #bb18@bigbspoilers pic.twitter.com/rEzgz4ST49

— Dawg (@DawgsBigBrother) August 6, 2016

9:20pm Backyard – Paul asks James what he thinks the next care package would be? I think they're saving a veto for last. James says I don't think they would have a veto ..or if they did it would be where you had to use it that week. Z asks James if I choose you will you take me down? James says yeah we all are, I think. I'll do whatever the HOH wants. James says roses are red, violets are blue, I just won the veto so f**k you! Z says I might use that. Paul and Z talk about how upset Meech got being nominated. Paul says what concerns me is that when she gets out she is going to digging for sh*t. She is going to read every forum and message about her. I was telling her I hope you don't feed into all that sh*t. Paul says she is very soft. I feel bad. She literally thew an apple at me and cried.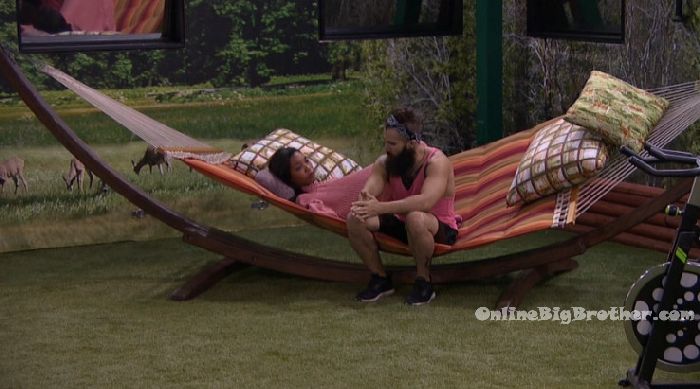 9:35pm Havenot room – Michelle and Z. Z says this is going to be my sleep week. Michelle says yeah its going to be slow. I wish we could go back to the days of the eight pack. Michelle says I want to say Battle Back doesn't even count as comp wins .. if you think you're compared to the greats you're not! And you said in your speech that you're playing strategically, yet you put two girls up that haven't won an HOH and couldn't beat you in a physical competition.. yet you're letting people that.. Z says people that could potentially win. I would rather Natalie wins at least she's honest. Z says Paulie probably convinced him (Vic) to put me up. (Yup) Michelle says yeah I could see Paulie doing that. Victor's so stupid. Michelle says Nicole saying she would use the veto on me is bullsh*t. And the fact that she said it in front of you. You would think the people we're with would be mad but they're not. If you were up and I wasn't I would be pissed.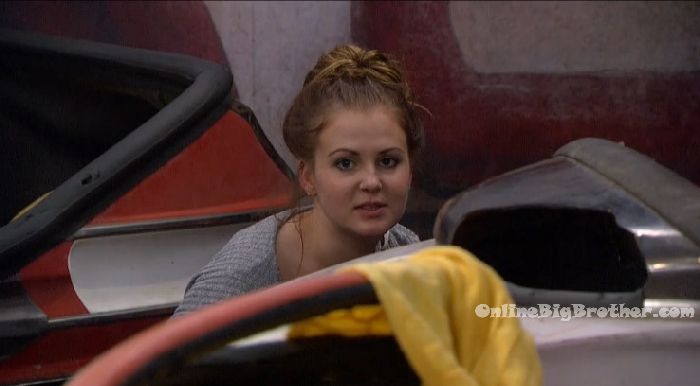 FLASHBACK and watch everything you missed: CBS All Access FREE Trial!
9:50pm – 10pm Backyard – Paulie, Paul and James show each other martial arts and grappling moves. BB keeps telling them to "Stop That!" Paul says I scissor sweep fools for days! Paulie says if his legs are wide open .. punch him in the balls and then face.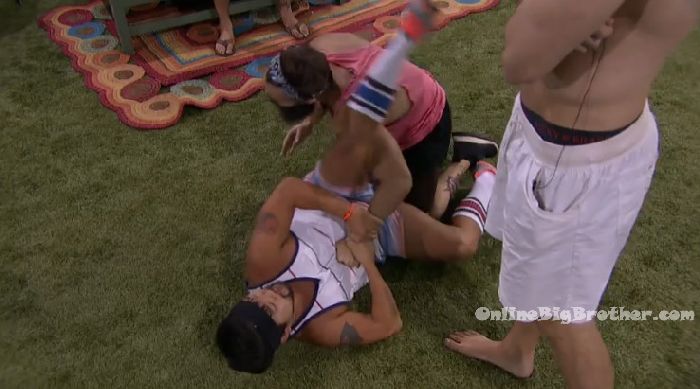 10:10pm – 10:25pm HOH room – Michelle comes up to talk to Vic about him putting her up on the block. Vic says you made a jab at me for having a big mouth. That's all that was. Michelle says I really did like you as a person. Vic says I really thought you were going to take it better. I really think you're going to be alright. Michelle asks really? I meant it when I said I wouldn't put you up. And there are a lot of people in the house that would put you up. Vic says I really don't think you're going home. Don't relay that to Z. People do talk and you say things that are on your chest and that can hurt you. Michelle says I am blunt and it hurts me some times. I wish I didn't break down like that. Apparently someones never broken down like that before. I just really wanted to win HOH at least once and be here for zingbot. Michelle says hopefully its the luxury comp. Vic says you're welcome for me getting you in that. At least you get a chance to play in the veto .. I got backdoored! Vic says to be honest the only person I don't connect with is Z. The only person she gives attention to is Paulie. Z joins them.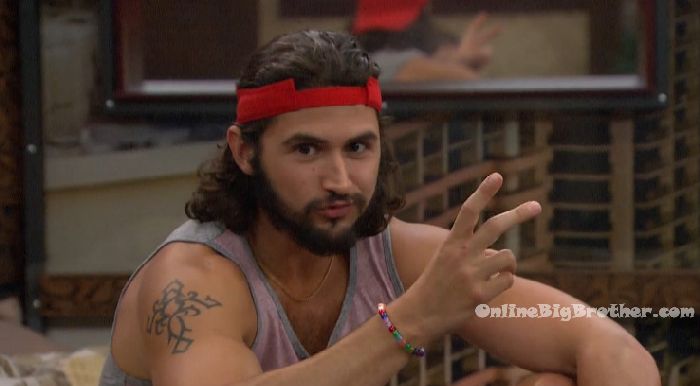 10:40pm – 11:05pm Bathroom – Natalie tells Meech if I'm up there (as HOH) you have nothing to worry about. Meech says same. Just help me stay positive and tell me if I'm going home. Natalie says I will. I never wanted you to feel betrayed. Meech says it is what it is.