POV Holder:
?
POV Competition
Aug 6th
POV Used
?
POV Ceremony
Aug 8th
HOH
Victor
Next HOH
Aug 11th
Original Nominations:
Michelle AND Zakiyah
After POV Nominations:
? AND ?
Have Nots
Bridgette, James, Corey
CBS All Access: Live feeds are only $5.99 per month – Try it FREE for 1 WEEK!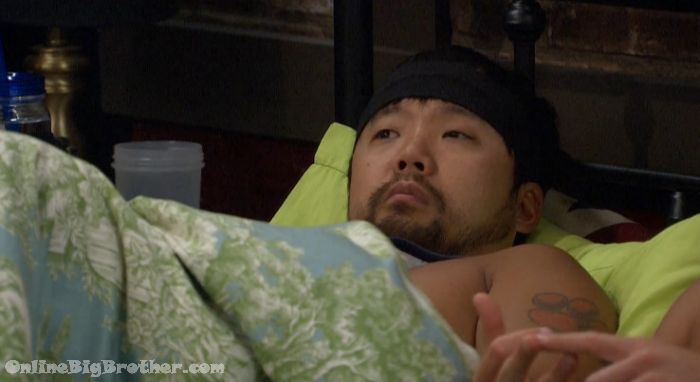 12:01am Paulie and James
Paule saying they take out Bridgette next week that way they control the votes and they control the other girls in the house. He adds that Zakiyah is going after Bridgette and Victor whereas Michelle is a wildcard.
James – I just feel with Natalie she'll be more open.. (if she wins HOH)
James- Nicole will tell you what you want to hear for that week.. I think Nicole has been involved in more stuff we think she is and she's been able to cover because we've been evicted other people.
Paulie thinks if Nicole wins the HOH she'll go after Victor, calls Victor a buffer for them if Nicole and Zakiyah wins.
Paulie wants Zakiyah, Nicole or Natalie to win HOH next week so they put up Bridgette and Victor. If Victor wins the POV he'll go after the girl that put him up the following week.
Paulie – Victor will be blinded by a blood rage
1:01am Kitchen chit chat
MEECH – what do you call Natalie? A Never Nat..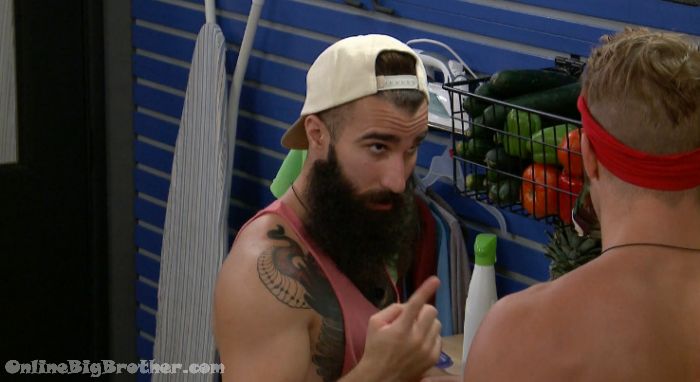 1:01am Storage room Paulie and Paul
Paulie – master of Blowj
Paul – master of blowj
Paul – PP
PAulie – 100 hundo .. pping on people
Paul – hilarious
Paulie – we need to figure out a way to orchestrate what we're trying to do this week
Paul – James is probably shitting his pants about MEECH
Paul – we need to convince him to use it on Nat.. one of them at least on Nat and one of them on himself maybe.
Paulie – can he do that
Paul – I think so
Paulie suggesting Natalie and Nicole or Bridgette.
Paul – somebody that will vote Zakiyah 2 people..
Paul – Meech tried to squash things with Vic, I heard them talking..
Paulie – she squashed stuff with me..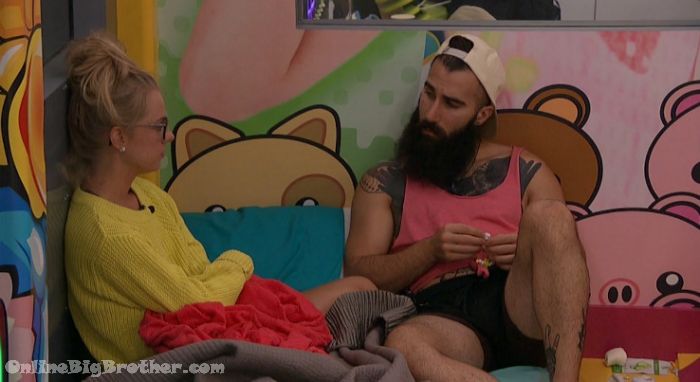 1:48am Nicole and Paul
Talking about Da'Vonne throwing Z under the bus last week trying to get Zakiyah nominated.
Paul – she's done certain things that rubbed me the wrong way.. that certain mindset was dangerous any chance tat taking a shot she would have done it.. I think she would have taken a shot at Paulie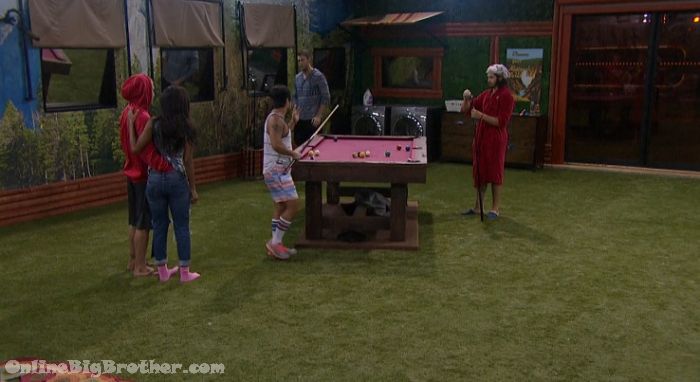 1:51am pool

1:56am
chit chat about Survivor and Amazing race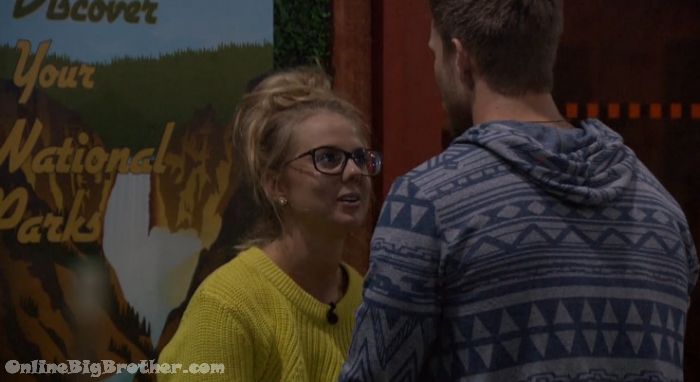 2:00am Nicole is talking about getting an anxiety attack today, "My heart was Boom Boom Boom i was being overwelhlmeeeeeeeeed.. When you get anxiety you get really short because you think you are going to diiiiiiiiiiiiiiiiiiiiiiiiiiiiiiiiiiiiiiiiiie
Nicole says Paul came to talk to her because he gets them too but that didn't make her feel better she wanted to talk to Corey
Nicole- you just don't want anybody to know you are having an anxiety attack.. You don't want anymore attention..
Nicole – I'm sorry … I didn't mean anything..
2:11am BRidgette, Paul, Natalie, PAulie, and Michelle in the bathroom talking about Jozea and all his crazy stories. "He woke up with his two fists in 2 different a$$ h**** in Paris.. They mention how we would talk about maxing credit card. One would max out and he applied for another one, and kept going.
#BB18 Feeds at 2am @DawgsBigBrother pic.twitter.com/6JUUaQrhnn

— OnlineBigBrother.com (@bigbspoilers) August 6, 2016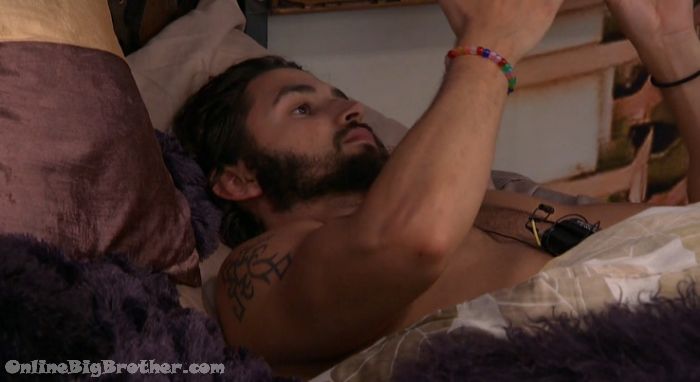 2:13am HOH PAul and Victor
Victor – never cared
Paul – it's the funniest thing ever
Victor – she really likes me as a person that is why she was so hurt about it.. we're in a game..
Paul laughs at a rhyme Victor had prepared, "9 to 1 do those numbers ring a bell because on my eviction night that's how the votes fell"
Paul – Bro we're straight cruising.. it's going to be another chill week I'm telling you.. We're doing damage control bro.. You don't have to worry about it.. You already did your job
Victor – ya I'm stepping back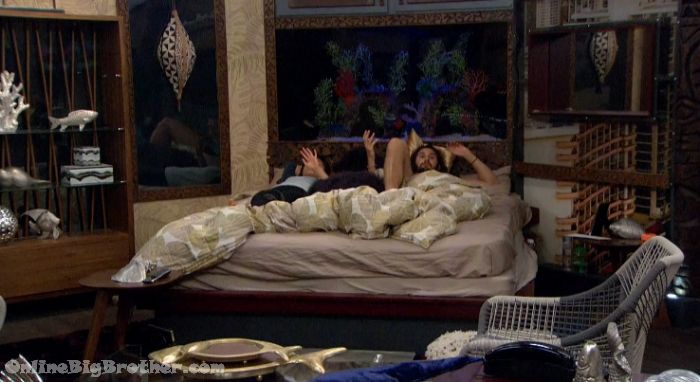 2:44am Bridgette and Victor
Talking about getting Zakiyah out this week. Victor thinks the votes are there to do it from what they'e all told him. Victor says he trusts Bridgette a lot doesn't trust Paulie and Paul as much.
Victor mentions the nomination ceremony how Zakiyah just took the beads and played along but Michelle was pissed.
"9 to 1 do those numbers ring a bell because on my eviction night that's how the votes fell"
"Battle back champ I got the notches on my belt now you'll see how eviction felt."
"Z This is really based on strategy if it was up to you the person on the block would be me and top be honest you never really gave me too much attention, Paulies the only one that gets your affection"
"Michelle this should be easy and clear to see two days ago you were mean and rude to me but really your quote wasn't too far off yesterday wasn't the day to piss people off"
"So hopefully this doesn't ruin and relationships so here are some beads outta friendship "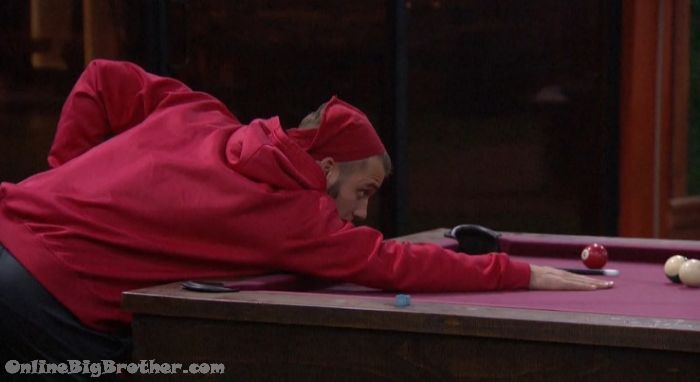 3:01am Paulie and Paul Pool
Paulie – we have to be very careful how we sway them
Paul – Corey will vote Zakiyah out if we really tell him.. I already talked to Nicole and she agree.
Paul adds they would benefit from Paulie telling James and Corey it's OK to vote out Zakiyah
Paul – Z has already started to throw Meech's name under the bus.. Meech is her ride or die bro
Paulie – Zakiyah will come to me for anything.. If Z possibly does win she's going after BRidgette, Natalie or Exec.. If Meech wins she'll go after James, Bridgette, Natalie or Exec
PAul- that's not a bad thing.. If we keep Meech in the house and James goes rogue.. There's a target for him
Paul says Meech doesn't have the balls to put them up thinks Zakiyah does
Paulie – to be honest as much as we want to keep Exec around he is going to be harder to get out than James
Paul – doubt it..
Paul – at the end of the day it's a double we lose another girl..
Paul – at the end of the day we can't protect exec from Corey and James but secretly it's in our best interest to have him around..
Paulie agrees says they should take a shot at Bridgette if it's a double and let Victor win the next HOH to take a shot.
Paulie says the vote this week will come to a last minute decision but that will be fueled by them.
Paulie mentions Corey saying that NAtalie wants a girl to win and she'll only vote out guys.
Paulie say the statement originated from Nicole, JAmes dig some digging
Paul – sketch town
Paulie – Makes sense it's how it made it to Corey..
They worry about Nicole a bit but feel if Victor is around Nicole will always target him first.
Paulie says if they can get bridgette out, let Vic win and take a shot at Meech/Nicole
Paul – or James
Paulie – or that
Paulie – this will set PP up with a cruise control mission
Paul says James is a little "Sketch McGresh"
Paul points out all the competitions that James is throwing.
Paulie says Corey and James want the 4 boys but don't want exec they want to cut him before the top 7 .
Paul – Corey/James what have you guys done..
Paulie says Corey is trying to win competitions but isn't James is throwing all these competition.
Paul points out that Corey dislikes Victor already they could use him to take out Victor.
They go over the boot list, Zakiyah, BRidgette and Michelle or Nicole.
Paulie – put Nicole and Meech up see which one looks prettier
Paul – Corey's not going to get pissed
PAulie says Corey will be fine with it when the time come s
Paul – Z is more of a threat to you and I
Paulie says if Z leaves it gives him more options socially.
Paulie says he can't talk to Meech or Nicole because Z gets pissed.
Paul going on and on about how dangerous Zakiyah is compared to Michelle
Paul – Meech cries and Pukes Z doesn't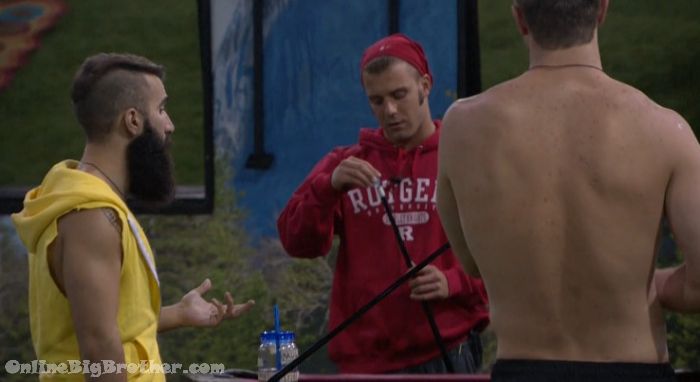 3:31am Corey joins them
Paulie wants to continue the Zakiyah/Michelle debate, "I hear the points on both sides"
Corey says Meech isn't going to win any comps other than mental
Paul points out Michelle isn't winning anything she hasn't won a mental comp yet and won the
COrey – Z is worse at comps than natalie is.. Michelle will whoop Z's a$$ in mental comps
Paulie – Z's social game is better than Michelle,.. Michelle is an emotional wreck.. Someone like that in power
Paul – assuming she does get power
PAuli e- Zakiyah will come to me
Corey -agreed
Corey – Michelle blows Z's social game outta the water.. Nobody likes Z nobody…
Corey says Zakiyah's social game is a 2 and Michelle is a 8/9
Paul is arguing Zakiyah out.
Paulie – Michelle operates on jealously and attention
Paulie argues Michelle is too unstable, "I can keep Zakiyah's target on Bridgette"
Paul says Michelle will put Bridgette up there is no way around that.
Paul, Paulie and Corey all say they will not use the Veto. Paul points if they don't use that veto on Z they will have a problem.
Corey – I like Meech.. I like MEECh 10x more than Z
Paulie says Zakiyah likes him in the sense that she wants to date him after he doesn't think she will double cross him.
Paulie brings up Bridgette linking up with Michelle and Meech telling her that PAul was trying to turn her against Frank.
Corey leaves..
Paul says Natalie should be the pawn if Zakiyah/Bridgette win the veto.
Bridgette joins them
Paul – hey you little poop stain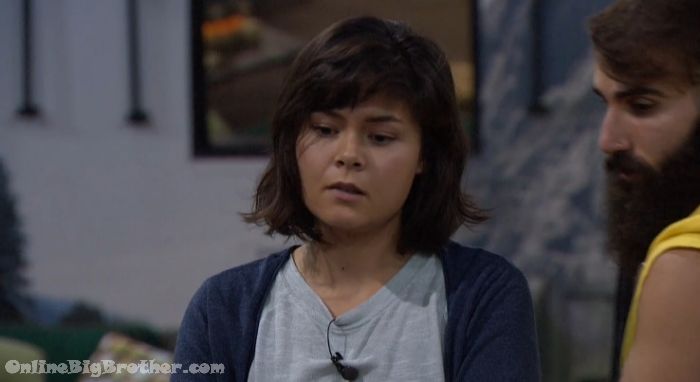 3:58am Cam 1-2 Backyard Bridgette, Paul and Paulie
They want Michelle to think she's going home because she's boasted about "Blowing shit up" in the past.
PAulie wants to see what Michelle will do.
Bridgette 0- so she make herself a even bigger target.
Paul – OK beautiful.. We can do that it's easy.. Never cared..
Bridgette – it's not easy to set her off
Paul – we're talking about making her think she's going home this week so she can blow sh1t up and then keeping her so that she like awwwwh f** but I said all that shit .. SHIT F***
Bridgette – sure let's do it easy..
Paul says if he wins the veto and doesn't use it he wants Z to leave and he hopes everyone honours that.
Paulie says at this point Zakiyah is hurting his social game.
Paul jokes that BRidgette should start flirting with paulie
Bridgette – f** no she will f*** come after me every time you hug me o out your hands him my hair.. I think she's going to cut me.
Bridgette – she's coming right after me
Paulie – you're third on her list now.. She wants Vic.
Paulie- I'm down with keeping Meech..
Paulie says he can't hug Bridgette, Nicole or Michelle because he'll get dirty looks.
4:04am Bridgette and Paulie
Paulie still giving reasons they should keep Zakiyah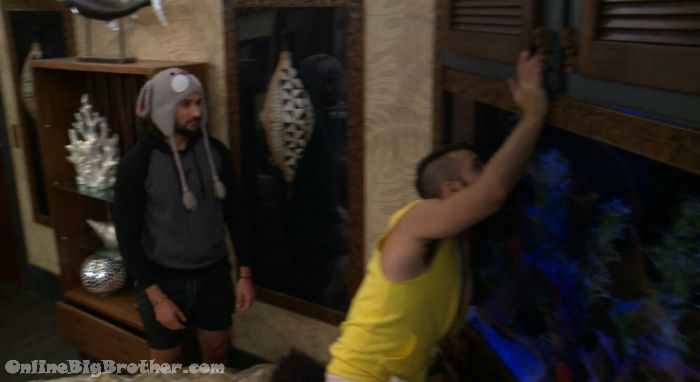 4:03am
Paul and Victor head up to the HOH to see the dead fish.
Paul tells Victor to back him up in trying to get Zakiyah out this week.
dead fish left in the tank #BB18 @DawgsBigBrother pic.twitter.com/dsTr1hOVab

— OnlineBigBrother.com (@bigbspoilers) August 6, 2016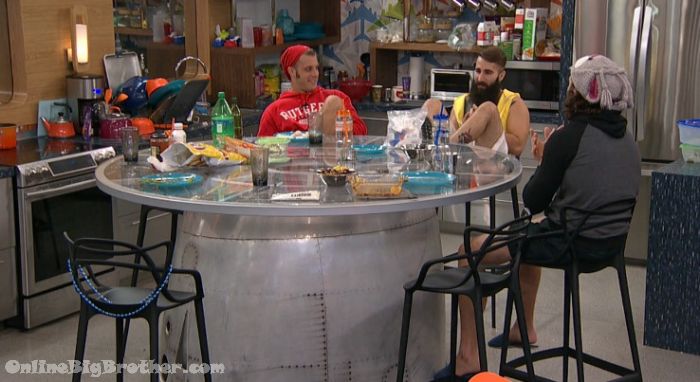 4:40am Kitchen Victor, Paulie and Paul
Paul – it's 4:30 and I'm pissed
Paulie – pissed
Simon – never cared
…
Paul – get a care package from America it's a bong.. thanks guys
Paul – lets toss this bag of flour in someone bed..
Paulie – standing here with our d1ck in our hands
..
Victor says he has 15 blisters on his hands.
Paul – are they going to f** my sh1t up.. where this POV it's 4 in the morning (backyard still open)
Paulie – it's inside.. nobody sift though the garbage it is not in there.
…
Victor – Lets have a quick burping comp
They pass around a bottle of pop taking swigs and burping.. some of them fart as well. Victor and Paul joke that they sh1t their pants. (LOL a bro summer)
Victor is having trouble burping, 'DAng it it's like it wants to come out"
..
Bros giggling and farting … (bro summer)
Victor going on about Coke's recipe being in a vault. Pauli thinks it's been figured out already by competitors.
Paulie – McDonald's has secret sauce for their Macs
Victor quesionts if they should bother going to bed, "lets power through this"
Paul – nope
Simon – please don't
5:40am Sleeping.
Paul and Victor sharing the HOH bed.
The NEXT America's Care Package
"SUPER SAFETY"
WEEK 3 – August 7th to August 12th
The good news is the holder of this care package will be safe for the week. The bad news is the house guest must also wear a "Super Safety" costume all week long.
[polldaddy poll=9491180]