POV Holder:
?
POV Competition
Aug 6th
POV Used
?
POV Ceremony
Aug 8th
HOH
Victor
Next HOH
Aug 11th
Original Nominations:
Michelle AND Zakiyah
After POV Nominations:
? AND ?
Have Nots
Bridgette, James, Corey
CBS All Access: Live feeds are only $5.99 per month – Try it FREE for 1 WEEK!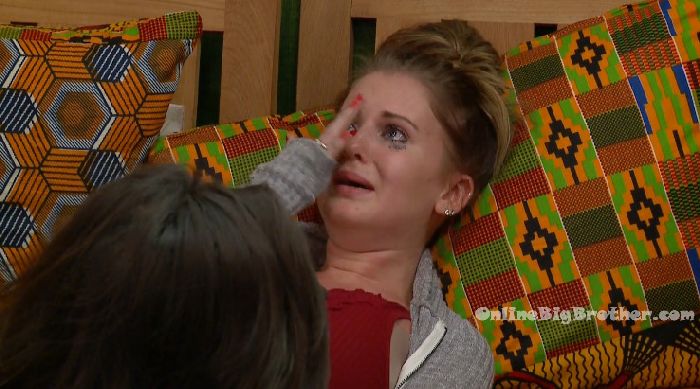 Nominated: Big Meech & Zakiyah

6:10pm Safari room – Meech is crying. Nicole says Zack called me a froot loop dingus. yeah but he didn't call you mean on national television. I never did anything to him! He says I pissed him off and I didn't do anything!!! Natalie says Its a game take it all with a grain of salt. Meech says I'm still mad at you! Man now he's going to hide up in the HOH like a pu$$y! Natalie asks why are you mad at me? Meech says because you didn't tell me about the votes. Natalie says I didn't know. Meech says I'm sure James told you. Paul tells Meech to not take it personally. Meech says I'm such a fan of the game and I'm going to go home. I just want to literally know what I did to him. Paulie says he (Vic) said Z didn't give him attention. Paul says lets work on damage control. If anything you're a fan of the show and know how this works. Meech says I can't breath .. I'm going to vomit! He obviously wants me out .. he said I was mean to him. Freaking weaka$$! Hiding up in his room!! Meech says I'm not the one that put him on the block and backdoored him! Paul says be strong about it, don't let him win! Meech keeps crying. I just don't want to go home. Paul says play strategically. Meech says I don't know how. Paul says there's the veto. There's Jame's 2 vote thing. Meech says it just sucks because I actually enjoyed his company. Now its a 100% that someone said what I said to him. Natalie and Meech head to the bathroom to fix her makeup. Natalie tells her to make the block her b***h. Meech says I just don't want people to think I'm a mean person!!
6:20pm Paulie and Z in the safari room talking. Paulie says comments like that is exactly why she needs to go. "I'm not the one that put him up and backdoored him. Z says yup.
6:20pm HOH room – Paul says zakiyah is straight facing it. She doesn't give a f**k! Meech is destroyed! I think we know who needs to go home. Z needs to go. Z asks if Paulie plays and wins will he take her down? Paulie says he would but even if I don't play I could get the votes to get her out.
Nicole says I've never seen someone react like that. I had to walk out when she was giving up like that. Saying no one would use the veto on her. Like as a super fan you have to fight. Paul explains how Meech cared and Z didn't… Z needs to go.

6:45pm – 7pm Vic and Corey playing pool in the backyard. Vic says I didn't cry when I got evicted. I don't have sympathy for tears. Corey says same when my face goes up, I'll smile. Vic says I was practicing that speech. Corey says yeah it was good. Victor and Corey finish their game and head back inside. In the kitchen – The house guests are talking about taking cold showers. Vic says nipples get hard. Paul says d*ck goes back in garage. Natalie says if you've been with someone for 30 years and your partner can't have s*x any more because of some disease. What would you do? Paul says there's two other holes. Natalie says I wasn't expecting that.
7pm Bathroom – Meech says I don't want America is going to hate me and think I'm mean. Meech asks if the backyard is open? Z says yeah. Meech says it might be the reward / punishment one then. They high five and smile. Meech says he'll (Vic) go for the prize. Nicole joins them. Nicole tells Meech she gets to play in the veto. If you pick me, I'll fight for you. Meech asks will you take me off? Nicole says yes. Quit giving up! Super fans don't give up.
7pm – 7:15pm Corey, Paulie and Paul. Paul says separating you from Z is better now than later. Paul says she is banking on you.. Michelle has no one to bank on. Paulie says as long as you do damage control on her. Paul says I will, I promise. Who are her biggest targets.. Vic and Bridgette. She's not coming after us.
7:20pm Nicole tells Z that Meech put her in a weird spot when she asked if I said I would pull her down. I don't even know if I'm playing but if I did win I would explain to her that I would pull you don't. I forgot that you were up. Nicole tells Z that she's all for the 4 for us going far (Nicole, Corey, Z and Paulie). Zakiyah tells Nicole that Michelle told her she's ready to blow sh!t up! Corey joins them. Z asks him if he gets picked to play .. will you take me off? Corey says yeah. Meech joins Nicole. Meech asks if I am going home will you just tell me. Nicole says I don't think you're going home.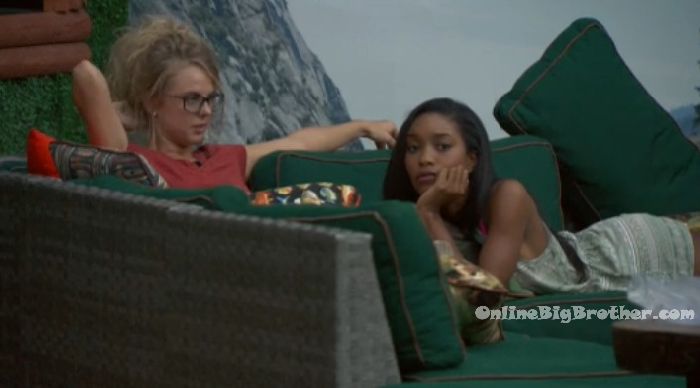 James and Natalie talk to the camera about his care package to eliminate two votes. Natalie says maybe you're being backdoored. That would be funny. James tells his daughter when I get home, we're going to Disney Land.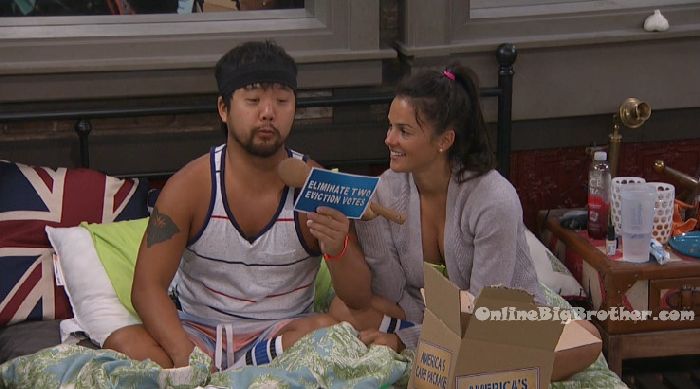 8pm London bedroom – James and Natalie are talking. Natalie says there was an all girls alliance and I wasn't apart of it. Natalie says rumor was I was going after her. I told her I'm not coming after you. I'm a girls girl. I have your back. She is the one that told me that only this amount of girls have won in past seasons. I didn't know how many girls had won past seasons. She said that. What a little snake. Corey is such a little girl too. He has such a little mouth WOW. He has lose lips. He gossips like a girl. Everything he hears, he tells the guys. He walked into a conversation about Meech saying Bridgette was 2 faced and then seconds after the whole house knew about it. Natalie says Nicole is gunning for me on the low. I know that. The girls haven't protected me. Why would I vote for a girl to win .. when the only person that's protected me in the game is a guy. Nicole was pissed that I got the care package and that I didn't get put up on the block.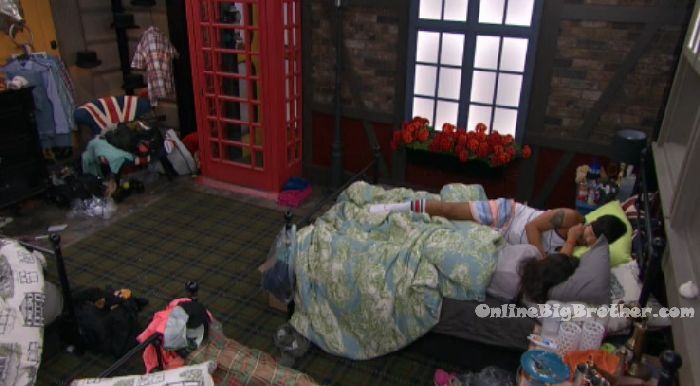 8:30pm 8:35pm Hammock – Z and Paulie. Z asks you don't want to win no money? Paulie says at the end of the day 5K isn't that much not to win a competition. Z asks so you honestly didn't know I was going up? Paulie says I didn't. The only person that maybe knew was Paul. Z says that Michelle said she is going out with a bang and is going to blow sh*t up. Paul joins them.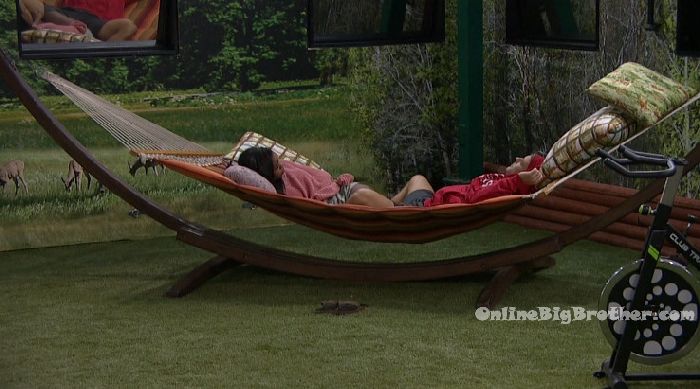 The NEXT America's Care Package
"SUPER SAFETY"
WEEK 3 – August 7th to August 12th
The good news is the holder of this care package will be safe for the week. The bad news is the house guest must also wear a "Super Safety" costume all week long.
[polldaddy poll=9491180]