POV Holder:
Elissa
Next POV
Aug 24th
POV Used
POV Ceremony
Aug 19th
HOH Winner:
Aaryn
Next HOH:
Aug 22nd
Original Nominations:
Elissa and Helen
Current Nominations:
Last Evicted Houseguest
David, Nick, Jeremy, Kaitlin, Howard, Candice, JUDD, Jessie
Have Nots (head cheese and habaneros)
GM, Amanda, Helen and Elissa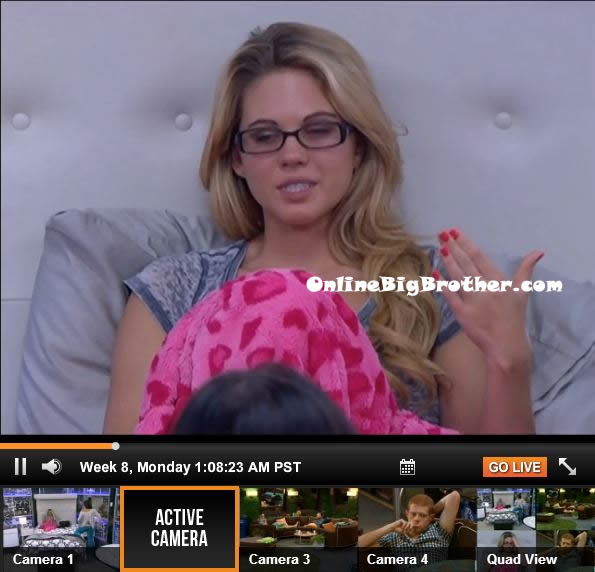 12:45am Amanda and Aaryn continue to talk it out in the HOH room. Amanda says I genuinely was to know you beyond being scisor sisters outside of this game. I don't see that with anyone else other than you, Andy and McCrae. That's why I trust you guys, that's why I trust the four. Aaryn says it's because I have been attacked by things that suck like me being a bit*h and me being racist. I do get defensive about stuff like that. Amanda says but you don't need to get defensive with me. I am your allie, I am with you. I back you up or when people want to get rid of you or when McCrae throws out your name of putting you up as a pawn, I shut it down right then and there. I'm your biggest ally. Out of the four of us, I am your biggest ally and I have been since the beginning. I'm the one that went to Andy and McCrae and said that we should bring you in. It was me and it was only me from the beginning. Aaryn says I am still skeptical about McCrae. Amanda says he is skeptical about even me, he is a worry wart. Amanda say I want Spencer gone, then Elissa and then I want Ginamarie gone. I want us to be in the final four (Amanda, McCrae, Aaryn, Andy). I am telling you that I want Specner gone, it's Andy and McCrae that want Ginamarie gone because they have a fake final deal with Spencer. Amanda says after that I didn't want to be up here so I left, I would rather you and I hash it out alone. I took it out on McCrae and now he and I are legitimately fighting. He thinks you are going to up me up now tomorrow which is crazy. Amanda says we can't do this, we can't fight like this and talk sh*t to other people and have it influence them. Aaryn says Specner and Elissa are already going against me and their going to put me up. Amanda says they are going against me too. Aaryn says well great then I am going because you have an army and I don't. Amanda says this is your problem you don't trust the four. You say that McCrae doesn't trust the four. Aaryn says he doesn't so why would I. Amanda says he does trust the four, he has no choice. If you want to go against it then you'll, he'll leave the house. We are so f**king solid, we were all just sitting up here talking about how f**king solid we are, why would we break that. It pisses me off that you are sitting up here talking sh*t about me to someone who acts like she is 17. Aaryn says she doesn't hate you. Amanda says I can just tell she doesn't. Aaryn says you make me feel stupid some times like I am an idiot. Amanda says I talk to you like you are my little sister. We need to work things out like family and not get our friends involved. Amanda says I don't trust Spencer or Elissa, I can't read them. I feel like you have control over Ginamarie which is why I would rather have her here for final five. Aaryn says I feel McCrae and Andy have Spencer's back over me. Amanda say no, no, you're wrong they don't they have the final four. Amanda says we work well together because you get the power through competitions and we control people through social. Amanda says you act like a victim with the racist stuff, you know its not true, I'm called a sl*t but it's not true. Aaryn says I would rather be called a sl*t than a racist. Amanda says I am not going to go against you, ever! Aaryn says I just don't want to look back and wish that I had done things differently. I am afraid to loose Ginamaire. Amanda says Andy is loosing his biggest ally Helen, but he is fine with it because he trusts the four. Aaryn says it scares me how easily Andy can lie, I've seen him lie to Helen just like how he talks to me.

1am Meanwhile, out in the backyard – Spencer, Andy and McCrae are talking. Spencer tells Andy that Aaryn would have no leverage to get my vote to evict Amanda because I am safe regardless. Spencer says that he doesn't want Amanda on the block. They all agree that it will simmer down by tomorrow. They talk about how even if Aaryn put up Amanda the think she would stay so it would just show where Aaryn lies. They talk about how Spence, McCrae and Andy wouldn't vote out Amanda. Spencer says but it's better to keep Aaryn as an ally until someone else like Elissa could put her up. Spencer says that he knows unofficially from what Ginamarie said that he might not be going up. Spencer thinks Aaryn putting Amanda up would be like a Jessie move. He says someone made me mad so I'll put them up, it wouldn't be smart. McCrae complains about how Amanda tried to prove she was right in the argument with Aaryn. McCare says as soon as all this happened, he knew that's what Helen would push for. He says Helen sees all this, Elissa sees all this, and it's like.. Spencer said they're like vultures.
McCrae joins them in the HOH room. Aaryn says they are using this for me to go against you to get you out. Amanda asks was Helen trying to get you to put me up? Aaryn says yeah, but you will all see tomorrow that I wont do that. They talk about how Helen was up in the HOH room balling wanting me to put you up and even Andy was supporting it. Amanda asks what really, that would f**k me up just thinking about that. Amanda tells McCrae to go get Andy to come up here to clear the air. McCrae tells Andy to come up to the HOH room. Amanda asks Andy if when Helen was up in the HOH crying and trying to get Aaryn to back door me and you were supporting it, was it just to appease her? Andy says yeah. Andy says that Helen grabbed him arm and made me promise her my vote and it made me want to rip off all of my skin. It was hard but at the same time I know what is good for my game. It will kill me this week but you know I am solid. Amanda says after this week we have this, we have to stay solid. Andy says I know. Ginamarie joins them. Aaryn talks about how it's different between when she is sober and drunk. Amanda asks it hides your disdain for me? Aaryn says no, it hides my worries. It's different to have loyalty to someone from the beginning versus someone you gained loyalty to in the middle of the game.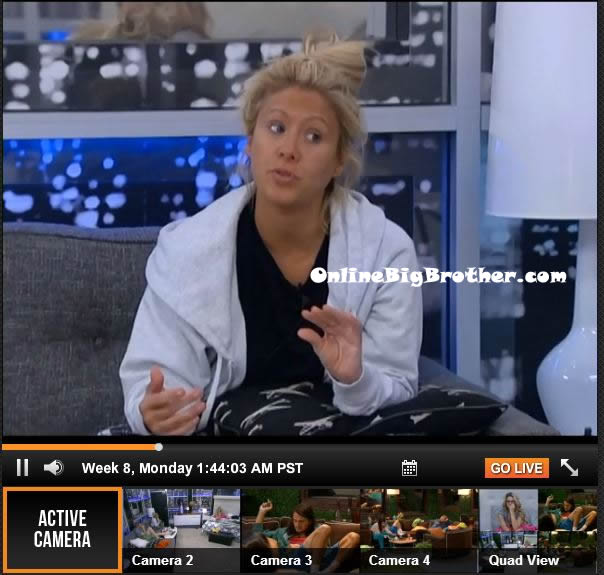 Amanda leaves. Andy asks so where is your head at? Aaryn says I am putting up Spencer as the replacement. Aaryn says I am just worried about making a move that will screw me. Andy says it won't. Aaryn says that Helen is going to die tomorrow when Spencer goes up because she knows she is going home. Aaryn says I just have this feeling with Helen that I am good with her. Andy and Ginamarie agree. Ginamarie asks so you don't think Amanda and McCrae will put us up together if they win HOH next week. Andy says no. Aaryn says no, not yet. Ginamarie says I am okay with that if its not now. McCrae joins them. Aaryn tells him that she really didn't want that to turn into that, I'm sorry. McCrae says no, you don't need to apologize to me. Helen joins them.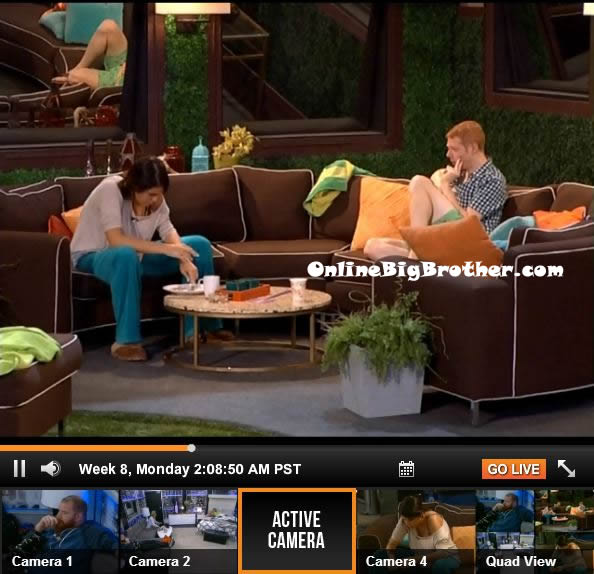 2am – 2:25am Out in the backyard – Andy talks to Amanda. Andy tells Amanda she needs to learn to bite her tongue sometimes and not get into these fights with Aaryn. Amanda says that she is annoyed that she thinks Aaryn even considered back dooring me. Andy says that he tried to squash it. Amanda tells Andy that even if she went up she would have Spencer's vote and would stay. Andy tells Amanda that Spencer said that he already told him they should keep Amanda over Helen if you was put up as the replacement. Andy says he has had her back and will until we get to the final four ..and even then I don't know what I will do. Amanda says I know that you are the reason I am here today. Amanda says it's hard when everyone wants you out. Andy says I take it as a testament to how strong of a game player you are how everyone realizes that you are calling a lot of the shots. Andy tells Amanda more power to ya, you've got balls and I don't. Amanda tells Andy that Aaryn told me that you said that we (McCrae & Amanda) want Ginamarie out next. Amanda tells him Aaryn told her not to tell Andy she told her that. Amanda tells Andy that Aaryn was questioning whether she can trust Andy and McCrae. Andy says I know that Spencer wants to keep you around. Amanda says she knows she can trust that for this week and next at least. Amanda says that Aaryn is scared that you are such a good liar. Amanda says that Aaryn was telling her this to her when only ten minutes before she was thinking of back dooring me. Amanda and Andy agree that the alcohol is to blame for Aaryn's behaviour tonight. Amanda and Andy head inside. Amanda goes and finds McCrae and they head out to the backyard where she tells McCrae about her conversation with Andy.
2:35am In the lounge room – Andy and Helen are talking. Andy talks to Helen about Amanda possibly being back doored. Andy tells Helen that if Amanda goes up he would keep Helen. Helen questions Andy about his loyalty. Helen tells Andy that she doesn't want to think of him as a traitor. I want to think of you as Andy the truster. Out of all people you would be the one that would surprise me the most. I don't want to think of you as a traitor. Andy says yeah you can trust me. Helen tells Andy even if I leave Aaryn will eventually win HOH again and go after you because they didn't do what she wanted. Helen says she thinks Aaryn and Ginamarie are on my side. Helen says if Spencer goes up and Andy votes to keep Helen then Amanda and McCrae would be mad at him. Andy says that's fine, I am ready because I need to get some blood on my hands at some point. Helen says it would be everyone versus Amanda and McCrae if Spencer was voted out. Andy and Helen head out of the lounge. Helen heads up to the HOH room. Helen tells Aaryn about how she told Andy that if he lies to her no one will trust me. He can be the traitor or the truster. Aaryn laughs at how Helen said that to Andy. Helen says I think I scared him a bit. Once he realizes that he will lose Elissa, you and Ginamarie if he votes me out. I already told Andy that I have the votes to stay. I told him if he doesn't vote for me he is going to look like the traitor to America. Helen says he said that he is with me and you. Aaryn says that the only way I can put up Amanda is if I have 100% confirmation but once she is up she is going to go crazy. Helen says we just have to ignore her at that point. If we don't put her up and get her out then you might as well hand her the game. Aaryn says if Amanda goes we have you, Elissa, Me, Ginamaie and Spencer. We just wouldn't have McCrae. If we don't get her out everyone will be after me. Helen says we just need to keep Spencer close. Helen says we can have a house meeting outside of Amanda and McCrae and say if we dont get them out we are writing them the cheque. Aaryn says Amanda is driving me bat sh*t crazy. Amanda joins them and then conversation ends between Helen.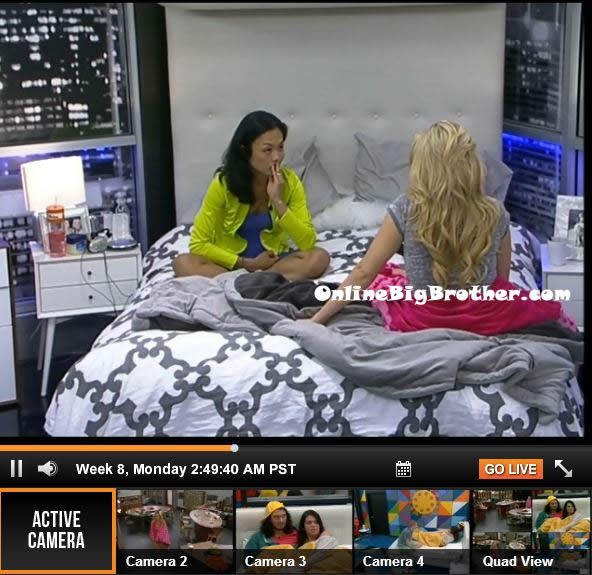 3:05am Amanda asks Aaryn what's wrong? Aaryn says I am about to ruin her world tomorrow. Amanda says yeah I just said the same thing to Andy – me and him feel really horrible. Amanda ask what did she say? Aaryn says just that no one will ever be able to get you out of the game. Amanda asks what did you say? Aaryn says just that if I put you up no one would vote to evict you and I would have everyone against me. Aaryn says that she thinks she could get Spencer if I didn't put him up and that she would have Andy, Ginamarie and Elissa. Aaryn says I never said that I would do it, I just listened. Amanda says that that McCrae was worried you would put me up. Aaryn says don't worry I won't do it. Amanda heads downstairs.
3:25am – 4:15am Andy and McCrae come up to talk to Aaryn. Aaryn tells them how Helen was pushing hard and threatening her to get Amanda out. McCrae and Andy talk about how we just need to stay strong. Aaryn says that she doesn't care if Ginamarie goes home. Aaryn says that she is a pawn like Spencer and Elissa. Amanda joins them. They talk about how Helen is going to have a meeting with everyone but Amanda and McCrae. Amanda and McCrae think its hilarious and that it will piss off Spencer more than anything. They talk about Helen threatening people. Andy, Amanda and McCrae leave the HOH room. Amanda and McCrae head out to the backyard to smoke. McCrae says that after Helen pulls her meeting tomorrow and Aaryn doesn't go for it, Helen is f**ked. Amanda calls Helen a 17 year old girl because of how she bosses people around. McCrae wonders if he she should listen in on the meeting or try and break it up. Amanda says no because they will turn it against him. McCrae says I just love how Elissa is sucking my di*k! Amanda says I really wish you wouldn't put it that way. McCrae says it's true though. Amanda and McCrae lay together on the couch and then head inside to bed.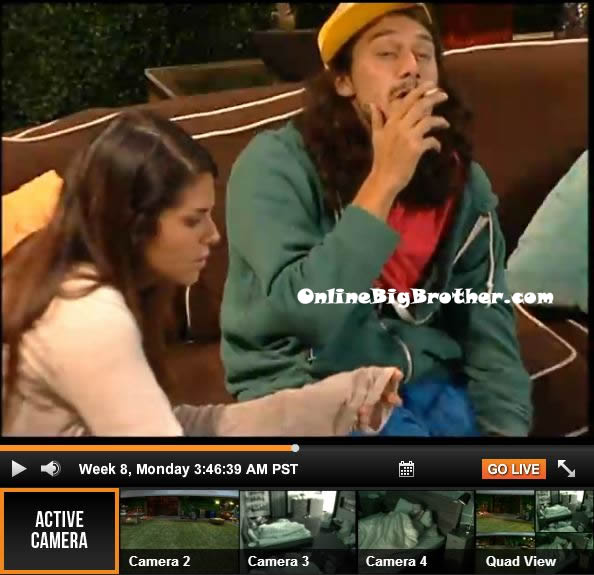 4:20am In the bedroom – McCrae briefly talks to Spencer about the meeting Helen is going to have tomorrow. He tells him that everyone is just going to be playing along with it. Spencer says so when she wakes me up, just go up there and play along with it. McCrae says yeah play along and say yeah I don't want to go up on the block. Spencer says so Aaryn knows that I will be just playing along with it. McCrae says yeah. Spencer says good deal. They end their conversation and go to sleep.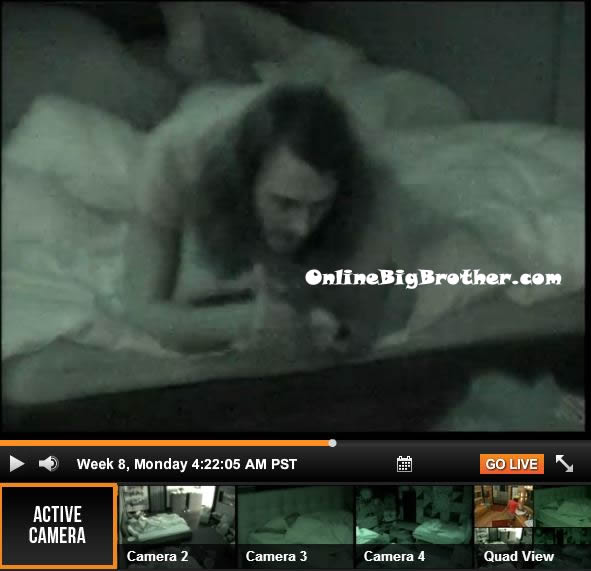 7:50am All the house guests are still sleeping..
Use the Big Brother Live Feeds to FLASHBACK to SEE what they can't show you on TV:
[polldaddy poll=7329443]